Visit Zion National Park from Las Vegas in One Day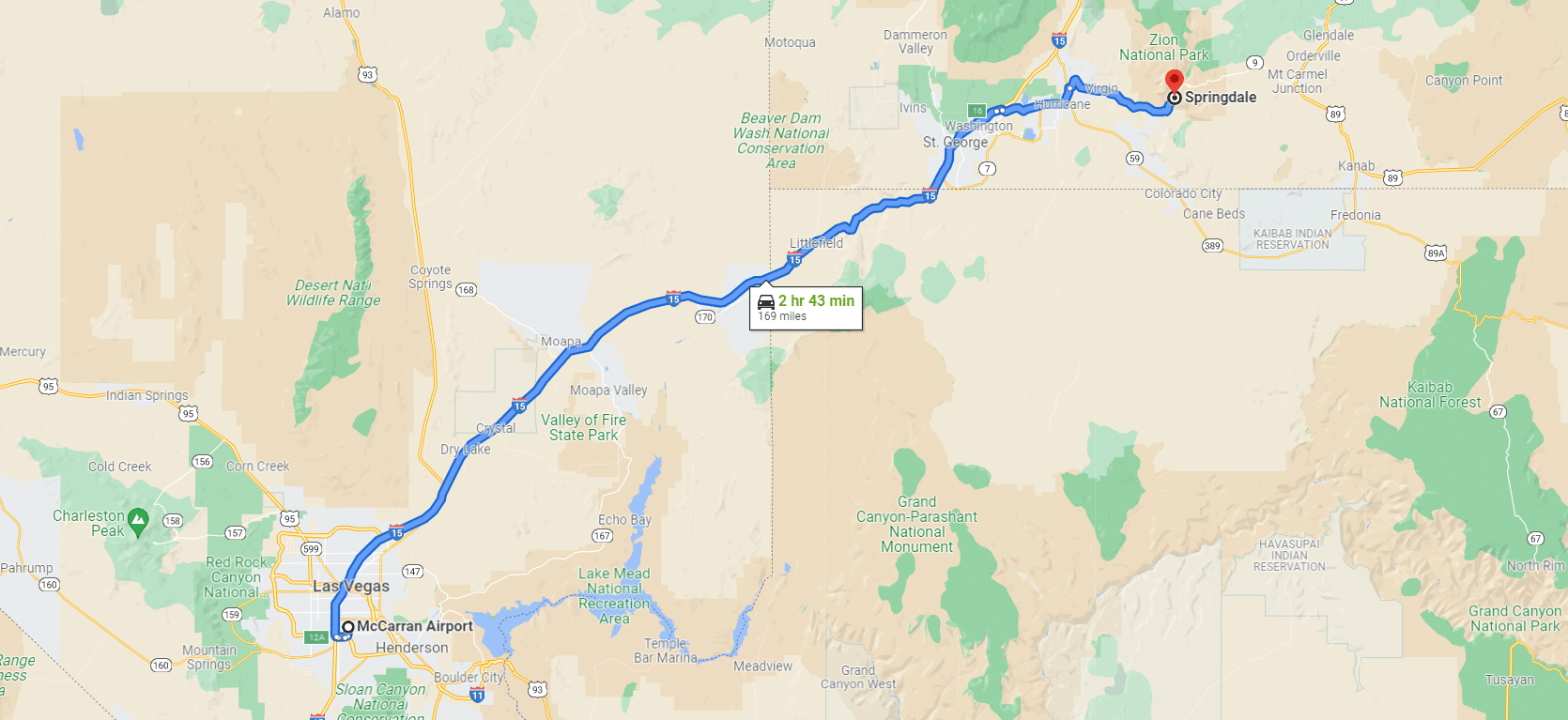 | | | | |
| --- | --- | --- | --- |
| Parks: 1 | Miles: 338 | Days: 1 | Hours: 5.5 |
Can you visit Zion National Park in a day from Las Vegas? Yes!
However, the real answer is a bit more nuanced than that. We dive into why someone may want to do this, if it's really possible, and what type of things you could theoretically do on a trip this short.
Total Drive Time
First, let's talk about how long it would take you to drive from Las Vegas to Zion and back. According to Google Maps, driving from the Las Vegas Airport to the entrance of Zion in Springdale, UT is 169 miles, or 272 km.
Google also estimates that the drive will take 2 hours and 43 minutes. Since this is a day trip to Zion, that means that we need to double that amount.
If you took a day trip to Zion, you'd be driving a total of 5 hours and 26 minutes.
Is it Peak Season or Not?
Another factor in seeing if this is possible or not is determining if it is peak season at Zion National Park or not. Zion is the country's third most visited National park, which means it gets really busy in the summer months. May through October are the park's busiest months, with the highest number of tourists visiting in July.
The reason this is important is because of the lines. While this isn't Disney and there isn't lines for rides, but there is a shuttle system that takes people into the park.
Since 2000, Zion does not allow cars into the park most of the time. The only way to get around is via their Shuttle service, which operates over 90% of the year. Typically, shuttles are running March through November, weekends in February and March, and the last week in December. More often than not, you'll need to rely on the shuttle service to get into the park.
And because of this, the lines to board the shuttles can get very long in the summer months.
For example, we visited the park in July 2019 (so the peak tourist season, and pre-pandemic). If we did not get into the shuttle line 30 minutes before the first ride at 6am, we easily had to wait up to 40 minutes to get the next available bus.
A Day Trip, or Longer?
Zion National Park is not a park that we would suggest you only see for one day. We spent two and a half days here, and there were things we couldn't accomplish (hello Angel's Landing).
However, you're looking into a day trip for a reason, and it's probably that you simply don't have the time. Or you're in Vegas for some other reason, and want to get away from the lights and sounds for a while. Whatever your reasoning, visiting Zion a little is better than none at all!
A One-Day Itinerary for Vegas to Zion, and Back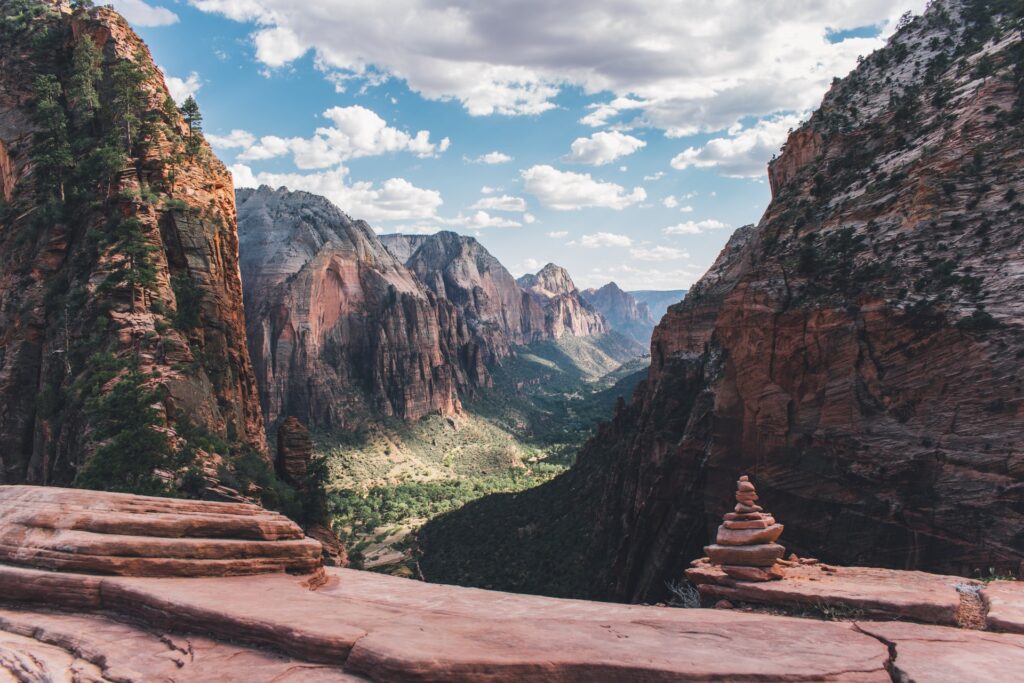 We are going to do our best to make this one-day road trip as realistic as possible. Let's assume you have the full day available to you for this mini road trip, so you get up and leave Vegas, as most people in Sin City are just heading back to their hotel rooms.
5:15 AM – Leave Las Vegas
If you left Las Vegas at 5:15am, then you'd arrive at the entrance of Zion at about 8am, or about 2 hours after the first visitors were let into the park.
However, we suggest grabbing a bite to eat somewhere in Springdale before parking. This will probably take 30 minutes, give or take. This will be a long day of trekking the park, and you'll need to fuel up before going in.
8:30 AM – Arrive at Zion National Park
Once you arrive, find a parking spot. This may be tough as you've arrived well after all the other early-birds.
You'll probably need 30-60 minutes to find a parking spot, then to wait in line at the Shuttle. Once you're safely on the shuttle, ride it to the very last stop #9, Temple of Sinawava.
10:00 AM – Arrive at the end of Zion National Park
The Temple of Sinawava stop puts you right at the entrance to the Riverside Walk, my favorite of the easy trails. I would suggest walking to the end of that paved trail and back, which should take over an hour. At the end of that trail is the start of The Narrows, which is the iconic walk through the slot canyon and up the middle of the Virgin River.
The Narrows is kind of an endless trek that can easily take all day, so you probably can't do it this time. Plus, you'll need water hiking shoes to walk up the river, which you would have needed to rent back in Springdale.
11:30 AM – Weeping Rock & The Grotto Hikes
Hop back on the Shuttle and begin riding it back towards the front of the park. The next few stops are ones you'll want to get out and explore. Weeping Rock has the Hidden Canyon Trail and other sights that are must-sees while you're here.
We are skipping over the Angel's Landing stop and trail. This trail is maybe the most popular of all the Zion hikes, but it is not for the faint of heart or inexperienced hikers. If you decide to do this, then it will probably take up the rest of your day.
The Grotto stop features the very easy Grotto Trail that you can hike down to the next stop: Zion Lodge.
1:30 PM – Late Lunch at Zion Lodge
Grab a bite to eat at Zion Lodge. They have some quick foods that should be able to fill you up fast enough to get you back into the wilderness as quick as possible.
2:15 PM – Hike the Emerald Pools
From the Zion Lodge, cross the access road and Virgin River to the Upper- and Lower Emerald Pool Trailheads. These medium-effort trails show off some of the most fantastic views of the canyon and its waterfalls.
4:00 PM – Exhausted Yet?
You've probably hiked a ton up til now. This amount of hiking on uneven terrain can wear on a body, so you're probably exhausted. Not to mention, you're now outside in the sweltering heat of the desert sun.
Now is probably the time to head back to Springdale via the shuttle for dinner and some air-conditioning. Stop in at Zion Brewery for some great food and maybe one of their craft beers.
If you have one last hike in you, get off the shuttle at the Court of the Patriarchs, and hike the steep but short trail up to see these three magnificent peaks.
5:30-6:00 PM – Head Back to Las Vegas
Remember, this will be a 2 3/4 hour trip, and it is a deserted ride if I've ever seen one. You'll pass a couple of parks on the way back. First is Red Cliffs Recreational Area, home to Red Reef Trail and a few dinosaur track fossils. Closer to Vegas, you'll go through Lake Mead Recreational Area, which is very nice, but extremely barren. You may drive an hour and only see a couple of other vehicles.
8:00-8:30 PM – Arrive in Vegas
You're back, and wow, what a trip! Almost 350 miles of driving and probably another 5–10 miles of hiking will sure wear you out. You may end up being the earliest person to ever fall asleep in Las Vegas after this day.