Lassen Volcanic, Redwoods to Crater Lake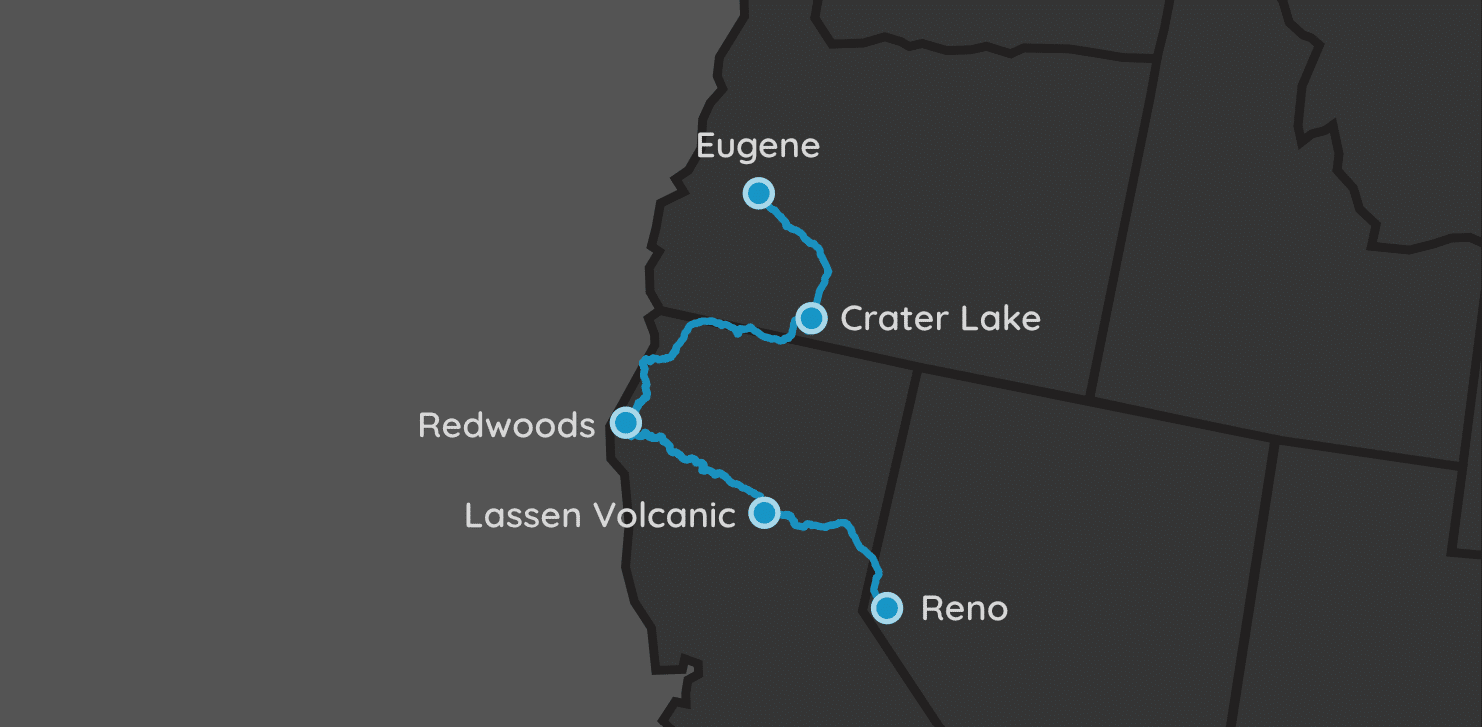 | | | | |
| --- | --- | --- | --- |
| Parks: 3 | Miles: 767 | Days: 8 | Hours: 13 |
This trip is similar to another one we created, but we swapped San Francisco with Reno, NV. Because we are coming from Reno, it gives us the perfect opportunity to visit Lassen Volcanic National Park in Northern California.
You will end up driving about 13 total hours, and a little less than 800 total miles if you follow our itinerary.
Itinerary Notes
Most of our trip scan be reversed, and this trip is no different. You can easily begin your trip in Eugene, OR, then move down into Northern California before heading east to Reno, NV.
We highly recommend scheduling a rental vehicle at the airport of arrival. In this case, tell the rental company that you'll be picking it up in Reno, and dropping it off right before you head into the airport on departure. Depending on your family size, you may want to get a larger vehicle than you think. We always get extended full-size SUVs, and we have a family of five.
Arrival
Day 1
Reno, NV
Begin the trip by flying into Reno, NV. You can either go directly to the next stop in Mineral, CA (which is only about 2.5 hours away), or take a detour and spend a few hours exploring Lake Tahoe.
Drive
Driving
The next location is 150 miles away (~2.5 hours).
From Reno, the next stop is Mineral, CA, which is the best spot to stay when visiting Lassen Volcanic National Park.
Must See
Lake Tahoe Scenic Byway
Lake Tahoe, NV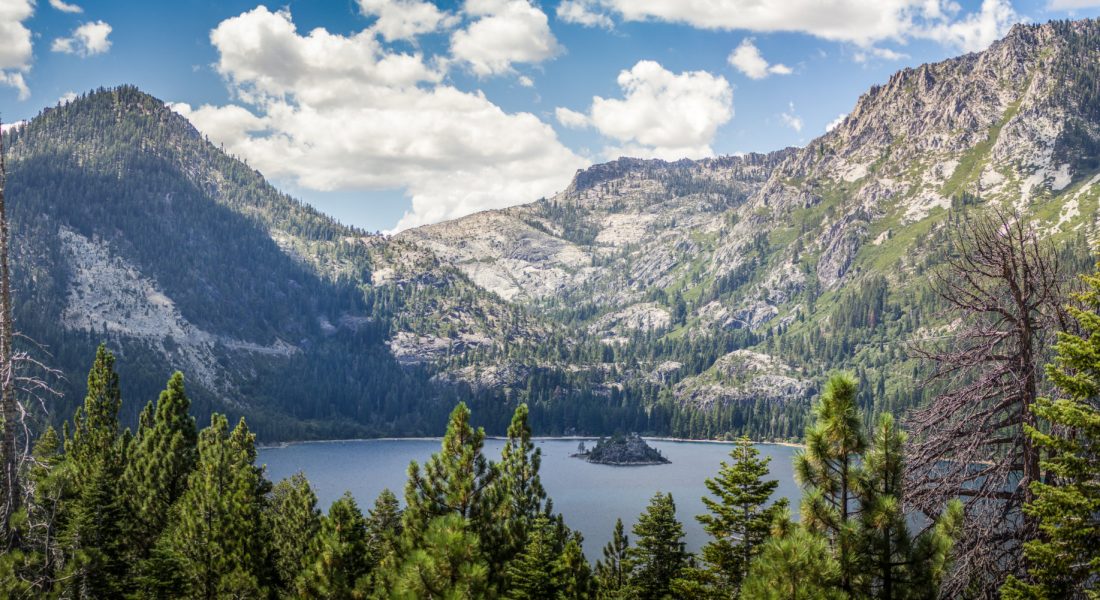 Lake Tahoe National Scenic Byway is a 28-mile stretch of lakeside highway that circles the lake. You can connect with the byway by heading south from Reno towards Carson City. This highway offers motorists strikingly beautiful views of the deep blue alpine lake ringed with tall pines and sequoias and snow-capped mountain peaks in the majestic Sierra Nevada range.
Destination
Days 1-3
Lassen Volcanic National Park
Mill Creek, CA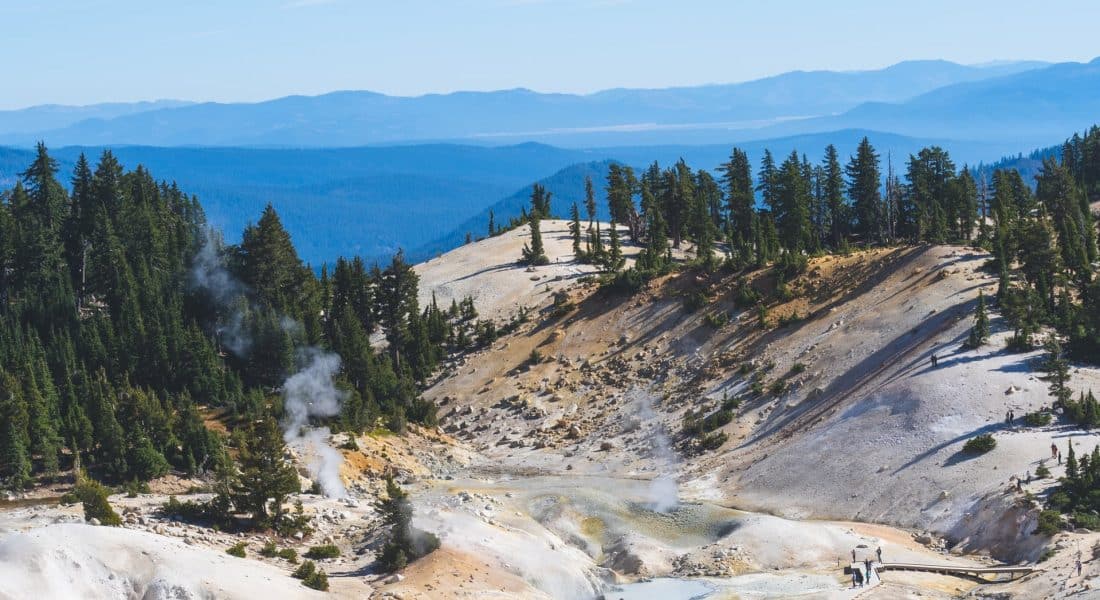 This primitive and rugged national park is one of the country's oldest as well. The Lassen Volcanic National Park is only really accessible from August-September, when the snow melts and the temperatures climb to the 80s and 90s.
Lodging
There are multiple lodging options in and around the National Park. The best in our opinion is the Highlands Ranch Resort, but there are also plenty of Airbnb options in the nearby town of Mineral, CA.
Attractions
Everyone visiting the park needs to plan a drive along the scenic Volcanic Byway. This 30-mile drive through a volcanic landscape circles around Lassen Peak. There are various hikes and lookouts along the way that are sure to make the 30-mile drive take many hours instead.
If you are going to hike this park, the best is the Lassen Peak Trail, which has its trailhead right along the Volcanic Byway, where it's closest to Lassen Peak. This 5 mile (8 km) round trip hike is a hard one, gaining almost 2,000 feet in elevation. While difficult, it offers the hands-down best view of the peak.
For a history lesson, check out the Devastated Area on the north side of the mountain. This section of the park was destroyed when Lassen Peak erupted in 1915. This easy and short trail will walk you through the forests as they recover and show you the rock deposits from the blast over a hundred years ago.
Lassen also has geothermal fields in the southwestern area of the park. Bumpass Hell is packed with hydrothermal activity, and is accessible via a boardwalk along the Bumpass Nature Trail. The trail offers views of boiling mud, steaming springs and a strong smell of sulfur.
Drive
Driving
The next location is 197 miles away (~4 hours).
The next stop is Arcata, CA, which is about 4 hours due west of Mineral. You will pass directly though the city of Reading. Just west of Reading is Shasta-Trinity National Recreation Area, which has trails, campsites, and picnic areas.
Destination
Days 3-6
Redwood National and State Parks
Arcata, CA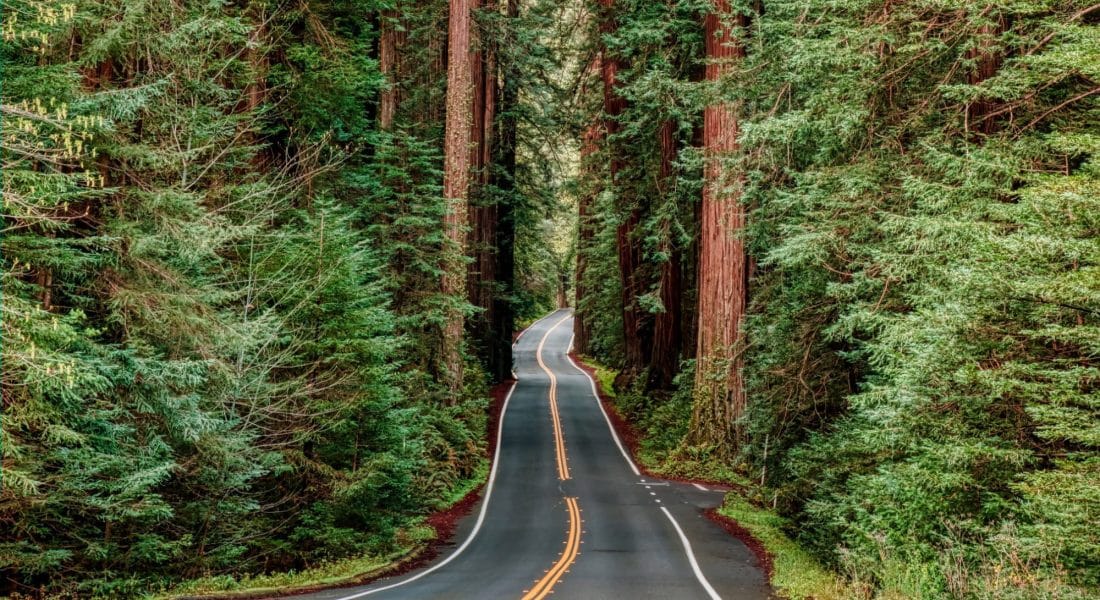 The Redwood National Park lines 40 miles (64 km) of the upper Pacific coast of California. Along US 101, there are clusters of national and state parks that scatter entire area. In addition to the National Park, three state parks are included in this Northern California wilderness: Prairie Creek Redwoods, Del Norte Coast Redwoods, and Jedediah Smith Redwoods. While the Redwoods NP is free to get in, most of the state parks have an $8 entrance fee.
Lodging
There was some debate as to where to stay on this leg of the trip. There are plenty of suitable towns to stay in, from Crescent City, Klamath, Trinidad, Orick and McKinleyville to the north, to Eureka to the south. Ultimately, we decided on beautiful Arcata, CA. It seemed pretty central to a lot of the places we wanted to visit while there, and being one of the more southern options, made our final section of the trip a bit more manageable.
There are no campgrounds or lodging within the Redwoods National Park, so finding your own room & board around any of the towns we listed above will be your best bet.
Visiting the Parks
There is just so much to do here. We basically spent the day coming down from Oregon visiting the upper parts of the parks. This included stopping at the Hiouchi Visitor Center in Jedediah State Park. Within this park is the Stout Memorial Grove, home to some of the biggest and oldest trees on the North Coast. On the way out, we drove the Newton Drury Scenic Parkway, which cuts through Prairie Creek State Park.
The next day was checking out the Redwood National Forest near Orick. Stop by the Thomas H. Kuchel Visitor Center to get maps and a good handle on where else to visit. We hiked the Lady Bird Johnson Loop and Trillium Falls trails. There seem to be endless trails here, so if it's the height of summer, the crowds will surely be spread out.
Our final day included a tree walk at Redwood Sky Walk at Sequoia Park Zoo and Trinidad State Beach.
Drive
Driving
The next location is 264 miles away (~5 hours).
On the way from the Redwoods, it may be best to stop in Medford, OR for a bite to eat (we went to a local brewery). If I had more time, I would have loved to detour and see the Pacific Coast Ranges, but it would have added over an hour to the already-long leg.
Destination
Days 6-7
Crater Lake National Park
Chiloquin, OR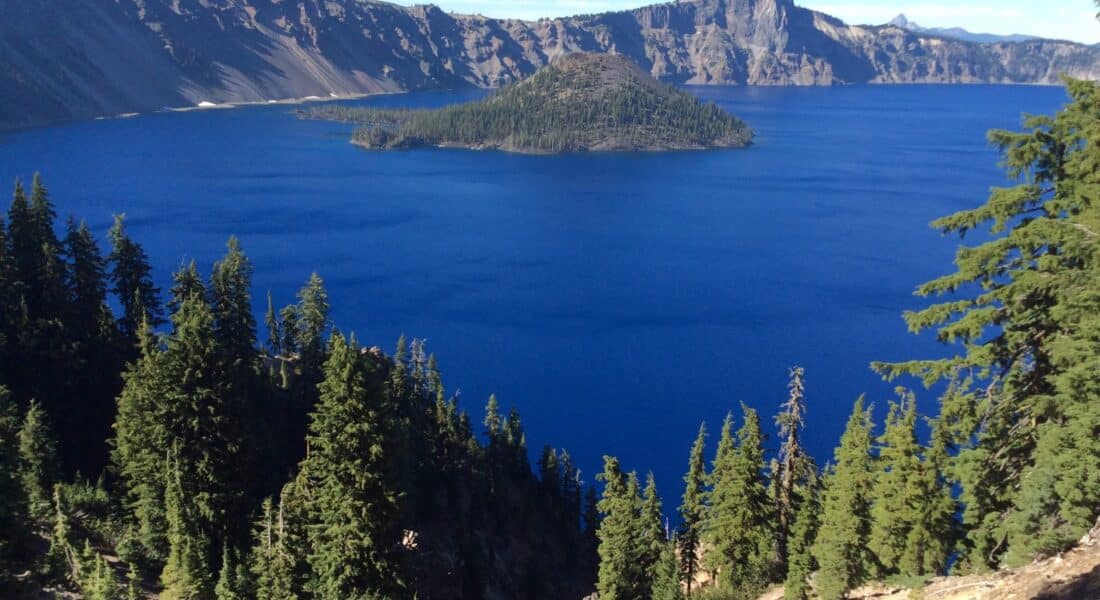 Crater Lake National Park is located high in the Cascade Mountains of southern Oregon. Summer weekends in May-September are peak season, when the loop drive around the lake clogs with traffic.
Lodging
We decided to stay in Chiloquin, OR for the duration of our time at Crater Lake NP. There were a couple hotels in the area, but we decided to rent out a full house on Airbnb. Surprisingly, there were a good bit of Airbnb's in the area to choose from.
Crater Lake National Park is about a 20-mile drive north from Chiloquin.
If you are having any trouble finding lodging in Chiloquin, consider Klamath Falls, which is about another 30 minutes south of where we stayed.
If you want lodging inside the park, you may have some trouble finding any availability during the busy summer season. All in-park lodging is on the south rim of the lake. Crater Lake Lodge is the most popular stay, but the Cabins at Mazama Village also offer nights, however these are bare-bones and do not come with any extra amenities like A/C or TVs. There are a handful of campgrounds in this area as well.
Visiting the Park
There are two main visitor centers in Crater National Park: Rim Village and Steel. If you only have one day to visit the park, check out the 33-mile Rim Drive, which circles the entire lake. There are various lookout points such as Sun Notch and Sinnott Memorial Overlook that are perfect to get an awesome view.
Watchman Peak is one trail that you definitely have to see. It's about 1.6 miles round-trip and is considered moderately hard with a 420 ft. (128 m) elevation change… but the views are absolutely worth it. Park rangers also often lead sunset hikes up to the peak in the summer time.
Drive
Driving
The next location is 156 miles away (~2.75 hours).
Head north to Eugene, OR. If you live on the East Coast like us, then you'll need to spend the night in Eugene before your flight home. If that is what you're doing as well, then along the drive, stop halfway to stretch your legs at the Salt Creek Picnic Area in Crescent, OR.
Departure
Days 7-8
Eugene, Oregon
We decided to fly out of Eugene, Oregon here. We like to only fly via larger international airports to ensure that we aren't skipping out on any sightseeing drives that a small regional airport would have taken us past. However, if your goal is to fly out of an airport that is as close as possible to Crater Lake, then look at Rogue Valley International-Medford Airport (MFR).