Mammoth Cave & Smoky Mountains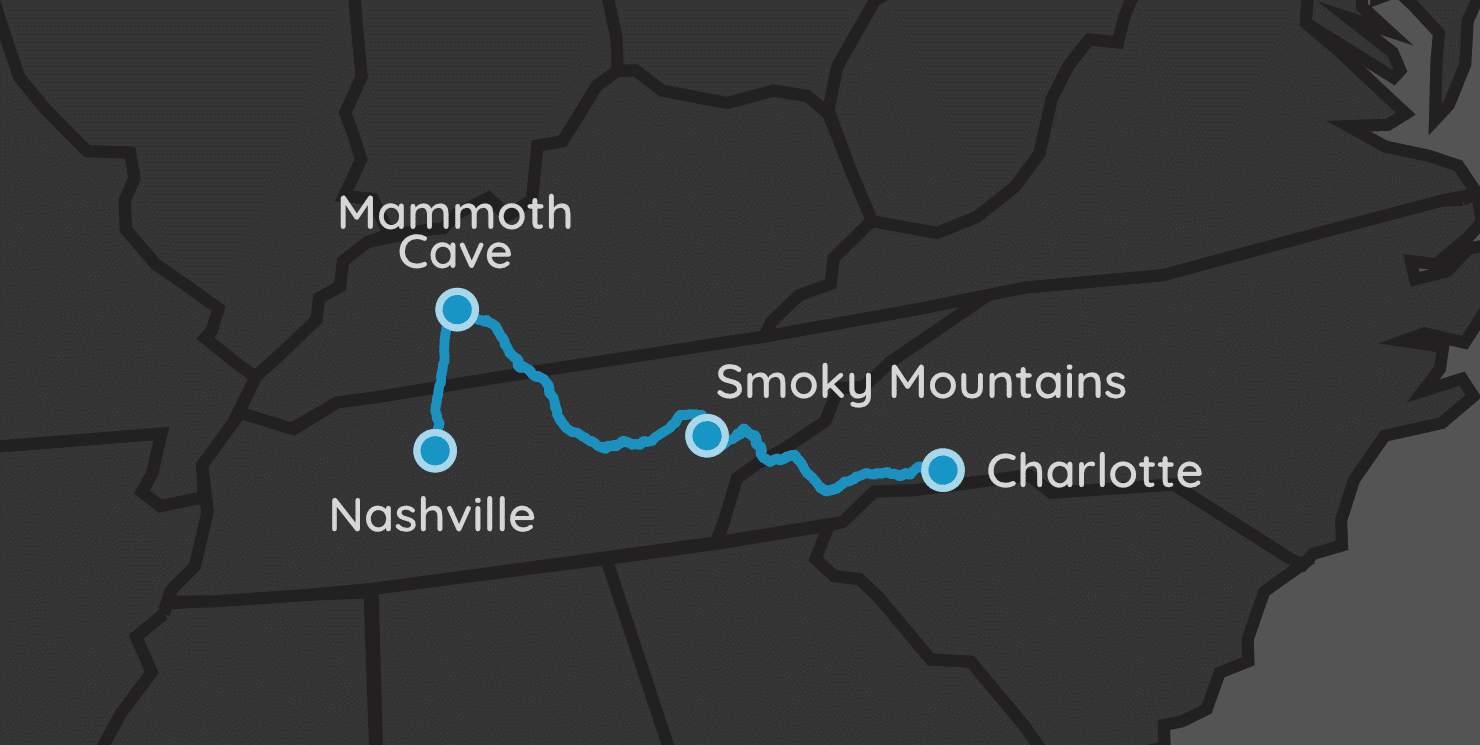 | | | | |
| --- | --- | --- | --- |
| Parks: 2 | Miles: 536 | Days: 8 | Hours: 11 |
Visiting the Great Smoky Mountains is the centerpiece of this road trip, but we wanted to squeeze in another park while we were in the area. Mammoth Caves is an amazing underground national park, and really doesn't add too much extra driving to your trip.
Itinerary Notes
This trip has plenty of options for flights in and out. Coming in, you can choose either Nashville or Louisville airports. We chose Nashville because it was slightly larger. When you head home, it's really 50/50 if you should select Atlanta or Charlotte. I recommend you test out all the flight scenarios and pick the price and non-stop options that best suit you.
As with almost all of our other trips, the route we've outlined can be reversed. You can easily head to the Smokies first, then to Mammoth Cave right before you head home.
Make sure you reserve your rental car ahead of time! This is always something people think they can figure out at the airport, but you'll have limited options to you if it's during busy season.
Arrival
Day 1
Nashville, TN
Nashville is the closest major airport to Mammoth Caves National Park, so we'll begin our trip flying in to here.
Alternatively, you can fly in via the slightly smaller Louisville International Airport, but it is only about 10 miles closer to the caves.
Drive
Driving
The next location is 109 miles away (~2 hours).
Depending on the time of your arrival into Nashville, you should be able to drive up to Mammoth Cave, KY. This drive should only take about 2 hours, and there shouldn't be much in the way of traffic or congestion.
Destination
Days 1-3
Mammoth Cave National Park
Mammoth Cave, KY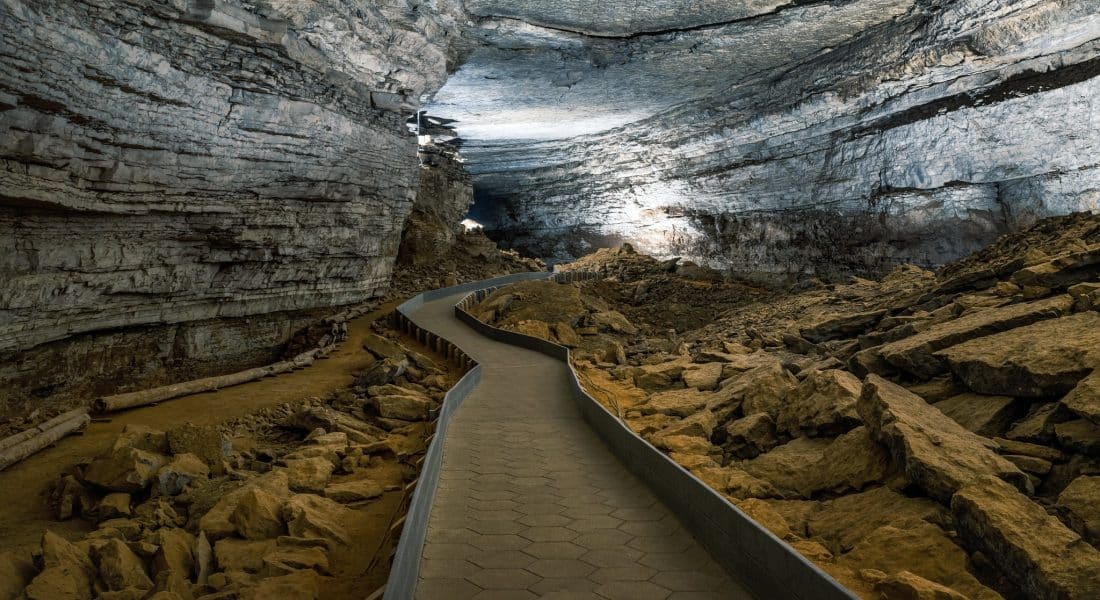 Lodging
Here we decided to stay inside the park at The Lodge at Mammoth Cave. There are a few other Airbnb options just outside of the park, but we like to stay inside whenever we can make it work.
Drive
Driving
The next location is 237 miles away (~4.75 hours).
It will take around 5 hours to drive from the Caves to Gatlinburg, TN, which is the main city inside the Smoky Mountains.
About halfway through the drive is the Obed Wild and Scenic River, a NPS site located within the Catoosa Wildlife Management Area. The free-flowing Obed Wild & Scenic River and its 500-foot-deep gorges offer visitors unspoiled rugged terrain and plenty of hiking opportunities.
Destination
Days 3-7
Great Smoky Mountains National Park
Gatlinburg, TN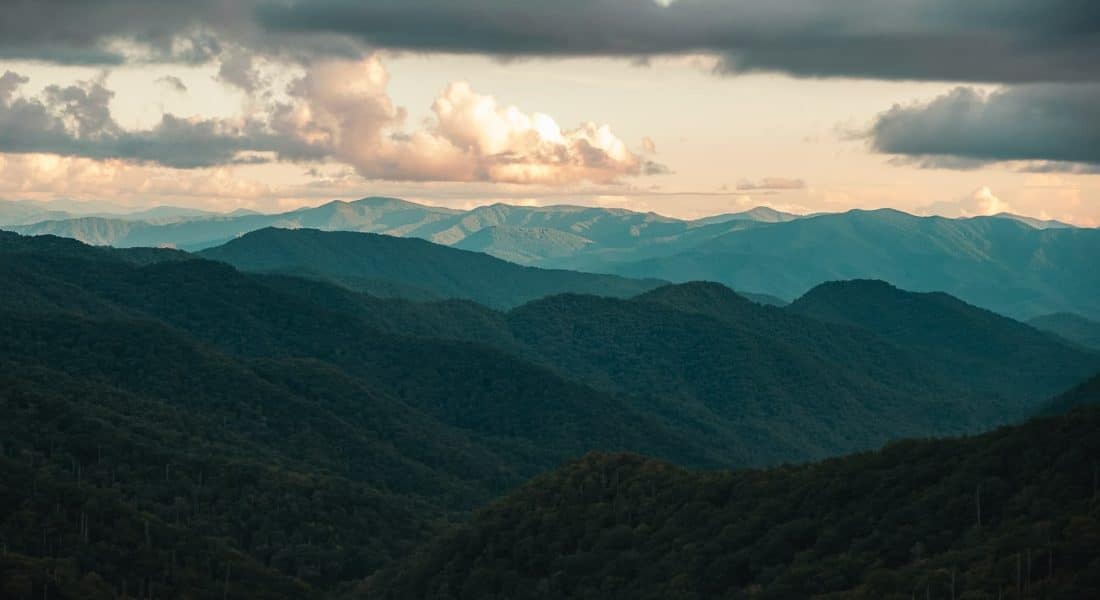 The most visited National Park in the United States is located in the eastern half of Tennessee. Entrance to the park is free, and the town of Gatlinburg, TN is full of stores, restaurants, and activities for the whole family. This park can easily take up a full week's worth of vacationing, but for this trip, we're going to be here for only a couple of days.
Lodging
You should have no trouble finding a place to stay here. The area surrounding Gatlinburg is littered with hotels, cabins, Airbnbs and plenty of other options to spend your nights nestled in the wilderness.
We found a small cabin that easily fit the five of us that was about 15 minutes from downtown. The traffic was light at first, although it could get a little busy once in the heart of the city.
Attractions
When we were here, our kids were small, so we took a day off from the outdoors and visited Ripley's Aquarium of the Smokies and the neighboring town of Pigeon Forge, TN. If our kids were a bit older, I would have loved to do the Skylift Park and/or the Ober Aerial Tramway.
The other days were spent hiking. One day we took a ride out to Cades Cove. This historical town once had nearly 700 people call it home back in the late 1800's. It is now a spiderweb of easy trails, old buildings and interesting history tours. It was a lot of walking that day, but it was well worth it.
We also took two "driving" trails. The first was the harrowing drive up Newfound Gap Road. It is hard to explain the 3,000 elevation change within the 33-mile trek up the side of a hill. While this is a must-take scenic drive, make sure you have a full tank of gas first!
The second driving trail was the 5.5-mile loop of Roaring Fork Motor Nature Trail. It was a slow and easy drive with so many beautiful sights – including an enormous black bear that did not care to get off the road.
We also hiked a bunch of trails too. Rainbow Falls (5.5 miles round trip) was a moderate trail that ends on top of a waterfall. The hike can get rough at times, but we did it with three children, so it wasn't too bad. The Forney Ridge Trail is another moderate trail that spans 3.5 miles round trip. It starts at Clingman's Dome (another must-see) and reaches the picturesque view atop Andrews Bald.
Must See
Blue Ridge Parkway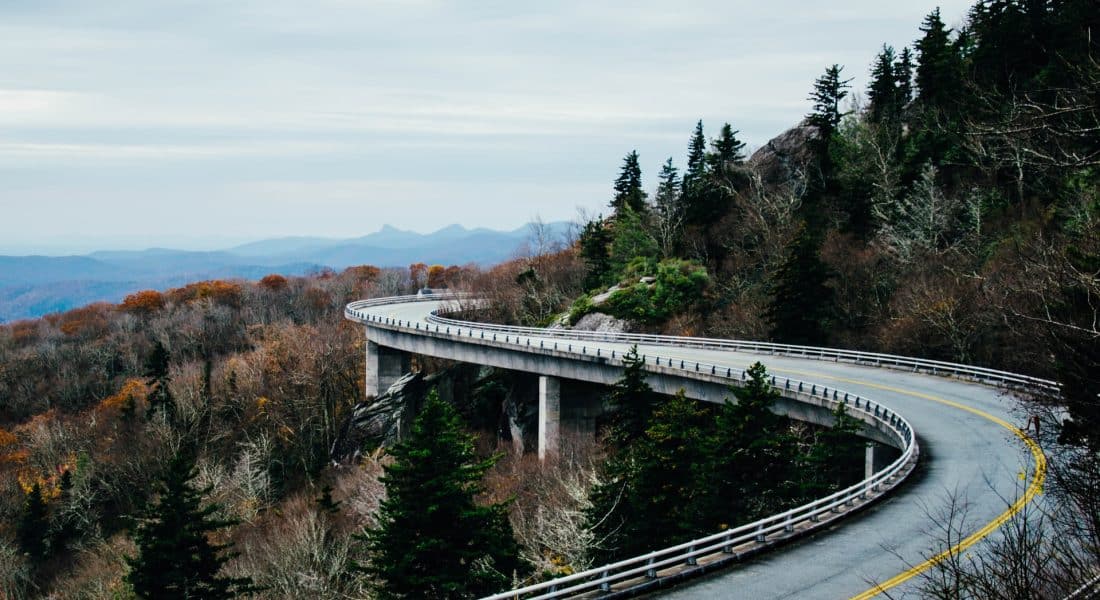 When it's time to head home, go east towards Charlotte, NC. This route can either take Interstate 40 or US Route 441, each snaking through the heart of the Smoky Mountains.
If you decide to take the US Route 441 road, you'll spend some time on the Blue Ridge Parkway, which their site calls "America's Favorite Drive".
Drive
Driving
The next location is 190 miles away (~3.75 hours).
This leg of the trip includes at least 50 miles on the Blue Ridge Parkway. You can obviously add to that amount by driving more along Route 151, but eventually you'll need to turn south towards Charlotte to catch your flight home.
Departure
Days 7-8
Charlotte, NC
We chose to fly out of Charlotte Douglas International Airport because it is of one of the most accessible airports in the country. You will not have any trouble finding a flight back home out of this airport.
Actually, as an alternative, you could just as easily fly home via Atlanta. As I mentioned, both are very large and very major airports, so you can't go wrong with either. The distance from Gatlinburg to Charlotte or Atlanta are virtually identical, so this may be a great place to try to save some cash. Check flight prices from both airports and see which one is cheapest.