Natchez Trace Parkway Road Trip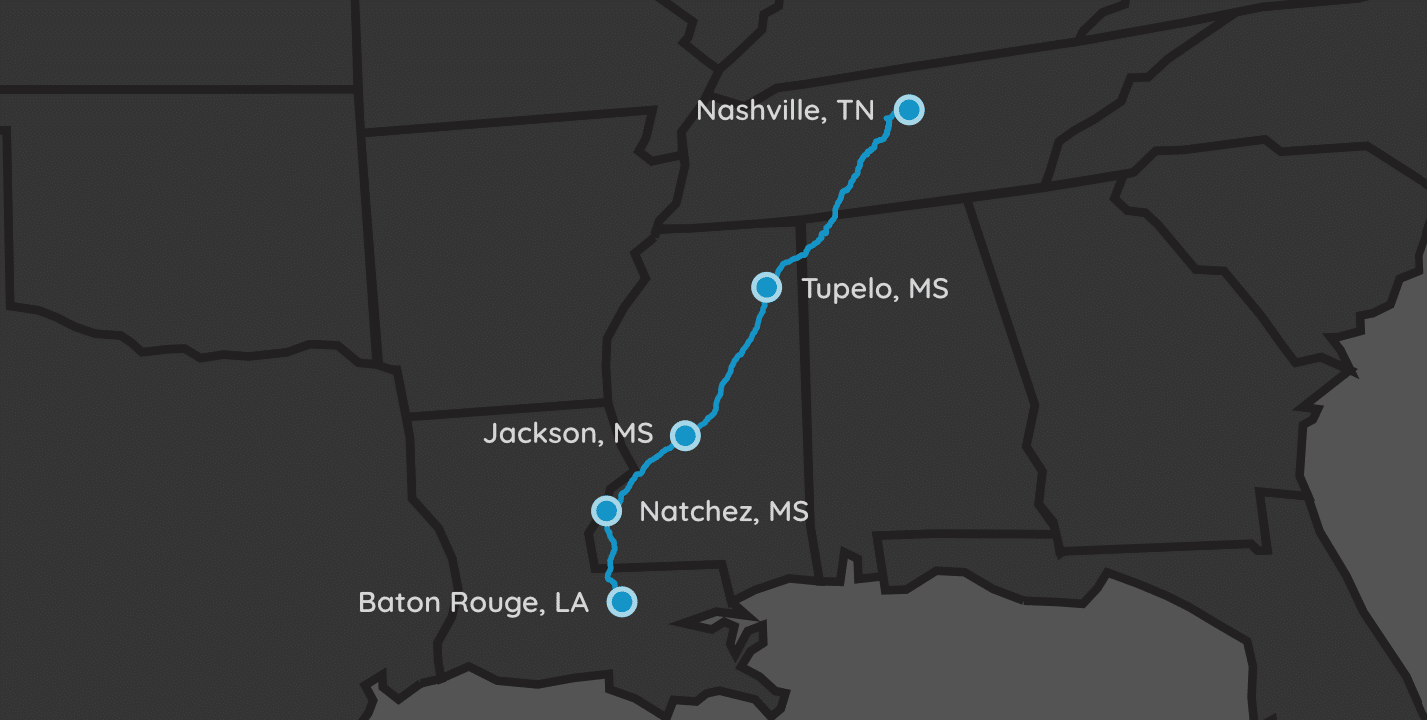 | | | | |
| --- | --- | --- | --- |
| Parks: 1 | Miles: 600 | Days: 6 | Hours: 11 |
The 444-mile Natchez Trace Parkway offers a scenic drive through three states and various recreational activities like hiking, biking, horseback riding, and camping. It retraces the path of the historic Old Natchez Trace, which was used by American Indians, settlers, slave traders, soldiers, and even future presidents. Enjoy a scenic drive and outdoor adventures along the Parkway.
Our Natchez Trace road trip takes you through the three states of the parkway (Tennessee, Alabama, and Mississippi, then into Louisiana for the flight home. We stop at some of the most historic sites as we wind through this historic and mostly rural road.
A vacation using this itinerary will be a fairly easy-going and stress-free road trip. There won't be giant crowds anywhere along the parkway, and the hotels and food will be relatively cheap when compared to some of the more popular places to visit in the summer.
Where Should I Stay on the Natchez Trace Parkway?
We've decided to stay at four (five if you count Baton Rouge) places along the parkway:
| From | To | Miles | Drive Time |
| --- | --- | --- | --- |
| Home | Nashville, TN | | |
| Nashville, TN | Tupelo, MS | 211 miles | 4 hours |
| Tupelo, MS | Jackson, MS | 167 miles | 3 hours |
| Jackson, MS | Natchez, MS | 107 miles | 2 hours |
| Natchez, MS | Baton Rouge, LA | 85 miles | 1.5 hours |
| Baton Rouge, LA | Home | | |
Tupelo, Jackson, and Natchez have great accommodation options on AirBNB and VRBO. There are plenty of hotels in each of these cities as well. Most nights are fairly cheap since this trip isn't passing by any of the major National Parks that tend to get very crowded in the summer.
Arrival
Days 1-2
Nashville, TN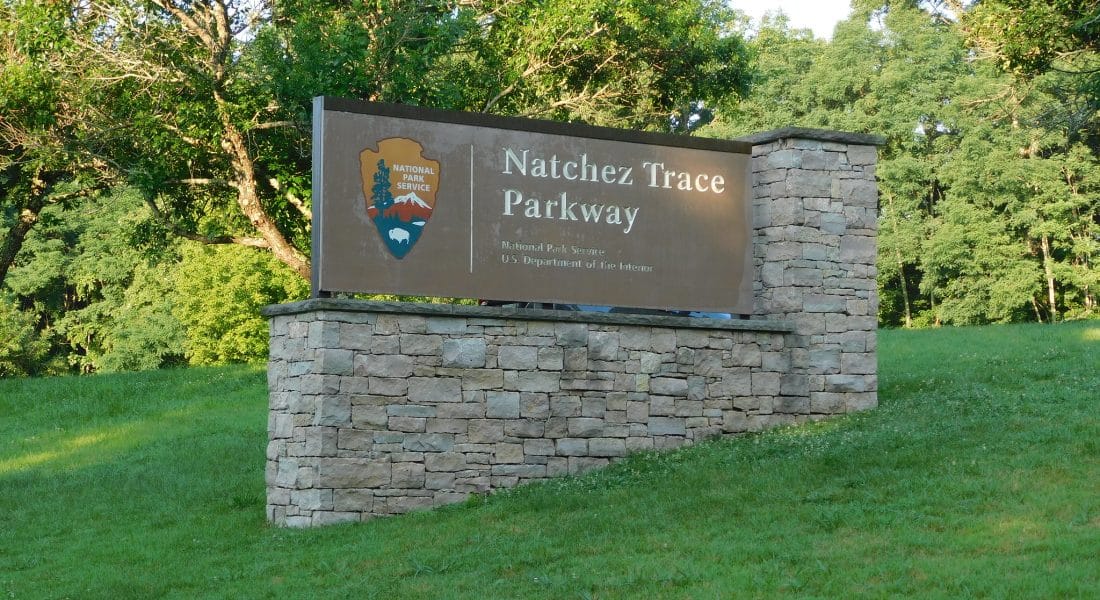 To begin our road trip down the Natchez Trace Parkway, we fly into beautiful Nashville, Tennessee. I was here once before, and there was so much to do here in the summer. I suggest staying in downtown Nashville on your fly-in day. Try some Nashville hot chicken, and head over to see the Grand Ole Opry.
Drive
Driving
The next location is 211 miles away (~4 hours).
As we drive from Nashville to Natchez, you are following the milepost markers in descending order. The start of the parkway is milepost 444.
Along the longest drive of the road trip here, we pass quite a few important places along the Natchez Trace Parkway. Here are the best places to stop in the order that you'll pass them:
Double Arch Bridge at Birdsong Hollow (milepost 438)
Tennessee Valley Divide (milepost 423)
Jackson Falls (Milepost 404)
Tobacco Barn & Old Trace Walk (milepost 401)
Fall Hollow Waterfall (milepost 391)
Napier Mine (milepost 381)
Old Trace Drive (milepost 375)
Rock Spring (milepost 330)
Colbert Ferry Stand Site (milepost 327)
Dogwood Valley Trail (milepost 275)
Old Trace and Confederate Gravesites (milepost 269)
If you only want to stop a couple of times, I have a few favorite spots out of the places above. The first is the famous Double Arch Bridge just as you exit Nashville. More on that below.
The other spots are the Jackson and Fall Hollow waterfalls, and Old Trace Drive, which is a 2.5 mile section of the original trail that the modern parkway did not overtake.
Must See
Birdsong Hollow and Double Arch Bridge
Approximately Milepost 438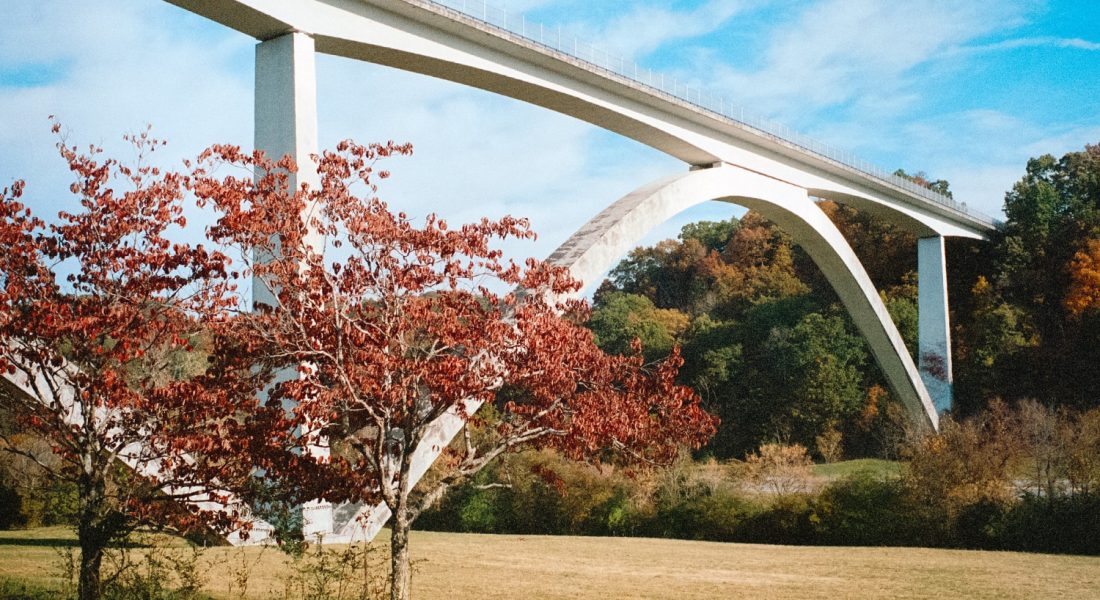 The Double Arch Bridge that spans Birdsong Hollow was completed in 1994. It rises 155 feet above the valley and carries Natchez Trace travelers 1,648 feet over the valley and Tennessee Highway 96.
Destination
Days 2-3
Tupelo, MS
Approximately Milepost 233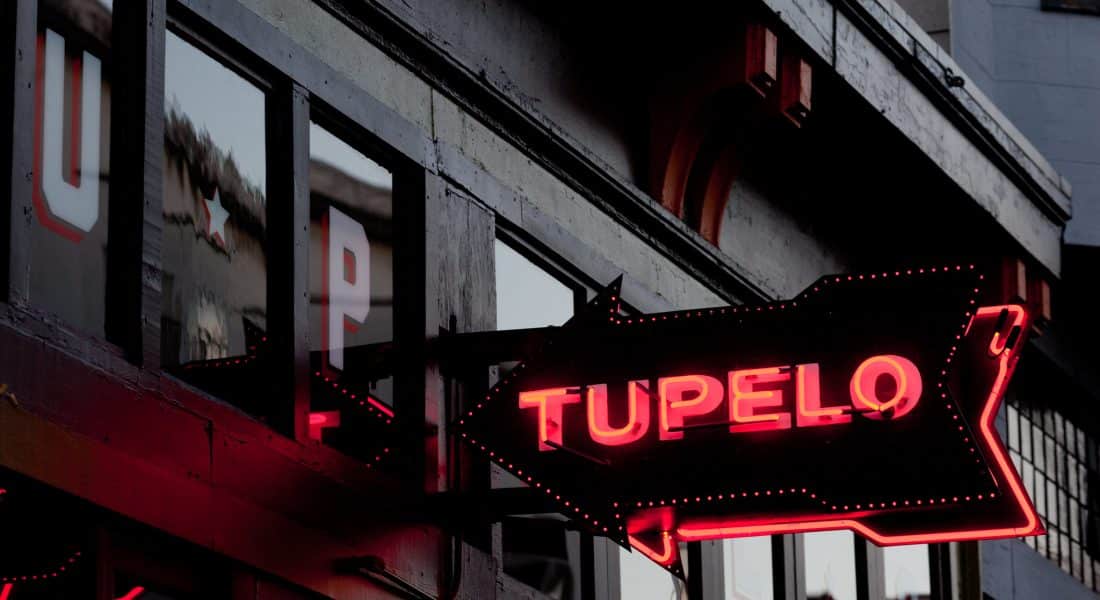 Once you reach Tupelo, MS, there are a handful of interesting spots to visit along the parkway. The first is the Parkway Visitor Center at milepost 266. The Chickasaw Village Site at milepost 261 is another great place to visit and explore.
Tupelo is also the birthplace of Elvis Presley, which his childhood home is open for tours.
Drive
Driving
The next location is 166 miles away (~3 hours).
After leaving Tupelo, head south on the parkway towards Jackson, MS. The sightseeing opportunities along this part of the trip are:
Davis Lake Recreation Area (milepost 243)
Old Trace Trail (mileposts 221 & 198)
Jeff Busby Overlook (milepost 193)
Cole Creek (milepost 175)
Myrick Creek Hiking Trail (milepost 145)
Red Dog Road (milepost 140)
Cypress Swamp (milepost 122)
Choctaw Agency (milepost 100)
Must See
Crypress Swamp
Approximately Milepost 122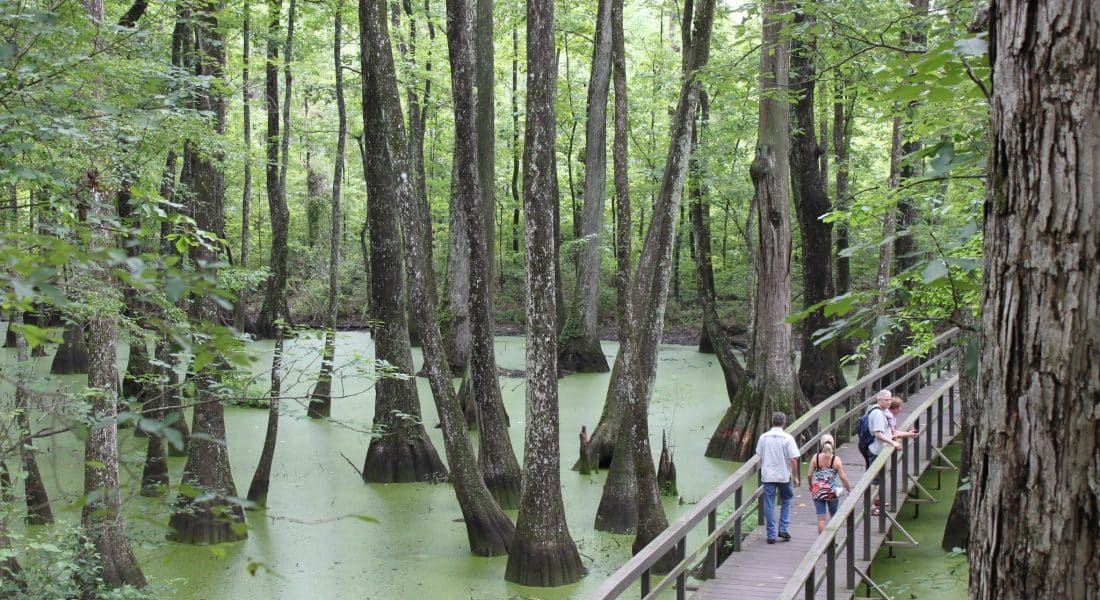 I highly recommend stopping at the Cypress Swamp on your way from Tupelo to Jackson. It will be just before you reach Jackson.
Situated where the Pearl River once flowed, out of this swamp grew the water-tolerant cypress and tupelo trees. The Cypress Swamp Loop Trail is less than half a mile long that takes you through the swamp, over a bridge to a pond, and back. The entire walk should only take about 20-30 minutes.
Dogs are allowed on this trail, but be careful! Alligators live in the swamp.
This small park is open year-round, but November is the best time to visit when the trees are in full autumn colors. The swamp may be virtually dry in the summer.
Destination
Days 3-4
Jackson, MS
Approximately Milepost 92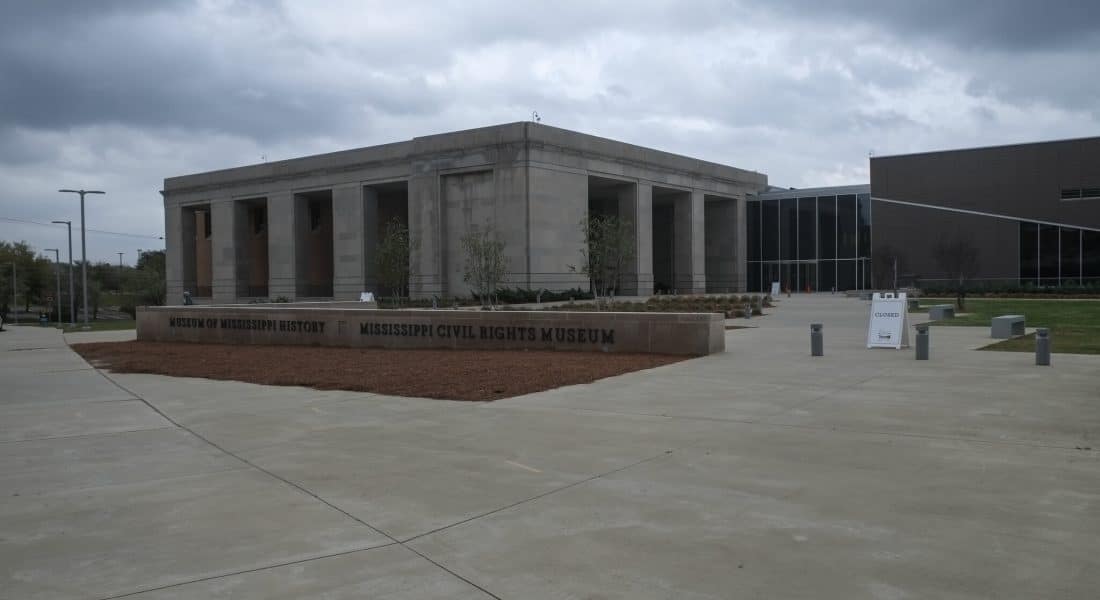 Jackson is the ideal location for the next stop thanks to its attractions, award-winning restaurants, three historic cultural districts, plenty of visual and performing arts.
When in Jackson, don't skip out on the Mississippi Civil Rights Museum, which offers a sobering look into our nation's history on slavery and human rights. Admission is free on Sundays, and $15 per adult or $8 per child on all other days. A ticket for here also gets you access to the Mississippi History Museum.
Drive
Driving
The next location is 105 miles away (~2 hours).
After leaving Jackson, head south on the parkway towards Natchez, MS. The sightseeing opportunities along this part of the trip are:
Rocky Springs Town Site & Trail (milepost 54)
Owens Creek Waterfall (milepost 52)
Grindstone Ford Hiking Trail (milepost 45)
Sunken Trace (milepost 41)
Windsor Plantation Ruins (milepost 30)
Potkopinu Trail (milepost 20 to 17)
Bullen Creek (milepost 18)
Mount Locust Historic House (milepost 15)
Emerald Mound (milepost 10)
My favorites of the spots above are Rocky Springs, the Grindstone Ford Hiking Trail and Bullen Creek.
Destination
Days 4-5
Natchez, MS
Approximately Milepost 1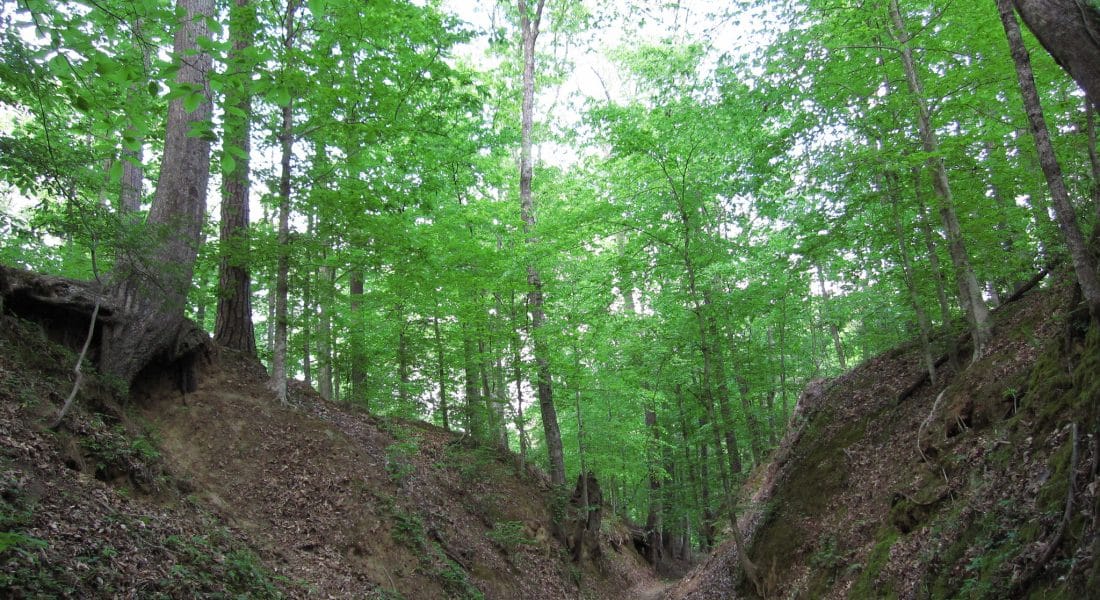 The trail begins (or ends for us) in the small town of Natchez, MS. Located on the banks of the Mississippi River, Natchez is steeped in cultural history.
The Mississippi Freedom Trail and Civil Rights Trail have stops in Natchez, so there is a lot of history to be learned along these two historic trails.
Drive
Driving
The next location is 85 miles away (~1.5 hours).
The quick drive down to Baton Rouge, LA should only take around an hour and a half. Once you get into Baton Rouge, the first thing you need to do is find some Cajun food.
Departure
Days 5-6
Baton Rouge, LA
I chose Baton Rouge Metropolitain Airport (BTR) to fly home from because it allowed us to see a bit more on the way down into Louisiana, and it was the closest major airport to Natchez. It has major airlines American, Delta, and United flying in and out of it, so it seemed like the perfect choice.
However, there are a few options we could have decided to fly home from. Jackson, MS (airport code: JAN) or Lafayette, LA (airport code: LFT) are all around an hour and a half away from Natchez as well.