Niagara Falls, Bruce Peninsula to Point Pelee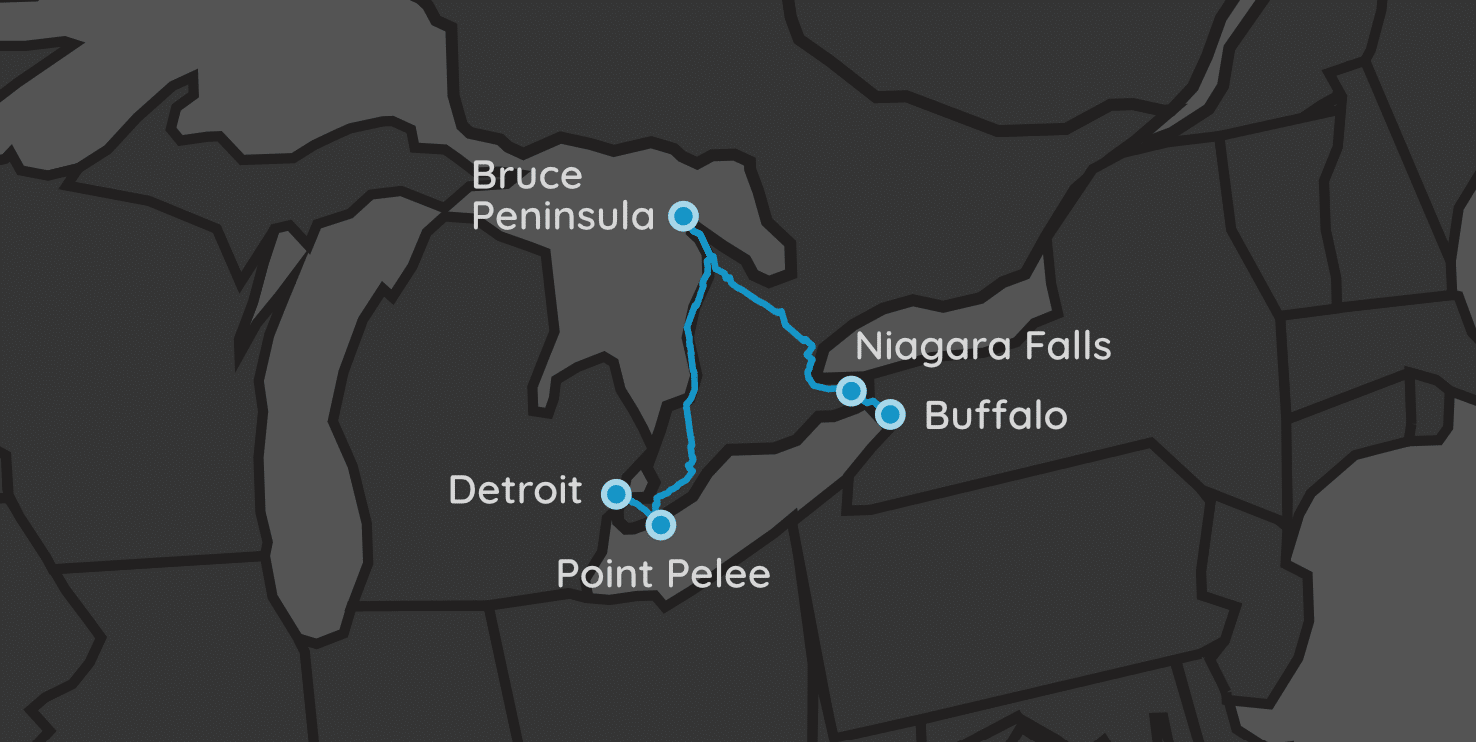 | | | | |
| --- | --- | --- | --- |
| Parks: 3 | Miles: 587 | Days: 9 | Hours: 12 |
This trip visits three sites in Canada, but flies into and out of US cities.
Most US citizens, if they are lucky enough to visit Niagara Falls, see it from the US side. However, the Canadian side of the falls is generally accepted as the more beautiful of the angles. Because of this, and the fact that we also visit two other Canadian National parks in this road trip, we cross the border into Canada immediately.
The other two parks we visit – Bruce Peninsula and Point Pelee – are both beaches, so this trip is best made in the summer months.
Itinerary Notes
As we mentioned above, this trip visits Canada. This may be a bit of an issue if your family is not fully vaccinated. Starting August 9th, 2021, Canada reopened its borders with the US for non-essential traffic. You will of course also have to have a valid US passport to enter Canada.
As for rental vehicles, it would be best if you check with your particular rental company, but Enterprise DOES allow you to drive a US rental car through Canada. However, we checked to see if we could do a one-way trip drop-off in Canada if we were to fly home via Vancouver, but Enterprise did not allow that.
This trip can also be easily reversed. Fly into Detroit, Michigan, then home through Buffalo International Airport. The reason some may opt to go this direction is if the flights from one airport are better (timing, non-stop options, price, etc) than the others.
Arrival
Day 1
Buffalo, NY
Niagara Falls is only 30 minutes from the Buffalo airport. After deplaning, pick up your rental car, then head across the border into Canada.
Drive
Driving
The next location is 24 miles away (~.5 hours).
This 30 minute has does not include any extra time the border crossing may add. Border crossing stations can sometimes take up to 30-45 minutes to cross, or you can flow right through. It all depends on the time and day, so give yourself enough time if making plans.
You'll probably be crossing at the Rainbow Bridge, so you can look that port of entry up on this site to see its current wait times.
Destination
Days 1-3
Niagara Falls
Niagara Falls, Canada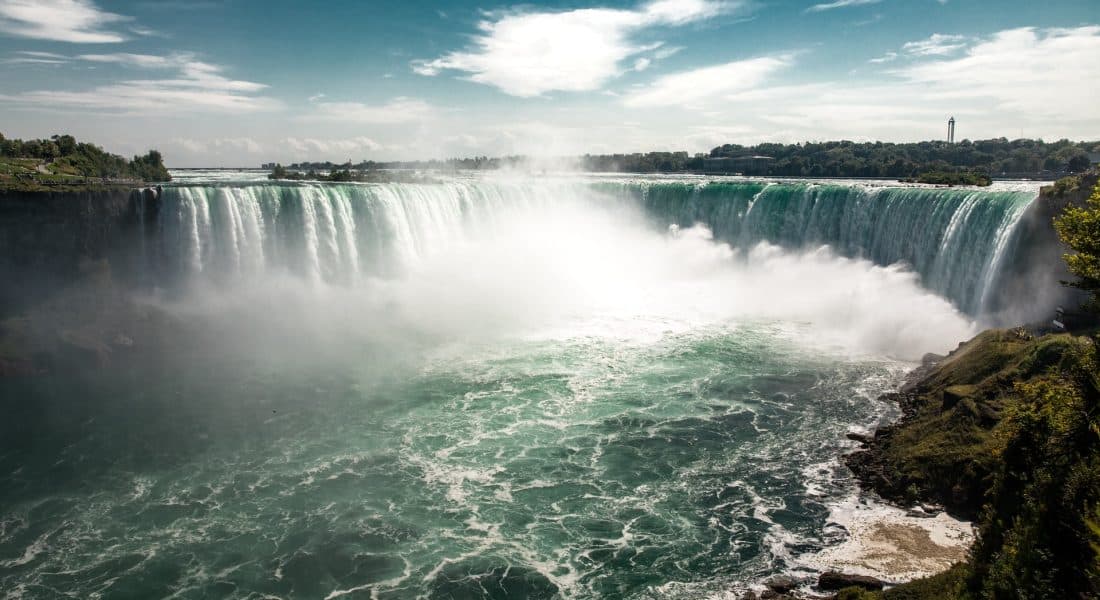 If given the choice, you should cross the border into Canada before seeing Niagara Falls. The Canadian side of the falls has a livelier atmosphere with more touristy attractions. The better views of the falls are also from the Canadian side.
However, the US Niagara has a lot to offer as well. Niagara State Park in New York is a wonderful place to explore, and you actually tend to get a little closer to the falls from US side, believe it or not.
Whichever side you choose, we suggest staying a full day here. This means that you'll come in the first night, sleep, wake up and spend a full day at the falls, then wake up the next day and head north towards the next destination: Bruce Peninsula.
Drive
Driving
The next location is 236 miles away (~4.25 hours).
This drive is a bit long, but will totally be worth it if you've planned ahead. Bruce Peninsula is a wonderful mix of forests, rocky cliffs and clear waters. However, now would be a good time to double-check that you've made all the reservations that are needed. This upcoming park gets very busy in the summer months, and the parking reservations are meant to help thin the crowds a bit.
Destination
Days 3-6
Bruce Peninsula National Park of Canada
Tobermory, ON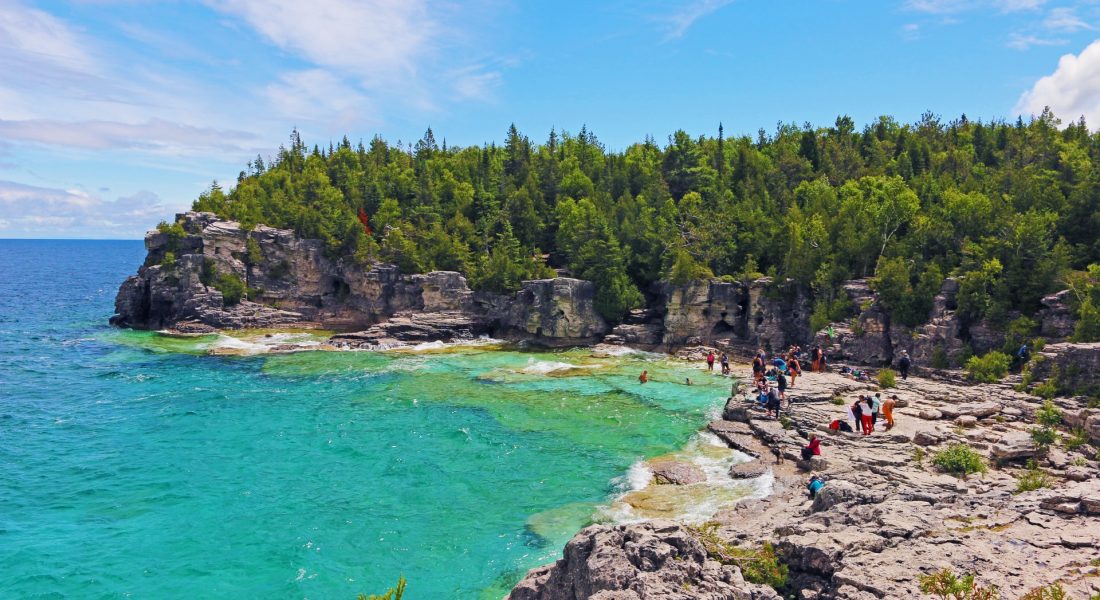 Bruce Peninsula National Park has dramatic cliffs rising from the turquoise waters of the Georgian Bay. Located at the tip of the peninsula above Toronto, this national park is one of Canada's favorites.
However, since it is so popular, Bruce Peninsula is very busy from mid-June to mid-September and on weekends from May through October. Plan and reserve entry in advance. Expect traffic, long wait times and full parking lots during the summer months.  For a quieter visit, consider visiting the park in early spring or late fall.
Lodging
To get the most out of your stay in this park, you should stay in the town of Tobermory, or as close to it as possible. A quick scroll through Airbnb shows what appear to be hundreds of places to stay, all up and down the peninsula. As close to the tip would be great for those looking to take in the sunrises and sunsets at the park. There are tons of hotels and motels in this area as well. You will not have any trouble finding accommodations here.
Attractions
For hiking, the Georgian Bay shoreline including the Grotto, Halfway Log Dump and surrounding trails is an extremely popular area of the park. A visit to these locations requires you to plan ahead by reserving your parking space as mentioned above. These spots offer some of the most picturesque views of the bay, and the ancient cedars and rocky cliffs that meet it.
Also, at the very northeastern tip of Bruce Peninsula is the Fathom Five National Marine Park. This first National Marine Park in Canada, this site features 420-million year old dolomite cliffs rising out of the water, 22 shipwrecks, and a unique biology of marine flora and fauna.
Looking to swim? Along the shores of the Georgian Bay, Dyer's Bay Beach is a great place for a swim. On the other side of the peninsula, Singing Sands Beach along the shores of Lake Huron have fantastic amenities.
Drive
Driving
The next location is 282 miles away (~5.5 hours).
Destination
Days 6-8
Point Pelee National Park of Canada
Leamington, ON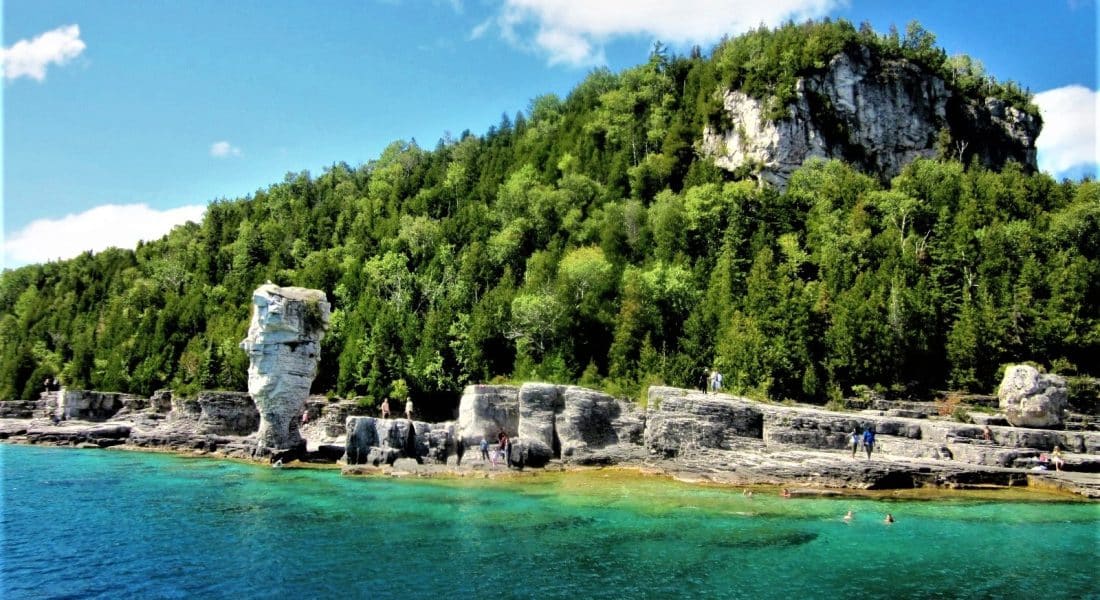 Drive
Driving
The next location is 45 miles away (~1.25 hours).
Departure
Days 8-9
Detroit, MI
You may be able to swing coming straight from Point Pelee, and flying home on the same day. However, the largest thing to consider is that you have to recross the border back into the US before going to the Detroit Airport. Border crossing stations typically take anywhere between 15-40 minutes, but there is some unpredictability here.
You can check the wait times here. The crossing you'll be going through is the Ambassador Bridge.