North Cascades to Whistler, British Columbia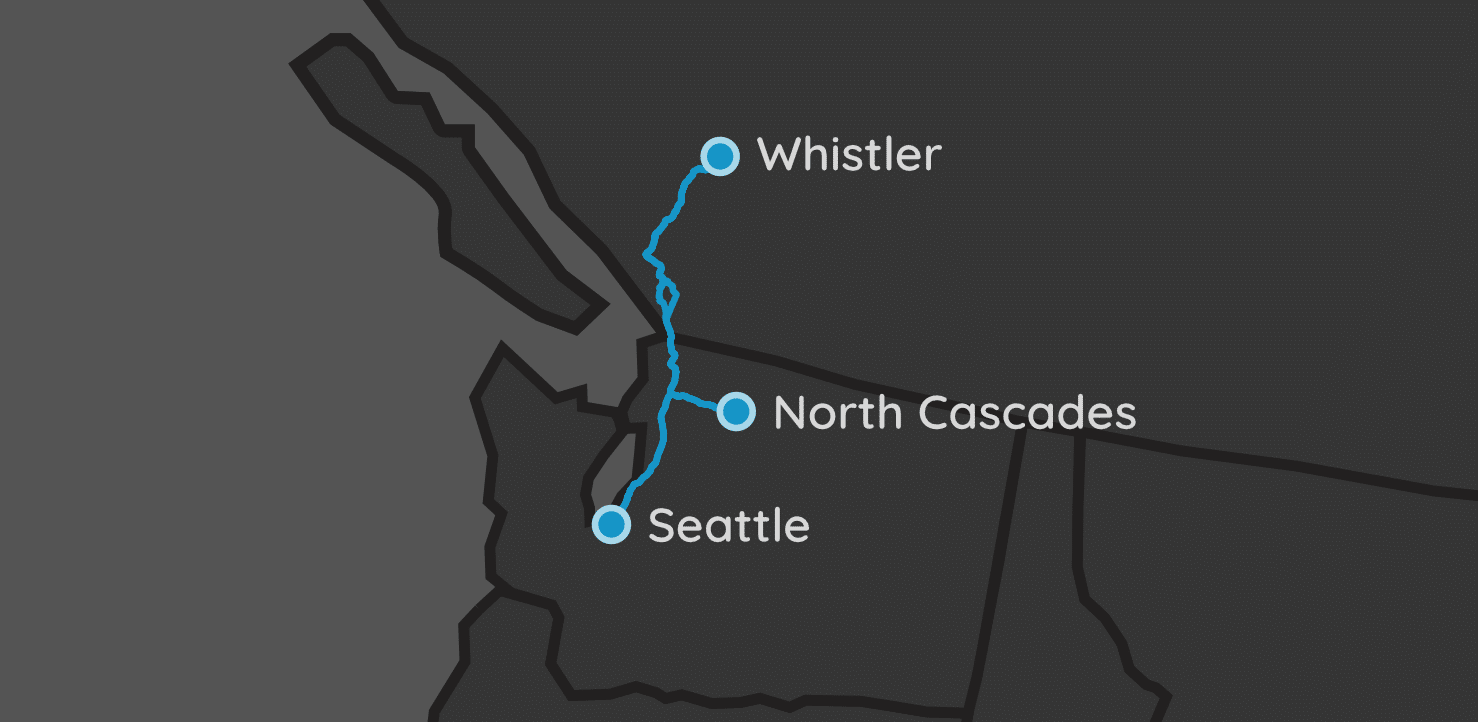 | | | | |
| --- | --- | --- | --- |
| Parks: 3 | Miles: 671 | Days: 8 | Hours: 10 |
The North Cascades National Park is hard to incorporate into one road trip with other parks. It's really too far north to loop back down around to visit Rainier National Park. It is, however, pretty close to Seattle, so we begin our trip there. We head north for a day at the North Cascades, then continue up into Canada to visit a place in British Columbia that is somehow NOT a national park.
Whistler, BC is well known for its epic ski slopes, but in the non-winter months, this place is absolutely breathtaking.
Itinerary Notes
As we mentioned above, this trip visits Canada. This may be a bit of an issue if your family is not fully vaccinated. Starting August 9th, 2021, Canada reopened its borders with the US for non-essential traffic. You will of course also have to have a valid US passport to enter Canada.
As for rental vehicles, it would be best if you check with your particular rental company, but Enterprise DOES allow you to drive a US rental car through Canada. However, we checked to see if we could do a one-way trip drop-off in Canada if we were to fly home via Vancouver, but Enterprise did not allow that.
Arrival
Day 1
Seattle, WA
Begin the trip by flying into the Seattle-Tacoma International Airport. I have no trouble finding non-stop, or one-stop flights to here from the East Coast. Another great thing about flying in from the east, is that you gain a couple of hours in your day, enabling you to head out on the trip immediately after landing.
The town of Rockport, WA about two hours north from Seattle, so I decided to make the trek north right after landing and picking up the rental car. You could easily find a hotel in the city, and spend the full day going up there, but for us, I wanted tomorrow to be a full day in the Cascades.
Drive
Driving
The next location is 108 miles away (~2 hours).
This leg of the trip takes just about 2 hours to complete. You will hug the Pacific coastline along Interstate 5 for a good portion of this route.
Destination
Days 1-3
North Cascades National Park
Rockport, WA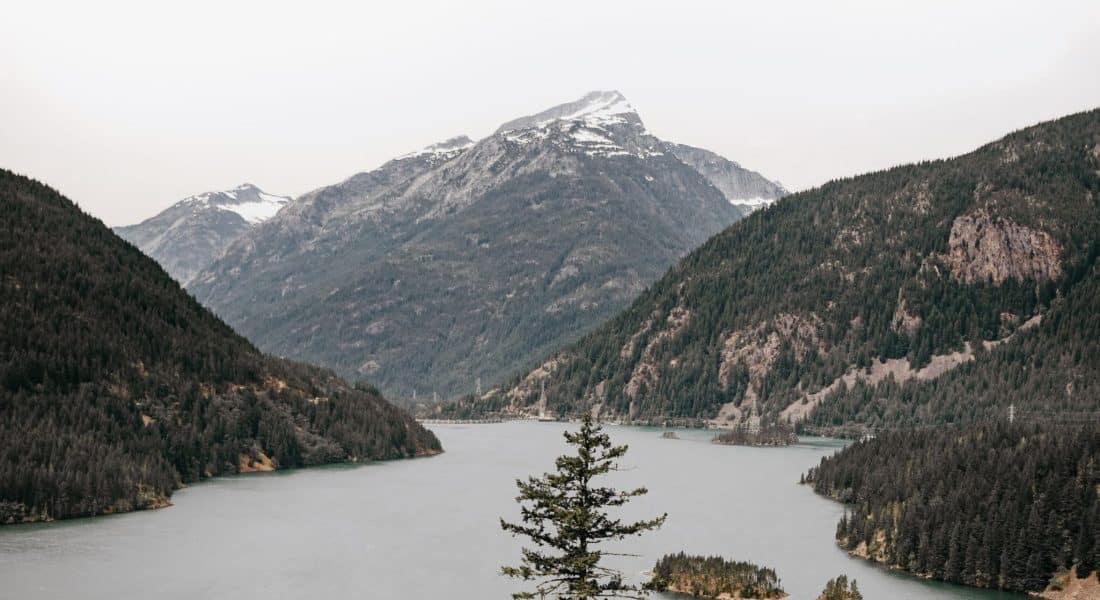 North Cascades National Park has the most glaciers in the lower 48 states. It is a difficult park to explore, as much of it requires hikes on difficult terrain and treacherous road conditions in the spring, fall, and winter.
Lodging
We found a couple great Airbnbs in the small town of Rockport, which also happens to be less than 20 minutes from the entrance to the North Cascades. There were a lot of other accommodation options—including hotels—in the neighboring towns of Sedro-Wooley, Concrete, Marblemount and Hamilton as well.
There are a few lodges inside the park as well. The Ross Lake Resort and the North Cascades Lodge at Stehekin offer a great place to stay inside the park.
Attractions
The crown jewel of this park is the 30-mile North Cascades Scenic Highway that dissects the park and is part of the much larger 140-mile Cascade Loop. The loop spans from Twisp in the east to Sedro-Woolley in the west.
Driving along the highway, you'll ascend into the North Cascades National Park, winding your way through jagged mountain peaks, rocky spires, rushing waterfalls and over 300 alpine glaciers. You will totally see why the North Cascades are often referred to as the "North American Alps" during this drive.
This highway is how most visitors experience the park. The most common route is to enter the park at the entrance point near Marblemount, then drive the scenic highway until the Washington Pass Overlook, which is about 21 miles (34 km). Beyond here is usually closed starting in November.
Drive
Driving
The next location is 190 miles away (~4 hours).
After leaving the Cascades, the next part of the road trip takes you into Canada. You'll need to pass over the border into Canada at the Blaine, WA intake area. Make sure you have all your passports and other documentation needed before heading to the patrolled area.
Once you pass through, you'll be about an hour south of Vancouver, BC. This is a beautiful city, but we actually decided to visit on the way back (you'll retrace your route coming home).
Note: Our drive time does not take into account the amount of time at the US Border & Customs station. You can check for the estimated wait times on the Custom's website.
Destination
Days 3-7
Whistler, BC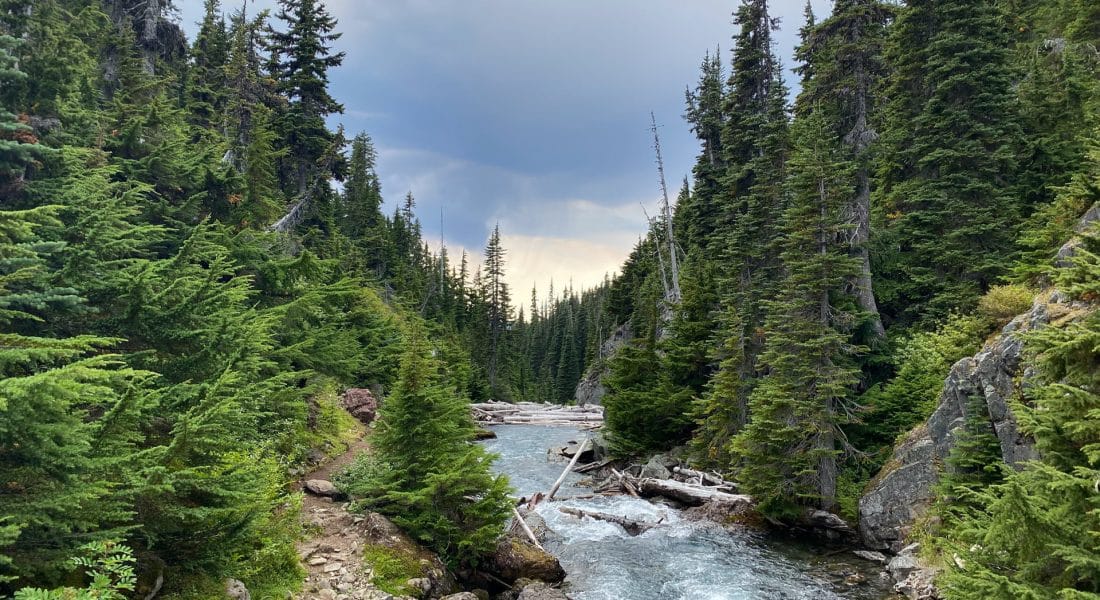 Whistler, British Columbia is in the southwest corner of the province, and is best known for its idyllic ski slopes in the winter. However, this part of BC is a great place to visit in the summer too!
There are over two dozen parks in Whistler. Each one has fantastic trails, and unique sights. Instead of trying to talk about the best trails in the area, we'll instead just direct you over to the Whistler Tourism's site, which has a ton of information on all these parks & trails.
There are three activities we'd like to point out.
The first is the Whistler Sky Walk. These guided tours take you up the side of Whistler Mountain, attached via a harness. The tour takes about 2 hours, and will give you amazing views of the valleys below.
The second is the ziplining options. If you're an adventure seeker, then this is the activity for you. While it can get a bit pricey, you'll be hard-pressed to find a higher and more exhilarating thing to do in the area. There are two companies that offer multiple zipline options: SuperFly and Ziptrek.
Lastly, take a trip over to Garibaldi Provincial Park. A provincial park is similar to a state park in the US, to give you an idea what it is. This park's rich geological history, diverse vegetation, snow-capped mountain, iridescent waters, abundant wildlife and scenic vistas all contribute to the immense beauty. The park is located in the heart of the Coast Mountains, and is the location of the featured picture we have for this itinerary.
Drive
Driving
The next location is 373 miles away (~4.75 hours).
This very scenic drive will take you right back the same way you came into Whistler. However, this time we are going to make a stop in Vancouver at their world-famous Stanley Park. If you wanted to spend the night in this wonderful city, no one would blame you. However, at the very least, stop and grab a bite to eat and walk the beautiful waterfront path.
Must See
Stanley Park in Vancouver
Vancouver, BC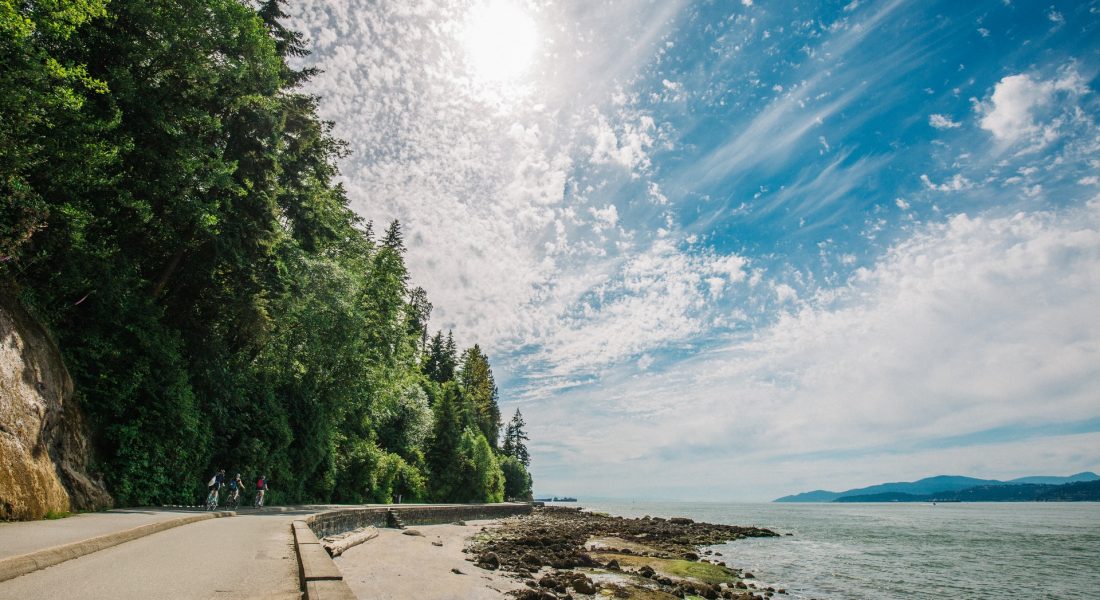 Stanley Park is a world renowned park and tourist attraction in Vancouver, Canada.
Staley Park has the world's longest uninterrupted waterfront path. The 17 mile (28 km) Seaside Greenway is an uninterrupted pathway that includes the Stanley Park Seawall. The path extends from the Vancouver Convention Centre to Spanish Banks Park.
Use this must-see city park in downtown Vancouver and stretch the legs and find some food (poutine!) at about the half-way mark into Seattle.
Departure
Days 7-8
Seattle, WA
There are really no other airports that work for this trip. Due to rental car restrictions, you cannot rent it in one country, and return in another, so flying home via Vancouver isn't an option.