Olympic, Mount Rainier to Mount St. Helens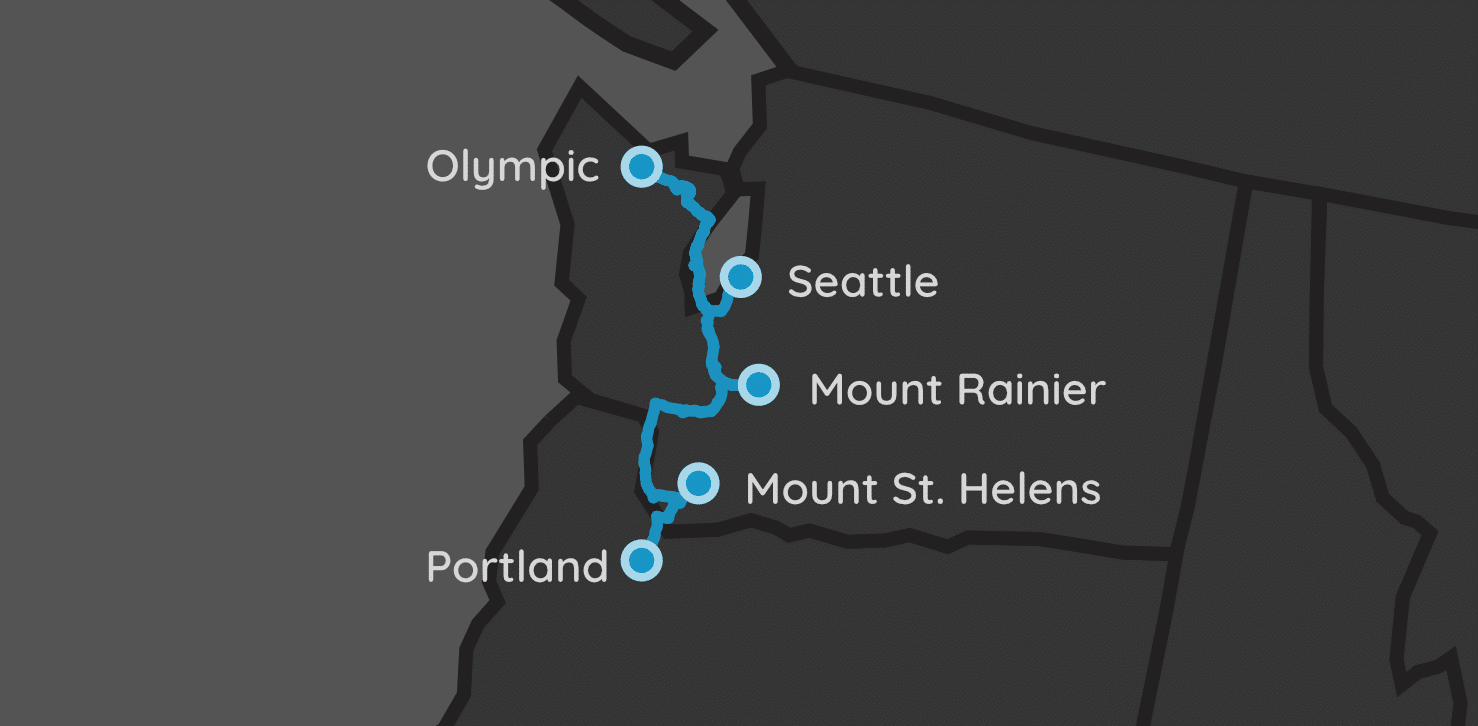 | | | | |
| --- | --- | --- | --- |
| Parks: 3 | Miles: 396 | Days: 7 | Hours: 8 |
This trip starts in Seattle, Washington and hits Olympic and Mt. Rainier National Parks. It then makes a stop to view Mount St. Helens before finishing up in Portland, Oregon.
This trip is on the shorter side: 8 hours, or 400 miles of total driving. This is a short trip that you should be able to easily get through everything in a week's time.
Itinerary Notes
As with most of our trips, it can easily be reversed. If you wanted to start in Portland and work your way north to Seattle, there is nothing wrong with that. Sometimes it may make sense if the flight into Portland is cheaper. It pays to double-check these things.
Grab your rental car – or SUV – at your incoming airport, and drop it off right before departure. We always schedule these rentals way ahead of time since we rent an extended SUV. You'll be able to get away with renting a car on a walk-up to the kiosk, but not if you need something that they don't have a lot of – like a big SUV.
We do not visit the North Cascades National Park in this trip. It simply didn't make sense from a logistical standpoint. This part is 4.5 hours from Seattle, and 6 hours from Rainier. Those aren't horrendous driving times, but this park was nowhere near a loop we could use for other parks. The shortest drive would be to drive to North Cascades from Seattle, then drive right back to Seattle to continue on your trip. That would have been 9 hours of driving for one park.
Arrival
Day 1
Seattle, WA
We begin our trip by flying into Seattle-Tacoma Airport. The next stop is only 2.5 hours away, so unless your flight lands late in the evening, you can probably make the drive and skip a night in Seattle.
Drive
Driving
The next location is 83 miles away (~2.5 hours).
From Seattle, we head northwest to Port Angeles, WA. If you use Google Maps and drive to "Olympic National Park", it will not take you to Port Angles. Make sure you this is the city you are putting into your GPS.
Destination
Days 1-4
Olympic National Park
Port Angles, WA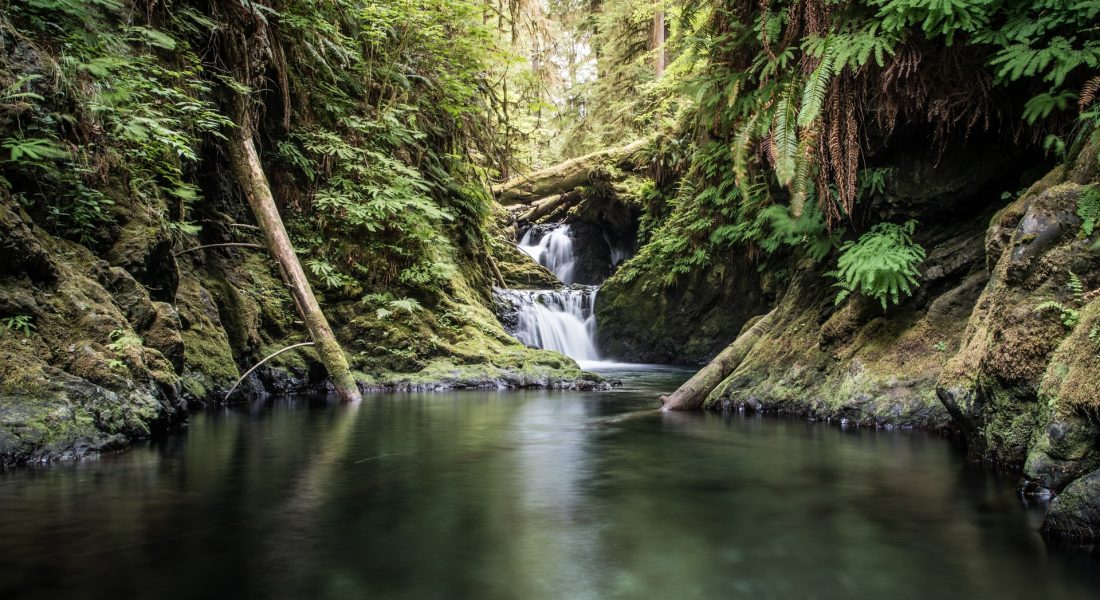 Olympic National Park is known for its old-growth rain forests within a temperate climate.
Lodging
For this part of the trip, choose one of the many Airbnb options in the town of Port Angeles, WA. This is the town of the entrance to the park, making it the most convenient place to stay. However, there are also great accommodations all the way east on US-101, in towns like Sequim and Blyn.
Attractions
When visiting, you must hike the Hurricane Hill Trail in the north-central part of the park. This 3.2 mile paved trail climbs about 700 feet in elevation offers views of alpine meadows and the Olympic Mountains.
Just past this hike, continue along the scenic Hurricane Ridge Road. This is the only route available to cars to the highest elevations within the park.
After visiting this section of the park, exit back the way you came, and reenter at the Hoh Rainforest Visitor Center on the west side. In here, be sure to hike the Hall of Mosses Trail (1 mile) and the Spruce Nature Trail (1.2 miles). Both of these trails take you through old-growth forests adorned with rainforest-like ferns and mosses.
Drive
Driving
The next location is 155 miles away (~3 hours).
From Olympic National Park, we will head back the way we came and continue on through Tacoma, WA. This short 3-hour drive ends up being the longest singular leg of our trip.
Destination
Days 4-6
Mount Rainier National Park
Ashford, WA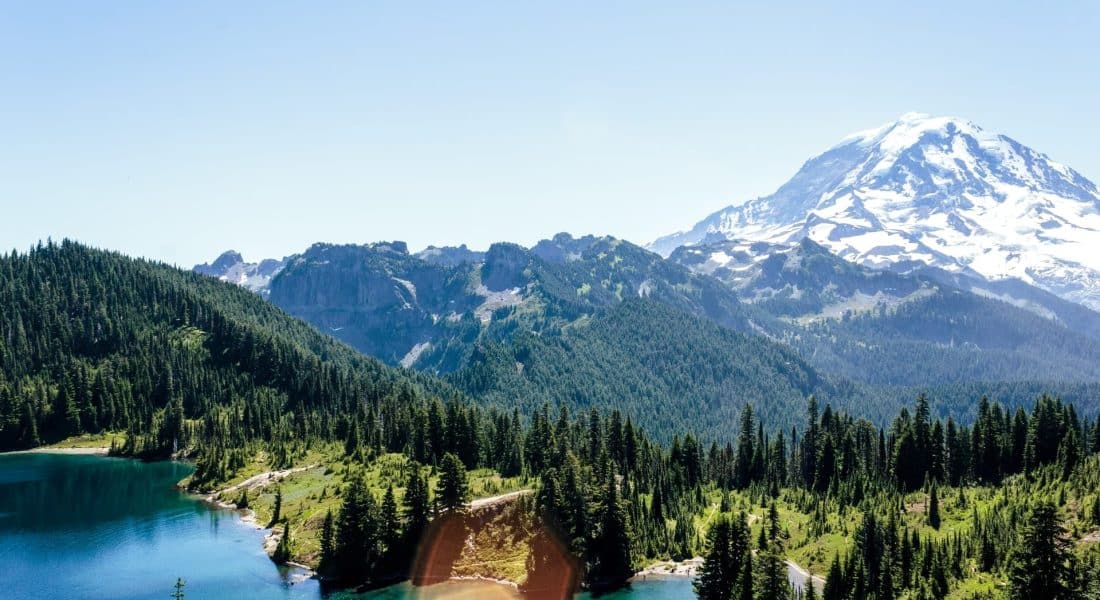 Mount Rainier is the highest peak in Washington State, and the Cascade Mountain Range, with a summit of 14,411 feet. This ice-clad stratovolcano is surrounded by the most glaciers anywhere in the Lower 48.
Lodging
We chose Ashford since it had plenty of Airbnb options. However, the small towns of Enumclaw and Greenwater would have been fine as well. There are a couple lodging options inside the park, and both are booked via mtrainierguestservices.com.
Attractions
Mt. Rainier National Park has five developed areas. The least visited is Carbon/Mowich in the northwest corner. It gets very little traffic and much more rain than the other areas.
In the interior of the park, Paradise to the south and Sunrise to the north are the most popular areas, but also the most crowded. If you only have one day in the park, pick one of either Paradise, or Sunrise, and enjoy the scenic drives to and from them. There are numerous hikes and overlooks throughout both drives.
The most popular hike within Paradise is the Nisqually Vista Trail (1.2 miles round trip) and the Pinnacle Peak Trail (2.5 miles round trip) is a bit harder, but with equally spectacular views. Sunrise has more difficult trails, like the Glacier Basin Trial and Mt. Fremont Lookout. It also has an easy Sunrise Nature Trail (1.5 miles round trip), and the Shadow Lake Loop (3.7 miles round trip).
Drive
Driving
The next location is 120 miles away (~2 hours).
From Mt. Rainier, we are going to continue south to Mount St. Helens, where we will be staying in Amboy, WA for a night.
Destination
Days 6-7
Mount St. Helens
Amboy, WA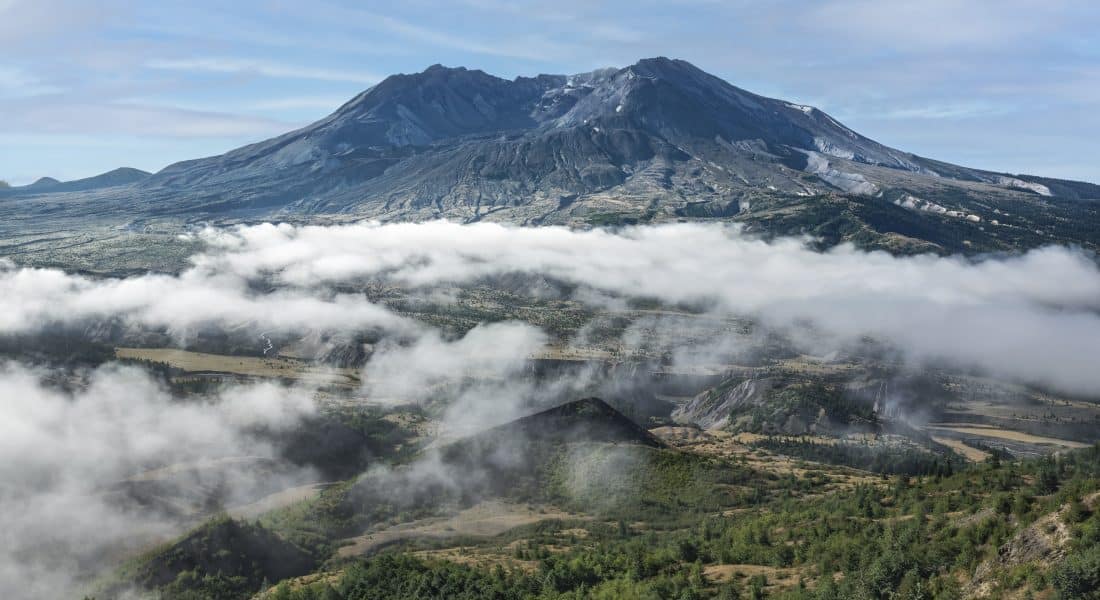 Mount St. Helens is an active stratovolcano in the Pacific Northwest. The area around the volcano is a Washington State Park.
Drive
Driving
The next location is 38 miles away (~1 hours).
The trip to the Portland airport is a quick 38 miles (61 km), so there is likely no need to head into town the night before your flight.
Departure
Day 7
Portland, Oregon
We finish this trip with a flight home out of Portland International Airport. Since our stay in Mt. St. Helens was only an hour away, we didn't spend the night here before our flight out.
Portland is a beautiful city with a lot to see, so if you have the ability to stretch this trip out an extra day, this is where we would add it.