Portland to San Francisco Road Trip on the Pacific Coast Highway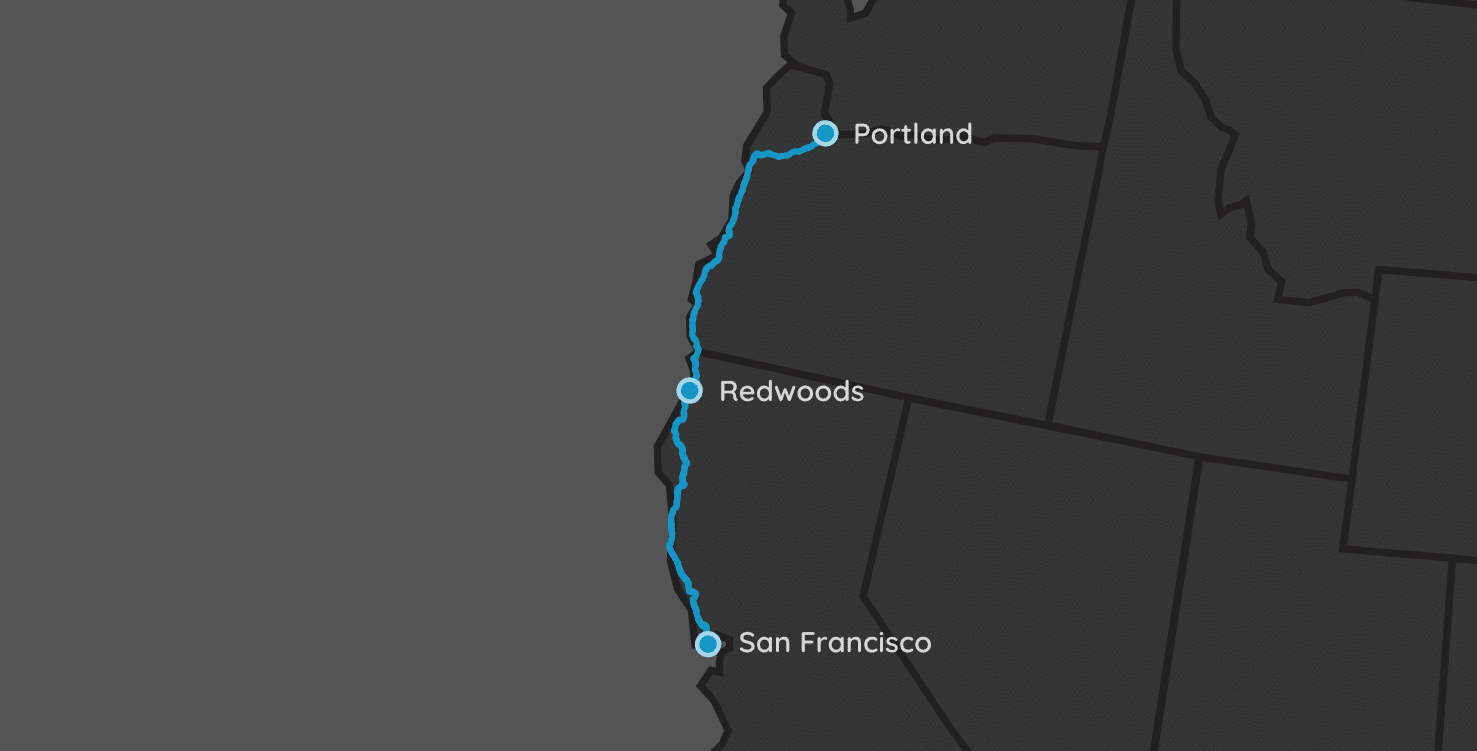 | | | | |
| --- | --- | --- | --- |
| Parks: 5 | Miles: 758 | Days: 9 | Hours: 17 |
In this road trip, we start in Portland, Oregon, and head immediately to the Pacific Coast. From there, we will follow US-101/US-1 along the coastline for over 600 miles (966 km). Much of this stretch of road is called the Pacific Coast Highway (PCH), and is an iconic American drive.
From there we will work our way down the coast, stopping at a few places in Oregon before spending multiple nights in Redwood National Park. Next we pass through Mendocino, CA before finally arriving in San Francisco.
Itinerary Notes
In this Portland to San Francisco road trip, we will have a lot of driving, so you're going to want to get a very comfortable and spacious rental car at the Portland airport. Please schedule your car rental ahead of time (preferably when you book your flights). Renting a vehicle on the spot can sometimes be disastrous, with low inventory or – at worst – nothing available.
This trip can easily be reversed and go from San Francisco to Portland, however a Pacific Coast road trip should head south… shouldn't it? I mean, there is nothing stopping you from going North, but that just seems wrong for some reason. But of course, you can go which ever direction you want!
This is a true road trip. A lot of the spots we chose to stay the night at are simply waypoints for breaking up the days evenly. The true experience in this road trip comes with what you do (and find) during the drives from one spot to the next. We give you a couple good ideas, but the parks/attractions/etc. are endless along each of the drives. Do your own research to find things that pique your interest!
Arrival
Day 1
Portland, OR
We are going to start this trip in Portland. I seriously considered starting it in Seattle instead. However, it was going to add a couple hundred miles and at least two more days (since we were going to have to visit Olympic or Rainier National Parks while up there).
Grab your rental car and get on the road!
Drive
Driving
The next location is 148 miles away (~3.25 hours).
From Portland head southwest on Highway 99W to OR18 to Lincoln City. Once you reach this small coastal town, you've finally now reached US-101, which will be your home for the rest of the trip. In Oregon, this stretch of 101 is also called the Oregon Coast Highway.
If your flight gets in too late to continue on a three-hour drive immediately after, then consider staying the night in Portland or stopping in Lincoln City, OR (2 hours).
Destination
Days 1-2
Siuslaw National Forest
Yachats, OR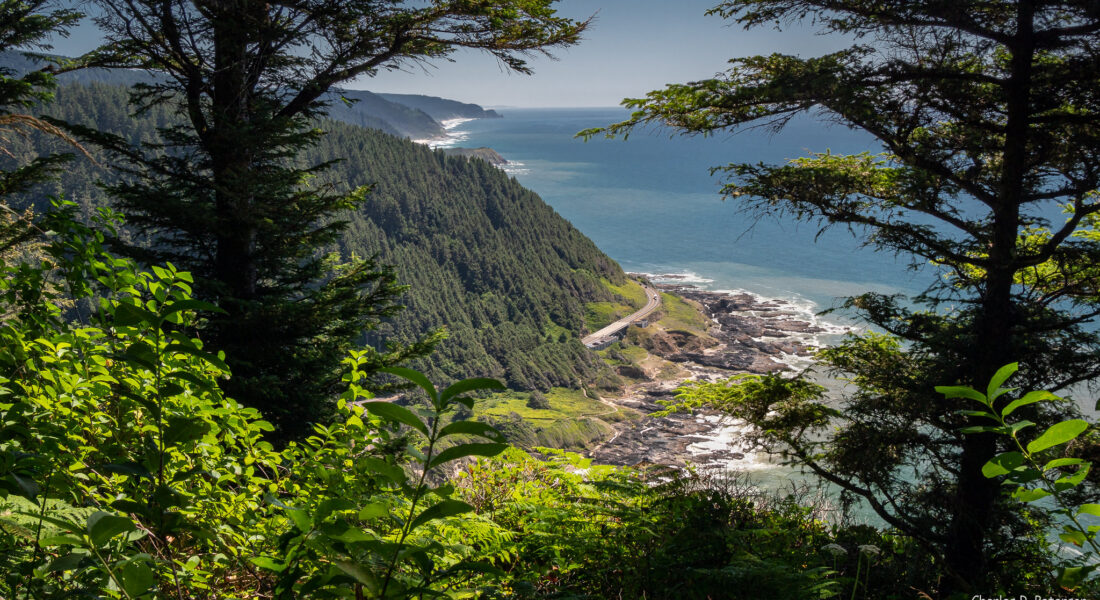 Yachats, Oregon is right next to a handful of state and national parks. This is just a small sampling of spots within 10 minutes of the middle of town. There are a number of trails near or at each of these spots.
Driftwood Beach State Recreation Site (11 miles away)
Governor Patterson Memorial State Recreation Site (7 miles)
Smelt Sands State Recreation Site (1 mile)
Yachats State Recreation Area (1 mile)
Yachats Ocean Road State Natural Site (1 mile)
Thor's Well (3 miles)
Cape Perpetua Lookout (4 miles)
Neptune State Scenic Viewpoint (4 miles)
Tokatee Klootchman State Natural Site (8 miles)
Drive
Driving
The next location is 181 miles away (~3.75 hours).
This drive will take you down the extremely scenic Oregon Coast Highway all the way until reaching the town of Brookings. Along the way, you'll pass spots where you can hike through old-growth forests and relax in the quaint waterfront towns along the Pacific coast.
Destination
Days 3-4
Brookings, OR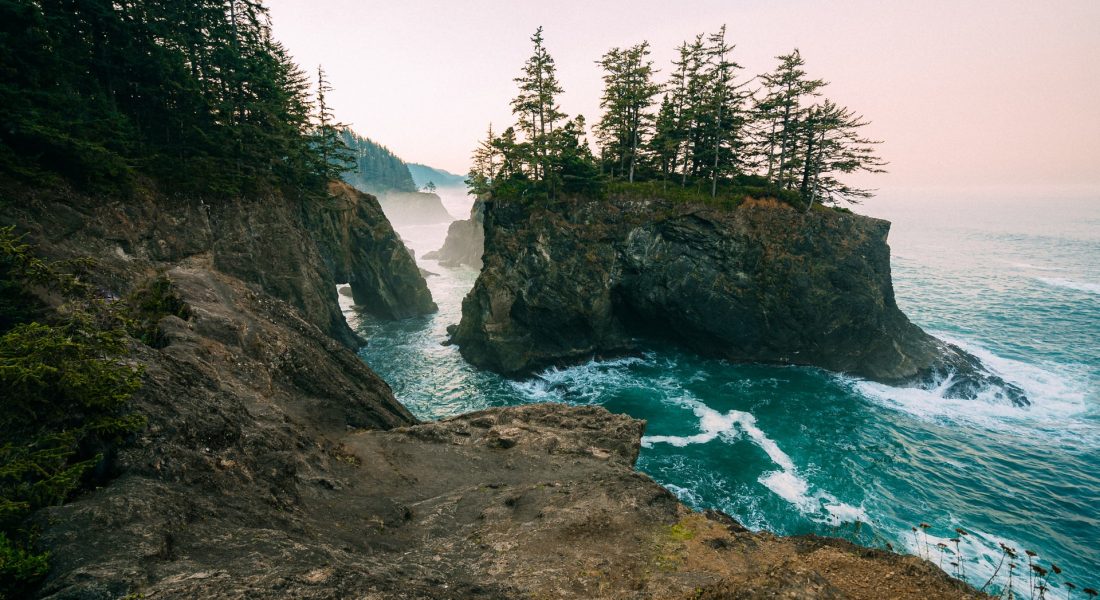 Chetco State Park is a hidden gem in Brookings. Here are some of the other places you should visit while here, most within the Samuel H. Boardman State Scenic Corridor:
Natural Bridges (11 miles away)
Whaleshead Viewpoint (8 miles)
Lone Ranch Beach (5 miles)
Harris Beach State Park (2 miles)
Chetco Point Park (1 mile) – Don't skip this one!!!
McVay Rock State Recreation Site (5 miles)
Oregon Redwoods Trail (11 miles)
Drive
Driving
The next location is 88 miles away (~2 hours).
The drive from Brookings to Trinidad in only about 2 hours. The majority of the day however should be spent at the top of the Jedediah Smith Redwoods State Park.
This should include stopping at the Hiouchi Visitor Center in Jedediah State Park. Within this park is the Stout Memorial Grove, home to some of the biggest and oldest trees on the North Coast. On the way out, drive the Newton Drury Scenic Parkway, which cuts through Prairie Creek State Park.
Destination
Days 4-7
Redwood National Park
Trinidad, CA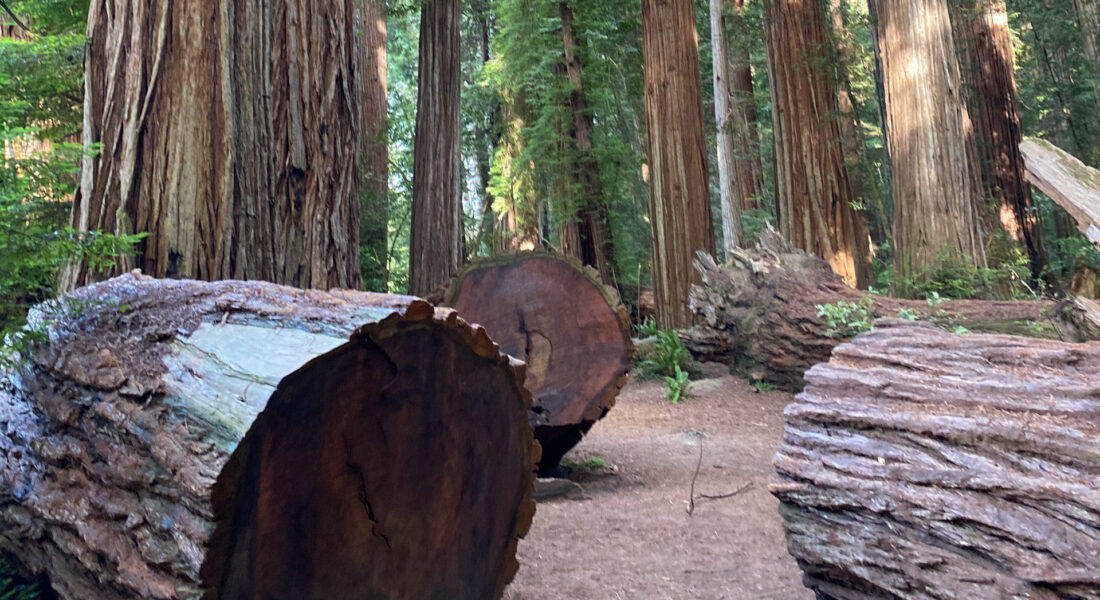 The Redwood National and State Parks line 40 miles (64 km) of the upper Pacific coast of California. Along US 101, there are clusters of national and state parks that make up the area. In addition to the National Park, three state parks are included in this Northern California wilderness: Prairie Creek Redwoods, Del Norte Coast Redwoods, and Jedediah Smith Redwoods. While the Redwoods NP is free to get in, most of the state parks have an $8 entrance fee.
Lodging
This is going to be the one stop on the road trip where we stay multiple days.
There was some debate as to where to stay on this leg of the trip. There are plenty of suitable towns to stay in, from Crescent City, Klamath, and Orick and to the north, to Arcata, McKinleyville, and Eureka to the south. Ultimately, we decided on beautiful Trinidad, CA. It seemed pretty central to a lot of the places we wanted to visit while there.
There are no campgrounds or lodging within the Redwoods National Park, so finding your own room & board around any of the towns we listed above will be your best bet.
Visiting the Parks
There is just so much to do here. We basically spent the day coming down from Oregon visiting the upper parts of the parks.
The next day was checking out the Redwood National Forest near Orick. Stop by the Thomas H. Kuchel Visitor Center to get maps and a good handle on where else to visit. We hiked the Lady Bird Johnson Loop and Trillium Falls trails. There seem to be endless trails here, so if it's the height of summer, the crowds will surely be spread out.
Our final day included a tree walk at Redwood Sky Walk at Sequoia Park Zoo and Trinidad State Beach.
Must See
Avenue of the Giants
Myers Flat, CA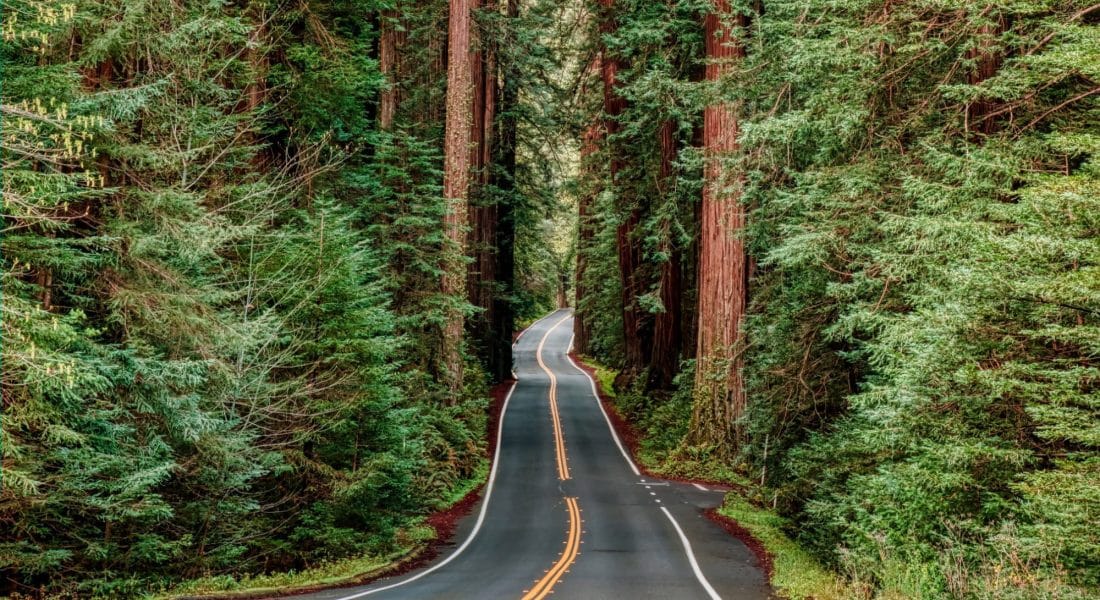 Our next leg of the road trip that takes us right past our southern-most Redwoods related attraction: the Avenue of the Giants located inside Humboldt State Park. This 31-mile side road runs parallel to US 101 and maybe an hour to the trip, but it was completely worth it.
Note: Some publications have this scenic byway with the name of the Redwoods Highway.
Drive
Driving
The next location is 166 miles away (~3.5 hours).
After exiting the Avenue of the Giants Parkway, it's about another 2 hours to Mendocino.
Destination
Days 7-8
Mendocino, CA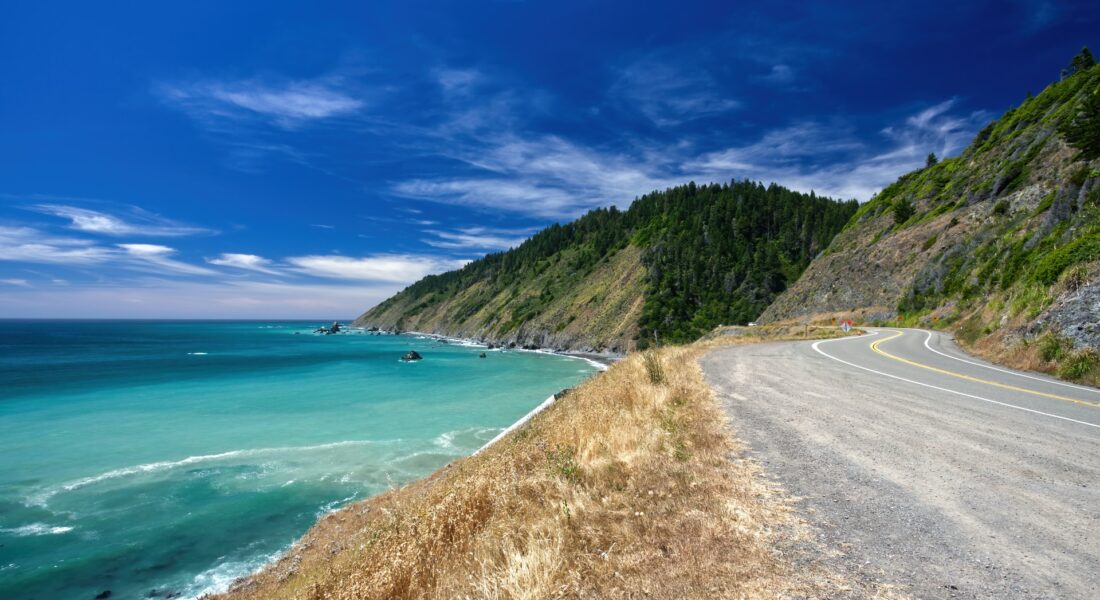 Mendocino known for the cliffside trails and beaches of Mendocino Headlands State Park. The park's visitor center and a museum of local history are in the 19th-century Ford House. Here are some other notable spots local to this small Northern Californian town.
Promo Bluffs Park (10 miles)
Mendocino Coast Botanical Gardens (8 miles)
Russian Gulch State Park (7 miles)
Jug Handle State Natural Reserve (5 miles)
Mendocino Headlands State Park (1 mile)
Van Damme State Park (3 miles)
Pygmy Forest Discovery Trail (6 miles)
Drive
Driving
The next location is 175 miles away (~4 hours).
Alert: GPS will not take you down US-1 unless you force it to for this leg of the trip. It will take about 30 minutes less if you drive the quickest route, which is down US 128, then 101. However, since this is the Pacific Coast Road Trip, we are keeping it along the coast.
Must See
Golden Gate Bridge National Recreation Area
San Francisco, CA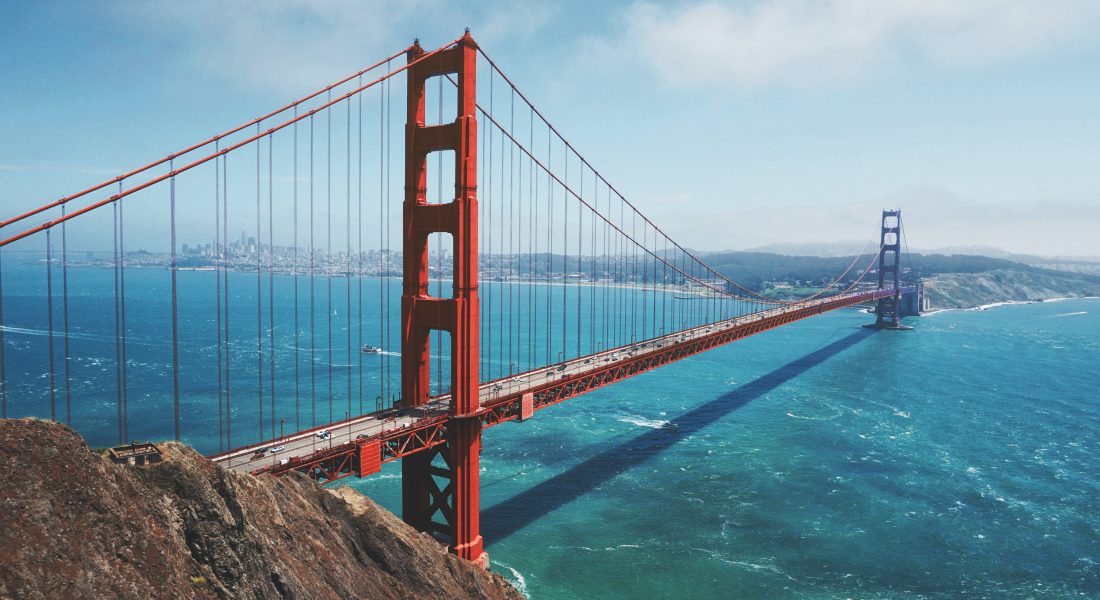 Stretched across 80,000 acres north and south of the Golden Gate Bridge, the Golden Gate National Recreation Area is a cluster of parks also constitutes one of the world's largest national parks within an urban setting.
San Francisco also has amazingly stable (and cool) weather. It's almost always within the 55-70°F range during the day, so be prepared for a cool stop and dress accordingly.
The National Recreation area is quite large, so there are a lot of places to get pictures and unique sights of the bridge. The most popular hikes with vistas of the bridge are the Slacker Ridge Trail and Battery East Trail. Both are less than a mile round-trip, with the Battery East trail being the easier of the two.
Departure
Days 8-9
San Francisco, CA
We fly home out of San Francisco. I like using SFO whenever possible because there are always multiple non-stop flights available to the East Coast (where I'm from).
Alternatively, you could continue driving to Los Angeles, however if you stay on the Pacific Coast Highway, it will extend your trip another 7.5 hours (424 miles).