The Great Lakes Circle Tour: Isle Royale, Pictured Rocks, Sleeping Bear & Indiana Dunes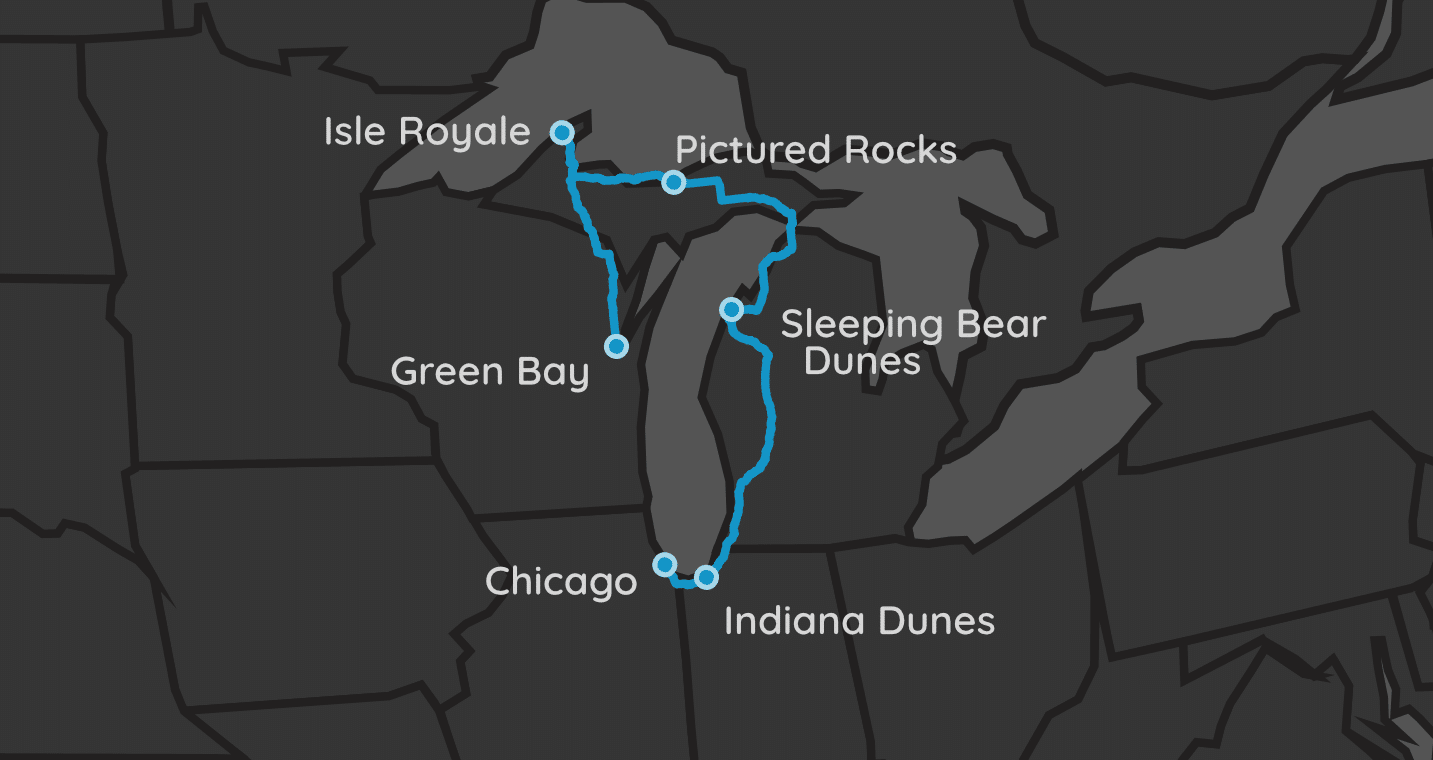 | | | | |
| --- | --- | --- | --- |
| Parks: 4 | Miles: 990 | Days: 8 | Hours: 17 |
Embarking on a road trip is one of the best ways to experience the beauty and diversity of the United States. And if you're looking for a trip that combines stunning natural scenery with a rich cultural history, look no further than the Great Lakes Circle Tour.
This iconic route takes you through four of the most breathtaking locations in the Great Lakes region: Isle Royale National Park, Pictured Rocks National Lakeshore, Sleeping Bear National Lakeshore, and Indiana Dunes National Park. Whether you're a nature lover, history buff, or simply looking for a unique adventure, the Great Lakes Circle Tour is sure to captivate you. In this article, we'll take a closer look at each stop on this unforgettable road trip and provide you with all the information you need to plan your own journey.
Itinerary Notes
I chose to fly in to Green Bay, and home via Chicago. Doing this removes an extra 3 hours from the drive when opposed to flying in and out of Chicago.
But, you could decide to fly in and out of one particular city, like Chicago. In fact, doing this may get you an easy flight at a good price from wherever you are coming from into a major city like it. However, there are a few cities you can do this from. It would make sense for you to do your research to determine which airport gives you the best deal. The main cities with airports that could be along this road trip are:
Chicago, IL: Midway (MDW) and O'Hare (ORD)
Milwaukee, WI: Milwaukee Mitchell International (MKE)
Green Bay, WI: Green Bay Austin Straubel International (GRB)
Grand Rapids, MI: Gerald R. Ford International (GRR)
As for rental cars, you won't need 4WD or all-wheel drive for this trip. If you have a big family, rent a larger SUV or RV, but a sedan that is easy on the gas will work too. I like to schedule my rental cars at the same time as booking my flights. I've seen too many horror stories play out where someone was hoping to just show up at the rental kiosk and pick up a car that day. Occasionally, it works, but most times it doesn't. Don't risk it – schedule it ahead of time!
Arrival
Day 1
Green Bay, WI
We fly in to Green Bay, Wisconsin to start this trip. I don't see any reason to spend the night here, so jump in your rental and head north to Houghton, MI.
Drive
Driving
The next location is 210 miles away (~3.5 hours).
It is just about a straight north shot from Green Bay to Houghton, MI. Expect it to take around 3.5 hours and stay on mostly smaller state highways.
Destination
Days 2-4
Isle Royale National Park
Houghton, MI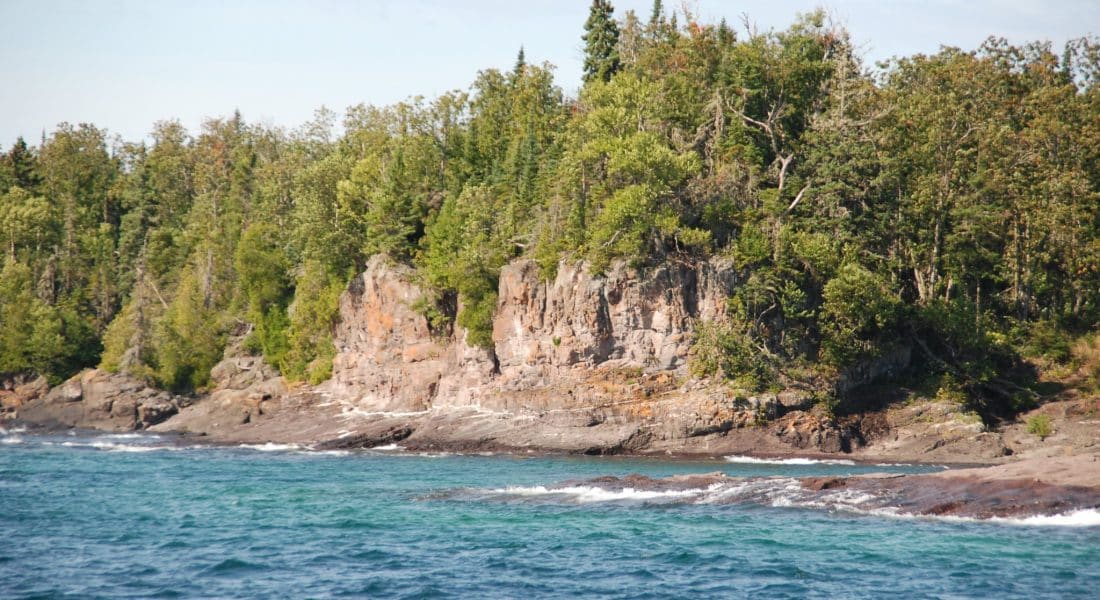 The best way to get to Isle Royale National Park from this direction is by taking the ferry from Houghton, MI to Rock Harbor inside the park. The ferry ride is about 6 hours one way and costs around $80 per person one-way. Keep in mind that you cannot take a round trip in one day and will need to stay on the island for at least one night.
I suggest staying two nights on the island. This means you'll take the ferry on day #2, visit the park on day #3, then head back to Houghton on the ferry on day #4.
If you're searching for a comfortable place to stay on the island, the Rock Harbor Lodge is the best option. However, the lodge does not have many amenities and is not a luxury spot, so it's best to bring any toiletries and food you may need for your time on the island. Both the ferry and lodge require reservations ahead of time, and it's best to reserve them as early as possible to secure your spot.
If you're willing to splurge, a seaplane is an option to get to the island. However, it is much pricier than taking the ferry.
For those who prefer a more rustic stay, there are multiple campsites on the island. These campsites provide a more immersive experience of the park, allowing visitors to truly connect with the natural surroundings.
Drive
Driving
The next location is 141 miles away (~2.5 hours).
For the trip from the home base of Isle Royale NP to Pictured Rocks, you'll take US41 until the small town of Harvey, where you'll pick up State Route 28. From there you'll follow along the Lake Superior lakeshore until reaching the small town of Munising.
Destination
Days 4-5
Pictured Rocks National Lakeshore
Munising, MI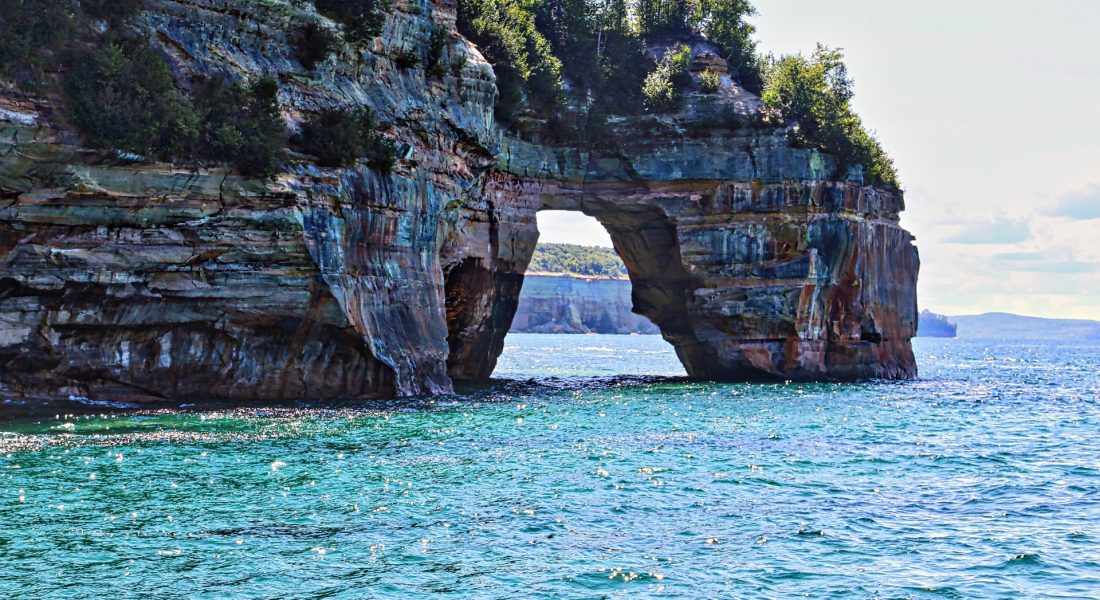 Pictured Rocks National Lakeshore has 73,236 acres and 42 miles of shoreline along Lake Superior's rugged coast. There are about 15 miles of colorful sandstone cliffs climbing 50-200 feet high rise from the lake in Michigan's Upper Peninsula. It's dramatic multicolored cliffs were created when groundwater seeped through the cracks and trickled down its face. Iron (red and orange), copper (blue and green), manganese (brown and black), limonite (white) are the most common color-producing minerals at work here. Its so impressive that I named it one of the parks that should be considered for National Park status.
In addition to the Pictured Rocks, the lakeshore also offers 12 miles of beautiful beaches, nearly five miles of enormous sand dunes, several waterfalls, and lighthouses. Over 100 miles (161 km) of trails crisscross the park.
Lodging
There are a few hotels and motels around Munising, as well as some AirBnb vacation rentals.
Drive
Driving
The next location is 250 miles away (~4.5 hours).
From Munising, you'll head south towards Lake Michigan, where you'll follow along the northern shore of the lake until you cross the Mackinac Bridge, which spans almost 9,000 feet across the Straits of Mackinac. There is a $4 toll for each car, or $2 per axle to cross.
After crossing the bridge, you'll have another 2.5 hours of driving down the eastern shore of Lake Michigan until you reach the town of Empire.
Destination
Days 6-7
Sleeping Bear Dunes National Lakeshore
Empire, MI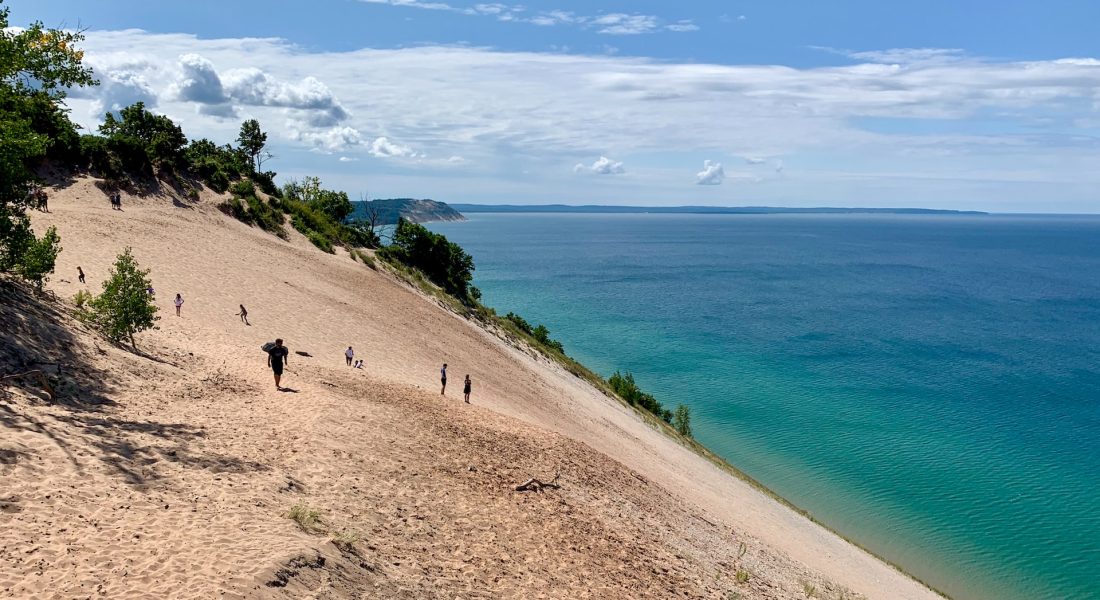 Sleeping Bear Dunes National Lakeshore is located along the northeastern shore of Lake Michigan in the state of Michigan. The park covers over 35 miles of pristine beaches, forests, and towering sand dunes that rise up to 450 feet above the lake's surface. The lake shore has a wide range of outdoor activities, including hiking, camping, swimming, and fishing. The park also has several scenic drives, including Pierce Stocking Scenic Drive, which offers breathtaking views of the dunes and lake.
Lodging
The best place to stay would be in the town of Empire, MI, if you are OK with vacation rentals from Airbnb or VRBO. If you need a hotel, you'll need to stay in Traverse City, which is 30 minutes to the east.
Drive
Driving
The next location is 320 miles away (~5.5 hours).
From Empire to Chicago, expect the drive to be around 5.5 hours long. I suggest making a stop in between the two waypoints at Indiana Dunes National Park.
The Indiana Dunes are a fine place to visit, but after seeing the lakeshore at the last three stops, this one will begin to feel redundant. I suggest stopping by to check it out, then continuing on into Chicago to spend the night before your flight home.
Must See
Indiana Dunes National Park
Burns Harbor, IN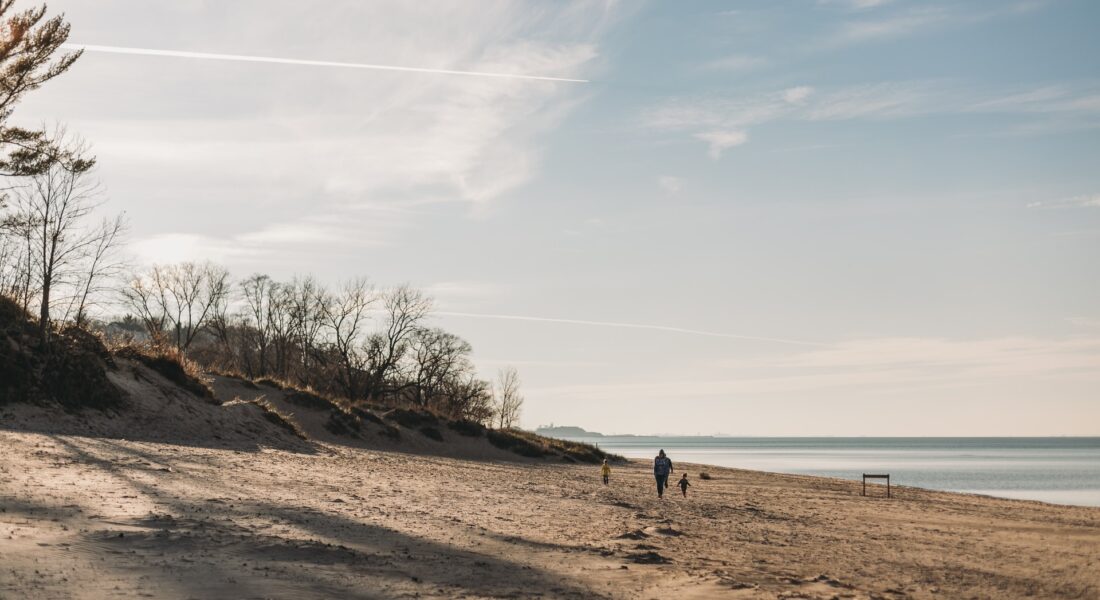 The Indiana Dunes National Park hugs 15 miles (24 km) of the southern shore of Lake Michigan. While this place is a new National Park, it's been a treasured state park for decades.
The park features 14 distinct trail systems covering more than 50 miles of trails. If you are looking to squeeze as much as possible into one hike, the Dune Ridge Trail is just the place. This one-mile hike offers great views of the extensive wetlands and forests south of this tall, forested dune. Perhaps no other area in the park will take you through as many diverse habitats on such a short trail.
Departure
Days 7-8
Chicago, IL
You'll probably need to spend a night in Chicago since the drive from Empire will take at least 5.5 hours, and that doesn't include any time spent at Indiana Dunes NP. I think the best option would be to find a hotel close to the airport, and stay there the night before your flight.
I decided to fly home from Chicago Midway (MDW) because it was a little closer to the direction we were coming from. O'Hare would have worked just as well here, and if you find a better price or flight option going home from there, then it really shouldn't be much of an issue.