Zion, Bryce Canyon, Grand Staircase–Escalante to Capitol Reef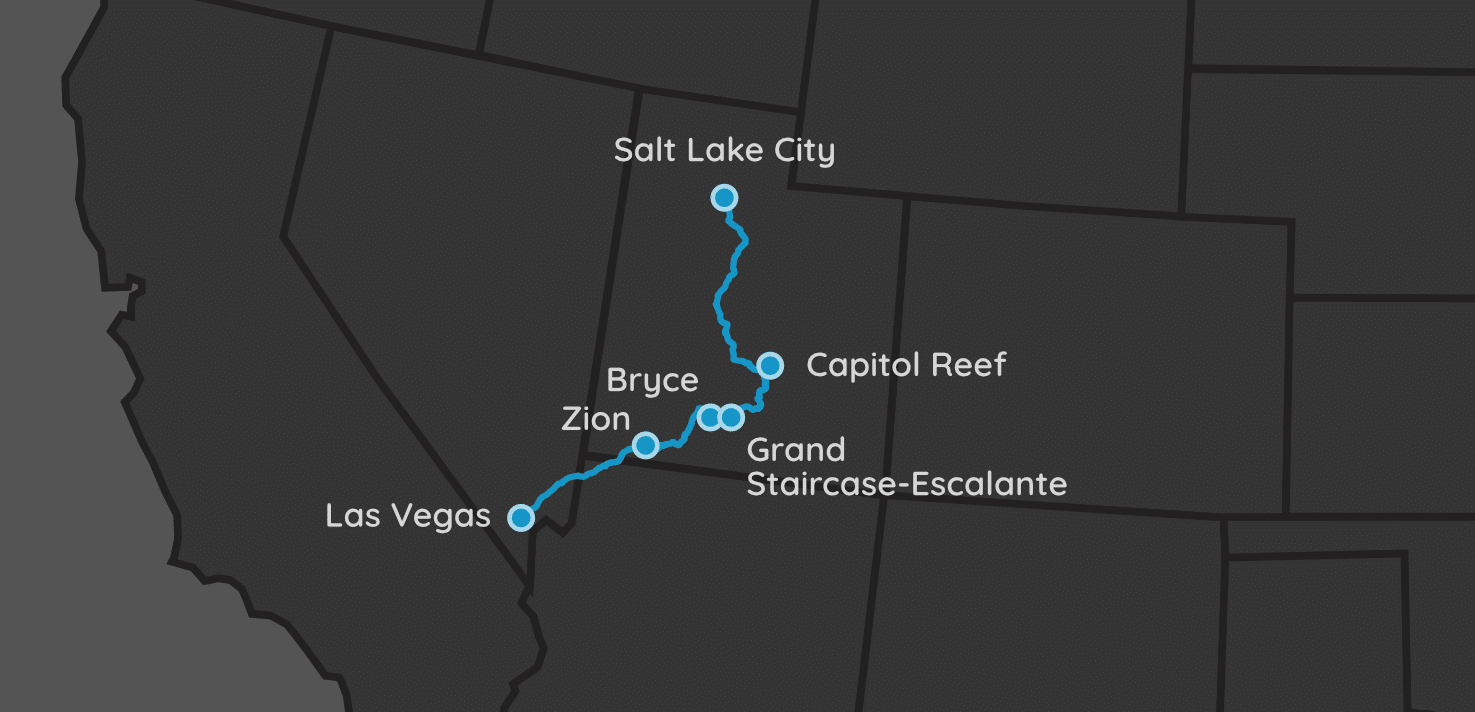 | | | | |
| --- | --- | --- | --- |
| Parks: 4 | Miles: 583 | Days: 9 | Hours: 11 |
This road trip is a bit shorter than our Full Utah trip that included two more state parks on the eastern side of the state (Canyonlands & Arches). We also take a drive through the Grand Staircase-Escalante National Monument, which has the most slot canyons in the United States.
Flanking the Staircase, we also visit Zion, Bryce Canyon and Capitol Reef National Parks… all located within the great state of Utah.
Itinerary Notes
We begin the trip in Las Vegas, and work our way north to Salt Lake City, but this trip can easily be reversed if you'd prefer that. One reason you may opt to go the opposite route is if flights into SLC were cheaper than flights out. You'd be surprised at how some of the smallest details change the prices of plane tickets.
Don't forget to rent your car at whatever arriving airport you come into. Schedule ahead if you can to make sure there are no car or SUV shortages when you get there. We like to get a larger vehicle than we'd normally need too. It makes for a much more comfortable road trip, and usually only costs a couple of hundred bucks more to rent.
Arrival
Day 1
Las Vegas, NV
Let's start the trip off with a flight into Las Vegas. Vegas is one of my favorite airports to use with Southwest trips due to the cheap flight prices.
If your flight gets in late, you may want to spend the night here first. The drive up to Zion National Park is just under 3 hours, so take that into consideration when planning your own trip.
Drive
Driving
The next location is 170 miles away (~2.75 hours).
Leaving Las Vegas, head north up to the entrance of Zion National Park in Springdale, UT. This road is quite barren and does not have much in the way of larger cities to eat at nor other landmarks to visit. Plus, Zion is such an amazing park that you don't want to waste one moment getting up there.
Destination
Days 1-4
Zion National Park
Springdale, UT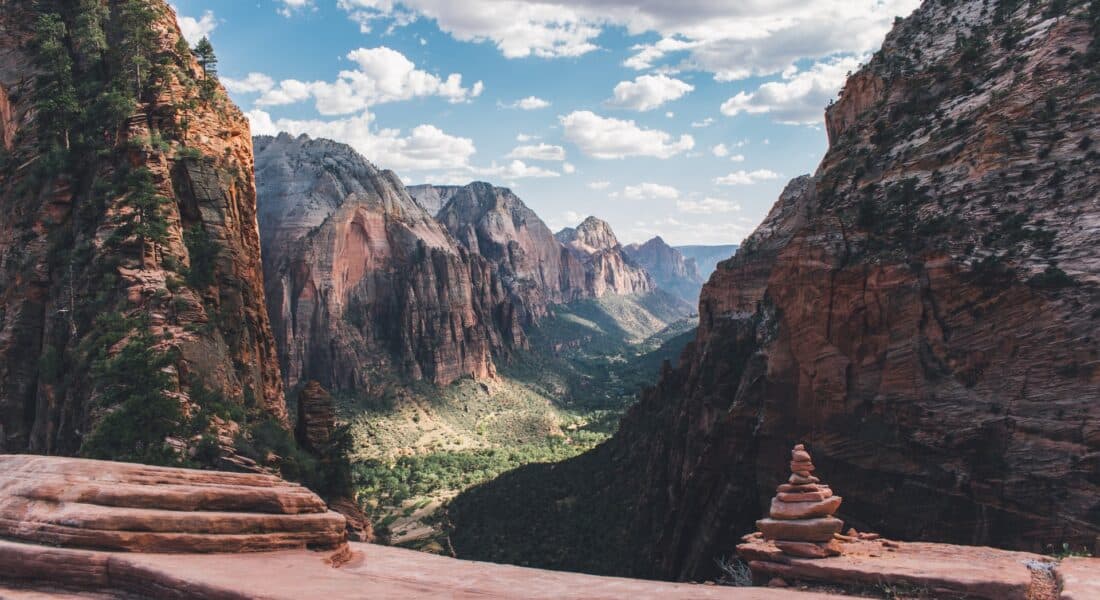 The Virgin River flows through 2,000 foot high monolith canyons, and you are right in the middle of it at Zion National Park. This park has everything Southwest parks are known for, all squeezed into one magnificent park. Canyons, arches, desert-like habitats, and more litter this have-to-see-it-to-believe-it park.
Lodging
We stayed at the Zion Lodge, which was located within walking distance to the entrance of the Park. This place was more like a resort, and made for a very enjoyable couple of days. It had a number of public pools, spacious bedrooms and even a grill on the patio, so we could have cooked some of our own meals.
There were also a lot of regular Hotels and other accommodations within Springdale, UT (the city that the entrance of the park is in). No matter where you stay in Springdale, getting to the park is easy with the park's shuttle bus system.
Attractions
Get into the park early. By early, I mean really early. This allows you to beat the majority of the crowds and the midday heat. We got to the shuttle pickup area about 20 minutes before the first bus was to arrive, and there were already plenty of people waiting. Going early into this park will make your trip much more enjoyable.
The two most popular trails at Zion are also the hardest.
The Narrows trail is a hike through the Virgin River (provided you have water hiking boots) and gets you some of the most beautiful scenery the park has to offer. This trail is located and at the very end of the park, and is preceded by the Riverside Walk trail, which is long, but fairly easy. We decided to skip the Narrows and instead just do the Riverside Walk, and we all really enjoyed it.
Angel's Landing is a 4 hour, 5.5 mile trip to the top of an overlook, and is not for the faint of heart or small children. Being one of the most iconic trails in the park, it does get busy, and it has steep drop-offs, a combination that has proven fatal in the past.
There are many other easier and less-traveled trails in this park as well – all accessible by the shuttle that runs the span of the park (cars aren't allowed in).
Take a short hike up to see the Court of the Patriarchs, or a 1-1.5 mile trip to see the Emerald Pools or the Watchmen. All of these trails require moderate effort, and are much less busy than Angel's Landing or The Narrows.
Drive
Driving
The next location is 90 miles away (~2 hours).
After two and a half days in Zion, we are going to Bryce Canyon National Park for our next stop. While only 90 miles, expect this trip to take about 2 hours. Highway US-89 is mostly a 2 lane road, so you'll be travelling a bit slower than if you were on an Interstate. However, the good news is that this is a very scenic drive with deserts, mountains, and groves of pine trees the whole way up.
Destination
Days 4-6
Bryce Canyon National Park
Tropic, UT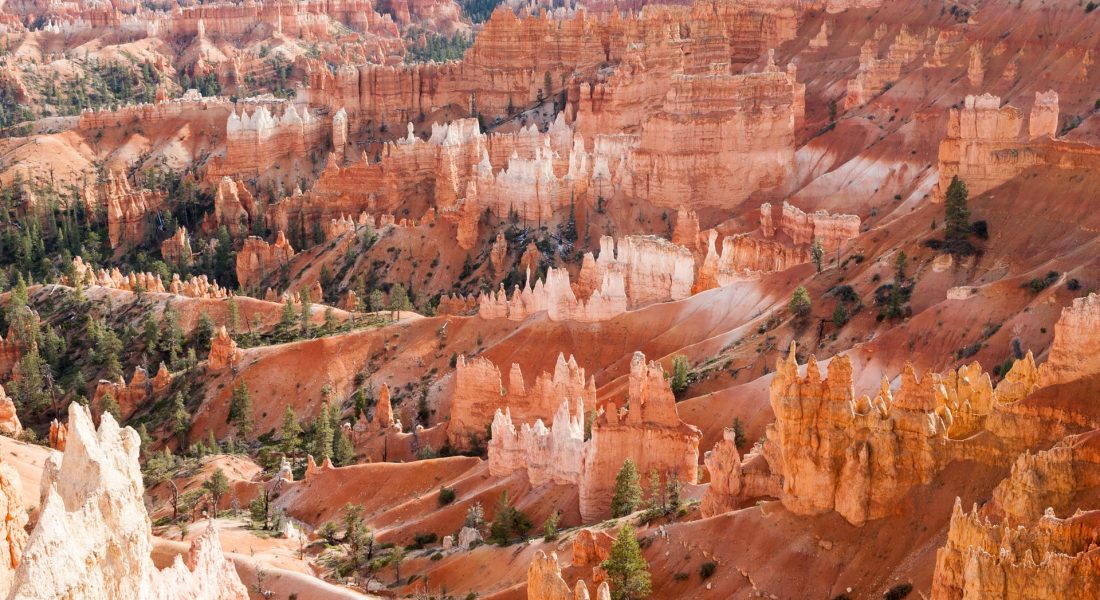 Bryce Canyon National Park is a fairyland of rock spires called "hoodoos". An array of pinks, reds, creams, oranges, and yellows paint the landscape differently each part of the day as shadows move across the canyon.
Lodging
We chose the small town of Tropic, UT to spend our two nights here with a place from Airbnb. There are a lot of rental options on that site. Hatch and Cannonville were two other cities we considered as well.
Another option that would have been great is the Bryce Canyon Lodge inside the park itself. You may have trouble finding openings during the peak visitation months of May through September.
Attractions
Spending one day at Bryce Canyon National Park seems like a sin because you can easily spend way more here. However, since we are spending one full day here, we are going to make the most of it.
Enter at the only visitor's center in the park on Route 63, and stop at Inspiration Point to see the maze of hoodoos below. Then take a hike along the popular Fairyland Loop Trail. You'll have numerous vantage points for pictures and amazing sights of the canyon on this trail, which – in my opinion – offers the best views of hoodoos in the park.
Continue driving into the canyon until you reach the end of the parkway at Rainbow Point, where you can see for miles across Southern Utah. From there, take the Navajo Loop Trail into the canyon, then turn onto Queen's Garden Trail to get back up to where you began.
This should lead to a long day at Bryce, but this remarkable park deserves it.
Must See
Grand Staircase-Escalante National Monument
Escalante, UT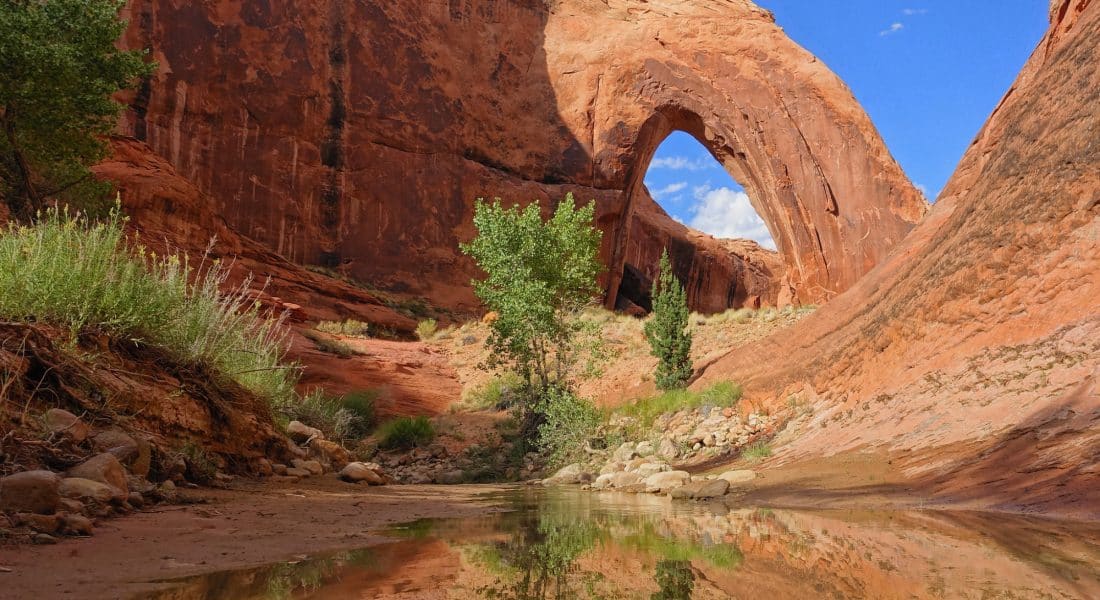 Only 11 minutes away from Tropic, UT is the start of the scenic Route 12 that cuts through the Grand Staircase-Escalante National Monument.
We would suggest driving this scenic road on your way from Tropic towards Capitol Reef.
If you want to take a bit longer and hike, we highly recommend the Peek-a-Boo Trail. On this trail you'll pass multiple slot canyons, for which this park is known for.
This 6 mile, looped, and moderately challenging trail begins at the Peek-a-boo Gulch Parking Area. Expect the hike to take about 3 hours if you make the full loop. This is a very popular area for hiking, so you'll likely encounter other people while exploring.
Drive
Driving
The next location is 105 miles away (~2 hours).
If you don't stop at the Grand Staircase, then this leg of the trip should take you just about 2 hours to complete. However, we would suggest taking at least a couple hour detour through the slot canyon-filled Grand Staircase-Escalante National Monument.
Destination
Days 7-9
Capitol Reef National Park
Torrey, UT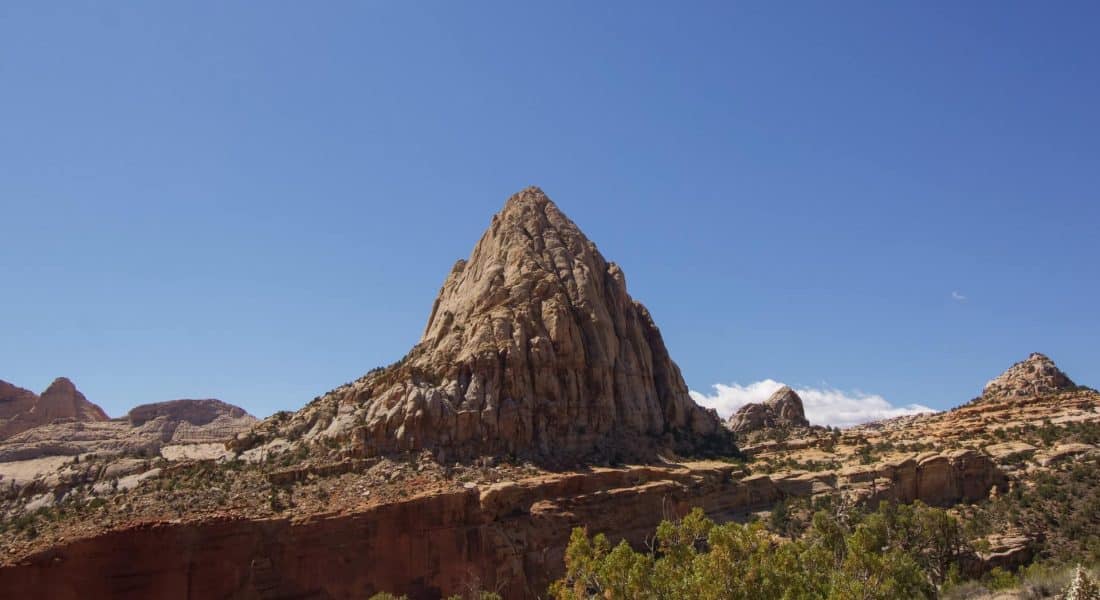 Capitol Reef National Park receives less attention (and visitors) than Utah's other national parks. However, it is still an amazing place in its own right.
Lodging
The small town of Torrey, UT is the most common place to stay when visiting the park. My personal preference is to use Airbnb to find a nice full house to stay at, but your stay here will likely be quick. Boulder, UT would be a great alternative town to look for accommodations in, but it is much farther away from the park's entrance.
Attractions
Since we can explore this park until sun down, we can experience the sunset at Sunset Point. We recommend you plan your whole evening around making sure you're around this area at this time of the day.
However, if you have time before, drive along the paved Scenic Drive after entering the visitor's center along Highway 24. This scenic drive is about 20 miles round trip and should take you around 1.5 hours to complete.
Capitol Reef's Waterpocket Fold is the defining geologic feature of this majestic national park. The Burr Trail Road, stretching between Boulder and Notom-Bullfrog Road, offers the best viewpoint of this amazing feature.
The best hike in the park is the Grand Wash Trail, about 5 miles (8 km) from the visitor's center. This easy 4.5 mile round trip hike doesn't actually follow any official trail. This hike instead snakes through a dry riverbed with walls stretching 800 feet into the air and at times only 20 feet in width. Wildflower grow everywhere in the spring and is a beautiful sight to behold.
Drive
Driving
The next location is 218 miles away (~3.5 hours).
This will be the longest drive of the trip. Luckily there are a lot of smaller cities between Torrey and SLC to stop and hit the restroom, eat or stretch the legs.
Departure
Day 9
Salt Lake City, UT
It's now time to head back to your normal life and leave these southwest parks behind. Fly home via the Salt Lake City International Airport (SLC).