A Guide To National Park Stamps & Passport Books
Whether you are an avid national park traveler or have highly competitive children, there are great advantages to purchasing a National Park Passport Book for collectible stamps. This is a great and easy way to commemorate your trips to various country parks while keeping track of your travels.
Before embarking on a trip, purchase a Passport To National Parks book where you can collect a stamp at every national park you visit. This passport is not required to enter the park. Instead, it is simply a tool for you to collect stamps for your own memorabilia purposes.
The National Park stamp books allow you to collect stamps at every national park. These are great for kids and adults alike and will save significant money on souvenirs that would otherwise be purchased upon visiting every park.
The National Park books are small journals you can take to every national park you visit. Each park has a place where you can stamp your book with the specific park's name and date. This will allow you to remember your trip and keep a proper record of all your travels.
Tips for Getting Stamped at National Parks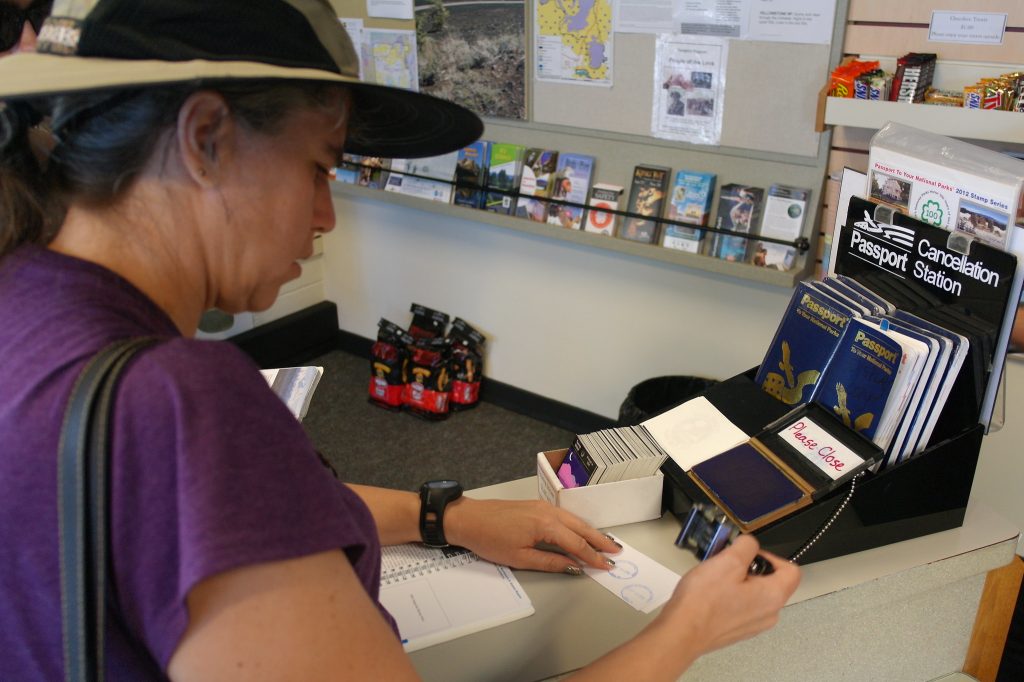 Other than properly planning your trip to ensure you get to visit all the desired spots and fill up your stamp book as you wish, several other considerations will ensure you get the most out of your stamp book.
When at the cancellation station, check the stamp to ensure that the date written on it is 100% correct. Having the correct date for the stamp added to your book is important. This will help you to accurately document your travels.
If maintaining a neat, aesthetically pleasing stamp book is important to you, first test the stamp on a loose piece of paper. This will help ensure that there is sufficient ink on the stamp and that the ink is evenly distributed. This will ensure a neat, even stamp result and an aesthetically pleasing stamp book.
Most cancellation stations will have a stack of loose paper for guests to test the stamp.
Types of National Park Stamp Books
There are various types of national park stamp books. While all of them serve the same essential purpose – creating a place for park visitors to commemorate their travels across the countless national parks in the US – each type of stamp book has its advantages and disadvantages.
Various stamp books created by third parties serve much the same purpose. The official stamp books are known as the "Passport to National Parks," and these come in three different options.
The different options are The Passport to National Parks Classic Edition, the Passport to National Parks Collectors' Edition, and the Passport to National Parks Junior Ranger Edition.
The Passport To National Parks Classic Edition is the original passport. This is the best option for a budget-conscious traveler. This passport costs only around $13 and is a compact option that will serve the needs of any traveler of national parks.
The classic edition of the Passport To National Parks consists of 112 pages of spaces for passport stamps. In addition to the spaces for all the passport stamps, the classic passport also features the official maps for every park. These maps have been color-coded to ensure you have a comprehensive guide to all parks across the different regions.
The Passport To National Parks Collectors Edition is bigger and more customizable than the classic version. This passport has 192 pages for stamps. It also features the option to add more pages should you need them. This will help you to expand your book as you desire without purchasing a new one.
The collector's edition of the Passport To National Parks is also resistant to tears and water. This ensures that it will remain in good condition for years, significantly boosting its lifespan. Like the Classic version of the Passport To National Parks, the collector's edition also features maps of every park.
The collection of official maps ensures that you are always fully equipped with sufficient knowledge of every park. An additional feature of the collectors' edition is its dedicated space on the cover where the owner's name and general contact information can be written. Bear in mind this passport is double the price of the classic option.
The Passport to National Parks Junior Rangers Edition is perfect for children. It serves as an excellent educational tool that gives kids information on each park. There are also park-themed stickers for that added bit of fun. This stamp book teaches kids about good stewardship and encourages them through collectible rewards.
The Junior Rangers Edition of the Passport To National Parks features over a hundred brightly colored pages to ensure your kid remains intrigued and entertained.
Where to Stamp Your Passport Book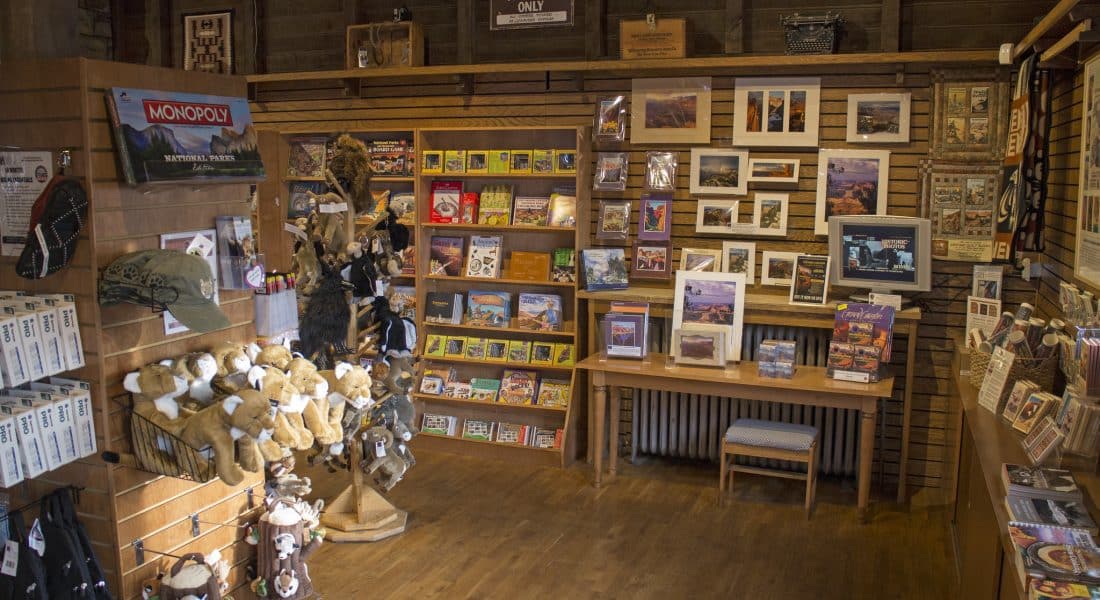 There are various places to have your passport book stamped across the entire collection of national parks. There is also the option on the website to download a virtual stamp from the park's website. This stamp can be downloaded and printed before being placed in your book in the relevant spot.
This option has been particularly useful throughout the pandemic. Alternatively, the most common option is to obtain the relevant stamp from the visitor's center of each individual park. Some national parks have various stamps for different locations within the same park.
This is a great opportunity to collect multiple memorabilia stickers for your collection.
Generally speaking, the museums and gift shops at most national parks are the best places to go to obtain your desired stamp. Museums and gift shops generally have what is referred to as a cancellation station. This is the place where you can stamp your own passport book.
Each cancellation station has its stamp located at a podium or desk in the relevant visitors center of each park. The station has a signed rubber stamp with an adjustable date. This allows you to accurately mark the date of your visit to the specific park in question.
Purchasing Advice For Stamp Books
Purchasing your stamp books before embarking on your trip is highly advisable. This will help ensure that you can always get your hands on the book you want. There is always a chance that the relevant visitor centers might be closed, which would also make it difficult for you to purchase the pass you would like.
Remember that visitor centers may only have a selected number for each type of passport book. As a result of this, there is a chance you won't be able to get the version of the passport book that you had initially set out to obtain.
If you aim to purchase your stamp from a visitor's center, check their opening hours before heading there. It's also worth noting that purchasing your stamp book directly from the park's visitors' center or the relevant website will ensure that all financial proceeds go towards the parks and not to any third party.
It is worthwhile to ensure you constantly support the national parks, as they rely on your financial contribution throughout the year.
Conclusion
The national park books for collecting stamps are a great way to collect souvenirs from all the parks you visit without spending a fortune. There are various types of stamp books available, so you can find one that suits your needs. Ensure that you plan your trip and try to purchase your book in advance.