Aspen vs. Breckenridge Ski Resort Comparison
This is one article in a series of posts that compares one ski resort with another. Most times, the two ski resorts we compare are close to one another and are within the same difficulty range as one another. There is no sense in comparing a major resort in Colorado with one on the East Coast.
Today, we are comparing Breckenridge and Aspen. The reasons that these resorts are often compared to one another are:
Both are located in the Rocky Mountains of Colorado.
They are both high-profile destination resorts.
They are the headliners in competing pass networks.
Breckenridge Ski Resort
Breckenridge is renowned for its outstanding ski slopes spanning over 2,908 acres and 187 trails. One of its remarkable features is the Imperial Express SuperChair, the highest chairlift in North America, towering at 12,840 feet. Visitors should take advantage of the opportunity to enjoy the picturesque view of Colorado's stunning peaks from the top. With a base elevation of 9,600 feet, Breckenridge has one of the highest base elevations in Colorado, creating ideal conditions for producing high-quality snow. However, visitors should be cautious of altitude sickness.
Peak 8 is the highlight of Breckenridge, showcasing everything from groomers and award-winning terrain parks to powder-filled bowls. Access to Breckenridge is available through the EPIC Ski Pass program.
Aspen
There are actually four different ski resorts you can ski at in Aspen with a single lift ticket. They are Aspen Snowmass, Aspen Highlands, Aspen Mountain and Buttermilk Mountain. The three "Aspen" branded resorts are the largest and most difficult of the four, with Buttermilk catering to beginner and family-oriented skiing experiences.
Aspen is a popular (and one of the most expensive) destination for affluent skiers, and it has expanded into four independent ski resorts since Aspen Mountain was originally established in 1946. A lift ticket grants you access to all four resorts, totaling over 5,500 acres of skiable terrain. However, the resorts are spread out over 9 miles, so transportation is necessary. Aspen is known for its luxurious amenities, including fine dining, nightlife, and shopping, which attracts many high-profile individuals. Despite the high cost, the exceptional après-ski atmosphere draws large crowds of skiers annually.
Access to Aspen comes with the IKON pass, which is a direct competitor to the EPIC pass that Breckenridge is a part of.
Mountain Stats Comparison
| | | |
| --- | --- | --- |
| Ski Resort | Aspen Ski Resorts | Breckenridge |
| Location | Snowmass Village, CO, 81615 | Breckenridge, CO, 80424 |
| Pass | IKON,COLL | EPIC |
| Summit Elevation (ft) | 12,510 | 12,998 |
| Base Elevation (ft) | 8,104 | 9,600 |
| Vertical Drop (ft) | 4,406 | 3,398 |
| Lifts | 40 | 35 |
| Trails | 335 | 187 |
| Skiable Acres | 5,303 | 2,908 |
| Green % | 50% | 13% |
| Blue % | 23% | 23% |
| Black % | 32% | 64% |
| Difficulty Score | 73.8% | 84.7% |
| Annual Snowfall (in) | 300 | 350 |
Location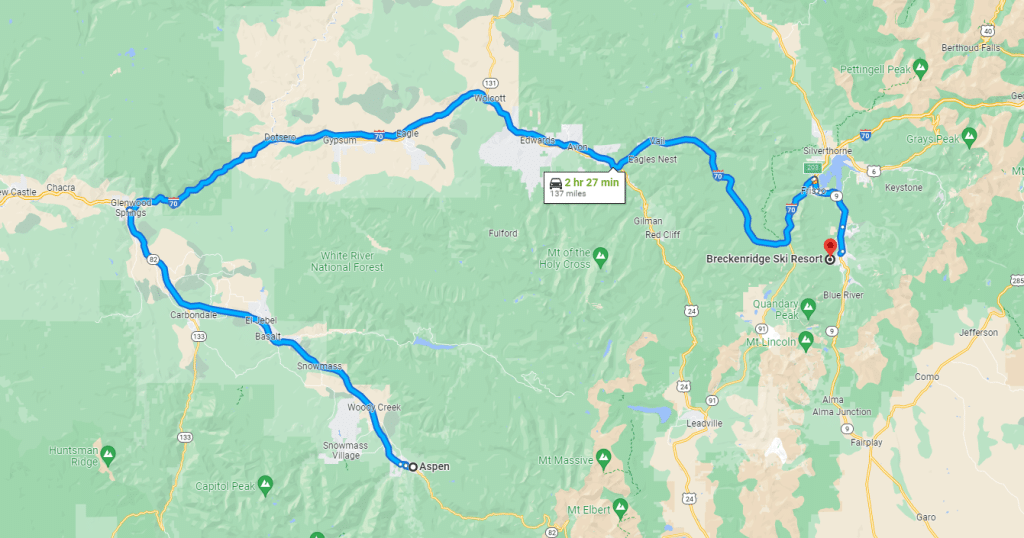 Aspen is about 140 miles, or 2.5 hours away from Breckenridge. They are not very close to each other, and if visiting during winter, the roads can get quite messy with the feet of snow that can drop at any moment.
To visit Breckenridge, you can either come via Denver (2 hours away), or fly into Eagle County Regional Airport (EGE), which is a little over an hour away. You at least have options if the EGE flight starts to get pricey.
However, to visit Aspen, you just about have to use the Aspen/Pitkin County Airport (ASE). Denver International is over 4 hours away. The fact that ASE is a smaller airport, and pretty much your only option, is only the beginning of what makes Aspen one of the most expensive places to ski in the country.
Aspen is located in the Elk Mountains Range. While Breckenridge Ski Resort is located in the Tenmile Mountain Range, specifically on peaks 6, 7, 8, 9 and 10.
Terrain Comparison
It's a little unfair to compare Breckenridge and Aspen by just the numbers. Breckenridge is only one resort (albeit a decent sized one), but Aspen has four resorts that are all accessible via one pass. This means that, technically, we need to look at the stats for all 4 resorts as if it was just one destination.
When looking at elevation, we took the max elevations of Aspen, which all happened to come from Aspen Snowmass. Breckenridge's summit and base are higher than that of Aspen's but Snowmass's vertical drop beats our Breck by just about 1,000 ft.
Looking at the metrics that are totaled, the combined Aspen numbers dwarf that of Breckenridge. Aspen has almost 1,400 more skiable acres and almost double the amount of trails. It should be noted that Breckenridge is larger than any one Aspen resort if you look at them individually.
The difficulty level between the two is fairly close. Aspen Highlands is the most difficult of the Aspen resorts, and it is comparable with Breck in that respect. Buttermilk (Aspen) is a very beginner-friendly resort. In fact, a few Aspen mountains and Breckenridge are in our top 25 most challenging ski resorts in the country.
Amenities Comparison
Both resorts are surrounded by large après-ski towns that will have just about anything you want during your trip.
Aspen has become the ultimate ski destination for affluent individuals, all centered around its four distinct ski areas. The four slopes areas are connected by a shuttle system, and are situated around one of the most exceptional ski towns in the world. With infinite dining and nightlife choices, Aspen is genuinely the king of après-ski! Additionally, Aspen is one of the few ski resorts in Colorado where visitors are not likely to experience altitude sickness. However, despite the allure and fame that attracts many celebrities to this location, Aspen comes at a high cost, particularly if one desires to stay near the slopes.
Breckenridge's Main Street village is constantly being voted as one of the best ski towns in the US. It is lined with bistros, bars, saloons, and a brewery, while activities like dog sledding and snowmobiling are just nearby. Breckenridge has a good balance of lodging options, après-ski entertainment and non-skiing activities at an affordable price.