Comparing Keystone vs. Breckenridge Ski Resorts
This is one article in a series of posts that compares one ski resort with another. Most times, the two ski resorts we compare are close to one another and are within the same difficulty range as one another. There is no sense in comparing a major resort in Colorado with one on the East Coast.
Today, we are comparing Keystone and Breckenridge. The reasons that these resorts are often compared to one another are:
Both are located in Summit County, Colorado.
Both are a part of the EPIC Pass.
Both are separated by only 14 miles.
They are both high-profile destination resorts.
Keystone Ski Resort
Keystone stands out as one of the top ski resorts, especially for families seeking an extraordinary mountain skiing experience. With 3,149 acres of skiable terrain and a 3,128-feet vertical drop, the resort has plenty of space for skiing. Keystone is family-friendly, offering a range of activities like tubing, sleigh rides, and the Kidtopia kids program, apart from skiing. Although Keystone is less expensive than Vail or Beaver Creek, it can get crowded due to its immense popularity.
Keystone also features night skiing and terrain parks, making it more attractive to visitors when compared to other nearby resorts. Keystone has the most illuminated trails at night, extending its claim as Colorado's longest ski day. The 60-acre A51 Terrain Park, with its dedicated chairlift, is widely regarded as one of Colorado's best.
Breckenridge Ski Resort
Breckenridge is renowned for its outstanding ski slopes spanning over 2,908 acres and 187 trails. One of its remarkable features is the Imperial Express SuperChair, the highest chairlift in North America, towering at 12,840 feet. Visitors should take advantage of the opportunity to enjoy the picturesque view of Colorado's stunning peaks from the top. With a base elevation of 9,600 feet, Breckenridge has one of the highest base elevations in Colorado, creating ideal conditions for producing high-quality snow. However, visitors should be cautious of altitude sickness.
Peak 8 is the highlight of Breckenridge, showcasing everything from groomers and award-winning terrain parks to powder-filled bowls. Like Keystone, access to Breckenridge is available through the EPIC Ski Pass program.
Mountain Stats Comparison
| | | |
| --- | --- | --- |
| Ski Resort | Breckenridge | Keystone |
| Location | Breckenridge, CO, 80424 | Dillon, CO, 80435 |
| Pass | EPIC | EPIC |
| Summit Elevation (ft) | 12,998 | 12,408 |
| Base Elevation (ft) | 9,600 | 9,280 |
| Vertical Drop (ft) | 3,398 | 3,128 |
| Lifts | 35 | 20 |
| Trails | 187 | 130 |
| Skiable Acres | 2,908 | 3,149 |
| Green % | 13% | 12% |
| Blue % | 23% | 39% |
| Black % | 64% | 49% |
| Difficulty Score | 84.7% | 76.0% |
| Annual Snowfall | 350 | 235 |
Location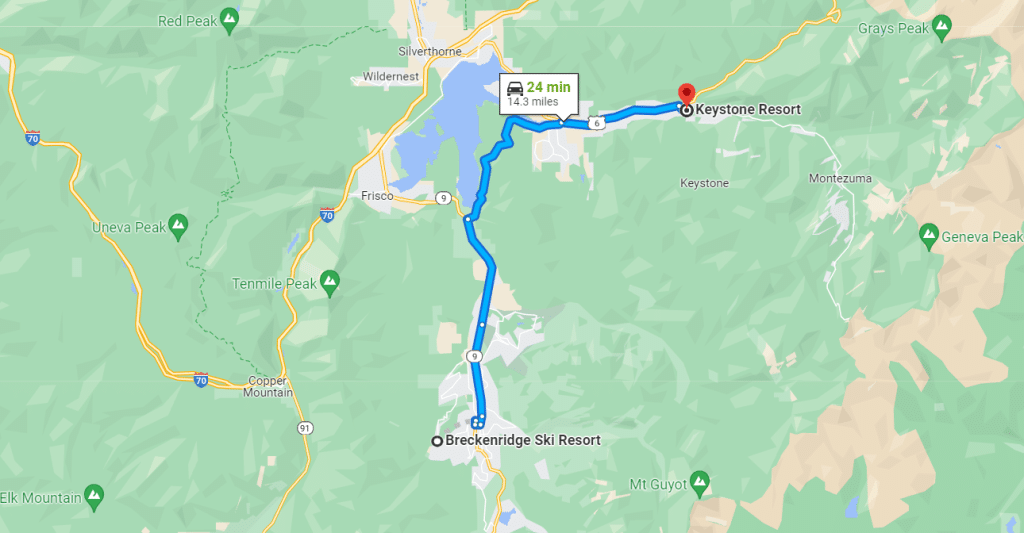 Even though these two resorts are about 30 minutes apart, Keystone is only about 15 minutes closer to Denver. Both are around 100 miles, or about 1.5-2 hours (depending on the time of day and season) west of Denver International Airport.
After exiting Interstate 70, both Keystone and Breckenridge require you to head down smaller Colorado state highways to get to them, which can start to get a little dicey if it is actively snowing.
Breckenridge Ski Resort is located in the Tenmile Mountain Range, specifically on peaks 6, 7, 8, 9 and 10.
Keystone is spread across three peaks separate peaks: Dercum Mountain, North Peak and the Outback.
Terrain Comparison
In terms of terrain, Breckenridge wins most of the "size" battles. It is the higher and steeper of the two, beating Keystone's summit, base and vertical drop elevations by at least a couple of hundred feet in each metric.
Keystone has around 250 more skiable acres, but those acres actually have fewer lifts and trails than Breckenridge.
The difficulty levels between Keystone and Breckenridge are fairly close as well. Both resorts have less than 15% of their trails graded as easy. Also, at each resort, they have more expert trails than any other skill level. When looking at our internal difficulty score, Breckenridge is slightly harder than Keystone, but not by much, as they both are within our top 25 hardest ski resorts in the North America.
Keystone's longest run is 3.5 miles (Schoolmarm), with Breck's (4 O'Clock) the same length at 3.5 miles.
Both Breckenridge and Keystone have snowmaking coverage on about 660 acres of their terrain.
Amenities Comparison
Both resorts are surrounded by large après-ski towns that will have just about anything you want during your trip. However, Breckenridge probably has a slightly better village than Keystone. Breckenridge's Main Street has everything from bars, saloons, breweries, great restaurants, and a good mix of affordable and luxury accommodations.
Keystone is broken up into two villages, both located at the base of its first peak, Dercum Mountain. While they are a 5-10 minutes drive apart, they have a range of shops and restaurants that just about anyone can find something at.
Both resorts also offer ski lessons and terrain parks, but Keystone is known for it's family-friendly programs and the Kidtopia play area.