Hiking to the Glen Span and Huddlestone Arches in NYC's Central Park
Between 1859 and 1866, 27 arches and bridges were built in Central Park. All were designed by Calvert Vaux, with assistance of fellow architect Jacob Wrey Mould at times. Today, a few more have been added, and a few removed, bringing the total to 30. Two of these arches are located on either end of The Ravine in the North Woods section of New York's Central Park.
The Ravine is a densely wooded valley, with a meandering and narrow stream called the Loch being the central feature of it. The Loch is known for its three waterfalls and two historic stone arches along its path. These two arches are along the Loch Walking Path, which more-or-less follows the Loch stream, and are must-sees for anyone visiting the park.
Getting to The Loch Trail
Both the Glen Span and Huddlestone Arches are located along The Loch Walking Path. Now, you find these arches from starting anywhere inside Central Park, since all trails intersect with each other. However, if your goal is to only see these two historic stone arches, then you can start on either the northern end of Central Park West or Central Park North.
Starting along Central Park North, the entrance to The Loch Walking Trail begins at the intersection of Malcolm X Blvd and Central Park North (GPS: 40.79808, -73.95238).
Starting along Central Park West, the entrance to the walking trail begins at the intersection of W 100th Street and Central Park West (GPS: 40.79431, -73.96282).
| | |
| --- | --- |
| Hiking Distance | 1 mile |
| Elevation Gain | Minimal |
| Difficulty Level | Easy |
Huddlestone Arch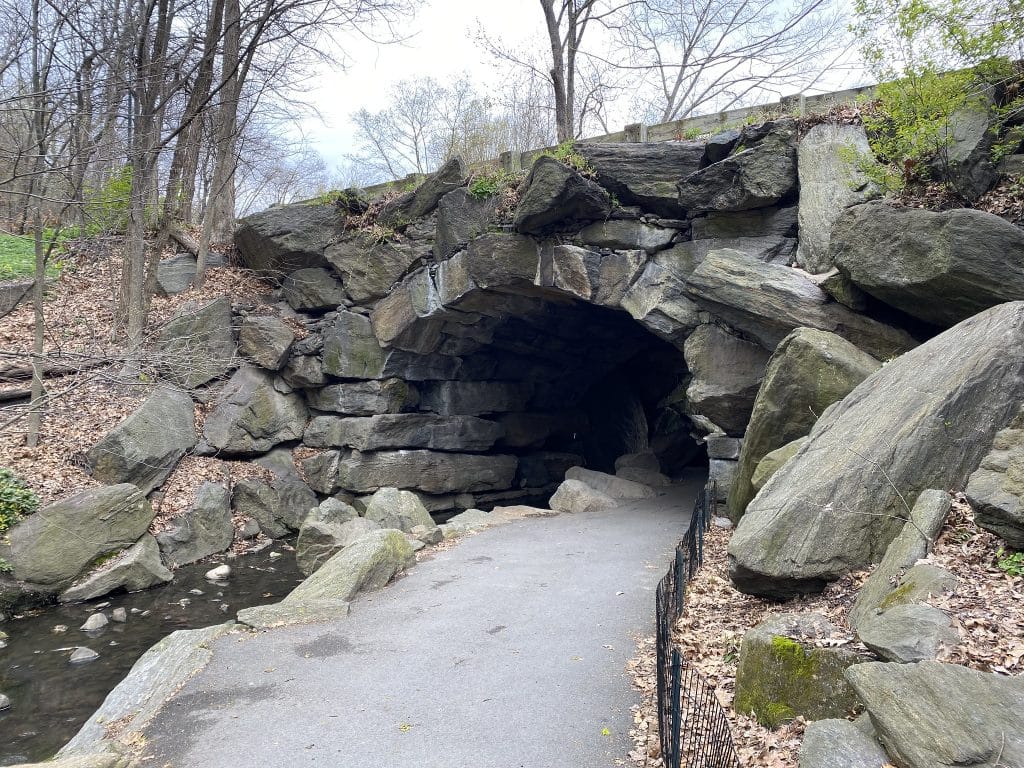 The Huddlestone Arch, built in 1866, will be the first arch you come across if you start along Central Park North. Constructed entirely from massive boulders from the surrounding landscape, this arch does not use mortar or any other binding material to hold itself together. The rocks are "huddling" together through only pressure and gravity. In fact, the arch is such a marvel of engineering that the East Drive goes over top the arch.
Surprisingly, the Huddlestone Arch has never needed a major repair in its lifetime. This is even with the dramatic increases in East Drive traffic amounts and vehicle weights over the last 150 years.
Glen Span Arch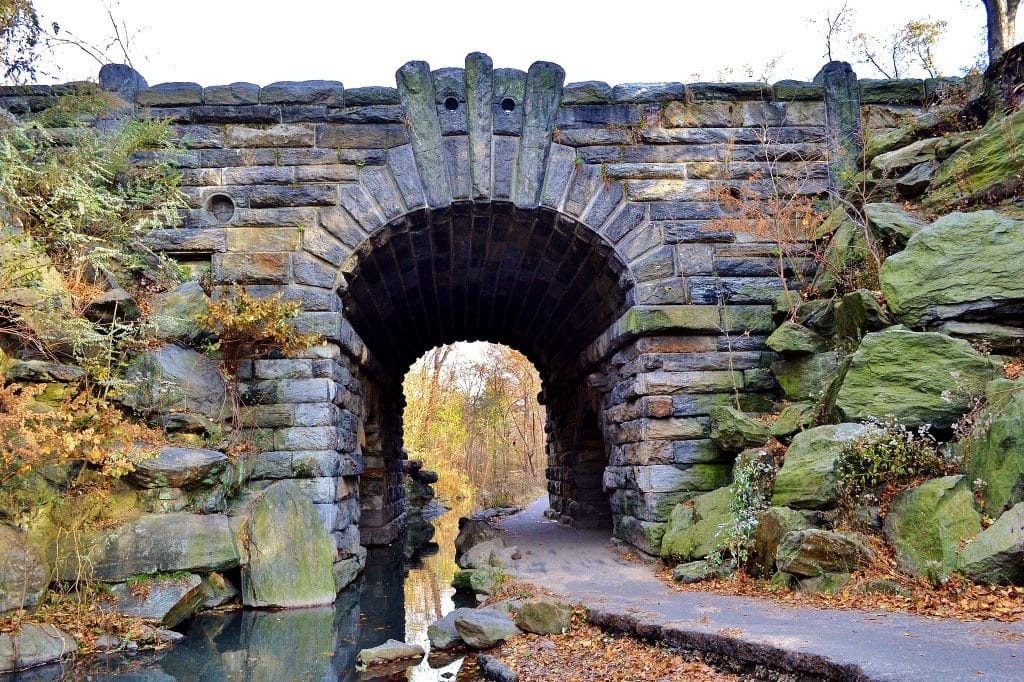 Marking the western boundary of the Ravine woodlands, the Glen Span Arch carries the West Drive to the 102nd Street Crossing.
The Glen Span Arch was originally a wooden bridge when it was completed in 1863, three years before the Huddlestone Arch was completed. However, its wooden superstructure was replaced with rustic chiseled stone in 1885. The span's width is 16 feet wide with a height of 18 feet 6 inches. The passage under the arch stretches for about 50 feet alongside the Loch.
Inside the Arch you'll see an archway on each side. These are purely decorative, and serve no structural purpose.