| | | | |
| --- | --- | --- | --- |
| Resorts: 5 | Miles: 480 | Days: 7 | Hours: 12 |
Time to Visit: November to March
For Skill Level: All Levels
There are five ski resorts around Spokane that can be easily reached in the winter. In this area, many roads are shut down due to the amount of snow they get, so we need to be careful.
Three ski slopes are in the panhandle of Idaho, and two more are in Washington state.
When to Travel
Mt. Spokane lists its operating season as November to late March or early April. Since all the ski slopes are within a few hours drive of each other, this timeframe holds for all of them. If you plan on making the trip near the beginning or end of that timeframe, you should check in with each resort to double-check their slope availabilities.
Lift Pass Options
Skiing can get costly, and the lift tickets are a major reason why. To help reduce your overall spend, normally you'd choose all the slopes that share a specific type of pass, like EPIC or IKON (the two most popular). A lot of times, you'll be able to buy a multi-day pass at a cheaper rate that will include all the local resorts that participate in a particular pass.
Two resorts are a part of the INDY national lift pass system. IKON and the Powder Alliance each have one area ski resort in their network.
| Resort | Pass | Location |
| --- | --- | --- |
| 49 Degrees North | INDY | Chewelah, WA, 99109 |
| Lookout Pass | | Mullan, ID, 83846 |
| Mt. Spokane | | Mead, WA, 99021 |
| Schweitzer Mountain | IKON | Sandpoint, ID, 83864 |
| Silver Mountain | INDY,POWD | Kellogg, ID, 83837 |
Itinerary Notes
There are two National Parks within easy driving distance of Spokane. The North Cascades are to the west, and Glacier is to the east. However, both of these parks shut down for the winter when snow makes their roads impassable. This is super disappointing, but just the way it works out. You are out in this area because of the snow, but can't visit two of the most amazing parks also because of it.
Don't forget to reserve your rental car ahead of time. Preferably when you book your flight tickets. Showing up at the rental car kiosk without reservations can be a recipe for disaster, especially when traveling in the winter. You'll be taking some roads that are probably snow covered, so 4-wheel drive is a must. Without a reservation, the rental company may not have the SUV or truck you absolutely need on this trip.
Ski Trip Itinerary Route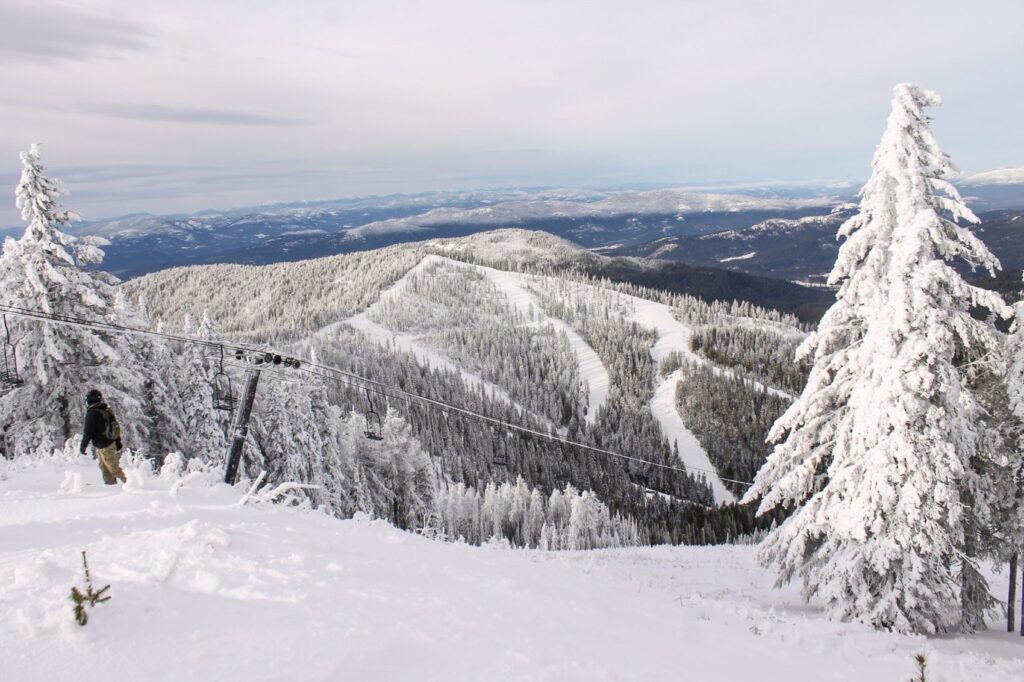 If you are trying to visit all five ski resorts on this road trip, then you'll be driving about 480 miles (772 km), or 12 hours in total. The most efficient drive route would be:
Spokane 🠒 49° North 🠒 Lookout 🠒 Schweitzer 🠒 Silver Mountain 🠒 Mt. Spokane 🠒 Spokane
However, if you skip the two most distant resorts (Lookout & Silver Mountain), then the drive shortens to 280 miles (451 km), or 7 hours. In this case, the route you'd take would be:
Spokane 🠒 49° North 🠒 Schweitzer 🠒 Mt. Spokane 🠒 Spokane
Arrival
Days 1-7
Spokane, WA
Of course, we use Spokane's International Airport (GEG) here. The Spokane airport is served by six airlines, with non-stop service to 15 airports in 13 markets. The airport is located about 7 miles (11 km) away from Spokane's city-center.
Skiing
Ski Days
Parks & Trips created a proprietary Difficulty Score that is generated by looking at the number of easy-intermediate-expert slopes by acreage and the maximum vertical drop of the overall resort.
Our algorithm compares each resort's metrics with all others in North America, then gives each a Difficulty Score, which we use to rank them accordingly. Resorts with a lower score are easier than those with a higher one. However, a high score does not mean that the resort does not have any easy slopes, or vice versa. This is just an overall score given to the resort based on all its metrics grouped together.
Schweitzer Mountain (ID) is by far the most difficult ski resort near Spokane. This mountain has the highest summit elevation, most skiable acreage, and 50% of its trails are rated "expert" level.
Lookout Pass (ID) is the easiest of the five resorts near Spokane. It has the least amount of expert-level trails, and the smallest summit and vertical drop of them all. It also is the smallest of the five, coming in at less than a third of the size of the next smallest slope.
| Resort | Green | Blue | Black | Summit | Vertical | Acres | Difficulty Score |
| --- | --- | --- | --- | --- | --- | --- | --- |
| Schweitzer Mountain | 10% | 40% | 50% | 6,400 ft | 2,400 ft | 2,900 | 69% |
| Silver Mountain | 20% | 40% | 40% | 6,300 ft | 2,200 ft | 1,600 | 60% |
| Mt. Spokane | 23% | 45% | 32% | 5,889 ft | 1,689 ft | 1,704 | 51% |
| 49 Degrees North | 29% | 40% | 31% | 5,774 ft | 1,851 ft | 2,325 | 51% |
| Lookout Pass | 20% | 50% | 30% | 5,650 ft | 1,150 ft | 540 | 45% |
Departure
Day 7
Spokane, WA
For this trip, we are going to fly back home via Spokane International Airport. I would have loved to take a drive across the North Cascades and fly home via Seattle, but the weather simply does not allow for that this time of the year.