Time to Visit: December to March
For Skill Level: All Skill Levels (we offer different options below)
This trip flies both in and out of Bozeman/Yellowstone Airport. There is an alternate route where you head north to hit some of the more remote ski slopes, then fly home via Missoula Montana Airport instead.
Two of the most famous American ski areas are included in this trip. Big Sky, MT and Jackson Hole, WY are both within the general vicinity of the area, however they are about 4 hours, or 200 miles apart.
The resorts in this area are more spread out than other spots like Lake Tahoe, where they are all within a few minutes of each other. This makes for a ski trip that is definitely longer than others.
However, unlike the Lake Tahoe trip, this one is right near two of the most prominent National Parks in Yellowstone and Grand Teton. We highly suggest you take a break in the middle of your skiing week, and visit one or both of these magnificent national parks.
When to Visit
Big Sky projects their season to be late November to late April. Since all the ski slopes are within a few hours drive of each other, this timeframe holds for all of them. If you plan on making the trip near the beginning or end of that timeframe, you should check in with each resort to double-check their slope availabilities.
Choose Your Own Adventure
We've chosen four ski resorts for each skill level of skier. These are based on our proprietary Difficulty Score, which is generated by looking at the number of easy-intermediate-expert slopes by acreage and the maximum vertical drop of the overall resort.
Our scoring compares each resort's metrics with all others in our database, gives each a Difficulty Score, then ranks them accordingly. Resorts with a lower score are easier than those with a higher one. However, a high score does not mean that the resort does not have any easy slopes, or vice versa. This is just an overall score given to the resort based on all its metrics grouped together.
So with this in mind, pick the group of slopes you're most comfortable with based on your own skill level. You can always mix-and match from our groups as well – all options are on the table!
Passes
Skiing can get very expensive, and the lift tickets are a major reason why. To help reduce your overall spend, normally you'd choose all the slopes that share a specific type of pass, like EPIC or IKON (the two most popular). A lot of times, you'll be able to buy a multi-day pass at a cheaper rate that will include all the local resorts that participate in a particular pass.
In Yellowstone/Montana, there are about six resorts affiliated with those national passes in the area. The IKON pass has two of our Expert track resorts (Big Sky & Jackson Hole).
There are also some lesser-known national lift ticket passes from Mountain Collective (3 medium/hard resorts) and INDY (2 medium/easy resorts). The Mountain Collective pass encompasses Big Sky, Jackson Hole and Grand Targhee, which is probably the best option of the three.
Arrival
Day 1
Bozeman, MT
We decided to fly into the Bozeman, Montana airport, breaking one of our long-standing rules of only flying into larger international airports. However, this is the airport to use when going to ski Big Sky and the surrounding resorts. Yellowstone and Grand Teton are right there too.
Grab your rental car, and let's get on the road!
Skiing
Ski Days
In the Beginner track, Blacktail is the farthest away from Bozeman, but is a great beginner trail for those looking to get away from the crowds. With Blacktail removed, this trip will take you about 550 miles, or 9.5 hours.
In the Intermediate track, Discovery Basin and Great Divide are north of Bozeman, while the other two are south. You may want to just pick north or south, and just stay in that area. If you plan on visiting all four resorts, your round trip will be about 800 miles, 15 hours.
The Expert track is by far the most popular here, with two of the most popular ski resorts in the country here. Snowbowl in Missoula is the outlier here, taking you far north away from anything else in the area. If you skip that resort, the trip will take you 520 miles, and 10 hours of driving.
Skill Level: Beginner
These ski resorts are perfect for the beginner that wants to ski in this area. We have chosen these due to their smaller vertical drop as well as the higher number of easy slopes.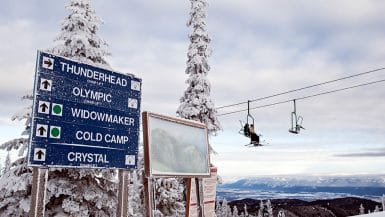 Lifts: 4 • Runs: 25 • 15% Easy Trails
Summit: 6,780 ft • Vertical: 1,440 ft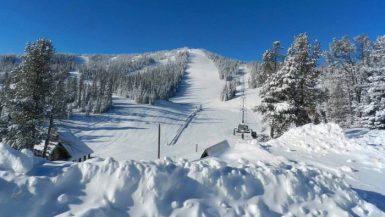 Lifts: 4 • Runs: 34 • 30% Easy Trails
Summit: 8,200 ft • Vertical: 1,400 ft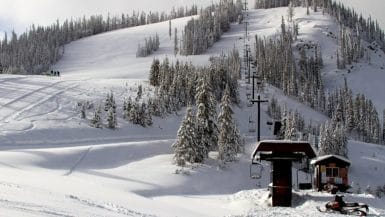 Lifts: 8 • Runs: 50 • 20% Easy Trails
Summit: 8,200 ft • Vertical: 1,800 ft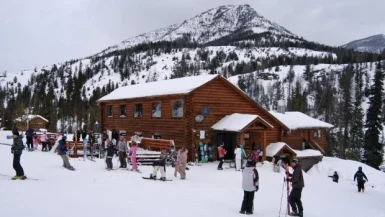 Lifts: 3 • Runs: 49 • 15% Easy Trails
Summit: 7,428 ft • Vertical: 809 ft
Skill Level: Intermediate
These ski resorts are perfect for the intermediate skiier that wants to ski here. These resorts were chosen due to their moderate vertical drop as well as a higher amount of intermediate slopes.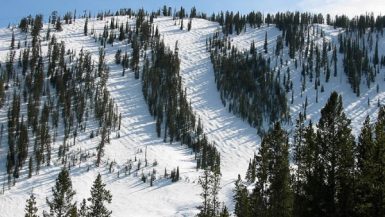 Lifts: 8 • Runs: 67 • 25% Moderate Trails
Summit: 8,158 ft • Vertical: 2,388 ft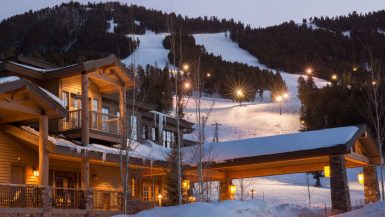 Lifts: 8 • Runs: 41 • 24% Moderate Trails
Summit: 7,808 ft • Vertical: 1,571 ft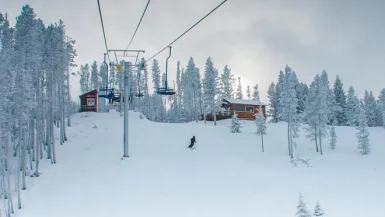 Lifts: 6 • Runs: 127 • 45% Moderate Trails
Summit: 7,210 ft • Vertical: 1,330 ft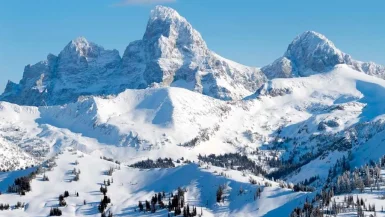 Lifts: 6 • Runs: 72 • 70% Moderate Trails
Summit: 10,000 ft • Vertical: 2,270 ft
Skill Level: Expert
These ski slopes are only for the advanced skiier. We chose these resorts due to them having the highest number of advanced slopes and largest vertical drops in the area.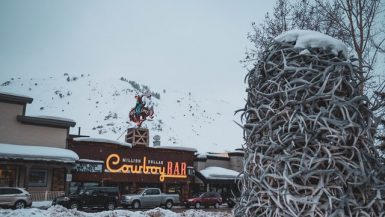 Lifts: 13 • Runs: 131 • 50% Expert Trails
Summit: 10,450 ft • Vertical: 4,139 ft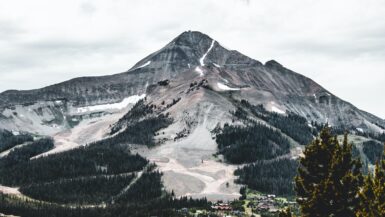 Lifts: 39 • Runs: 300 • 52% Expert Trails
Summit: 11,166 ft • Vertical: 4,350 ft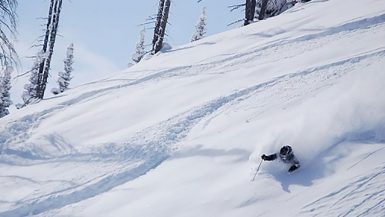 Lifts: 11 • Runs: 75 • 60% Expert Trails
Summit: 8,700 ft • Vertical: 2,600 ft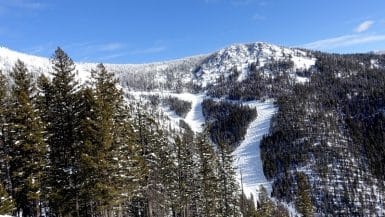 Lifts: 4 • Runs: 37 • 40% Expert Trails
Summit: 7,600 ft • Vertical: 2,600 ft
Must See
Yellowstone National Park
West Yellowstone, WY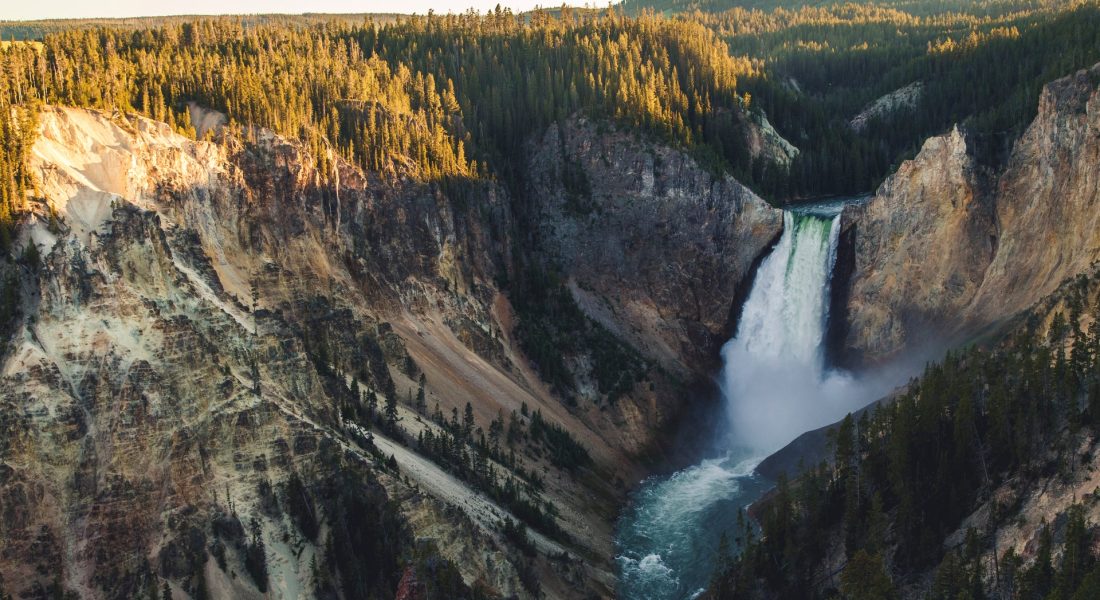 Yellowstone National Park hosts half of the world's geothermal features within its 2.2 million acres.
Lodging
Yellowstone National Park hosts around four million visits each year. More than half of these visits happen during June, July, and August. Coordinating your trip to be in May or September will make your visit much more enjoyable.
If you want to stay inside the park, you are recommended to reserve your stay 13-months in advance. Use the Xanterra site to book rooms at any of the many cabins or resorts within the park's boundary.
If you decide to stay outside the park, West Yellowstone, Gardiner and Carbella offer motels and various Airbnb options.
Attractions
Midday (10am-4pm) is when most of the crowds are out. If you are staying the night here rather than stopping on the way through, then keep these times in mind. Parking fills up early as well, so get there before 8am for the best experience.
Old Faithful Geyser erupts every 90 minutes, and shoots up to 8,400 gallons of hot water each time. Expect massive crowds here in the summer months, with the benches surrounding the geyser getting filled 30 minutes in advance.
Just north of Old Faithful are the boardwalks surrounding Midway Geyser Basis and Upper Geyser Basin. The Morning Glory Pool with its vibrant colors is a must-see location inside the Upper Basin.
Looking into the Grand Canyon of the Yellowstone you'll see the Yellowstone River, which cuts a 1,000 foot deep swatch through the rock. There are the Upper Falls and Lower Falls that you can hike to get amazing glimpses of both.
The best hike in the park goes to the Fairy Falls Trail, which is either a 1.5 or 7 mile round-trip easy walk that overlooks the Grand Prismatic Spring and it's falls.
Must See
Grand Teton National Park
Jackson, WY
In Grant Teton National Park, sharp mountain ranges jut up from the landscape to dwarf everything surrounding it. This mountain range is the youngest in the Rockies, lending to the sharpness of the peaks.
Lodging
Jackson, Wyoming is less than 10 minutes outside the park's limits. It is a town with wonderful Airbnbs, hotels and restaurants. Victor, ID is slightly further away, but also has plenty of amenities.
If you'd prefer to stay inside the park, make your reservations 12 months in advance. There are about eight different cabins or lodges inside the park, with about the same number of campsites.
Attractions
Head to the Craig Thomas Visitors Center in Moose to start planning your trip. Drive north on Teton Park Road (24 miles) to get numerous views of the mountains. The Glacier Turnout is a spot where you can view the Teton Glacier and towering Grand Teton.
The other scenic drives in the park include the Jenny Lake Road (8 miles round trip), and the Signal Mountain Summit Road (10 miles round trip).
The best hike in the park has to be the trail to Hidden Falls and Inspiration Point. The moderately-difficult trail begins at the Jenny Lake Visitor's Center, goes for about 7.5 miles and has an elevation change of 1,250 feet. At the top, it looks down on the blue waters of Jenny Lake.
Departure
Day 7
Bozeman, MT
When it's time to fly home, head back to Bozeman. This airport is the only real convenient airport to these slopes unless you decide to head north to hit a couple of the outlying resorts like Snowbowl in Missoula. If you do that, Missoula's airport is Missoula Montana Airport, with the code of MSO.