The Seattle Area Ski Trip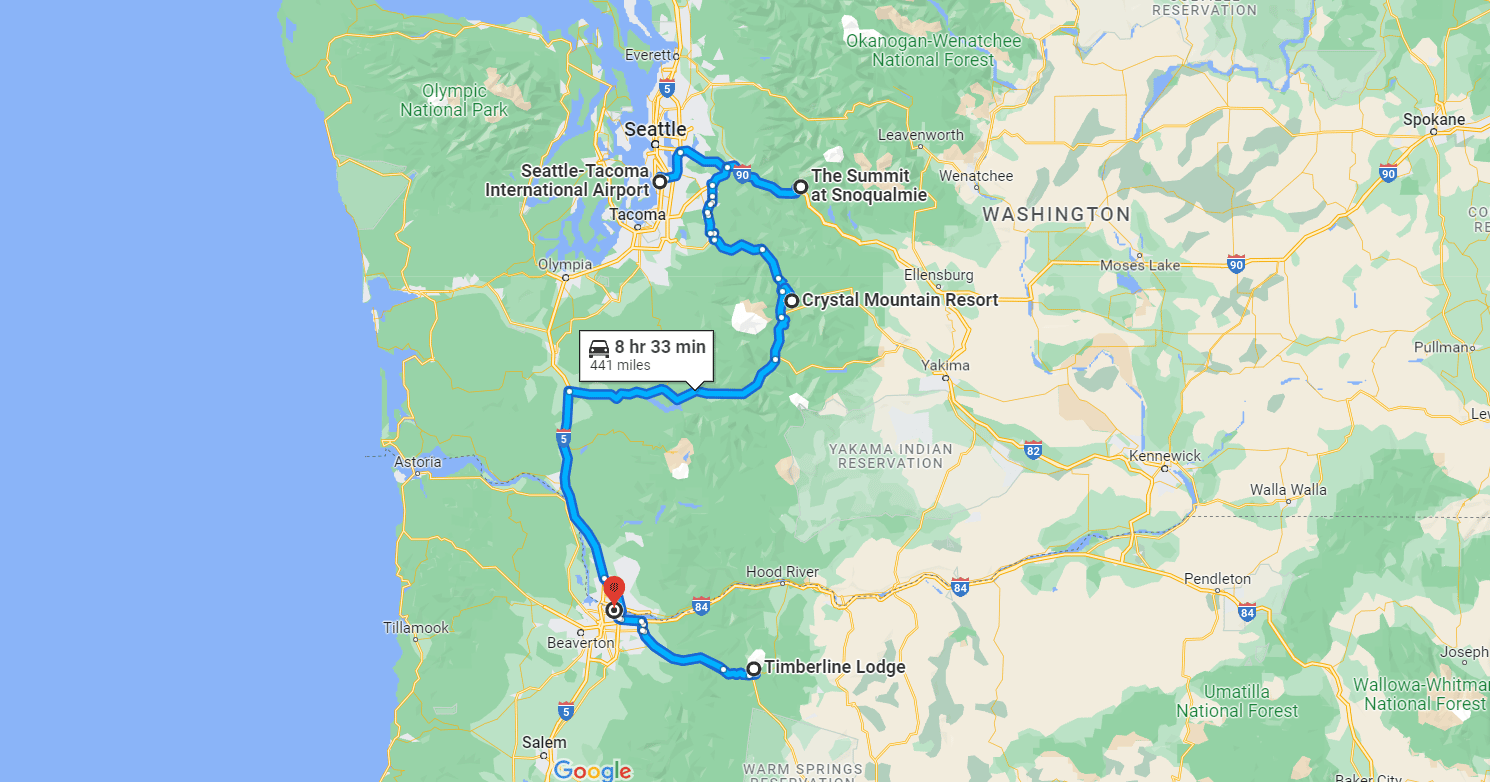 | | | | |
| --- | --- | --- | --- |
| Resorts: 3 | Miles: 441 | Days: 7 | Hours: 9 |
Best Time: December to April
For Skill Level: Intermediate to Expert
In this ski trip, we visit three ski resorts that are on the more difficult end of the spectrum. However, if you aren't expert-level, don't fear… all of these resorts have extensive beginner terrain that will be sure keep anyone occupied. They all have night skiing options as well, so spending a full day at each will make for quite the experience!
The Pacific Northwest is known to have lighter snow than when compared to other ski resorts in the US. These slopes, located in a more arid zone, have a reputation for drier and lighter snow.
We initially fly into Seattle, then drive down the Cascade Mountain Range until finally finishing in Portland, OR. We pass natural treasures like Mt. Rainier National Park, Mt. St. Helens, and Mt. Hood along the way. Olympic National Park is also close to Seattle, but to the west of the city, when all the ski slopes we visit are to the east and south.
Washington and Oregon have a number of great ski resorts, and we visit three of the best on this trip.
Itinerary Notes
You are going to need to rent a four-wheel drive vehicle for this trip. We suggest that you schedule this vehicle as far in advance as you can. Do NOT expect to just show up at the rental kiosk in Seattle and be able to find a vehicle. Lately, these rental counters have zero inventory for unscheduled rentals.
As mentioned, you're going to need a 4WD vehicle. Expect snow-covered roads—especially leading into, and out of—the ski resorts.
Buying a Day or Season Passes
The Summit and Crystal Mountain are both a part of the IKON ski pass network. Timberline is a part of the Powder Alliance. If you are looking to save a few bucks, and you know ahead of time that you'll be taking this ski trip, then buying an IKON 2-day pass will get you discounted lift tickets for two of the three ski days.
If you live near a lot of other IKON affiliated ski resorts, buying a season pass from IKON would get you even steeper discounts that you can use on this trip.
Alternative Ski Resorts
While we chose the three ski resorts we think would make for the perfect Seattle ski trip, there are others you could either add or swap into this itinerary. Mt. Hood Meadows and the Mt Hood Ski Bowl are both right next door to Timberline. Mission Ridge is near Crystal Moutain.
Stevens Pass and Mt. Baker Ski Area are both north-northeast of Seattle. While these two resorts are not exactly close to the others in our itinerary, you could make this trip extend a full week to include these two impressive slopes as well.
Arrival
Day 1
Seattle, WA
To kick off this trip, we are flying into Seattle-Tacoma International, or Sea-Tac for short. Depending on when your flight gets in, it may make sense to shack up in a hotel somewhere in the city before making the drive down to Snoqualmie in the morning.
Seattle is the perfect airport to start this ski vacation from. It is central to all three resorts we visit, including the best one closest to Seattle, which is Summit.
Drive
Driving
The next location is 33 miles away (~.75 hours).
From Sea-TAC to Snoqualmie, WA takes about 45 minutes. From here, it's about 25 minutes to the slopes. It is one of the best ski resorts near Seattle. We chose to stay here because it was close enough to the ski resort to easily get there in the morning, or to come back afterwards after a long day of skiing.
The Summit Resort does not own or operate any lodging at the ski area. However, there are plenty of hotels and other Airbnb options in the small towns that surround the ski resort. North Bend, Riverbend and Snoqualmie Pass are towns that are a bit closer to the ski slopes.
Destination
Days 1-3
The Summit at Snoqualmie
Snoqualmie, WA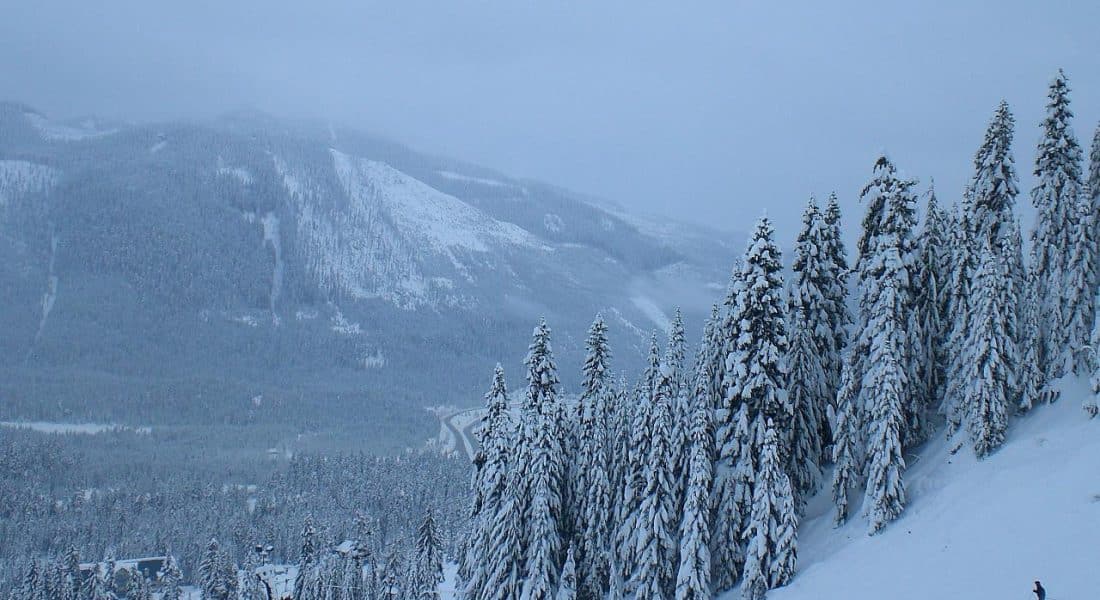 The Summit at Snoqualmie is the easiest ski slope on the trip. However, this is the perfect ski resort to get your legs under you. The beginner slopes aren't terribly difficult, and over 40% of their trails are rated for intermediate skiers. Being about an hour away from Seattle's airport, this is the perfect first stop on our ski trip.
Snoqualmie offers night skiing on three mountains until 8pm.
Drive
Driving
The next location is 92 miles away (~2 hours).
The drive from Snoqualmie to Enumclaw is just shy of than 2 hours, and 100 miles. This drive is one of the reasons we decided to stay at Snoqualmie, as the trip from there shortens the next trip by about a half hour.
Here, we decided to stay at the resort for the night. There aren't many great options outside the resort, and Crystal Mountain Resort has plenty of options.
Destination
Days 3-4
Crystal Mountain Ski Resort
Enumclaw, WA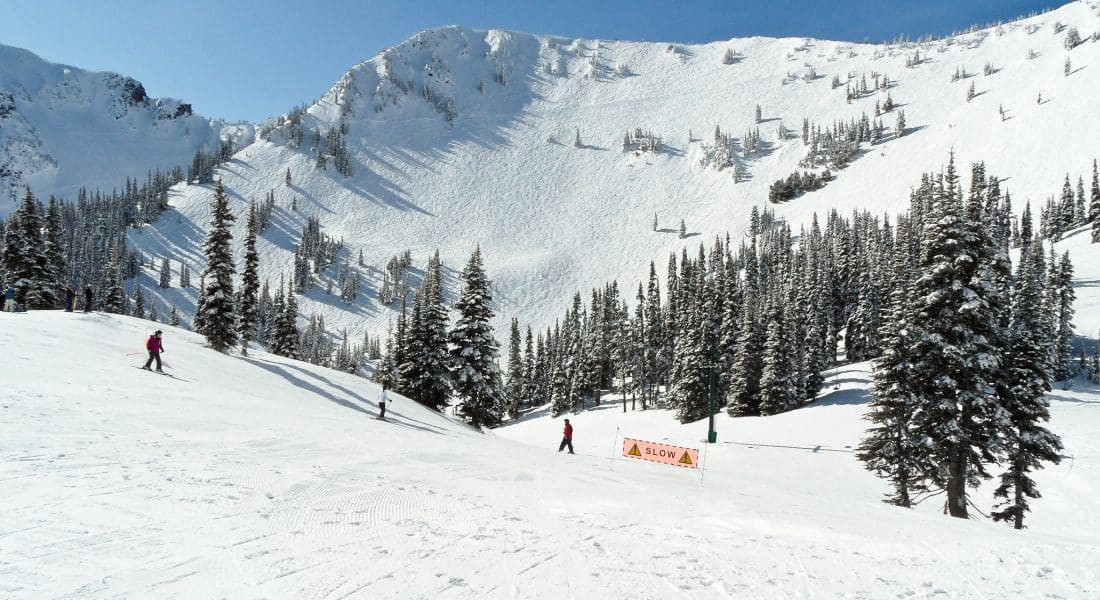 Located in the foothills of Mt. Rainier National Park, Crystal Mountain Resort is the most difficult ski resort in Washington state by our count. This IKON associated resort is enormous, with over 2,600 skiable acres, and 85 trails, the majority of which are ideal for intermediate and advanced skiers.
Crystal Mountain offers night skiing on on Fridays, Saturdays, and holidays until 8pm.
Must See
Mount Rainier National Park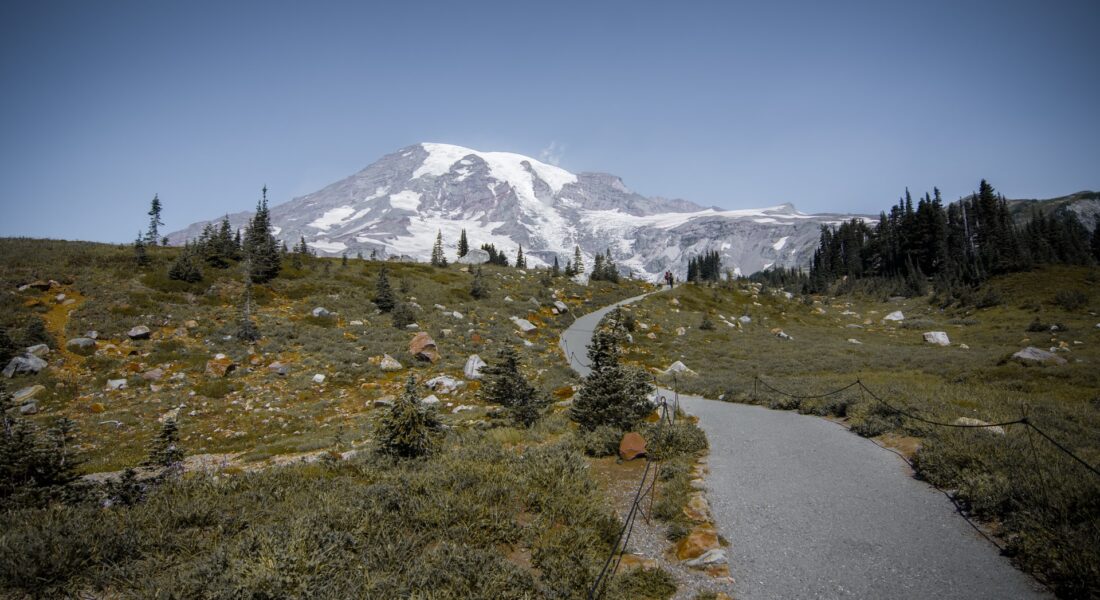 Mount Rainier is the highest peak in Washington State, and the Cascade Mountain Range, with a summit of 14,411 feet. This ice-clad stratovolcano is surrounded by the most glaciers anywhere in the Lower 48.
Mt. Rainier National Park has five developed areas, and the least visited is Carbon/Mowich, which is in the northwest corner – closest to Enumclaw. Unfortunately, most of Mount Rainier's roads are closed for winter. The only exception is the main road from Nisqually Entrance to Longmire, which is open year-round, but is 1.5 hours away – if the roads there are open.
Drive
Driving
The next location is 200 miles away (~3.5 hours).
This will be your longest drive of the trip, but it'll be a beautiful one. Along the way you'll pass Mt. Rainier, Mt. St. Helens and Mount Adams on your left.
You'll follow Interstate 5 South for about three-quarters of the drive, so you shouldn't run into any weather-related closures unless you're present in the middle of a snowstorm.
Destination
Days 4-6
Timberline Lodge Ski Resort
Mount Hood Village, OR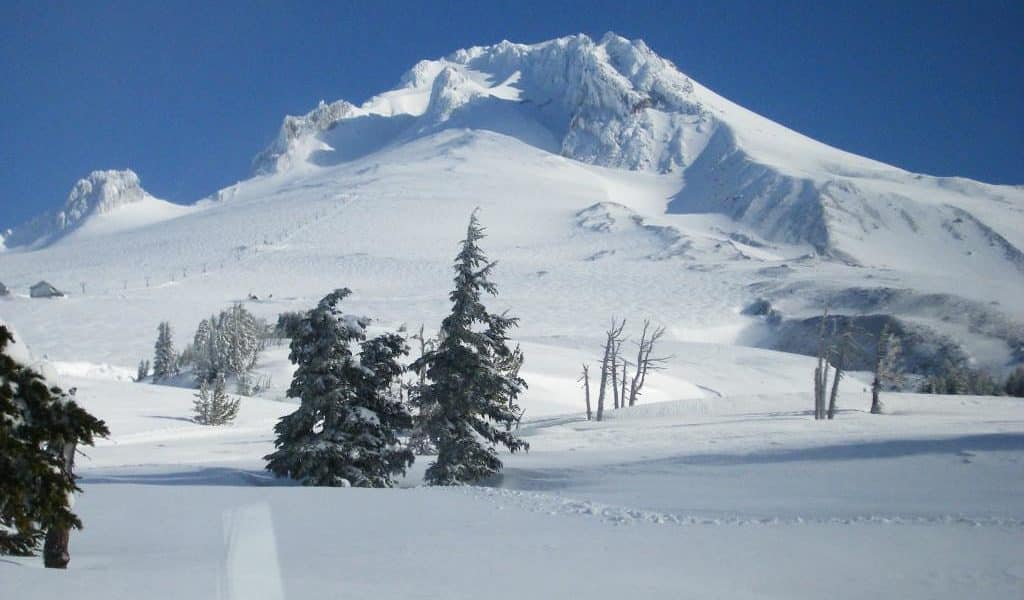 There are a lot of Airbnb options in Mt. Hood Village, which is only about 20 miles away from Timberline Ski Area. Your other option would be to stay at historic Timberline Lodge, which has rooms of all sizes available (if you book them in time!).
Timberline Ski Area offers night skiing.
Other Ski Options
Mt. Hood has 5 different ski resorts surrounding its foothills. We chose Timberline Lodge because it is the most challenging along the path we took, but know that there are other, easier options.
Copper Spur will be the easiest, and Mt. Hood Meadows will be the next most-difficult. Mt. Hood Snowbowl fits somewhere in between those two in terms of its difficulty.
Drive
Driving
The next location is 40 miles away (~1 hours).
You'll follow along highway 26 East most of the way back towards Portland to head home. The drive takes about 1 hour from Mount Hood Village, or about 1.5 hours from Timberline Lodge.
Departure
Day 7
Portland, OR
After a week of skiing and driving around the Pacific Northwest, it's time to go home. You'll need to backtrack a bit to reach Portland from Timberline, but it is not too bad at all.