4-Day Olympic National Park Loop Trip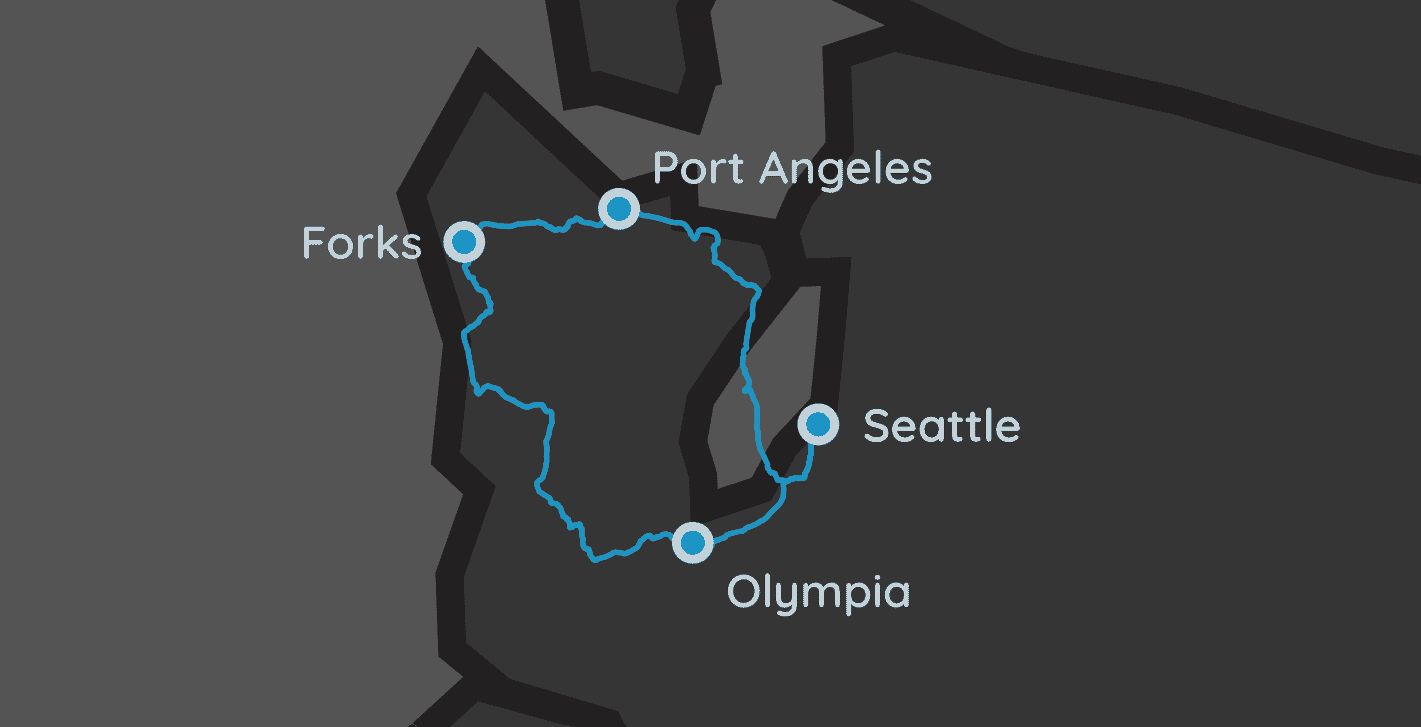 | | | | |
| --- | --- | --- | --- |
| Parks: 1 | Miles: 390 | Days: 4 | Hours: 7.5 |
This road trip is for anyone that has an extended weekend available, and can make it to Seattle easily (by flight or by car).
We already did a one-day trip to Olympic National Park from Seattle, and in it, we noted that while seeing the park in one day is possible, a multiple days is best. So here it is – the multiple day trip to see the wonders of Olympic National Park.
Seattle was also our starting point for the Mount Rainier Scenic Byways trip. This trip circled around Mt. Rainier National Park for four days, taking in the sights of the most topographically prominent mountain in the lower 48 states.
Itinerary Notes
When to Go: Take this trip anywhere between June and September. This is when the area is slightly less wet, but expect frequent rain- or snowfall anytime around Olympic NP.
Lodging Options: Since these are all one-night stays, a hotel may be your best bet. While we picked locations that all have vacation rentals available (Airbnb & VRBO), the cleaning fees and additional charges at places like that make one night stays pretty expensive. Numerous hotels are available at all locations we stay at: Olympia, Forks, Port Angeles, and Seattle.
Rental Vehicle: If you are flying into Seattle to begin this trip, you'll want to reserve a rental car ahead of time. Taking a chance that they have available vehicles at the walk-up kiosk is not something I would want to do.
Direction & Route: You could easily reverse this trip and head to the northern part of Olympic NP, then circling around counterclockwise before finishing up in Olympia.
Arrival
Day 1
Seattle, WA
Seattle-Tacoma is the only reasonable airport to begin this vacation from if you aren't within driving distance of Olympic National Park.
Looking to Spend a Day in Seattle?
If you want to take an extra day and explore the beautiful city of Seattle, we suggest doing it the day before you leave instead of now. The final leg of the trip (Port Angeles to Seattle) is significantly longer than the first (Seattle to Olympia), so you could come into Seattle the last night, explore, then depart on your flight early the next morning.
Drive
Driving
The next location is 52 miles away (~1 hours).
The drive down to our first night in Olympia, WA uses the I5 Interstate the whole way. You'll pass Tacoma about halfway through the trip if you're looking for a place to grab a bite to eat.
Destination
Days 1-2
Olympic National Park (South)
Olympia, WA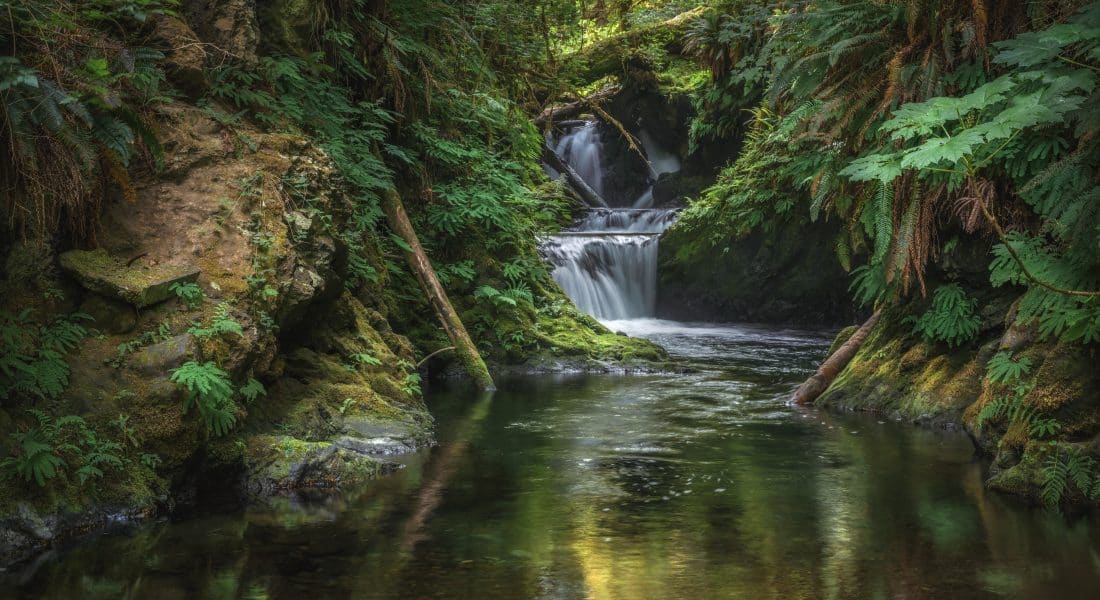 Olympia is the state capitol of Washington. We chose to stay here because it was the perfect city to find a place to stay and eat, then in the early morning, make it to the western side of the park.
The best spot in the southern part of the park is Lake Quinault in the extreme southwest of Olympic National Park. In fact, you could skip Olympia all together, and head directly from Seattle to one of the much smaller towns near Lake Quinault. These towns include Neilton, Humptulips, Newton, Hoquiam and Aberdeen. Lake Quinault Lodge is an option as well, if you can find availability.
Lake Quinault
Lake Quinault is a thickly forested part of Olympic National Park in the extreme southwest corner of the park. It is well known for its huge trees, including a 1,000-year-old Sitka spruce, and the world's largest red cedar, mountain hemlock and Douglas firs.
There are a number of short hiking trails here, with the Quinault Rain Forest Nature Trail being the most popular. This easy half-mile walk takes you through a grove of 500-year old Douglas Firs and eventually joins the longer 3-mile Quinault Loop Trail. The loop trail meanders through rain forests before circling back to the lake.
Drive
Driving
The next location is 152 miles away (~3 hours).
After exploring Lake Quinault, head north towards Ruby Beach. Most of the drive to Ruby Beach goes through the Quinault Indian Reservation. Ruby Beach is in a thin, detached part of the park that is along the Pacific coastline.  You can access the beach from a short 0.2-mile path from the parking area.
Destination
Days 2-3
Olympic National Park (West)
Forks, WA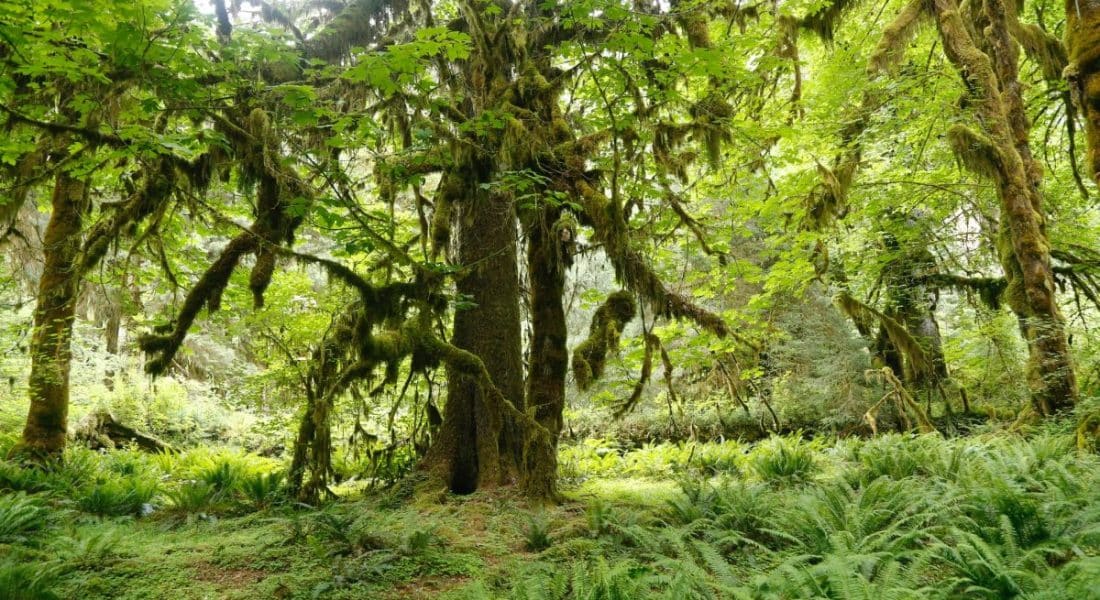 Once arriving to the western flank of the park, we decided to stay at Forks, as it seemed to be central to what we wanted to accomplish the next day. However, there are plenty of other small towns that you can spend the night in, including Beaver to the north, and Clearwater to the south.
Hoh Rain Forest
The Hoh Rain Forest is the crown jewel of Olympic National Park. Expect to get wet, as it rains nearly every day here. Precipitation in Olympic's rain forest ranges from 12 to 14 feet (feet!) every year.
The 19-mile paved road to the rainforest's interior begins right off Highway 101. The road works its way through the National Park, finally reaching the Hoh Rain Forest Visitors Center.
The Hoh Valley is the densest, wettest and greenest temperate rain forest on earth.  A temperate rainforest is a forest made up of coniferous or broadleaf trees that occur in the temperate zone (the majority of the upper half of contiguous US) and receive heavy rain.
This surreal forest is best seen via the easy 0.8-mile Hall of Moss Trail. Along the way, you'll see mosses and ferns dripping from old-growth spruces and maples that look like something out of a science-fiction movie. Park rangers lead free guided walks twice a day and explain the history and ecological significance of one of the last rain forests still in the Pacific Northwest.
Drive
Driving
The next location is 56 miles away (~1 hours).
After leaving the Hoh Valley, head back north on Highway 101 until you reach Lake Crescent, which is near the town of Piedmount.
Destination
Days 3-4
Olympic National Park (North)
Port Angeles, WA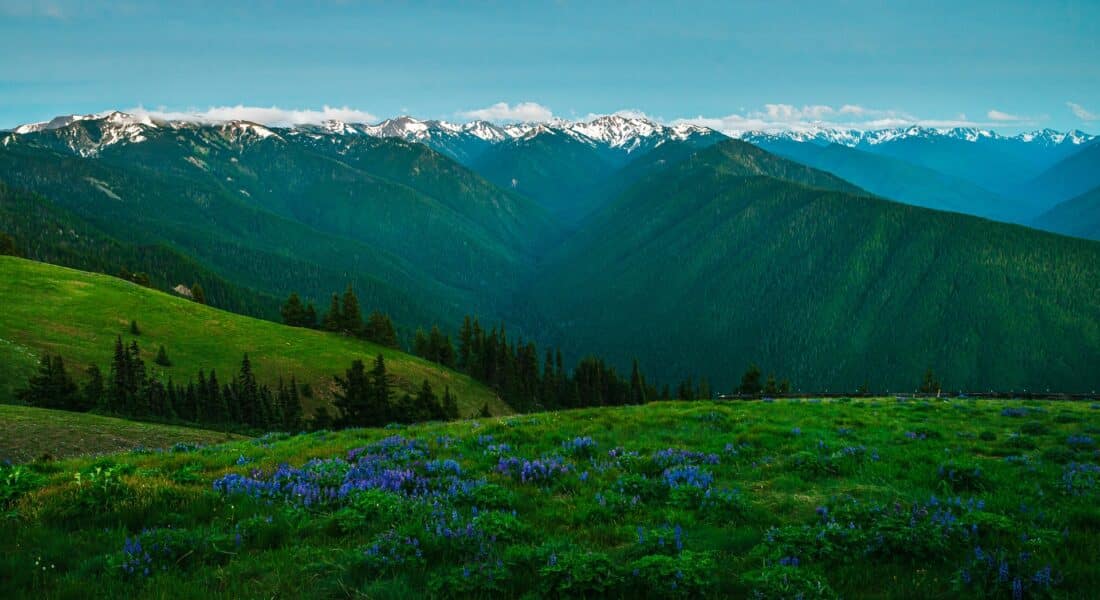 Port Angeles is the easiest place to stay when exploring the northern part of Olympic NP, but it is by no means the only place. Piedmount and Elwha are also towns that you could find a place to spend the night.
There are two sections of the north Olympic that you absolutely need to visit: Lake Crescent and Hurricane Ridge.
Lake Crescent
Enter the Lake Crescent loop, and drive along its access road, stopping to hike along the many trails that overlook this tranquil lake. Marymore Falls (2 miles) is a great easy hike, and Mount Storm King (1.7 miles) is a popular, more difficult one. Afterwards, take a break from hiking, and grab lunch at the Lake Crescent Lodge.
Sol Duc Falls
This amazing waterfall and hike simply cannot be skipped. The 1.6 mile easy hike takes you through a temperate rainforest, ultimately ending up at a 48ft high waterfall that can be seen from multiple locations at the trail's end.
Hurricane Ridge
Start by entering at the Olympic National Park Visitor Center, then continuing along Hurricane Ridge Road.
Hurricane Ridge Road snakes through the park for 19 miles (with no stopping, the drive should take around 30 minutes… but you should totally stop everywhere) and terminates just past the Hurricane Ridge Visitor Center at the Hurricane Hill Trailhead. Hike that trail or turn around and continue driving down Obstruction Point Road, which branches off right before the Hurricane Ridge Visitors Center.
Be sure to stop at the various overlooks and trails along the scenic drive. The Klahhane Ridge Trail and Obstruction Point Trailhead are two hikes that shouldn't be skipped.
Drive
Driving
The next location is 130 miles away (~2.5 hours).
The drive back to Seattle from Port Angeles is about 2.5 hours. Keep this in mind if you have an early flight out of Seattle.
For a hearty breakfast, stop at The Coffee Box or New Day Eatery, both of which are about 2 miles from the park's entrance.
Departure
Day 5
Seattle, WA
Time to head home after this amazing short trip. The Seattle-Tacoma airport is your only real option to fly out of. The next closest large airport is Bellingham International Airport (BLI), which is about 3.25 hours away.