Visit Olympic National Park from Seattle in One Day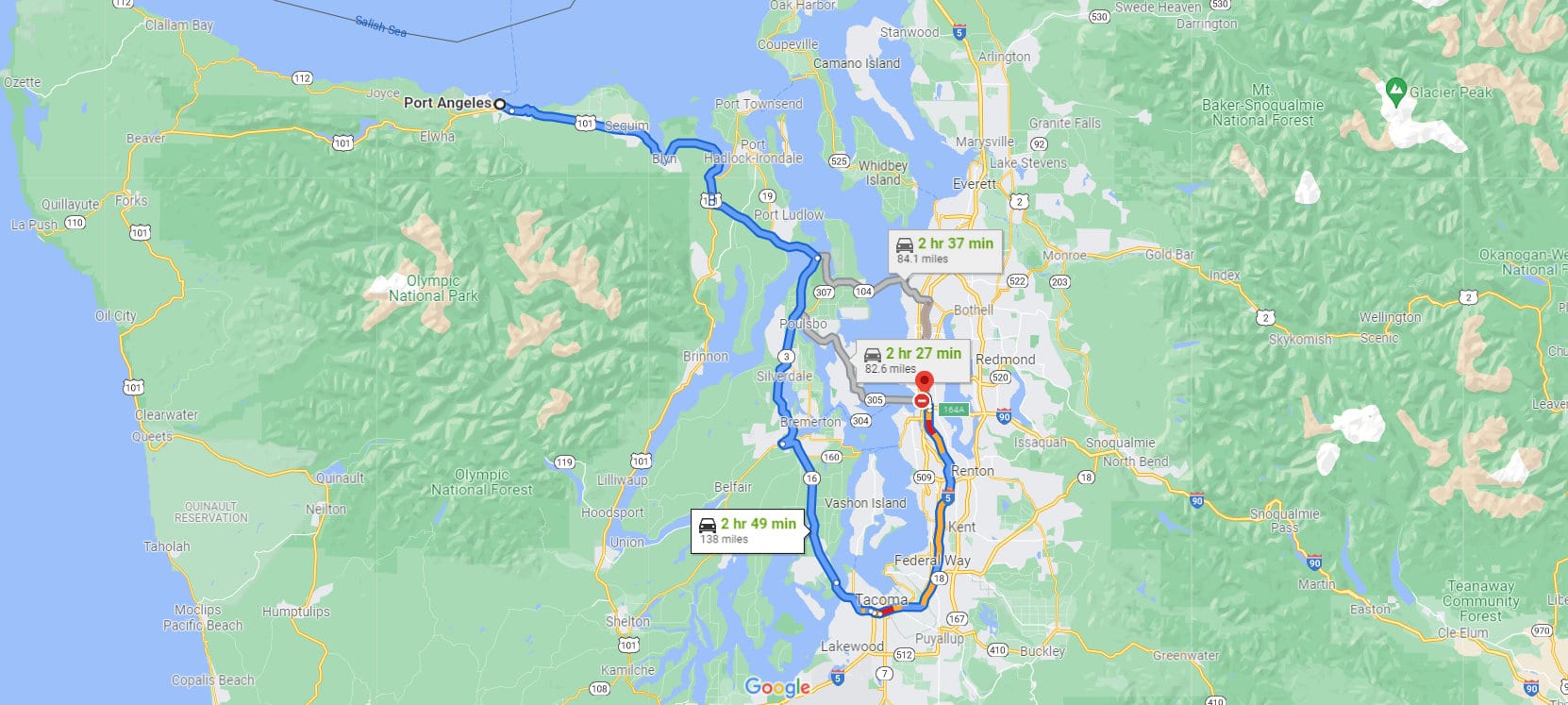 | | | | |
| --- | --- | --- | --- |
| Parks: 1 | Miles: 276 | Days: 1 | Hours: 6 |
Can you visit Olympic National Park in a day from Seattle? Yes!
However, the real answer is a bit more nuanced than that. We dive into why someone may want to do this, if it's really possible, and what type of things you could theoretically do on a trip this short.
Total Drive Time
First, let's talk about how long it would take you to drive from Seattle to Olympic National Park and back. According to Google Maps, driving from downtown Seattle to the entrance of Olympic National Park in Port Angeles, WA is 138 miles, or 222 km.
Google also estimates that the drive will take 2 hours and 49 minutes. Since this is a day trip to Olympic National Park, that means that we need to double that amount.
If you took a day trip to Olympic NP, you'd be driving a total of 5 hours and 38 minutes.
Does Peak Season Impact Your Decision?
Olympic National Park is the 9th most visited park in the country. However, it is also the 13th largest, with almost one million acres. Because of the sheer size of this park, you shouldn't have too much trouble finding parking, hiking trails or stopping at overlooks no matter when you visit.
However, July, August, and September are the peak months for visitation. If you are visiting during one of those three months, then expect to see more people than you would normally.
In the winter, the area will get snow. You will still be able to drive and hike most of the park, but you'll need to be sure you bring cold-weather and/or snow gear along with you.
A Day Trip, or Longer?
Olympic National Park is probably a park that could benefit from visiting for more than one day. The park is giant, and there are actually two sections of it to explore. You may not be able to make it to the section of the park along the Pacific Coast within one day unless you stretch yourself.
However, you're looking into a day trip for a reason, and it's probably that you simply don't have the time. Or you're in Seattle for some other reason, and want to get away from the urban downtown for a while. Whatever you're reasoning, a quick visit to Olympic is a great idea!
A One-Day Itinerary: Seattle to Olympic NP, & Back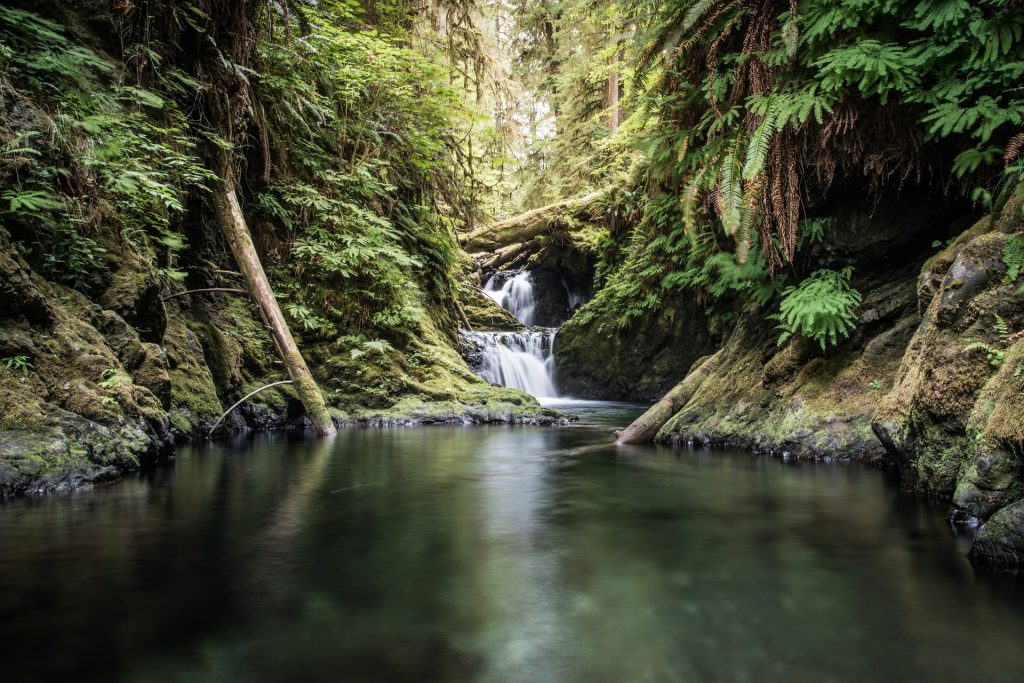 We are going to do our best to make this one-day road trip as realistic as possible. Let's assume you have the full day available to you for this mini road trip, so you get up and leave Seattle first thing in the morning.
6:00 AM – Leave Seattle
Wake up bright and early, and head west towards the entrance of the park in Port Angeles, WA. This will likely be a long day for you, so it may be a good idea to grab a hearty breakfast. The Coffee Box and New Day Eatery are both about 2 miles from the park's entrance, and offer amazing quick food choices.
8:30 AM – Arrive at Olympic National Park
Begin by entering at the Olympic National Park Visitor Center, then continuing along Hurricane Ridge Road.
Hurricane Ridge Road snakes through the park for 19 miles (with no stopping, the drive should take around 30 minutes… but you should totally stop everywhere) and terminates just past the Hurricane Ridge Visitor Center at the Hurricane Hill Trailhead. Hike that trail or turn around and continue driving down Obstruction Point Road, which branches off right before the Hurricane Ridge Visitors Center.
Be sure to stop at the various overlooks and trails along the scenic drive. The Klahhane Ridge Trail and Obstruction Point Trailhead are two hikes that shouldn't be skipped.
11:30 AM – Back to Port Angeles, continue to Lake Crescent
Just before lunch, you should begin to head back towards Port Angeles. At the intersection of Hurricane Ridge Road and US-101, turn left and head about 20 miles (30 minutes) to Lake Crescent Lodge.
12:00 PM – Lunch at Lake Crescent Lodge
Sit down and have a late lunch at the Lake Crescent Lodge.
1:00 PM – Choose Your Own Adventure
DECISION ALERT!

At this point, there are three options on what to do next. Two will make for a much longer day, and the other will be considerably shorter. Your choice!

Short Option: Stay in Crescent Lake, and drive along its access road. Hike along the many trails that overlook this tranquil lake. Marymore Falls is a great easy hike, and Mount Storm King is a great difficult one. 

Long Option #1: Get back on US-101, and head west towards the Hoh Rain Forest Visitors Center, which is about an hour and a half, or about 68 miles away. If your goal is to see a real rainforest in Olympic Park, this is the option you need to pick. Interesting fact: Choosing this option allows you to circle back to Seattle around the bottom of the park.

Long Option #2: Get back on US-101, and continue to Rialto Beach. This is the western-most part of the park that hugs the Pacific Coastline. Trails, rocky beaches, caves, and towering trees are within walking distance of the parking area. Rialto Beach is about 1 hour away from Crescent Lodge. 
5:30 PM – Head back to Seattle
Drive times for each option:
Short (Crescent Lake): 103 miles (3 hours)
Long #1 (Hoh Rainforest): 216 miles (4.25 hours)
Long #2 (Rialto Beach): 226 miles (4.25 hours)
Sunset will be around 9PM in the summer, so if you want to stick around to see that, you'll be here for much longer. However, I hate driving tired, so by 6PM I would be on my way back to Seattle. This may even be earlier for you if you want to stop and grab dinner somewhere.
9:45 PM – Arrive back in Seattle
If you left at 7PM and did not stop to eat, then you're probably back in Seattle before 10 PM.