7 Day San Francisco to Los Angeles Road Trip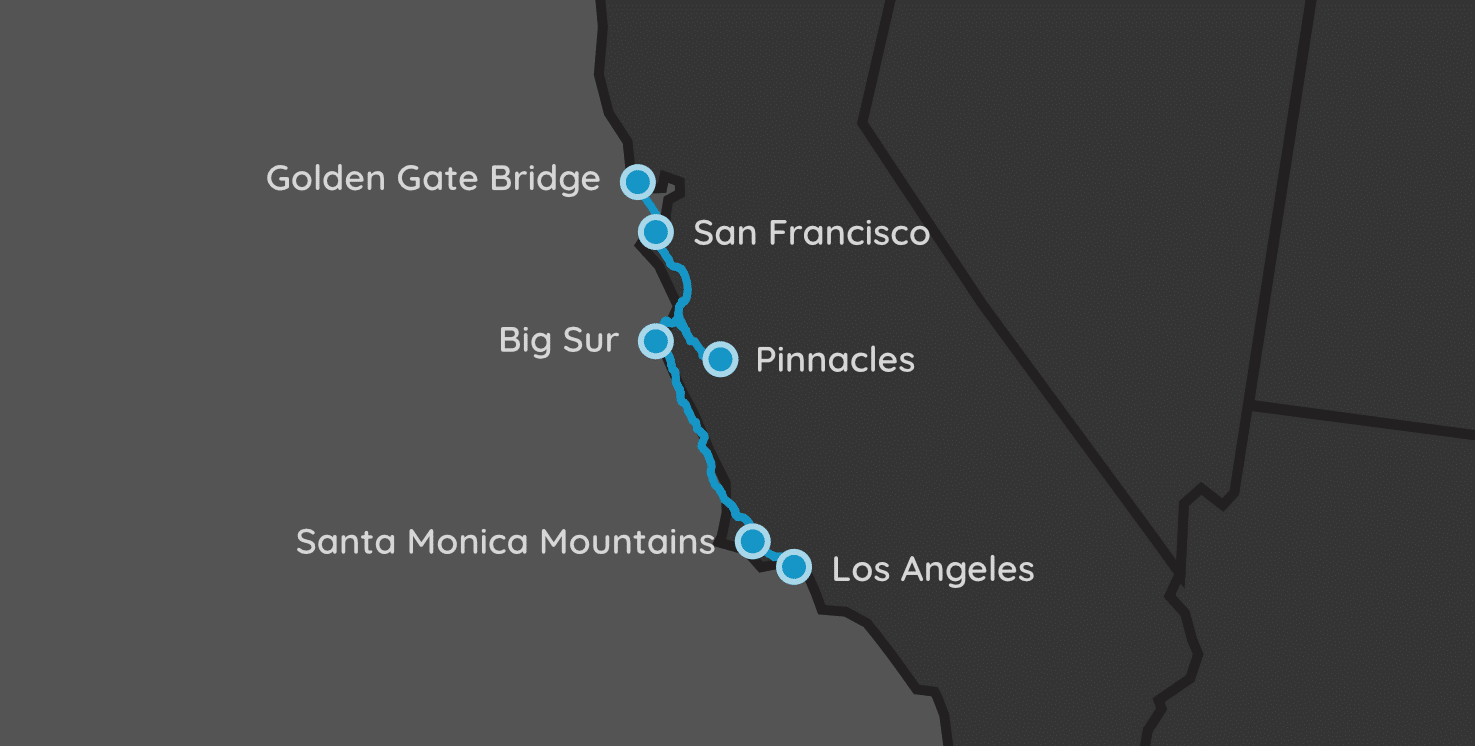 | | | | |
| --- | --- | --- | --- |
| Parks: 4 | Miles: 532 | Days: 7 | Hours: 11 |
This California trip is very similar to another one we put together, but this one follows the coastline much closer and does not venture into the middle of the state to visit Sequoia and Kings Canyon parks.
Following along the Pacific Coast Highway (US Route 101) most of the way, it can also be considered an extension to the road trip we previously created that followed the same road, but from Oregon to SF.
Itinerary Notes
Can this trip be reversed? Yes, of course! I always have a habit of designing my road trips to go from north to south. Not sure why, but it's consistent across almost all my trips. Anyway, this trip would work just fine if you decide to fly into Los Angeles, and head north to San Francisco.
Be sure to rent your rental car ahead of time! Rental car companies – especially inside airports – often run out of inventory quickly. You can prevent this disaster of a scenario by scheduling your rental car ahead of time. I always like to rent larger vehicles than I really need for road trips like this. You'll be in this car (or SUV) for a while, so a more comfortable car would probably be worth it.
Arrival
Days 1-2
San Francisco, CA
Drive
Driving
The next location is 18 miles away (~.5 hours).
It is a short trip up to the Golden Gate Bridge National Recreation Area, even shorter if you just want to capture a glimpse of it. We list out the two options below in the next itinerary item.
Must See
Golden Gate Bridge
San Francisco, CA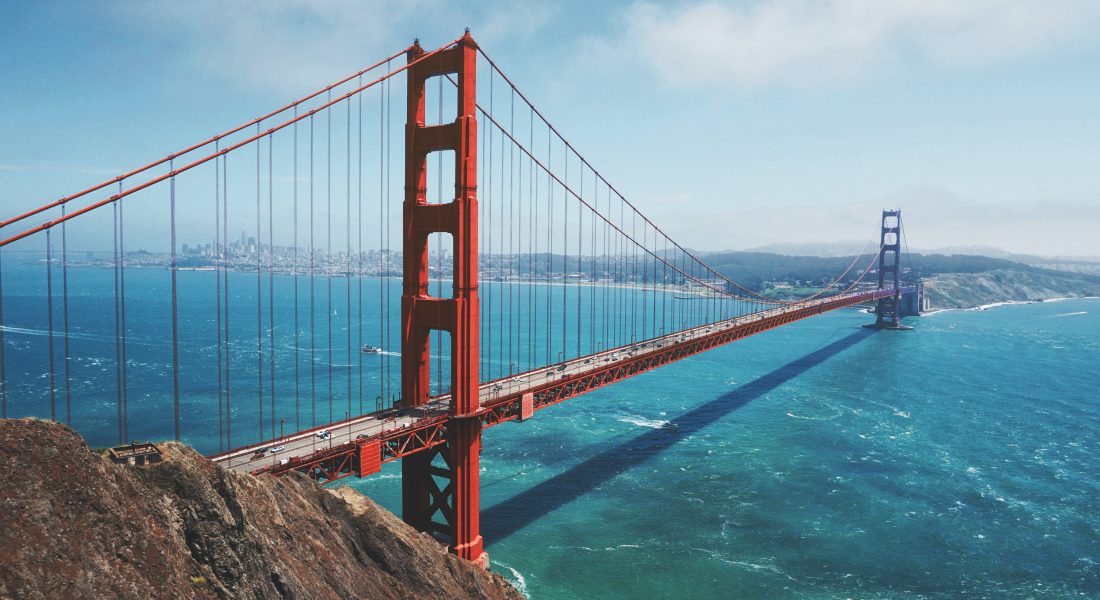 Stretched across 80,000 acres north and south of the Golden Gate Bridge, the Golden Gate National Recreation Area is a cluster of parks also constitutes one of the world's largest national parks within an urban setting.
San Francisco also has amazingly stable (and cool) weather. It's almost always within the 55-70°F range during the day, so be prepared for a cool stop and dress accordingly.
The National Recreation area is quite large, so there are a lot of places to get pictures and unique sights of the bridge. The most popular hikes with vistas of the bridge are the Slacker Ridge Trail and Battery East Trail. Both are less than a mile round-trip, with the Battery East trail being the easier of the two.
Short on Time?
Stop at the Presidio of San Francisco park on the SF side of the bay. The tip of the park offers great views of the bridge, without crossing it and reaching the National Recreation area.
Drive
Driving
The next location is 133 miles away (~2.5 hours).
From the Golden Gate Bridge, it's about 2.5 hours to the town of Soledad, which is the entrance of the western flank of the Pinnacles National Park.
Must See
Pinnacles National Park
Soledad, CA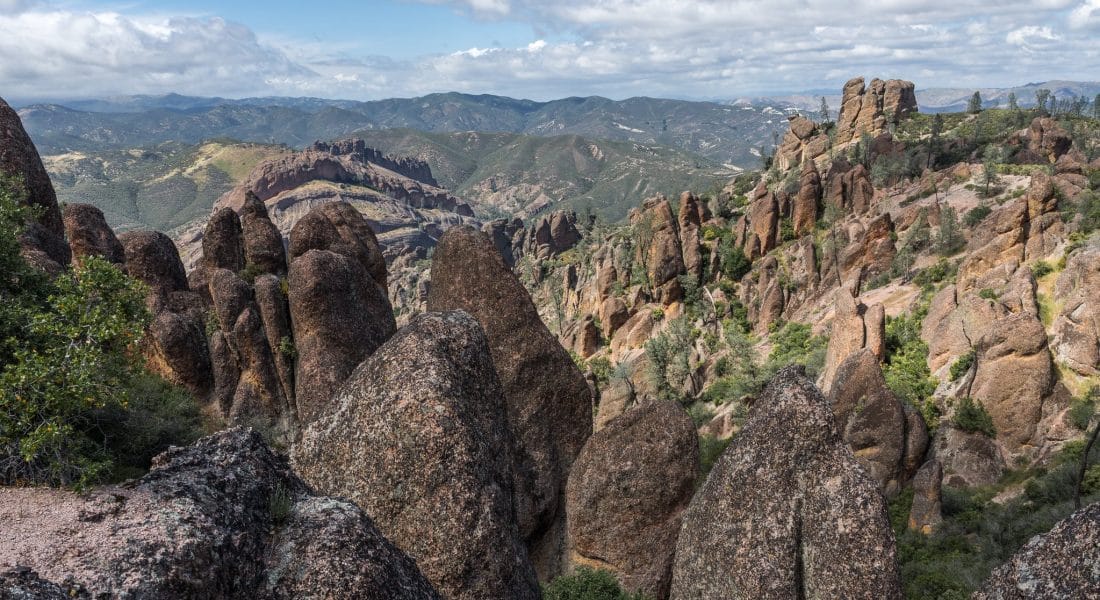 Pinnacles National Park is full of rock castles, canyons, caves and towering walls stemming from volcanic activity 23 million years ago. It was a National Monument until 2013, when President Obama redesignated it a National Park.
For this trip, we are going to visit the park on its much less visited Western side. The west side of the park is near the town of Soledad, CA. This part of the park is only accessible to visitors when the gate is open, which is between 7:30am – 8pm, daily. There are no services or campgrounds on the west side of the park.
Since we're visiting Pinnacles on the way to Big Sur, we are going to unfortunately be making this a short stay in the park.
The best hike from this side of the park is the Balconies Cave Trail. You can hike – well, crawl – through this 1 to 3 mile round trip trail that goes through a series of stacked boulders and talus caves. If crawling is not your thing, the Balconies Cliff Trail is an option for claustrophobic hikers.
Drive
Driving
The next location is 46 miles away (~1 hours).
After hiking, or crawling, the trails at Pinnacles National Park, hop hack on route 101, but this time turn north. We need to head north just a bit until we reach the Pacific Coast and US1 in Monterey. This area is where we are going to spend the next two nights.
Destination
Days 2-4
Big Sur State Park
Carmel-by-the-Sea, CA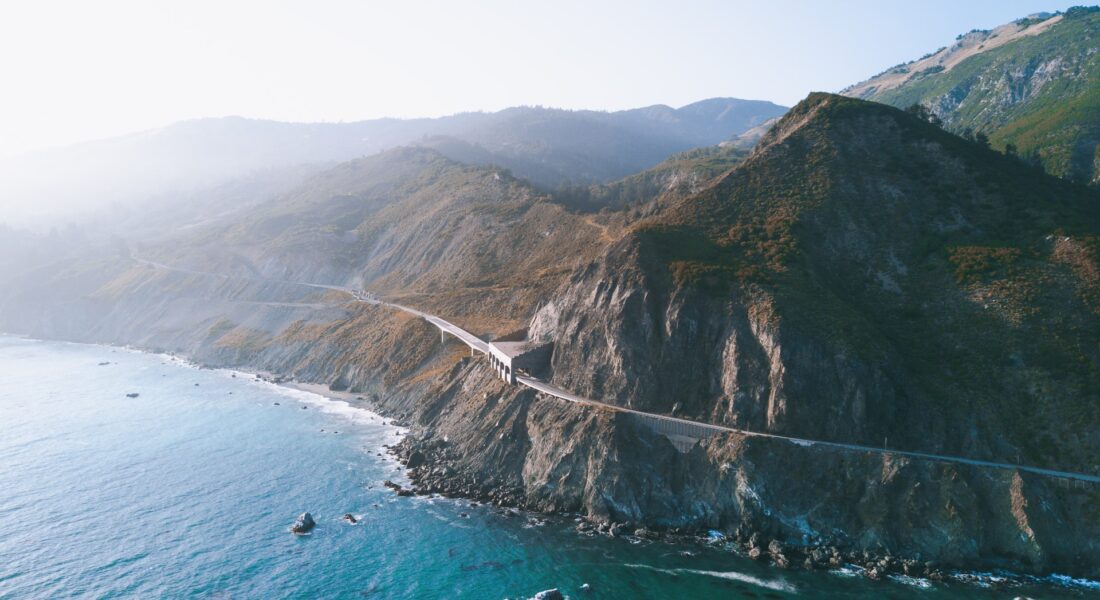 Big Sur is a rugged stretch of California's central coast between Carmel and San Simeon. Bordered to the east by the Santa Lucia Mountains and the west by the Pacific Ocean, it's traversed by narrow, 2-lane State Route 1, known for winding turns, seaside cliffs and views of the often-misty coastline.
Lodging
Big Sur is a sparsely populated town in CA, so we need to stay a bit north in Caramel. Caramel-by-the-Sea has plenty of hotel and Airbnb options available. Monterey and Del Rey Oaks are other great spots to set up camp for a few nights.
Drive
Driving
The next location is 305 miles away (~5.25 hours).
For this drive, you'll be following the Pacific Coast Highway (US Route 101) this whole trip. We suggest taking your good old time and stopping at the various overlooks, parks, and towns along the way. While the drive takes about 5 hours from start to finish, expect it to take anywhere from 8-10 hours, depending on how many places you stop.
Destination
Days 4-6
Santa Monica Mountains National Recreation Area
Malibu, CA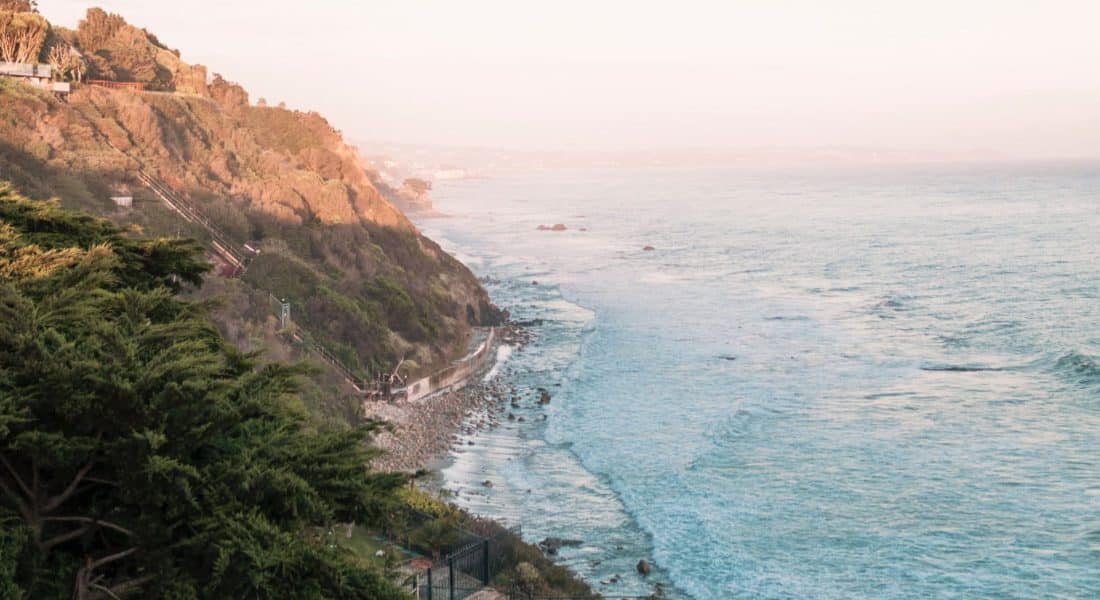 In this wilderness in the shadows of the country's second-largest city, there are over 500 miles of trails and legendary beaches. The Santa Monica Mountains National Recreation Area is located along the Pacific Coast of California, in the city of Malibu.
The best hike in the park is the Backbone Trail, which stretches  67 miles (108 km) through the best protected Mediterranean habitat in the world. There are a dozen official trail heads, and there is over 3,000 feet of elevation changes throughout it. Many sections of this trail are rated "easy".
Then are the beaches. California's beaches are unlike any found on the East coast of the US. These beaches jet from rocky, and sometimes steep hillsides, and feature some of the most amazing views. There are over twenty beaches along the stretch of US-1 in Malibu. El Matador State Beach is known to locals as their best-kept secret, so how can you go wrong with that?
Drive
Driving
The next location is 30 miles away (~1 hours).
This is one of those trips that you need to pay very close attention to timing. Rush hours should be avoided like the plague, and using a mapping service like Google Maps should help you estimate the time it will take to get into LAX.
The drive to the airport is only 20 miles, but it can take up to 1.5-2 hours if you're not careful about when you leave.
Departure
Day 7
Los Angeles, CA
Fly home via the second-largest airport in the country, LAX. LAX is huge, but it's not too hard to navigate, especially if you give yourself plenty of time as I mentioned above.