Continental Divide National Historic Trail RV Road Trip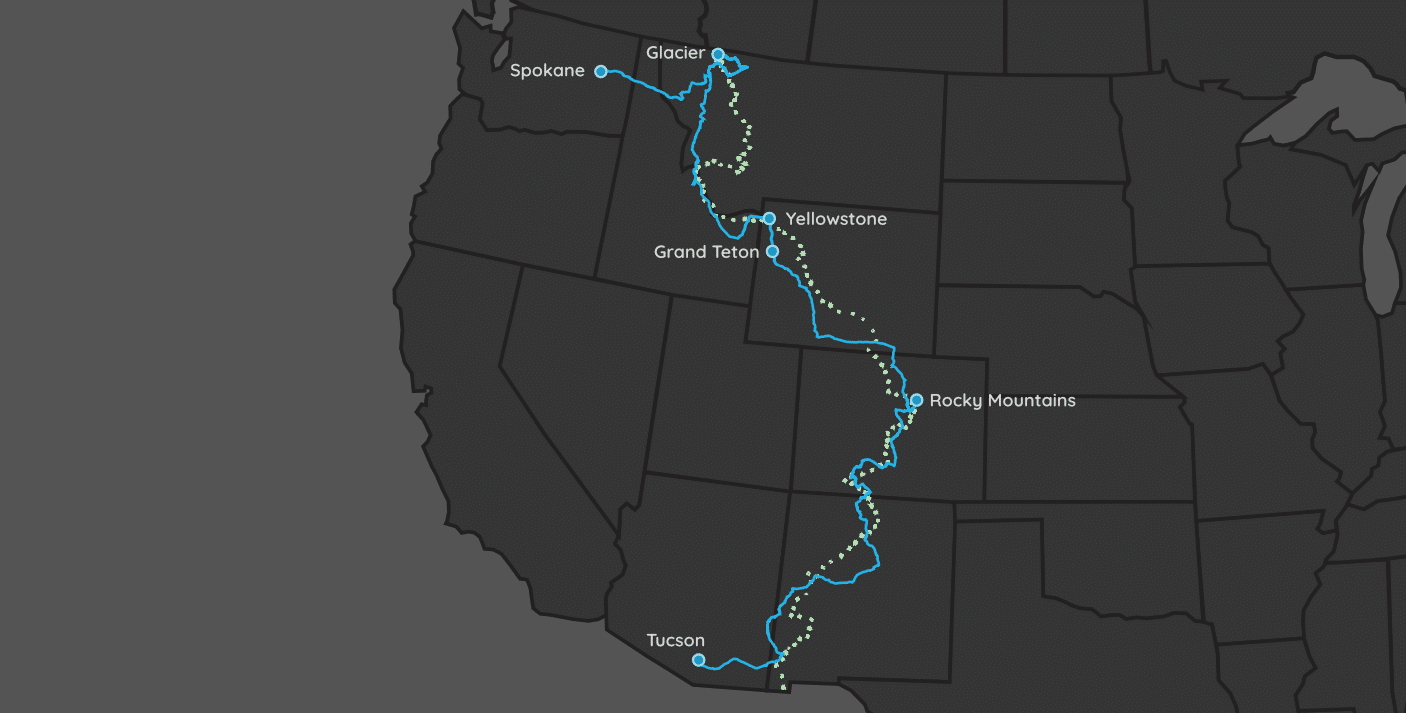 | | | | |
| --- | --- | --- | --- |
| Parks: 8 | Miles: 2,315 | Days: 14 | Hours: 41 |
This amazing road trip does its best to follow along the historic Continental Divide Hiking Trail. Since the trail is just that – a trail – we can't drive along it, but we do our damnedest to follow it the best we can.
In the map above, the green dotted line is the Trail, and the blue solid line is our best guess as to the driving route you'll be taking. As you can see, we stay very close to it, but have to diverge occasionally. Also, many times your GPS will try to take you a quicker way to your next stop that is not along the trail. It's totally up to you to decide if you want to stay true to the trail, or take a different route.
We begin the trip in Tucson, AZ, about a 4-hour drive to Crazy Cook Monument, the southernmost tip of the trail. From there we head north through and past various National Parks, Forests and Monuments that all are more than interesting enough to stop at. However, unless you're OK with extending the trip past the minimum of 14 days, you'll need to be picky as to where you stop and where you don't.
The must-see stops we outline here are primarily National Parks. These parks have plenty to offer, but we focus each blurb within them on the Continental Divide Trail if possible. After all, that is what this road trip is about!
Itinerary Notes
This is a long trip through some amazing scenery. Take your time exploring along the way. We give some of the major places of interest along the way, but there will be so many more that we don't mention. We suggest that as you set up for the night – wherever you're staying – do some research about the next leg of the trip. Plan the route and find interesting places along the way.
Tip: View our idea of the route you'll take via Google Maps.
Here is the estimated 14-day travel itinerary.
| Travel Day | From | To | Miles |
| --- | --- | --- | --- |
| 1 | (home) | Tucson, AZ | |
| 2 | Tucson, AZ | Grants, NM | 370 (6.5 hrs) |
| 3 | Grants, NM | Lake City, CO | 314 (6 hrs) |
| 4 | Lake City, CO | Twin Lakes, CO | 163 (3 hrs) |
| 5 | Twin Lakes, CO | Grand Lake, CO | 165 (3 hrs) |
| 6 | Grand Lake, CO | Jackson, WY | 463 (7.5 hrs) |
| 8 | Jackson, WY | West Yellowstone, MT | 130 (2.5 hrs) |
| 10 | West Yellowstone, MT | West Glacier, MT | 430 (6.5 hrs) |
| 12 | West Glacier, MT | Spokane, WA | 280 (5 hrs) |
| 14 | Spokane, WA | (home) | |
RV Rental
Reserving your vehicle rental beforehand is a must! Do not just show up to the rental kiosk or the RV rental building and expect them to have a vehicle available for you. Your trip will be a disaster if you try that.
If you are renting an RV, then you will need to find places to stop & park for the night along the way. If you are renting a car/truck, then you'll likely need to coordinate hotel and/or VRBO single night stays.
If you want to rent an RV (which is by far the best choice), then we suggest using Cruise America. They allow one-way trips, which is perfect for a cross-country trip such as this one. Since traveling by RV is by far the best option, you'll need to have an idea where you plan to stay each night. You can use campsites that we list on each National Park's detail page, or you can find a parking lot to freely setup in for the night. For example, Walmart allows RVs to use their parking lots for free.
Arrival
Days 1-2
Tucson, AZ
We begin this trip by flying into Tucson International (TUS). You should probably spend the night here if you get in late, since the goal is to drive almost all day tomorrow.
If you chose to make this trip in an RV, then you'll need to take an Uber or Taxi to Cruise America's Tuscon location.
Must See
Saguaro National Park
Tucson, AZ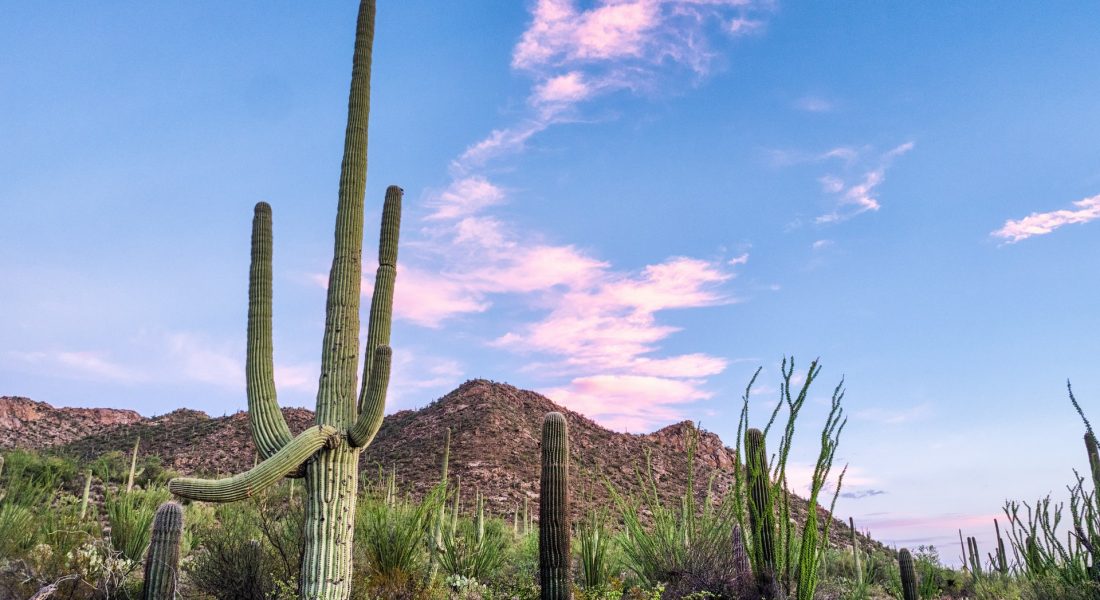 The Saguaro National Park is named after the country's largest cacti, the saguaro (pronounced sa-WAH-ro). It is split into two east and west sections, with each having their own highlights.
Must Do Attraction
This park is not on the Continental Divide Trail. It is simply so close to Tucson, that you cannot afford to skip it.
In the eastern section of the park, enter at the Rincon Mountain Visitor Center. There are a lot of hiking trails here, but if you are short on time, drive the Cactus Forest Loop Drive (8 mile loop) and hike the easy Cactus Forest Trail. This trail cuts through a forest of saguaro cacti, and is about 2 miles round trip.
Must See
White Sands National Park
Holloman AFB , NM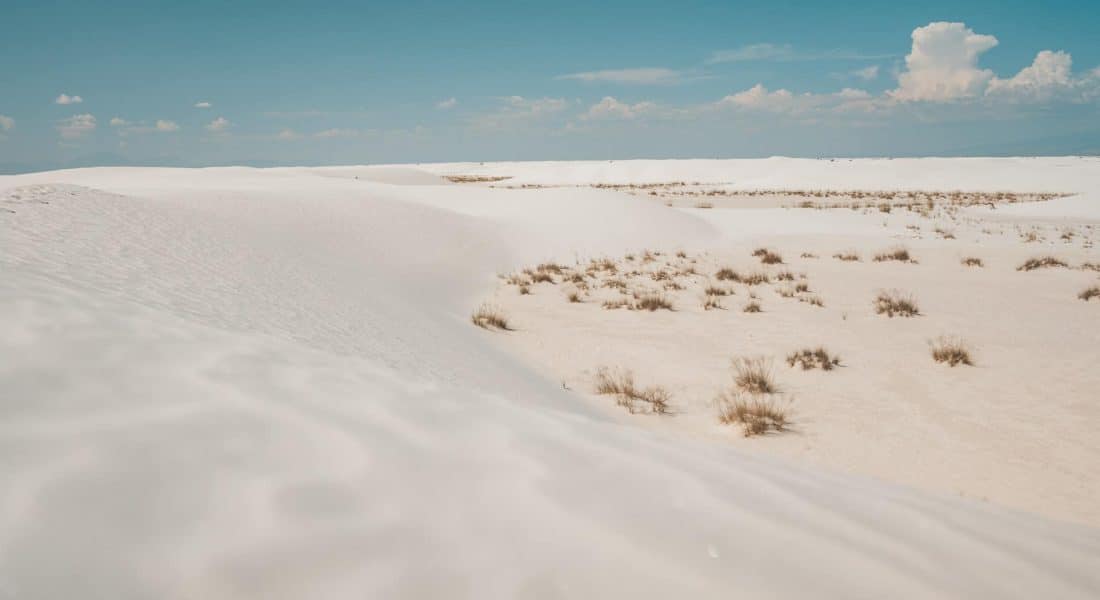 White Sands National Park has dazzling white sand dunes shimmer in the tucked-way Tularosa Basin in southern New Mexico. They shift and settle over the Chihuahuan Desert, covering 275 square miles—the largest gypsum dunefield in the world. White Sands National Park preserves more than half of this oasis, its shallow water supply, and the plants and animals living here.
Must Do Attraction
This park is about an hour east of the continental divide. However, this park is so out of the way, that you'll probably never have another chance to see this magnificent park again.
The Interdune Boardwalk is an easy 0.4 mile round trip stroll through the dunes that will teach you about the science, geology, plants, and animals that make White Sands unequaled. The boardwalk is a great place to take a break under the shade canopy, listen for bird calls, observe lizards, and enjoy wildflowers.
The Alkali Flat Trail (that's not flat) is a strenuous, 5-mile (8 km) round trip hike. It skirts the edge of what is now the final remnant of Lake Otero. It also does not have restrooms, shade, or water along the way – so be warned!
Destination
Day 2
Grants, NM
The Continental Divide Trail runs right through Grants, NM. Just before town are the El Malpais and El Morro National Monuments. There is a KOA, Bar S and a few other RV parks located in Grants if you'd like to find a hookup for your RV.
Grants is an official waypoint on the CD Trail.
If you are looking for many more food and lodging options, Albuquerque, NM is about an hour east of Grants.
Must See
Mesa Verde National Park
Mancos, CO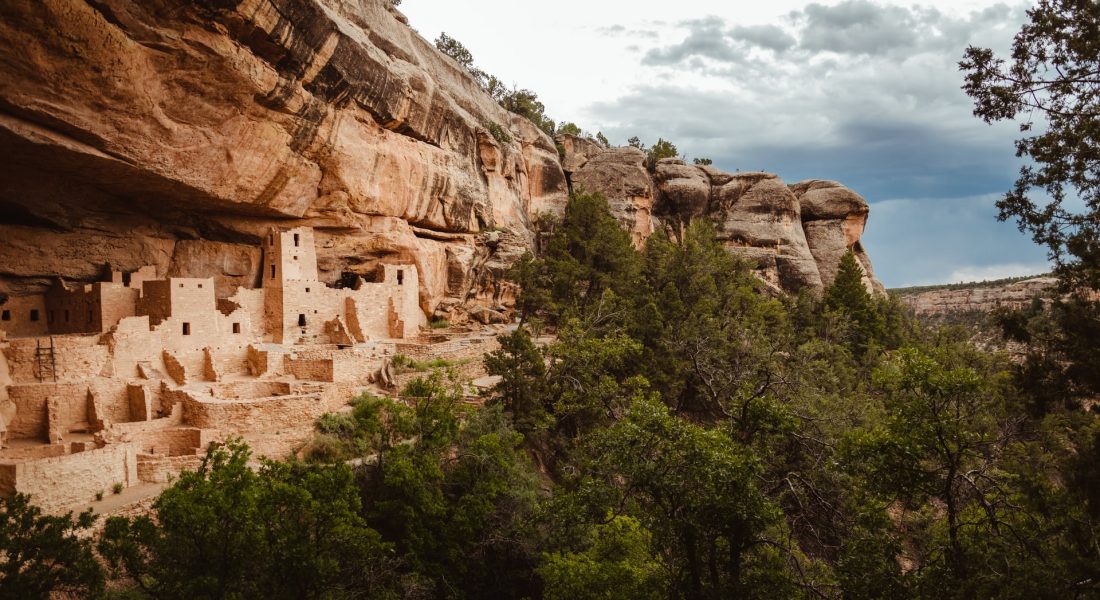 Mesa Verde is about an hour west of Route 84 that you'll be taking north into Colorado. It's a remarkable little National Park to get out and stretch your legs at. The main draw of the Mesa Verde National Park is its over 600 multi-story cliff dwellings created by the Pueblo Indians some 600 years ago.
Must Do Attraction
Thee of the largest houses: Balcony House, Cliff Palace and Long House are structures that can only be viewed with a ranger-guided tour. Tour season runs from May to September, and can be purchased on Recreation.gov.
Hiking is most commonly done on either the Petroglyph Point Trail, or the Spruce Canyon Trail, both about 2.5 miles round trip, and located in the southern part of the park.
The curvy North Rim Road is an 11-mile one way scenic drive through the park, and passes numerous canyon overlooks. You'll drive most of this road, accessing the points we listed above as well.
Another benefit of stopping here is that the Canyons of the Ancients National Monument is right next door. This park located about 10 miles (16 km) north of Cortez. This monument contains the highest known archaeological site density in the United States, with rich, well-preserved evidence of native architecture and culture.
Destination
Days 3-4
Lake City, CO
Lake City, CO is an official waypoint on the CDHT.
Explore the historic downtown, then hike part of the trail. The best place to access it is in Spring Creek Pass, and head towards Snow Mesa. This trail offers visitors the chance to experience great views at an elevation of about 11,000 feet. The edge of Snow Mesa, which is the largest expanse of tundra in the continental United States, is at about 2 miles and is a great halfway point for a hike. If visitors are interested in a longer hike, they can continue along this trail to experience even more of Snow Mesa.
There are numerous RV spots in and around Lake City.
Must See
Black Canyon of the Gunnison National Park
Cimarron, CO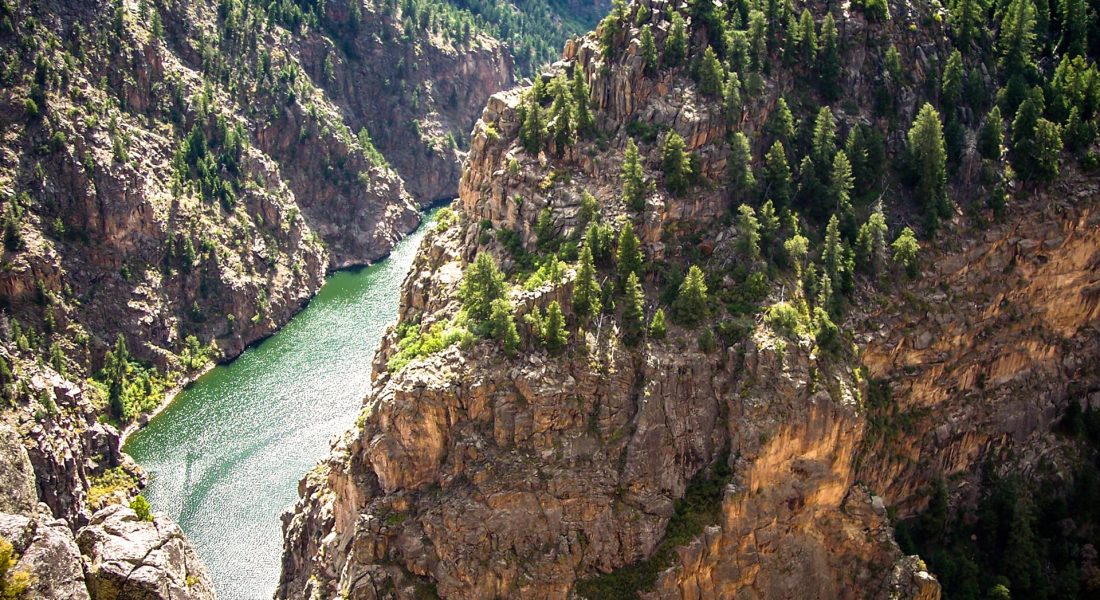 Black Canyon of the Gunnison National Park is about an hour west on Route 50 once you meet that road in Gunnison, CO. This park is known for its narrow, sheer walls of volcanic rock, carved by the powerful Gunnison River. It's also one of the country's least visited, meaning you'll have no trouble social distancing here!
Must Do Attraction
The park has two sections: the north and south rims. The South Rim has the most to offer, leading it to being the most popular section of the park. In fact, if you wanted to drive from one side of the canyon to the other, it would take about three hours to complete.
The scenic South Rim Road follows the canyon's edge for 14 miles (23 km) and has dozens of overlooks and hiking trails. The other frequently-driven road in the park is the East Portal Road, which descends to the river at the bottom of the canyon until it reaches the Crystal Dam National Recreation Area.
Destination
Days 4-5
Twin Lakes, CO
Twin Lakes, CO is an official waypoint on the CD Trail.
Situated in the midst of Colorado's Sawatch Range, the dual CDT Gateway Community of Leadville and Twin Lakes is surrounded by mountains with summits above 14,000 feet.
The best hike on the trail in Twin Lakes is the access at Mount Massive. Mt. Massive (14,428′) is the second-tallest mountain in Colorado and the third-tallest mountain in the contiguous United States. Begin your climb by heading north on the CDT for 3 miles, gradually gaining elevation as you pass through coniferous forest and wildflower meadows. At the intersection for Mt. Massive Trail, veer left.
Destination
Days 5-8
Rocky Mountain National Park
Grand Lake, CO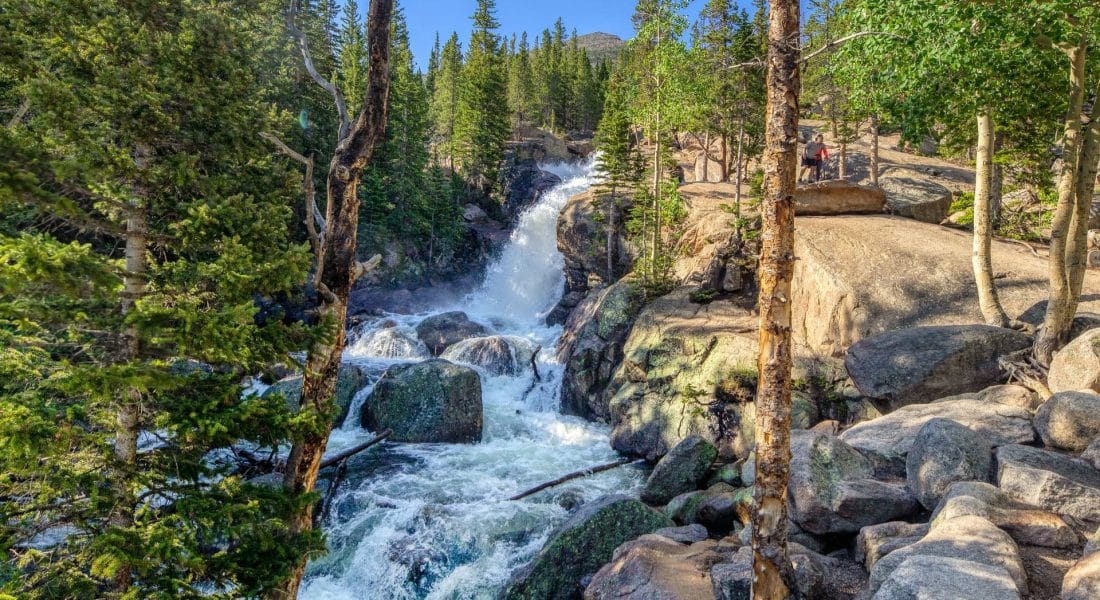 The Rocky Mountain National Park has everything from meadows to forests, lakes to soaring peaks. This park also has some of the highest paved roads in the United States. Stay in Grand Lake, which is an official waypoint on the trail.
Must Do Attractions
The best driving attraction at the Rocky Mountain National Park is the Trail Ridge Road, located along the Continental Divide. This paved 48-mile road connects Estes Park with Grand Lake, CO. This road is only open from Memorial Day until mid-October, and is the only road that crosses the park. Trail Ridge Road tops out at an impressive 12,183 feet, which allows it to offer some of the most breathtaking views of the mountains and the valleys below.
The best easy-moderate hike is the Lumpy Ridge Trail. This 3.2 mile round trip hike climbs about 1,000 feet and offers fantastic views of Longs Peak (the highest peak in the park), Mount Meeker and Estes Park.
Destination
Days 8-9
Grand Teton National Park
Jackson, WY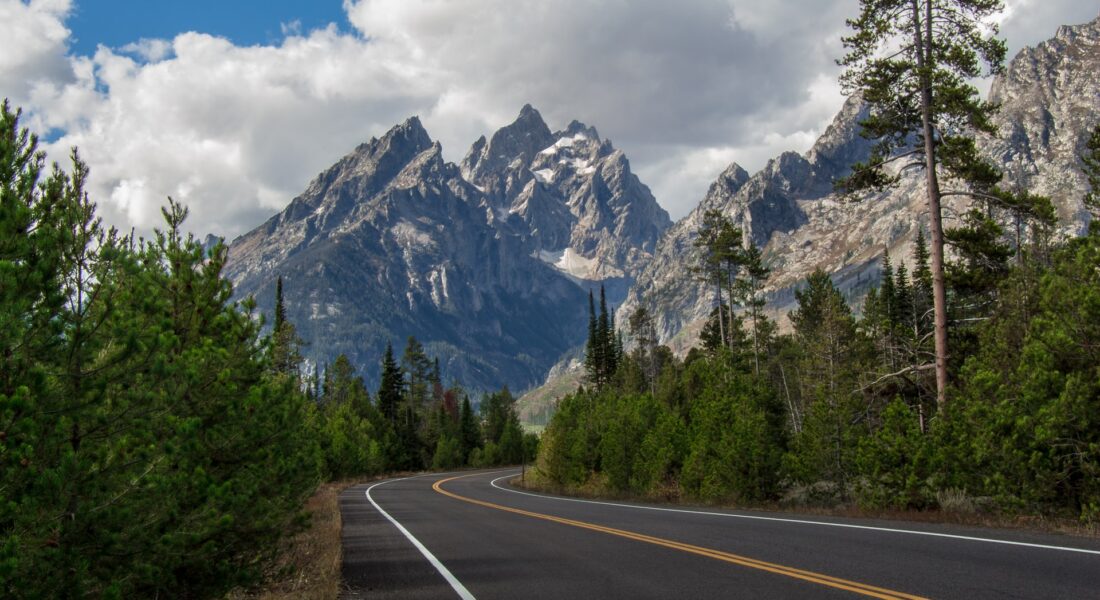 The CDT actually snakes north just east of the Grand Tetons before bisecting Yellowstone.
In Grant Teton National Park, sharp mountain ranges jut up from the landscape to dwarf everything surrounding it. This mountain range is the youngest in the Rockies, lending to the sharpness of the peaks.
Must Do Attraction
The drive from Jackson, WY to Yellowstone will take about 2.5 hours if you circle around the parks, but you can always take Highway 191 that cuts through the hearts of Yellowstone and Grand Teton for a much more scenic drive.
The best hike in the park has to be the Jenny Lake Loop Trail that circles around the crown jewel of the park. The moderately-difficult trail begins at the Jenny Lake Visitor's Center, goes for about 7.5 miles and has an elevation change of 1,250 feet. At the top, it looks down on the blue waters of Jenny Lake.
Destination
Days 9-11
Yellowstone National Park
West Yellowstone, MT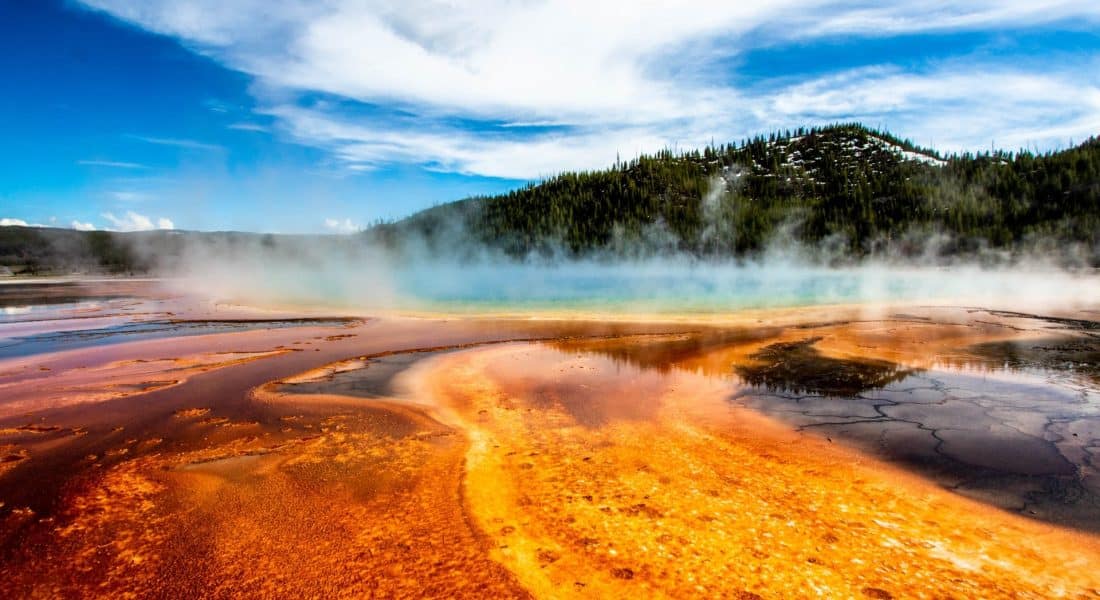 Yellowstone National Park hosts half of the world's geothermal features within its 2.2 million acres.
Must See Attractions
Midday (10am-4pm) is when most of the crowds are out. If you are staying the night here rather than stopping on the way through, then keep these times in mind. Parking fills up early as well, so get there before 8am for the best experience.
Old Faithful Geyser erupts every 90 minutes, and shoots up to 8,400 gallons of hot water each time. Expect massive crowds here in the summer months, with the benches surrounding the geyser getting filled 30 minutes in advance.
Just north of Old Faithful are the boardwalks surrounding Midway Geyser Basis and Upper Geyser Basin. The Morning Glory Pool with its vibrant colors is a must-see location inside the Upper Basin.
Looking into the Grand Canyon of the Yellowstone you'll see the Yellowstone River, which cuts a 1,000 foot deep swatch through the rock. There are the Upper Falls and Lower Falls that you can hike to get amazing glimpses of both.
Destination
Days 11-13
Glacier National Park
West Glacier, MT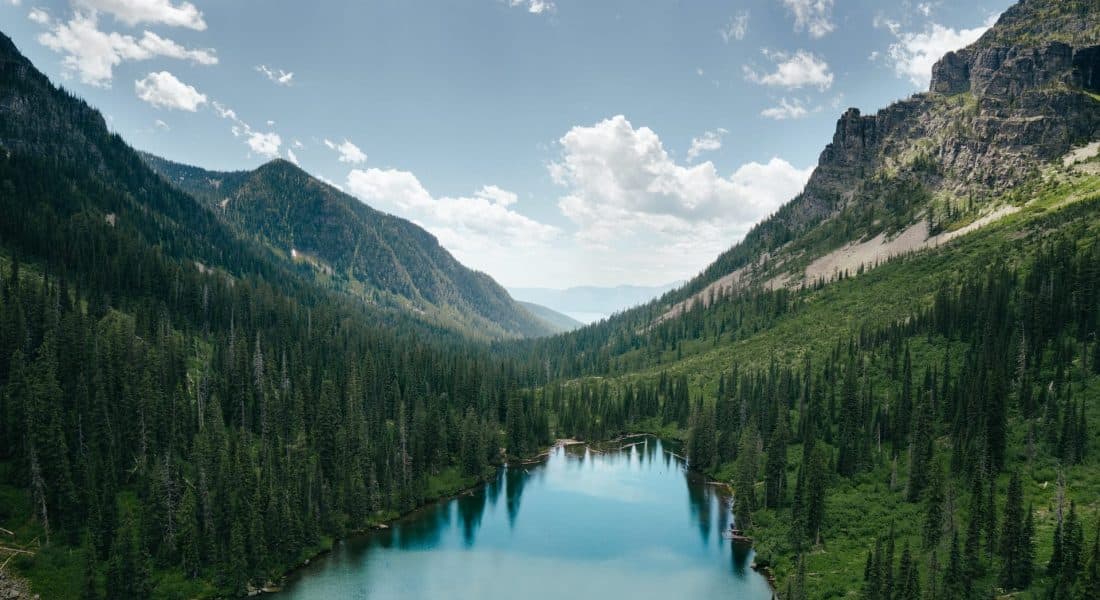 Glacier National Park is a remote wilderness area in Montana's Rocky Mountains, with glacier-carved peaks and valleys running to the Canadian border. Here you'll experience Glacier's pristine forests, alpine meadows, rugged mountains, and spectacular lakes. Glacier National Park has about two dozen active glaciers, which researchers have estimated will all be gone by the year 2100.
Must See Attraction
Glacier's biggest attraction is the 50-mile Going-to-the-Sun Road that slices through the heart of the park. This scenic highway hugs cliffs and has sharp curves, leading to a lot of white-knuckle driving. The park has a shuttle that makes the loop up and down this road, so you can take that if you want to take a break from driving. This road now requires a ticketing system to limit traffic.
Everyone that comes to Glacier NP wants to see an actual glacier. You can see two glaciers from the Going-to-the-Sun Road, but if you want to hike closer to one, then the Grinnell Glacier should be in your plans. This is an 11-mile round trip hike that is considered very strenuous.
Departure
Days 13-14
Spokane, WA
Drop off your RV at the Spokane Location of Cruise America.
We will be flying home out of Spokane International. If your flight is in the first half of the day, you'll need to get into town a day early and shack up in a hotel for the night. The drive from West Glacier takes on average 5 hours, and that's a lot to drive immediately before your flight home.