Denali & Wrangell-St. Elias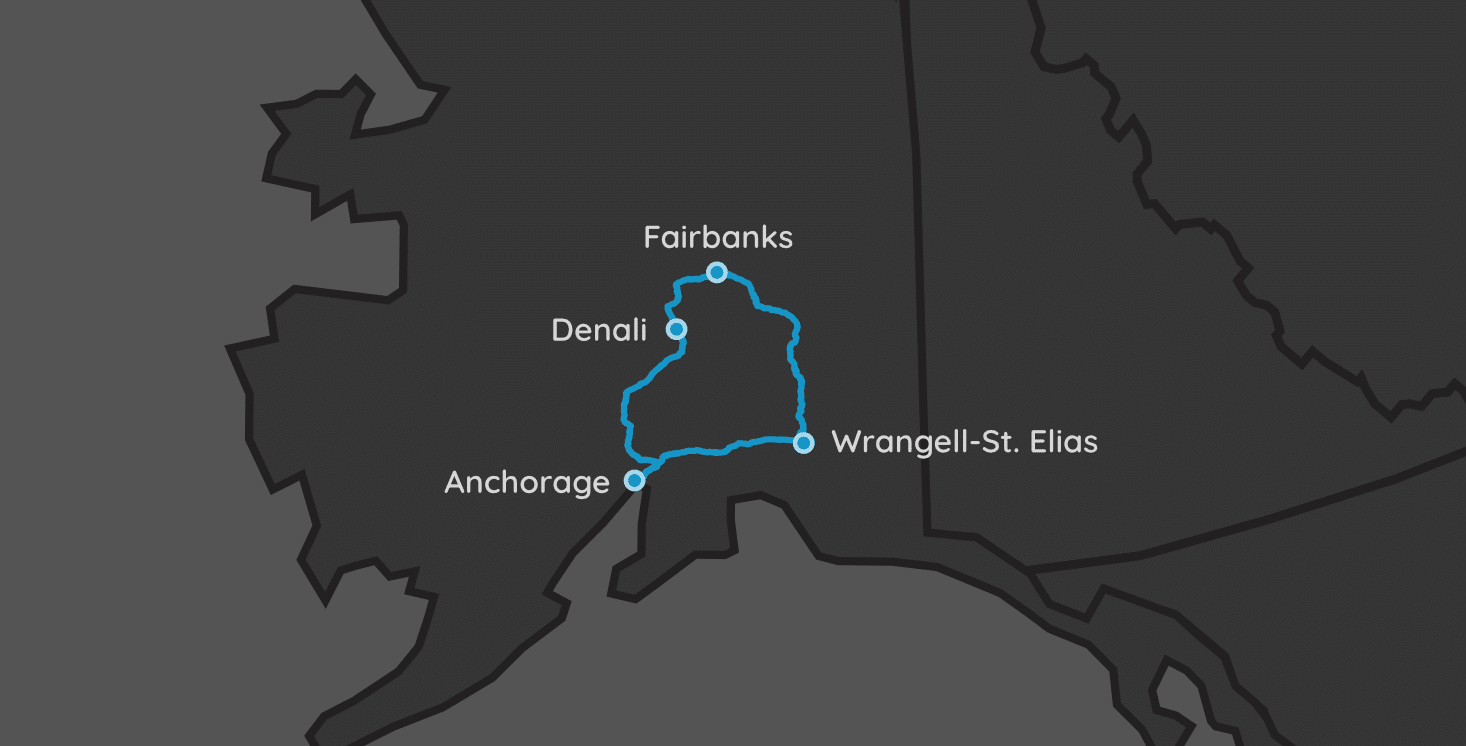 | | | | |
| --- | --- | --- | --- |
| Parks: 3 | Miles: 881 | Days: 9 | Hours: 16 |
Denali is the most iconic of all Alaskan National Parks, but there are a handful of parks that are easily accessible that you can tack onto a Denali trip. We added Kenai Fjords last time, and now we also make a visit to the largest national park of all: Wrangell-St. Elias National Park. At a staggering 13 million acres, this park is larger than the next two (Gates of the Arctic + Denali) combined.
Getting to Alaska is never easy. The flights are expensive, the weather unpredictable and the unknowns many. While we kept this trip as simple as possible to assuage some hesitancy, you will lose nothing in terms of experience.
Alaska actually has eight national parks, but the state does not have the complex inter-city road system that we are all used to in the lower 48. Some are only accessible via boat or air, while others that might not seem too far away, are actually are. If you are looking to extend your stay, you could add in a trip down to Seward to visit the Kenai Fjords National Park one of the times you find yourself in Anchorage.
Itinerary Notes
Best Months: The best time to make this trip would be between mid-May to mid-September. This is when services throughout the parks are fully operational. Outside these months, the towns, and services basically shut down for the season due to a mix of weather and a drop-off of tourists.
Finding Flights: Your next challenge to conquer will be to find flights. Luckily, Anchorage is a major international airport. The problem however will likely be the prices and/or the length of the flight. For example, from a major hub like New York City (LaGuardia), the prices are reasonable, but it takes anywhere between 11 and 19 hours to get there. The smaller airports see not only an increase in prices, but also in the number of layovers required to get you up there.
Vehicle Rental: Lastly, you'll need to rent a vehicle at the airport to complete your trip. All the major rental companies operate out of there (Enterprise, Budget, Avis, Hertz, Dollar, Thrifty, National, Alamo, etc.), but their selection is probably quite sparse. This is absolutely one time you should schedule a vehicle reservation as early as you can.
Arrival
Days 1-2
Anchorage, AK
While this is completely up to you, we decided on spending the night after arriving in Anchorage. First, your flight likely took well over 10 hours, so you're probably exhausted. Second, the next stop is just under 2.5 hours away. Third—and this is a big one—you'll want to take your time to explore during the drive.
Drive
Driving
The next location is 110 miles away (~2.25 hours).
The path we're taking here is the Glenn Highway Scenic Byway. This drive isn't too long, but you may find yourself wishing it was longer. The drive is amazing, but luckily we hold up for a night in Glacier View before continuing on.
Destination
Days 2-3
Glacier View, AK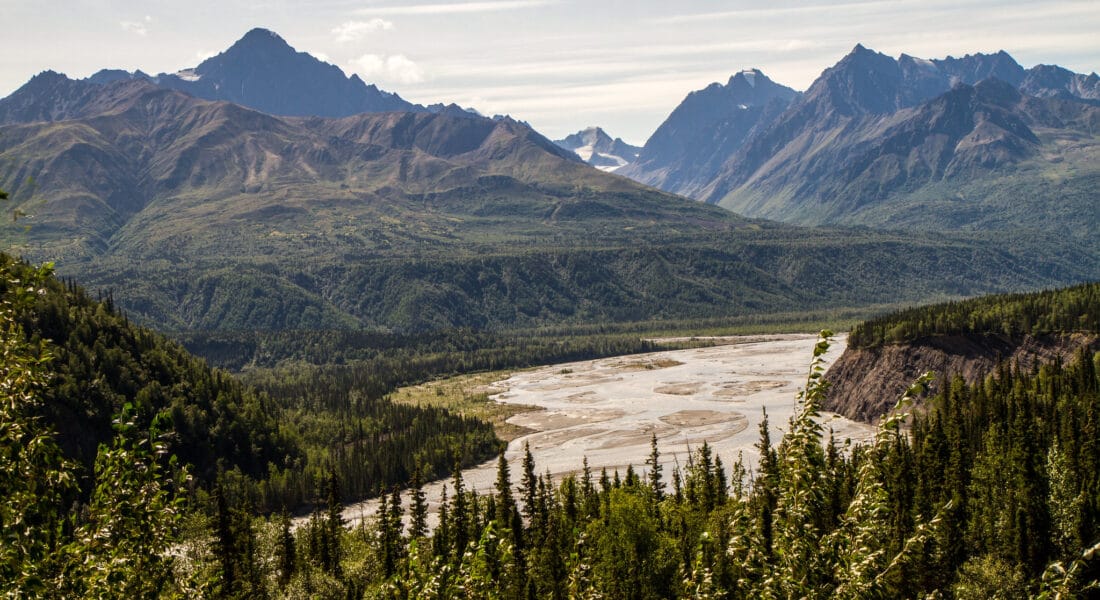 At 27 miles long and 4 miles wide, the Matanuska Glacier is the largest glacier accessible by car in the United States.
Lodging
While there are a surprising amount of available AirBNBs in Glacier View and surrounding town, to stay in the Sheep Mountain Lodge if possible. It'll give you an authentic Alaskan experience, and the rooms are beautiful.
Attractions
Hiking to the Matanuska Glacier is something you should absolutely do if you have the time. There are multiple companies offering guided tours to the glacier. MICA, Nova and Glacier-Tours.com offer some reasonably prices tours. Access to the glacier is only available via private property, so a tour is your best bet. However, there are self-guided hikes, but they still come with a fee.
Matanuska Glacier State Recreation Site is another great place to visit, but you likely passed the entrance of it if you are already in Glacier View. Unfortunately, this park has no paths direct to the glacier.
Drive
Driving
The next location is 120 miles away (~2 hours).
Get back on Glenn Highway Scenic Byway (Highway 1), and continue on to the small town of Glennallen before heading south on Alaska Highway 4 towards the next stop in Copper Center.
Destination
Days 3-5
Wrangell-St. Elias National Park
Copper Center, AK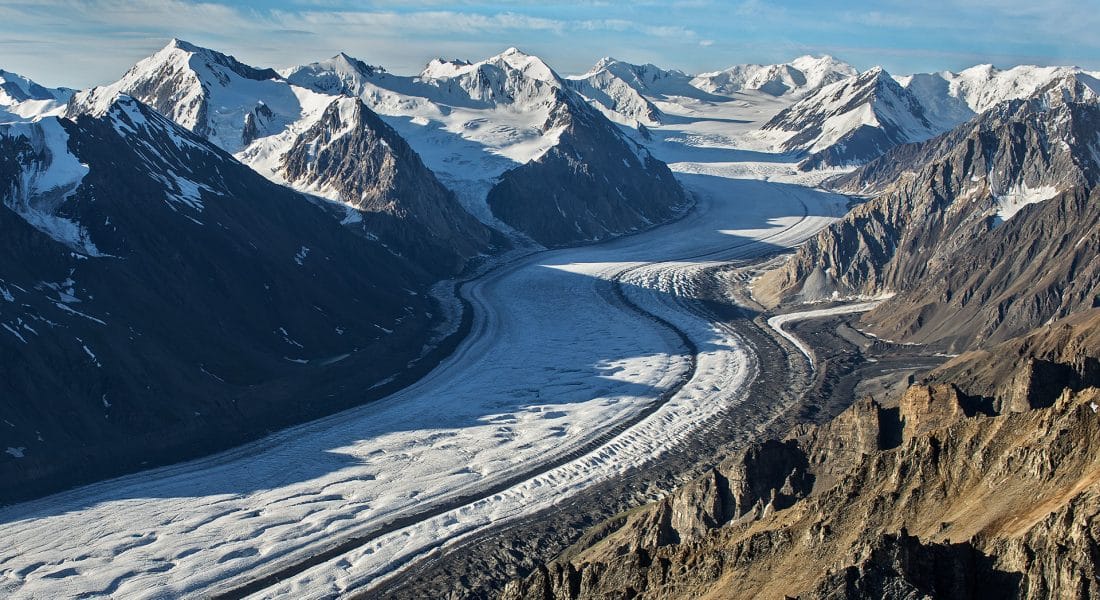 Wrangell-St. Elias National Park is the largest National Park in the US with 13.2 million acres under management. With huge mountain peaks and rivers of ice, this remote park offers solitude, true wilderness and plenty of wildlife viewing.
Lodging
Stay in either Airbnbs in Copperville, Copper Center, or the Copper River Princess Wilderness Lodge in Copper Center. For an even wilder stay, consider the McCarthy Lodge, set in the middle of the park away from just about everything.
Visitor Center
If you didn't visit the Copper Center Visitor Center on your way down, head up first thing as it opens the first full day you're here. Enjoy the exhibits, view the park film, hike nature trails, shop in the bookstore, gather park & area information, conduct backcountry trip planning, and view the large 3-D interactive map display. Park rangers provide guided talks and walks daily during the summer months.
Scenic Drive
For a scenic drive through the park, check out McCarthy Road in Chitina, AK (about 1 hour south of the visitor's center). Along an old railroad bed cut out of the mountains in 1909, McCarthy Road was turned over to the land in the 1960s to the state.
You should count on a minimum of two hours to travel the 60 miles (97 km) to McCarthy. For the mathematically inept, that means it'll be at least 4 hours round trip on this scenic road. The end of this road is in the town of McCarthy, which is deep inside this national park. This road is famous for being narrow, rough, and full of rocks. Double check that 1) your rental vehicle can handle it, and 2) if your insurance covers the use of this road.
Hiking
The West Kennecott Glacier Trail is a 5 mile round trip lightly trafficked trail located near Chitina, Alaska. It is good for all skill levels, andl is primarily used for hiking, nature trips, and bird watching.
The Root Glacier Trail is an almost 12-mile round trip difficult trail to see one of the most famous glaciers in the park. It located near McCarthy, and is one of the more trafficked trails in the park.
Drive
Driving
The next location is 285 miles away (~5.25 hours).
This almost 5-hour drive on Highway 4, you'll snake through the awe-inspiring Alaskan wilderness. Wilds Preston Richardson Monument is just pass Summit Lake, about halfway during your drive.
Destination
Days 5-6
Fairbanks, AK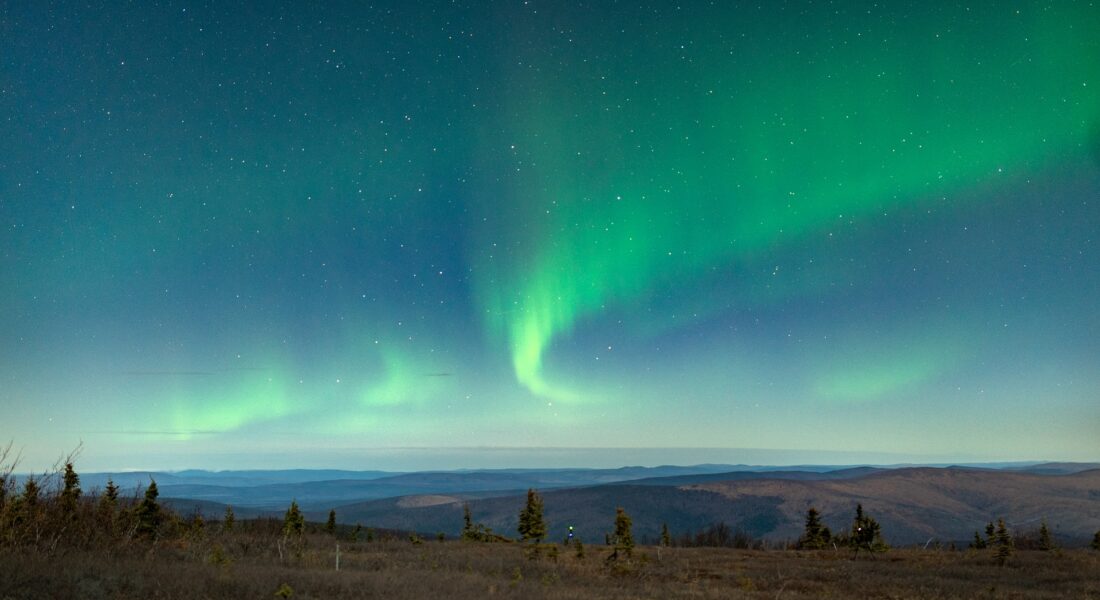 Fairbanks, Alaska is the largest and coldest city in the Interior region of the state and the second largest in the state.
Lodging
While there are quite a few very nice AirBNBs in Fairbanks, we decided to stay in the Aurora Borealis Lodge just north of the city.
Attractions
Fairbanks is known for being a fantastic place to view the Northern Lights.
Fairbanks' aurora season is usually from August 21 to April 21 and the aurora will be visible in Fairbanks an average of four out of five nights when the sky is clear and dark enough. While the lights are actually dancing above year-round, you can only see it during the Aurora Season when there are dark enough skies.
Drive
Driving
The next location is 112 miles away (~2 hours).
The trip from Fairbanks to Healy will be the shortest of all the legs on this road trip, coming in at just around 2 hours of total drive time.
Destination
Days 6-9
Denali National Park
Healy, AK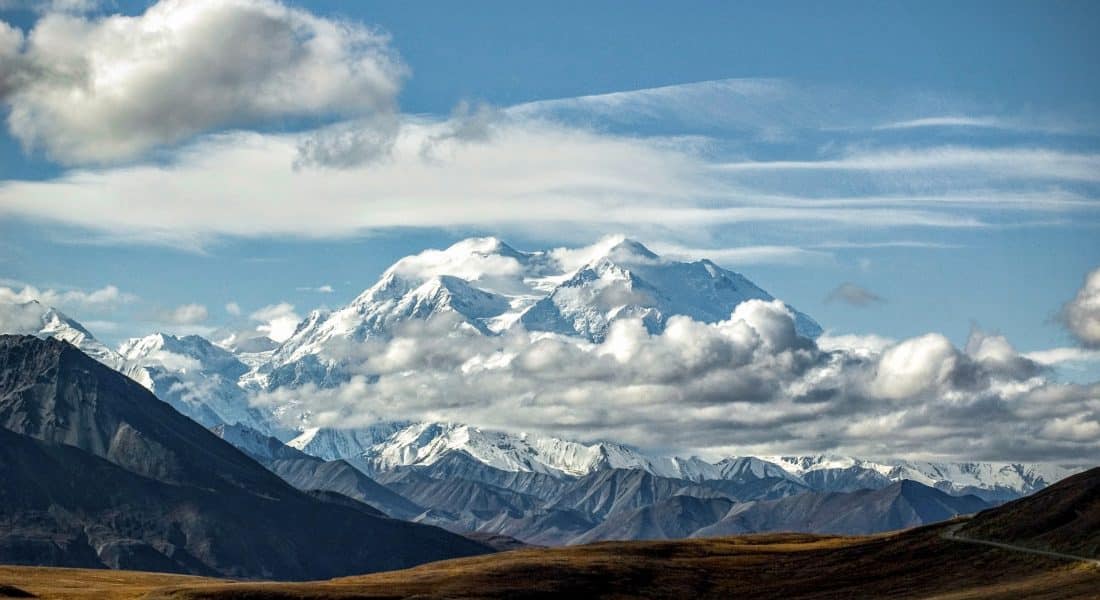 Lodging
Healy has quite a few AirBNB options. Denali Park Village is another option, although the rooms fill up very quickly as the peak season approaches.
Attractions
If you stayed in Healy or Denali Park, heading south on George Parks Highway will take you to the entrance to Park Road and the park's main entrance.
While there are three main visitors centers within the park, only the Denali Visitor Center at mile 1.5 Park Road processes entrance fees.
The 92-mile Denali Park Road is the only way into the park, and is only accessible to private vehicles up to mile 15. If you want to continue down the road, you must reserve shuttle or tour bus tickets ahead of time. While this may seem like an inconvenience, this road extension is quite rugged, with no shoulder and narrow passes, so it should be a relief to not have to drive it. Buses go all the way out to Kantishna at the end of the road, but that doesn't happen until June due to weather conditions. The bus ride should take around 4 hours.
Most of the maintained trails in Denali are short and difficult. The best hike in the park is the Eielson Alpine Trail that is just less than 2 miles round trip, but gains a whopping 1,010 in elevation. To get to the trailhead you'll need to take the bus out to the visitor's center by the same name.
The best family-friendly trail is the Savage River Loop, which clicks in at about an hour round-trip and is mostly level. You get fantastic views of the glacier-carved river valley, with mountain peaks all around.
Drive
Driving
The next location is 254 miles away (~4.5 hours).
When your trip is about to come to an end, leave Denali, and head south back to Anchorage. This drive takes about 4 hours. Depending on your flight time, it might be better to just get a cheap hotel room in Anchorage.
Departure
Days 9-10
Anchorage, AK
Seeing as Healy is 4.5 hours away from the airport in Anchorage, it probably makes sense to get a hotel room in the city before your flight out. This however of course assumes your flight is in the morning. If you are flying out in the evening, and the weather is fine, then making the drive the morning of your flight is entirely possible.