Rocky Mountains, Arches to Canyonlands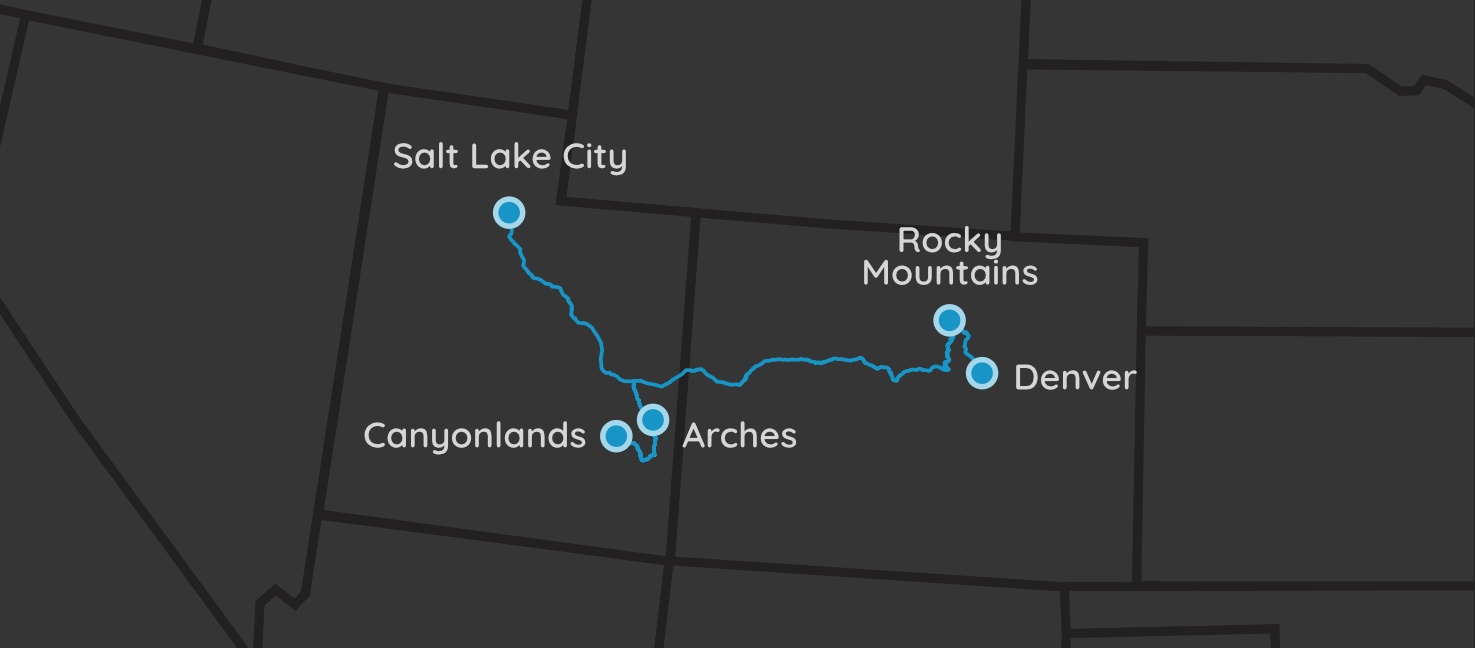 | | | | |
| --- | --- | --- | --- |
| Parks: 3 | Miles: 716 | Days: 9 | Hours: 10 |
This road trip originates in Denver, CO and concludes in Salt Lake City, UT. In between we visit the Rocky Mountains, Arches and Canyonlands National Parks. This trip takes about 9 hours of driving between destinations, which cover almost 620 total miles.
Itinerary Notes
As with all of our trips, this one can easily be reversed. Fly into Salt Lake City, and drive east towards Denver. There is really no reason you can't do this. You may want to see how much flights are from where you live to SLC and Denver. I guarantee you there will be a cheaper direction to fly into, then back out of.
We always rent an extended full-size SUV at our arriving airport, then drop it off right before our departure at the "flight out" airport. You may be shocked at the price for this rental – especially if you need a SUV – but the trip really wouldn't work without one.
Arrival
Day 1
Denver, CO
To kick off this trip, we will be flying into Denver International Airport. From there, we will grab our rental car and head north to where we'll be staying. For us, that was Estes Park, CO.
Drive
Driving
The next location is 76 miles away (~1.5 hours).
Drive north through Boulder to Estes Park, CO. This is where we found lodging, but there are plenty of options to stay in this area.
Destination
Days 1-4
Rocky Mountains National Park
Estes Park, CO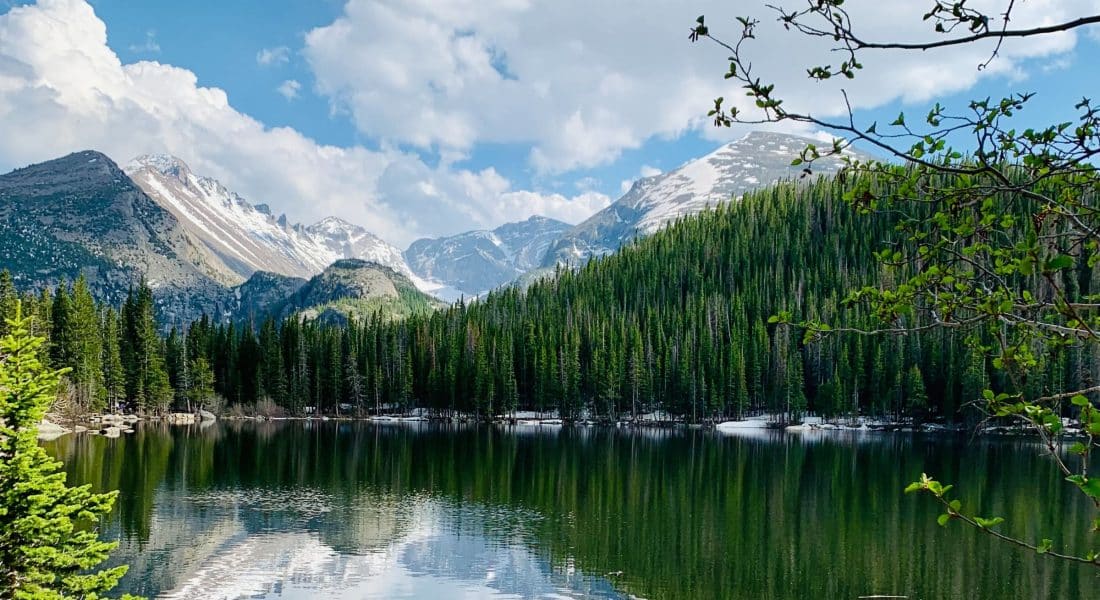 The Rocky Mountain National Park has everything from meadows to forests, lakes to soaring peaks. This park also has some of the highest paved roads in the United States.
Lodging
Airbnb is my preferred service to use when visiting a national park. There are simply so many options, and most offer a full house to rent – which is essential for my 5-person family. Estes Park, CO is where we decided to stay for this visit, and it also has the main driving access point to the park.
Attractions
The best driving attraction at the Rocky Mountain National Park is the Trail Ridge Road. This paved 48-mile road connects Estes Park with Grand Lake, CO. This road is only open from Memorial Day until mid-October, and is the only road that crosses the park. Trail Ridge Road tops out at an impressive 12,183 feet, which allows it to offer some of the most breathtaking views of the mountains and the valleys below.
There are many well-known hikes within the Rockies.
The best easy-moderate hike is the Lumpy Ridge Trail. This 3.2 mile round trip hike climbs about 1,000 feet and offers fantastic views of Longs Peak (the highest peak in the park), Mount Meeker and Estes Park.
The most popular (and most difficult) hike is Keyhole Route up to Longs Peak. This path is about 15 miles round trip, takes anywhere from 10-15 hours and climbs 5,000 feet in elevation. If this hike seems a bit much for you, then consider a hike up to the Twin Sisters Peaks. While it is also a strenuous hike, it is much shorter at only 4 miles round trip.
Drive
Driving
The next location is 403 miles away (~6.5 hours).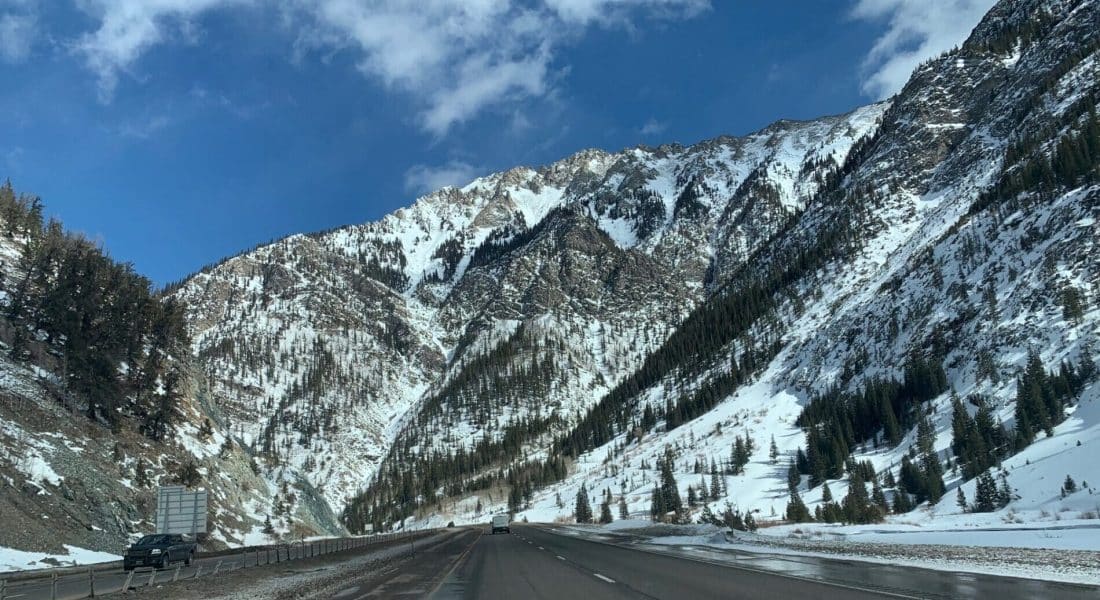 Now it's time to leave Colorado and head to Moab, UT. Begin by finding Interstate 70, and taking it through the Rocky Mountains. This drive is hard to describe in words. You spend over an hour drive what feels straight up, then immediately start driving downhill for hours after you cross the peak.
The picture here was taken from my vehicle as I was driving up towards Breckenridge, CO.
If you are looking for a place to stop and eat along the way, stop at Outer Range Brewing in Frisco. They had some of the best beers I've had anywhere.
Destination
Days 4-8
Arches National Park
Moab, UT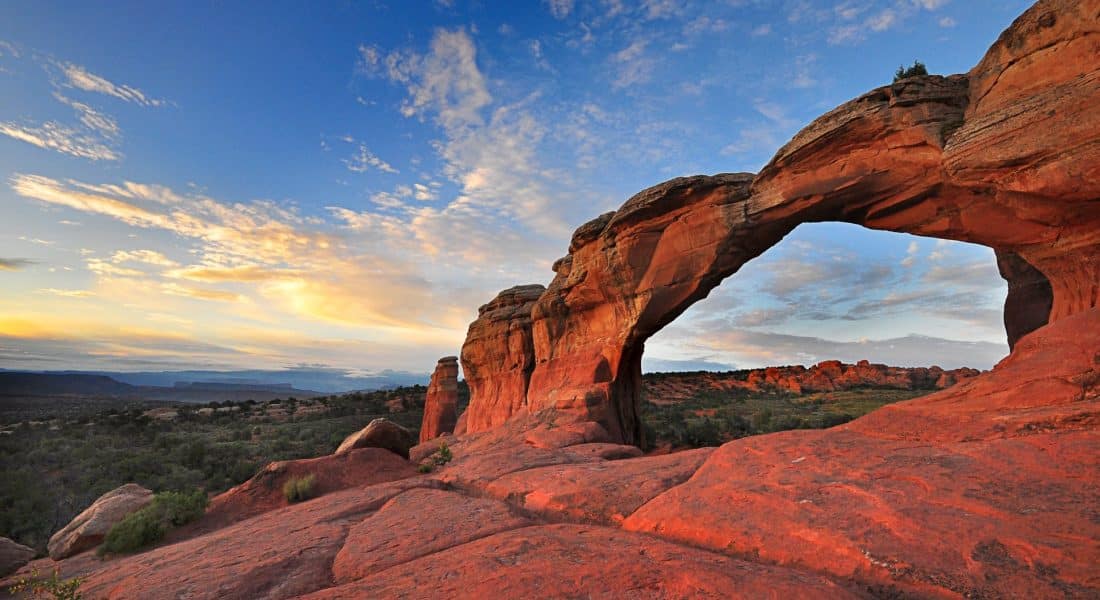 Arches National Park has over 2,000 natural stone arches and hundreds of soaring pinnacles, massive rock fins, and giant balanced rocks. The park is very busy between March and October. To avoid traffic, we recommend entering the park before 8 am or after 3 pm.
Lodging
There are no accommodations or food inside the park, however there is one campground near Devil's Garden. Lucky for us, the town of Moab, UT has everything you'll need and more. We just used Airbnb to find a place to stay, but there are plenty of other hotels and campsites there as well.
Attractions
Anytime you see a picture of Arches National Park (including on this page), chances are you are looking at the Delicate Arch. This iconic geologic feature is reached via a strenuous trail beginning at Wolfe Ranch. The trail takes about 2 hours and is 3 miles round trip. You can see the Delicate Arch from other vantage points in the park without the difficult hiking. Park Avenue has a great view of the arch after a short walk off the road.
Other must-see features in the park include Balanced Rock, accessible via a short and easy trail just off Park Avenue and the North and South Windows. These can be seen up close via the trail at the Windows area. Also, a full tour of Devil's Garden (7.2 miles round trip, moderate) leads to eight incredible arches.
Must See
Canyonlands National Park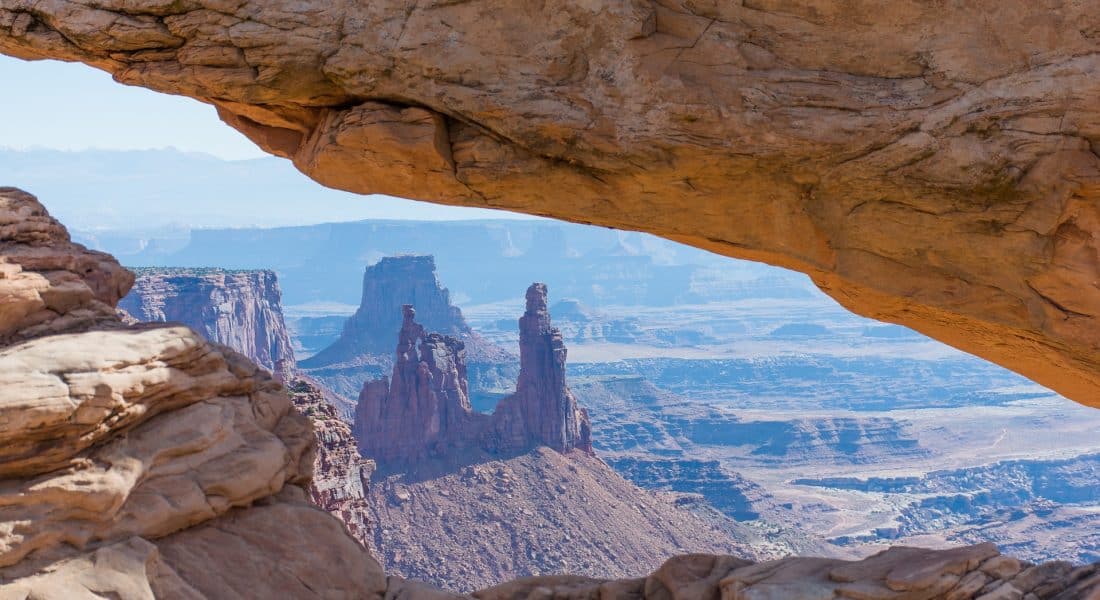 One of the days at Arches NP – or on your way to the next destination – take a ride down to Canyonlands National Park. It is only about 35 minutes or 30 miles (48 km) away if you're staying in Moab.
A one-day stop at Canyonlands needs to include visiting the Mesa Arch, which is only 1/2 mile round trip or 30-minute hike from the parking area. The parking area for the arch is located on the Grand View Point Road. This scenic road is a 12-mile long route that overlooks rock features such as Candlestick Tower, Buck Canyon and Orange Cliffs.
If you still haven't run out of time yet, have a look at the pictographs in Horseshoe Canyon. These prehistoric drawings are at the end of the 6.4 mile round trip Horseshoe Canyon Trail. It is a bit of a strenuous hike, so only attempt it if you're able.
Drive
Driving
The next location is 237 miles away (~3.75 hours).
From Moab, we are going to begin our trek home. Head north to Salt Lake City. This drive will take around 4 hours without any stops, so we feel it's best to head up the night before and spend the night in SLC before your flight out.
Departure
Days 8-9
Salt Lake City, UT
We end this trip flying out of the beautiful Salt Lake International Airport. If you were lucky enough to arrive at the airport the night before your flight, you may be able to squeeze in some urban exploration before falling asleep.