Rocky Mountains, Dinosaur Monument, Grand Tetons to Yellowstone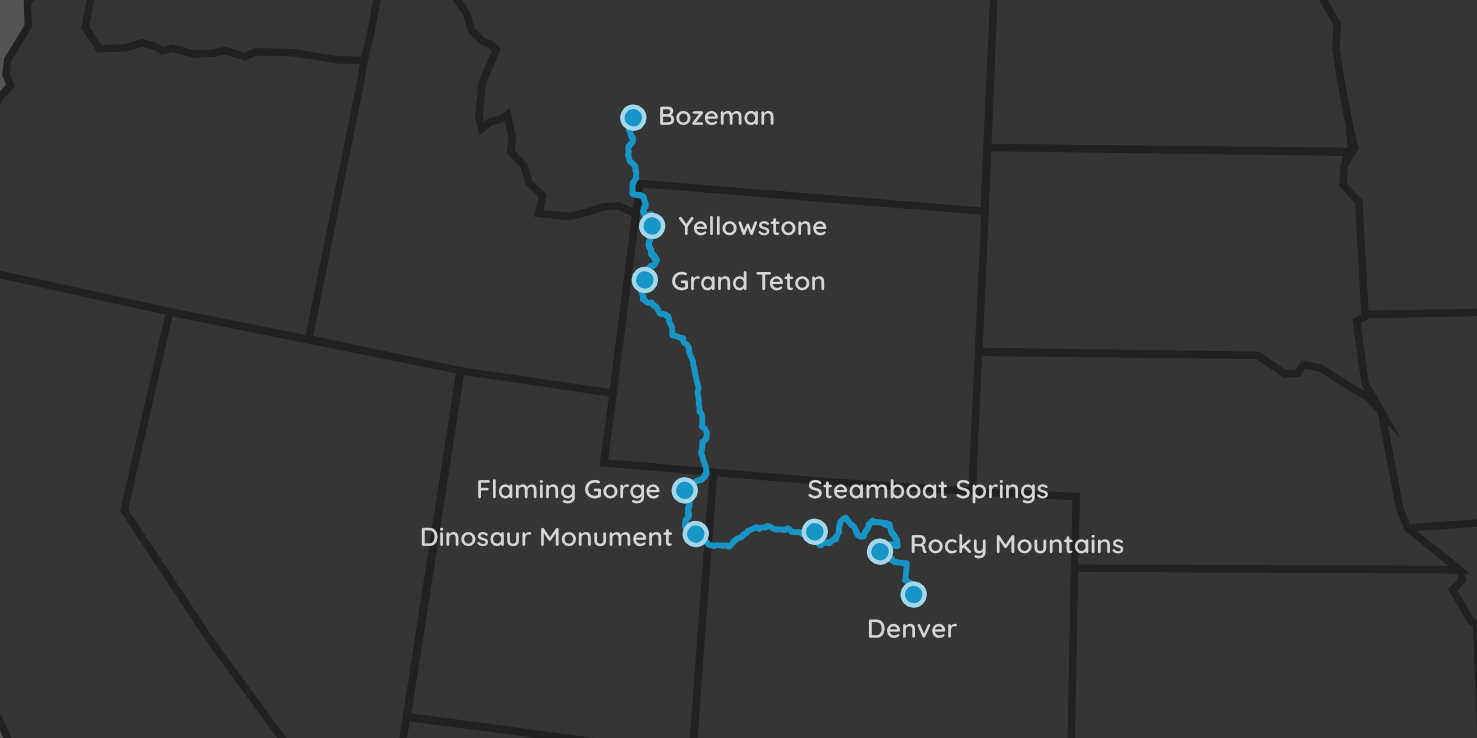 | | | | |
| --- | --- | --- | --- |
| Parks: 5 | Miles: 920 | Days: 10 | Hours: 18 |
We've seen a lot of interest in road trip ideas starting in Denver, CO and eventually visiting Yellowstone. In this road trip itinerary, we take a meandering route west across Colorado, then north into Wyoming, all while visiting three National Parks and a couple other NPS-managed sites along the way.
Itinerary Notes
Schedule a comfortable rental car well before you ever take your trip. I like to do it at the same time I book my flights. Remember, you and the family will be spending over 18 hours in this car or SUV. We highly suggest you get a vehicle that is a bit larger than you maybe would have any other time. This extra space will provide the necessary legroom and stretching out, so you and your fellow road warriors can take much needed naps.
This road trip also can easily be reversed, just like most of our itineraries. Actually, you probably should at least consider it. For reasons that baffle me, sometimes flight tickets can be cheaper if you just reverse your route. For example, maybe flying home out of Denver is cheaper than flying into Denver. Same with Bozeman. It's worth a look at the very least.
Arrival
Day 1
Denver, CO
To kick off this trip, we will be flying into Denver International Airport. From there, we will grab our rental car and head north to where we'll be staying. For us, that was Estes Park, CO.
Drive
Driving
The next location is 76 miles away (~1.7 hours).
Drive north through Boulder to Estes Park, CO. This is where we found lodging, but there are plenty of options to stay in this area.
Destination
Days 1-3
Rocky Mountain National Park
Estes Park, CO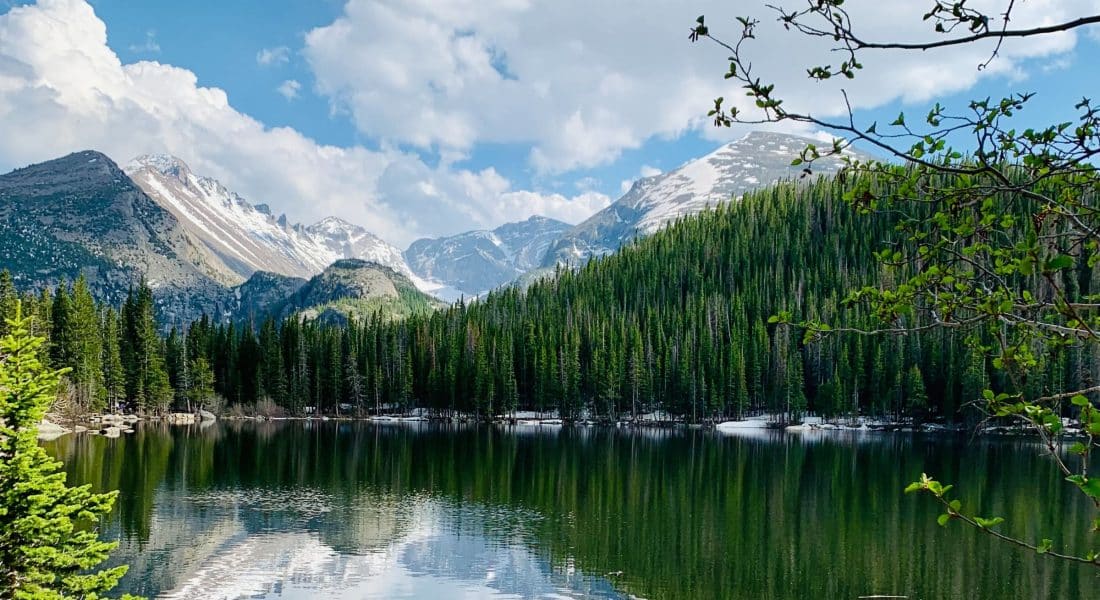 The Rocky Mountain National Park has everything from meadows to forests, lakes to soaring peaks. This park also has some of the highest paved roads in the United States.
Lodging
Airbnb is my preferred service to use when visiting a national park. There are simply so many options, and most offer a full house to rent – which is essential for my 5-person family. Estes Park, CO is where we decided to stay for this visit, and it also has the main driving access point to the park.
Attractions
The best driving attraction at the Rocky Mountain National Park is the Trail Ridge Road. This paved 48-mile road connects Estes Park with Grand Lake, CO. This road is only open from Memorial Day until mid-October, and is the only road that crosses the park. Trail Ridge Road tops out at an impressive 12,183 feet, which allows it to offer some of the most breathtaking views of the mountains and the valleys below.
There are a lot of well-known hikes within the Rockies.
The best easy-moderate hike is the Lumpy Ridge Trail. This 3.2 mile round trip hike climbs about 1,000 feet and offers fantastic views of Longs Peak (the highest peak in the park), Mount Meeker and Estes Park.
The most popular (and most difficult) hike is Keyhole Route up to Longs Peak. This path is about 15 miles round trip, takes anywhere from 10-15 hours and climbs 5,000 feet in elevation. If this hike seems a bit much for you, then consider a hike up to the Twin Sisters Peaks. While it is also a strenuous hike, it is much shorter at only 4 miles round trip.
Drive
Driving
The next location is 180 miles away (~4 hours).
Winding through Northern Colorado on Highway 14, the trip to Steamboat Springs will take you through two National Forests as well as a state park named… State Forest State Park?
The reason this drive takes so long is that it's a scenic 2-lane road that has a number of twists and turns as it crosses the mountain range. Luckily for you, it's beautiful, so the drive will be extremely enjoyable.
Destination
Days 3-4
Steamboat Springs, CO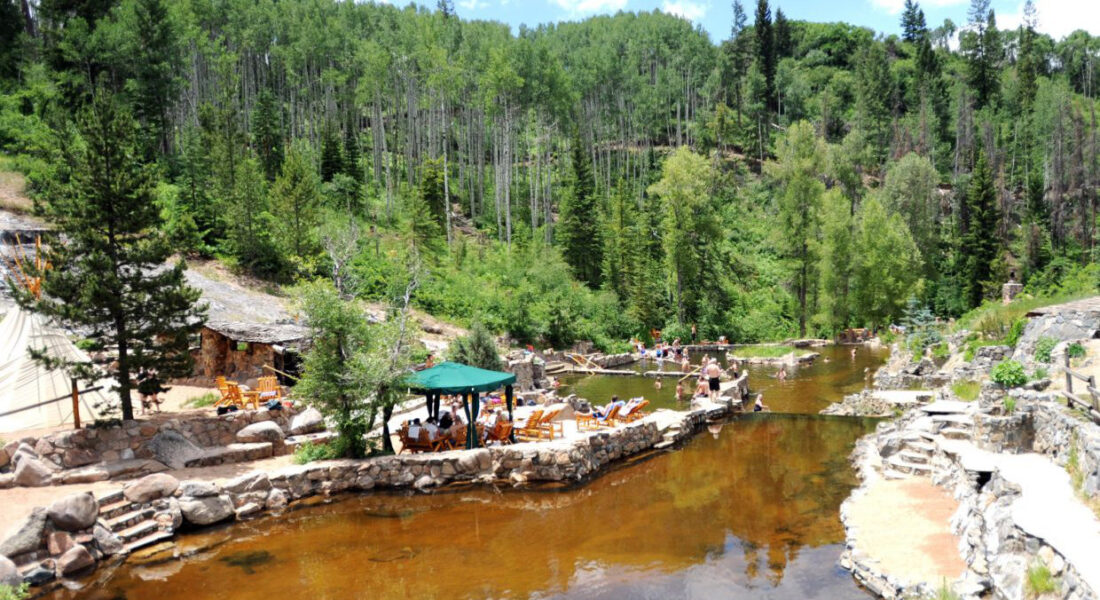 Steamboat Springs, CO is most known as a small town that gets absolutely crushed with visitors in the winter by skiers looking to tame its mountainside slopes.
However, in the summer, hiking trails are everywhere and the world-class dining in the city's restaurants and cafés will never disappoint.
Lodging
because this town gets heavy traffic in the winter, you should have no trouble finding a place to rest your head for one night here. Hotels, resorts and vacation rentals (VRBO or Airbnb) are everywhere. You should have your pick of places since you're visiting during the "off-season" here.
Attractions
Take a ride to the top of Mt. Werner and enjoy the views that can only be appreciated from Steamboat Resort's new eight-passenger gondola. The Gondola is open daily from December 3, 2021 through April 10, 2022. This is not for skiers, and only for foot traffic.
The most popular hike in Steamboat, the trail to Fish Creek Falls is accessible for all levels of hikers, with wheelchair access and a paved path leads to a bird's-eye view of the falls. It is .5 miles round trip to the lower falls, and 5 miles round trip to the upper falls.
The trail at Gilpin Lake (9 miles round trip, hard) and Hot Springs Trail (6 miles round trip, easy) are also popular hiking trails with fantastic views.
Drive
Driving
The next location is 150 miles away (~2.5 hours).
Our next night will be spent in Flaming Gorge, UT, but on the way we are going to stop and see the largest collections of dinosaur bones ever found in the country at Dinosaur National Monument.
Must See
Dinosaur National Monument
Jensen, UT
On your way to Flaming Gorge, stop in at Dinosaur National Monument, located in Jensen, UT. The best place to see actual dinosaur bones would be the Quarry Exhibit Hall, which is only about an 11-minute drive up Highway 149. Trail brochures are available at the Hall.
The park features outcroppings of several small fossil fragments and many large pieces of dinosaur bones in their natural state, just as Earl Douglass found them way back in 1909.
To get a great view of some easy-to-see bones, hike the moderate-effort 1.2 mile (one way) Fossil Discovery Trail that starts at the Hall.
Drive
Driving
The next location is 51 miles away (~1 hours).
After seeing all the fossils you could see, get back in the rental car and head to Flaming Gorge, which is only about an hour away.
Destination
Days 4-5
Flaming Gorge National Recreation Area
Flaming Gorge, UT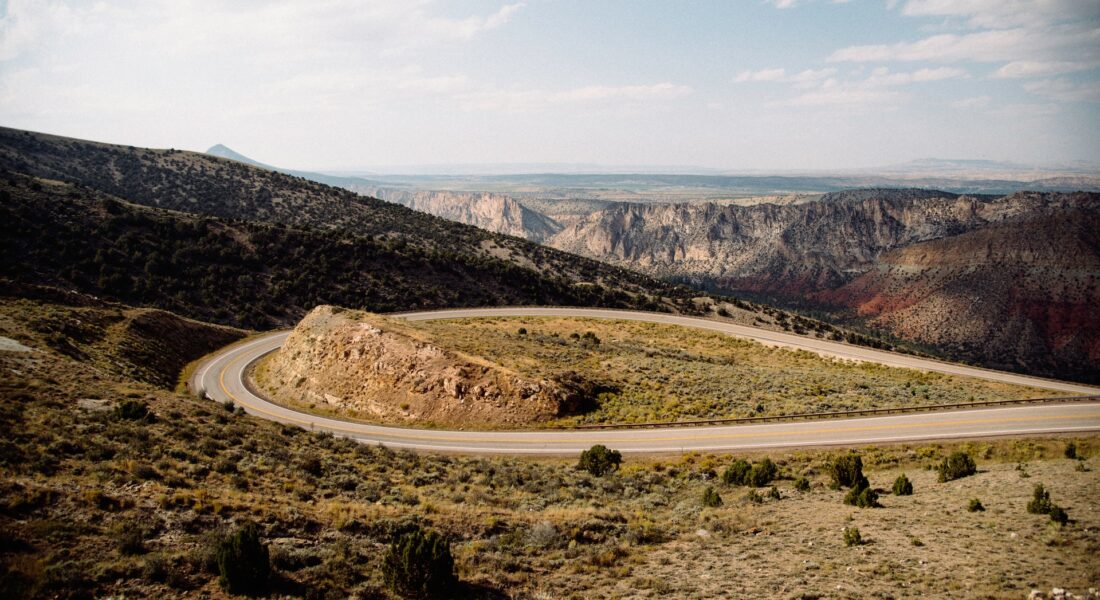 Flaming Gorge is located in the northeast corner of Utah, and has countless trails to hike and an amazing river rafting experience.
Stay in the Red Canyon Lodge for picturesque views of a lake during your stay.
Drive
Driving
The next location is 260 miles away (~4.5 hours).
From Flaming Gorge, Jackson Hole, WY is a little less than five hours away. You'll drive along Highway 191 the whole time, which runs through the towns of Boulder and Rock Springs, Wyoming.
Destination
Days 6-8
Grand Tetons National Park
Jackson Hole, WY
In Grant Teton National Park, sharp mountain ranges jut up from the landscape to dwarf everything surrounding it. This mountain range is the youngest in the Rockies, lending to the sharpness of the peaks.
Lodging
Jackson, Wyoming is less than 10 minutes outside the park's limits. It is a town with wonderful Airbnbs, hotels and restaurants. Victor, ID is slightly further away, but also has plenty of amenities.
If you'd prefer to stay inside the park, make your reservations 12 months in advance. There are about eight different cabins or lodges inside the park, with about the same number of campsites.
Attractions
Head to the Craig Thomas Visitors Center in Moose to start planning your trip. Drive north on Teton Park Road (24 miles) to get numerous views of the mountains. The Glacier Turnout is a spot where you can view the Teton Glacier and towering Grand Teton.
The other scenic drives in the park include the Jenny Lake Road (8 miles round trip), and the Signal Mountain Summit Road (10 miles round trip).
The best hike in the park has to be the trail to Hidden Falls and Inspiration Point. The moderately-difficult trail begins at the Jenny Lake Visitor's Center, goes for about 7.5 miles and has an elevation change of 1,250 feet. At the top, it looks down on the blue waters of Jenny Lake.
Kayak or float down the Snake River and get unmatched views of the Teton Mountains. These activities range from cheap (kayak rentals) to pricey (guided tours on rafts). This may be a perfect chance to change up your trip a bit and do something a bit more adventurous than simply hiking.
Drive
Driving
The next location is 112 miles away (~2.5 hours).
The drive from Grand Tetons to Yellowstone takes about 2.5 hours, and cuts through the heart of both of the National Parks. This would be a great time to visit some of the northern parts of Grand Tetons and southern sections of Yellowstone.
Destination
Days 8-10
Yellowstone National Park
West Yellowstone, MT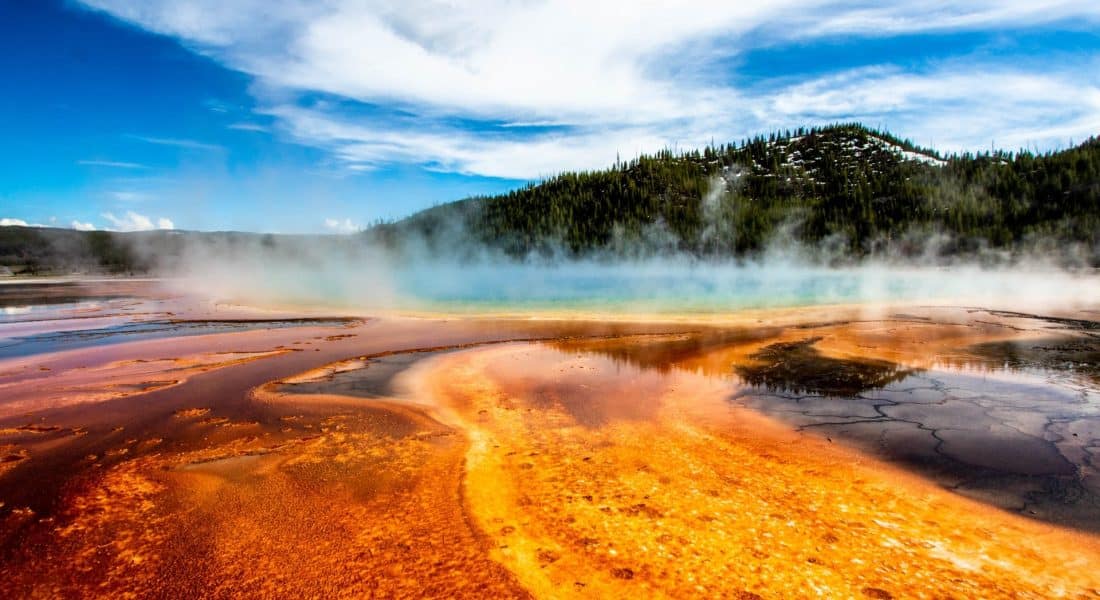 Yellowstone National Park hosts half of the world's geothermal features within its 2.2 million acres.
Lodging
Yellowstone National Park hosts around four million visits each year. More than half of these visits happen during June, July, and August. Coordinating your trip to be in May or September will make your visit much more enjoyable.
If you want to stay inside the park, you are recommended to reserve your stay 13-months in advance. Use the Xanterra site to book rooms at any of the many cabins or resorts within the park's boundary.
If you decide to stay outside the park, West Yellowstone, Gardiner and Carbella offer motels and various Airbnb options.
Attractions
Midday (10am-4pm) is when most of the crowds are out. If you are staying the night here rather than stopping on the way through, then keep these times in mind. Parking fills up early as well, so get there before 8am for the best experience.
Old Faithful Geyser erupts every 90 minutes, and shoots up to 8,400 gallons of hot water each time. Expect massive crowds here in the summer months, with the benches surrounding the geyser getting filled 30 minutes in advance.
Just north of Old Faithful are the boardwalks surrounding Midway Geyser Basis and Upper Geyser Basin. The Morning Glory Pool with its vibrant colors is a must-see location inside the Upper Basin.
Looking into the Grand Canyon of the Yellowstone you'll see the Yellowstone River, which cuts a 1,000 foot deep swatch through the rock. There are the Upper Falls and Lower Falls that you can hike to get amazing glimpses of both.
The best hike in the park goes to the Fairy Falls Trail, which is either a 1.5 or 7 mile round-trip easy walk that overlooks the Grand Prismatic Spring and it's falls.
Drive
Driving
The next location is 91 miles away (~2 hours).
Begin driving north once you leave West Yellowstone, MT. This is a fairly short 2-hour drive, which you should be able to accomplish at any time, regardless of when your flight departs at Bozeman.
Departure
Day 10
Bozeman, MT
We decided to fly into the Bozeman, Montana airport, breaking one of our long-standing rules of only flying into larger international airports. However, this airport is by far the closest airport to Yellowstone. Also, the ticket prices weren't too bad either, likely because of the amount of necessary  flights in and out needed to accomodate the busy season at Yellowstone.