Visit Death Valley National Park in One Day from Las Vegas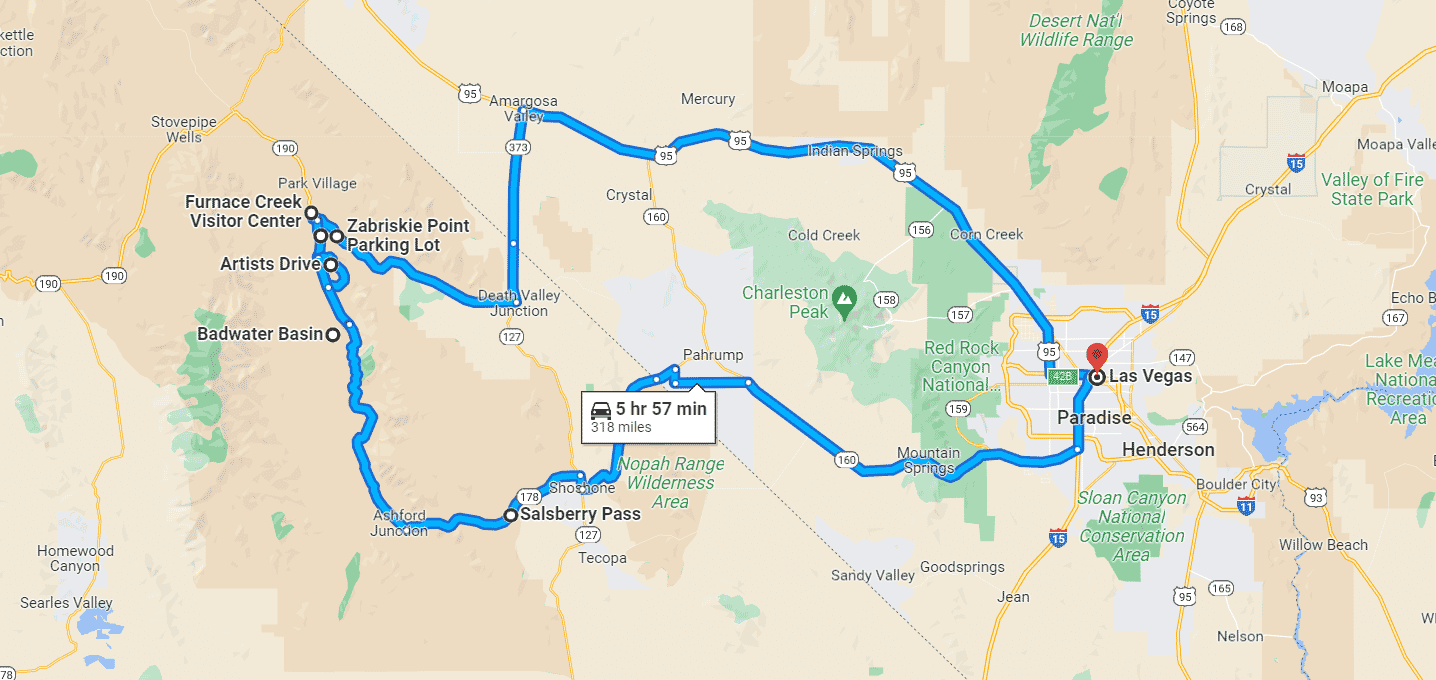 | | | | |
| --- | --- | --- | --- |
| Parks: 1 | Miles: 320 | Days: 1 | Hours: 6 |
Can you visit Death Valley National Park from Las Vegas in just one day? Yes! And it's quite easy too… depending on the season.
Las Vegas to Death Valley Drive Time
We will be heading towards the Furnace Creek Visitor's Center within Death Valley. It is the only real visitor's center here, and is located in the almost dead-center of the park.
From Las Vegas, there are two routes to Death Valley. Both of them take about 2 hours and 15 minutes to drive.
The first one goes more north along Highway 95 towards the town of Amargosa Valley. This direction is about 20 miles (32 km) longer, but takes about the same amount of time. The shortest route (and the most scenic in our opinion) goes south through Red Rock Canyon National Conservation Area along Highway 160.
This trip however is going to use both routes. We'll use one for the trip there, and the other for the drive back.
Summer Travelers Beware!

Death Valley gets hot. Like, really, really hot in the summer. Death Valley is the hottest place on Earth. Daytime temperatures in May, June, July, August, and September regularly top 100°F (38°C) in certain parts of the park. During the peak of summer season, temperatures often exceed 120°F (49°C). Temperatures that high can be dangerous even for the healthiest of people.
Death Valley National Park, however, is perfectly safe to visit in the summer with some caution. First, drink and carry plenty of water with you. Carry with you and drink at least one gallon (4 liters) of water per day to replace loss from sweat, and drink more if you are active. Second, stay on paved roads in summer. If your car breaks down, stay with it until help comes. Lastly, watch out for signs of trouble. If you feel dizzy, nauseous, or get a headache, get out of the sun immediately and drink water or sports drinks.
Spring, Fall & Winter are the Best Times to Visit
While spring and fall are the busiest months at the park, the park never really seems to get overcrowded because the park is so enormous. Death Valley is the nation's fifth largest national park, with only the massive Alaskan parks ahead of it. The weather is much more manageable as well. The average high temperatures in February, March, April, and November are in the 60's and 70's and are surprisingly comfortable.
A One Day Itinerary: Las Vegas to Death Valley & Back
7:30 AM – Leave Las Vegas
On your way out of Las Vegas, it would be a good idea to grab some supplies. Lots of water, sports drinks, snacks and/or lunch would all be good ideas to stock up on. The drive to our first stop within Death Valley is about two hours away.
It would also be prudent at this point to make sure your vehicle is filled up with fuel before entering the park.
9:30 AM – Arrive at Death Valley – Zabriskie Point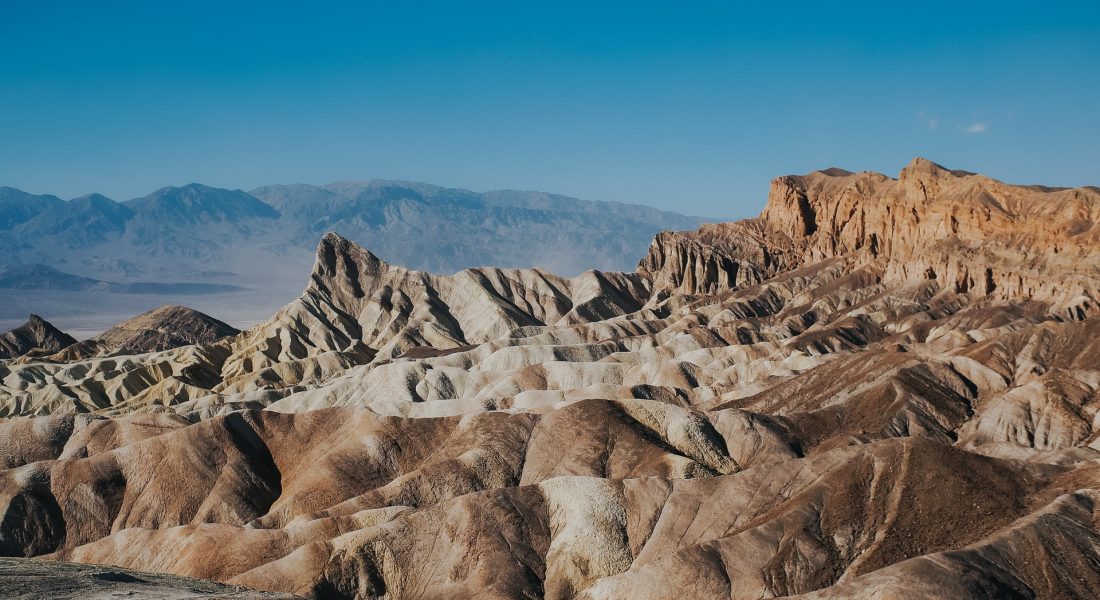 Parking Lot Coordinates: 36.420930, -116.809618
The iconic Zabriskie Point overlooks otherworldly and eroded badlands from a very high overlook. This is a super popular place for visitors to stop and take pictures. Sunrise and sunset are especially great here, but we left Vegas about 3-4 hours too late for that.
10:00 AM – Stop at Furnace Creek Visitor Center
Parking Lot Coordinates: 36.461416, -116.866810
9 minutes away from the Zabriskie Point parking lot is the Furnace Creek Visitor Center. It is open from 8am—5pm daily. The center has interactive exhibits, drinking water, ranger programs, and information on the park and all of its trails.
11:00 AM – Grab a Quick Lunch at The Ranch's General Store
Address: Greenland Ranch Rd, Furnace Creek, CA 92328
Here you will find something to appeal to every Death Valley traveler. From fresh produce, groceries, beer and fine wine, snacks, and cold beverages, souvenirs to remember your trip, and Native American art, this store has it all. We think it's the best place to grab a quick bite to eat before the next few short hikes we have planned within the park.
11:30 AM – Hike Golden Canyon Trail
Trailhead Coordinates: 36.461416, -116.866810
After leaving Furnace Creek, head south on Badwater Road. In about 3.5 miles, you'll reach the trailhead parking lot for Golden Canyon Trail. This trail is 2.5 miles round trip, and is an easy trail that takes you to the sheer red walls of the canyon. The canyon opens up to a gold corridor of badlands, at the same time bright and desolate. About one mile into your hike, the path will fork towards Red Cathedral. If you're feeling up to it, it's a sight you won't want to miss.
1:00 PM – Cruise the Scenic Artists Drive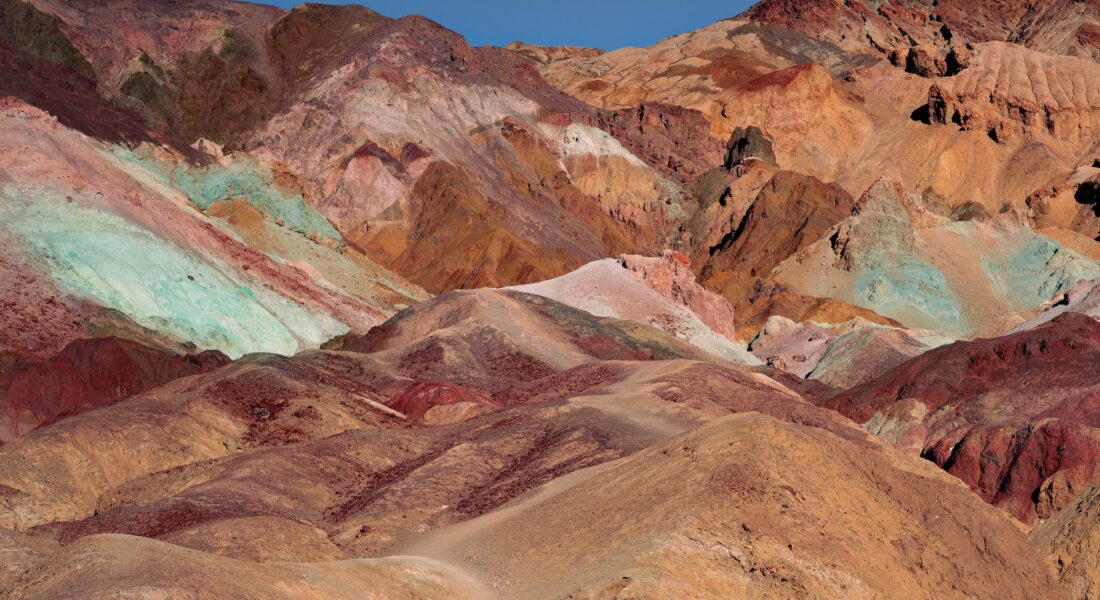 Scenic Drive Coordinates: 36.381695, -116.851100
The scenic Artists Drive begins about 5 miles south of Furnace Creek. Named for its wavy palette of colors, this 9-mile one-way loop follows along the alluvial fans at the base of the Black Mountains. The colors are caused through the oxidation of different metals on the volcanic rock formations. A mix of purples, greens, reds and yellows paint the landscape the entire drive. Stop midway at Artists Palette for the best scenic overlook.
Continue heading south on Badwater Road for another 8 miles (13 km) until we reach our next destination.
1:45 PM – Explore Badwater Basin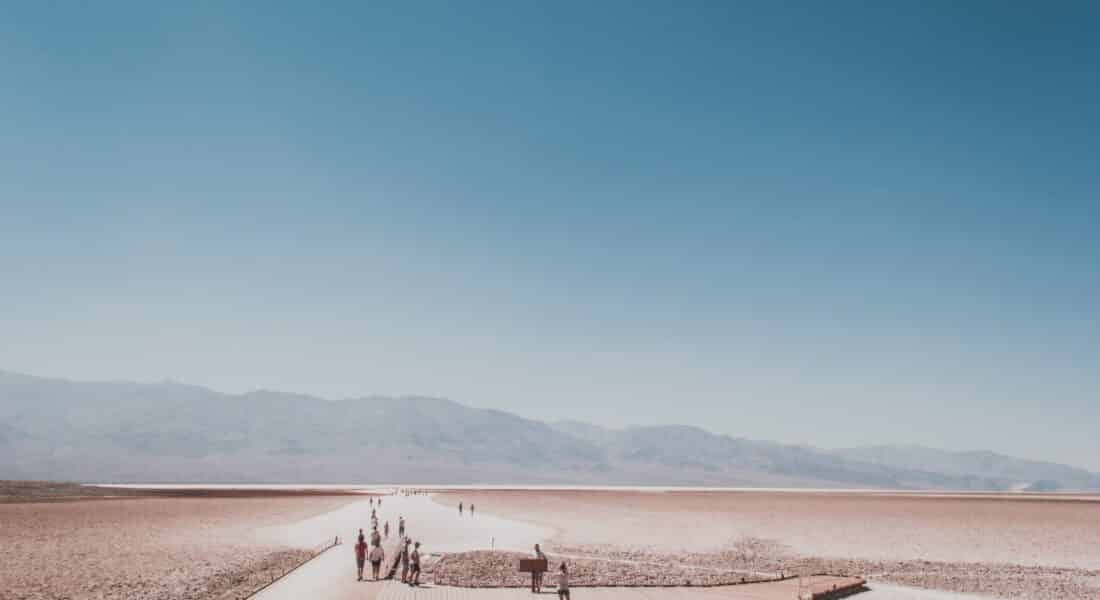 Parking Lot Coordinates: 36.230356, -116.766588
About 8 miles after exiting Artists Drive, you'll come across the parking for Badwater Basin. This part of the park is significant because Badwater Basin is the lowest point in North America at 282 feet below sea level. The vast salt flats are available for you to walk out onto, but be prepared. It will be hot, dry, and bright. You'll also feel absolutely dwarfed by the Black Mountains off into the distance.
4:00 PM – Exit Death Valley at Salsberry Pass
Badwater Road continues on for another 29 miles before you need to take a left onto Jubilee Pass Road (Highway 178). It will be another 25 miles on Jubilee Pass Road until you reach the end at Salsberry Pass.
You'll exit the park near the Californian town of Shoshone on Highway 127.
This final drive through Death Valley will take about 1 hour and 15 minutes to drive, and be a total of 54 miles.
5:30-6 PM – Arrive Back in Las Vegas
The drive from Shoshone to Las Vegas is 92 miles and will take you about 1.75 hours to complete.
On the way home, you'll pass through the famed Red Rock Canyon National Conservation Area, which if you need to get out and stretch the legs, would absolutely be the perfect spot. The Red Rock park charges an entrance fee to drive their Scenic Loop, but you can just check out the free Red Rock Canyon Overlook instead.