Visit the Rocky Mountain National Park from Denver in One Day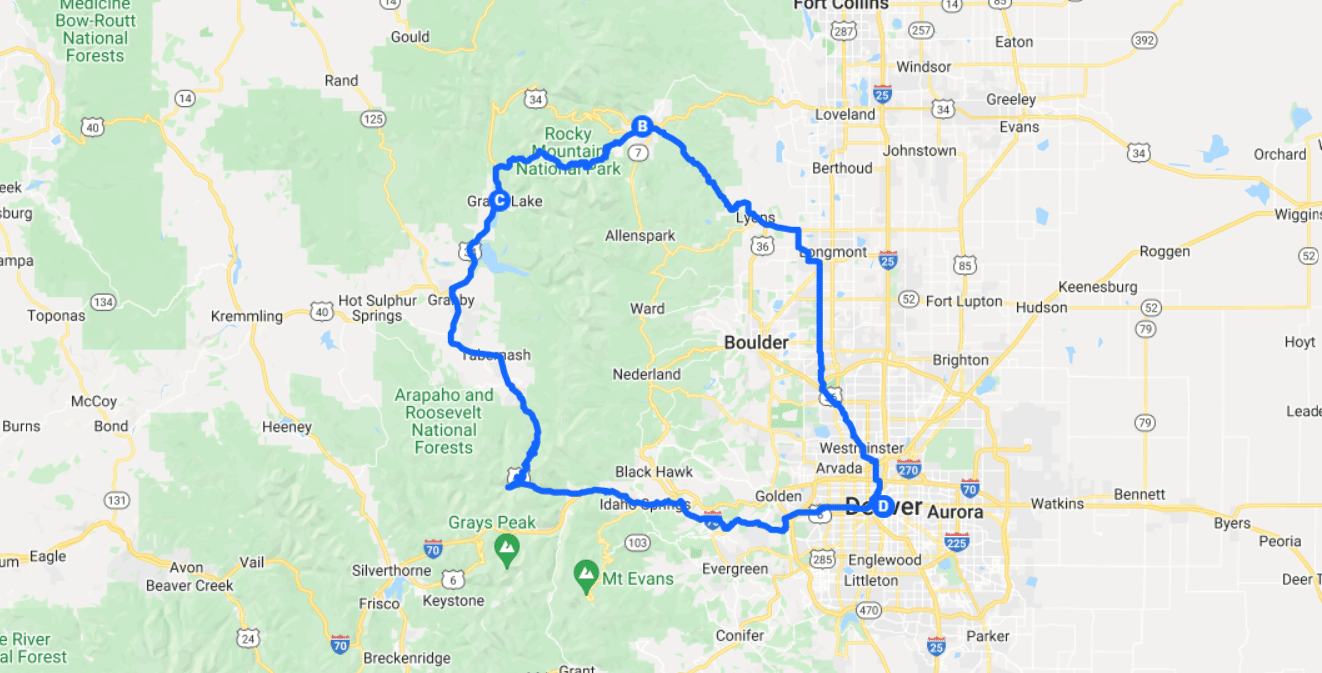 | | | | |
| --- | --- | --- | --- |
| Parks: 1 | Miles: 240 | Days: 1 | Hours: 6 |
Can you visit Rocky Mountain National Park in a day from Denver? Yes!
While you could certainly spend a full week exploring this vast wilderness, a one-day trip up from Denver is a perfect way to see this majestic park. This particular trip should take pretty much all day to complete. However, if you don't have that amount of time, we have a handy resource that lists all parks within driving distance from Denver.
Denver to Estes Park Drive Time
First, let's talk about how long it would take you to drive from Denver to Rocky Mountain National Park and back. According to Google Maps, driving from downtown Denver to the entrance of Rocky Mountain National Park in Estes Park, CO is 64 miles, or 103 km. Google also estimates that the drive will take 1 hours and 30 minutes.
Trail Ridge Road Drive Time
Without any stopping, driving Trail Ridge Road takes about 1.5 hours as well. Trail Ridge Road is the famed road through the Rockies that is only open from late Spring to Early Fall. It slices through the Continental Divide that divides the park.
Return to Denver
Upon exiting Trail Ridge Road in Grand Lake, CO, it is just under 3 hours back to Denver.
All told, this trip goes about 240 miles (386 km), and takes just about 6 hours to drive. However, with the many stops you'll want to take, expect this to be a full day excursion!
| From | To | Miles | Drive Time |
| --- | --- | --- | --- |
| Denver, CO | Estes Park, CO | 64 miles | 1.5 hours |
| Estes Park, CO | Grand Lake, CO (via Trail Ridge Road) | 47 miles | 1.5 hours (more with stopping) |
| Grand Lake, CO | Denver, CO | 125 miles | 2.5 hours |
Does Peak Season Impact Your Decision?
Rocky Mountain National Park is the 3rd most visited park in the country. However, it is also the 26th largest, with about one quarter of a million acres. Luckily for us, there are a lot of state parks within the area that will allow the crowds to thin out.
June, July, August, and September are the peak months for visitation. If you are visiting during one of those three months, then expect to see much more people than you would normally. I visited in January a couple of years ago and the park was virtually empty, but then again, Trail Ridge Road wasn't open that time of the year.
In the winter, the area will get lots of snow. You will still be able to drive and hike parts of the park, but you'll need to be sure you bring cold-weather and/or snow gear along with you.
While the park will be much busier in the summer, this is the only time to go if you want to make this looping road trip. You could of course go any time of the year and simply see other sights within the park in and around Estes Park.
A Day Trip, or Longer?
Rocky Mountain National Park and the surrounding area that could benefit from visiting for more than one day. The national and state parks make up a pretty big area for you to travel in order to see everything of note. You may not be able to visit neighboring towns like Nederland (along the famed Peak Highway), Boulder or park must-sees like Bear Lake without staying multiple days.
However, you're looking into a day trip for a reason, and it's probably that you simply don't have the time. Or you're in Denver for some other reason, and want to see the mountains up close, then this is the exact trip for you!
Park Timed Entry Reservations Required!
Rocky Mountains is one of the National Parks that have implemented a Timed Entry system. Vehicles are not allowed into the park without a valid reservation, which can be purchased on Recreation.gov.
This is currently in effect during peak hours (5 am to 6 pm) times between May 27, 2022 through October 31, 2022. Reservations will not be sold at the park. New reservations are released on a rolling basis about a month in advance of the reservation date.
To enter the park and travel Trail Ridge Road during peak season, you absolutely need a reservation!
A One-Day Itinerary: Denver to the Rocky Mountains & Back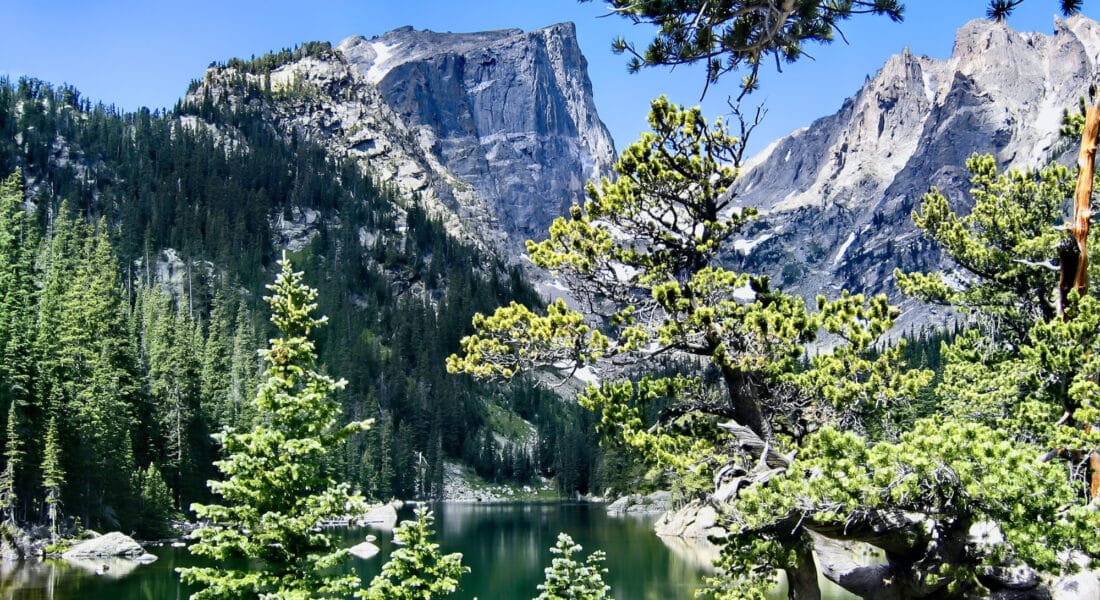 7:00 AM – Leave Denver
Pack a lunch before you leave. You won't be exiting the park until well after lunchtime, so it's best to make sure you have snacks, food and drinks on hand.
If you are an early bird, leaving earlier would be a good option as well. The earlier you leave, the more deserted the park will be as you enter it. As mentioned above, Rocky Mountain National Park requires reserved timed entry tickets to enter during the peak visitation months, but that is only for people entering the park by 5am.
There are two entrances you can choose from, however Beaver Meadows is the closest to Estes Park, and thus the most likely entrance point for this trip… but it is also most likely the busiest.
Fall River Entrance Station: Fall River Rd, Estes Park, CO 80517
Beaver Meadows Entrance Station: 1000 US-36, Estes Park, CO 80517
Regardless of the park entrance you use, the drive from Denver to Estes Park takes about 1.5 hours on a normal day.
8:30 AM – Enter Trail Ridge Road at Estes Park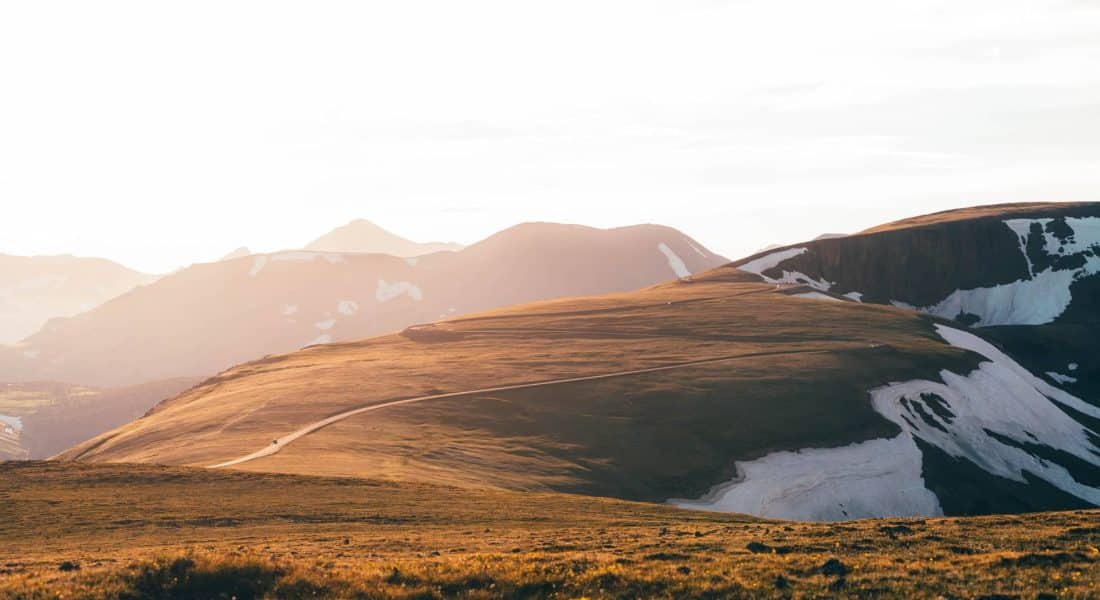 The Trail Ridge Road Scenic Byway (US Highway 34) snakes 48 miles across the Continental Divide that bisects the Rocky Mountain National Park. If you were to drive straight through with no stopping, it would take you approximately 1.5 hours to reach the terminus at Grand Lake.
However, you definitely shouldn't do that. There are countless overlooks, trails and pull offs that you need to check out along the way. Plan to be on this road for at least 3 hours, but if you take a few hikes, that time can easily expand to over 5 hours.

Trail Ridge Road Facts:
It is the highest road in the US that is paved for its entire length.
The grade of the road is usually less than 5%, but never exceeds 7%.
It is a 2 lane road with easily enough room for cars going opposite directions to pass one another (22′).
11 miles of the road is above the treeline, where you're surrounded by tundra, deep valleys and snowcapped peaks.
You gain about 4,000 feet in elevation in a matter of minutes upon entering the road.
It's normally 20-30 degrees cooler on the Ridge than it is in either Estes Park and Grand Lake.
The highpoint on the road is 12,183 feet (unmarked), but is 2 miles from the Alpine Visitors Center along the way.
Sightings of marmots, bighorn sheep, elk and moose are very common along the way.
Trail Ridge Must See Stops (in order from east to west):
Moraine Park Discovery Center
Upper Beaver Meadows hiking trails
Many Parks Curve
Rainbow Curve
Rock Cut & Tundra World Nature Trail
Milner Pass & The Continental Divide crossing
Farview Curve
1:00 PM – Exit Trail Ridge Road at Grand Lake, CO
Grab a late lunch at World's End Brewpub. Hopefully, the weather cooperated with you this trip, and you're able to sit and have food and a drink outside!
2:00 PM – Granby & Interstate 70
On your way back to Denver, you'll have the Rocky Mountains to your left, and will be following them south for a little over an hour. Once you hop back on Interstate 70 East, you'll be descending off the Rocky Mountain Range for most of the remaining trip.
If you are looking for another place to stop and grab a bite to eat or stretch the legs, Idaho Springs and/or Golden are two towns you have to consider.
Idaho Springs, CO is an old mining town best known for its natural hot springs. Mining tours are available at the Argo and Phoenix gold mines, which are the two most popular local tours.
Golden, CO is a former gold rush town at the foothills of the Rocky Mountains. Clear Creek Trail is a network of paths running along a waterway, which is a perfect place to stretch the legs.
5:00-? PM – Arrive Back in Denver
If you stopped along the way, you'll be getting back into Denver after 5PM. But no matter what time you get back, you've just had one epic day trip around the Rocky Mountains!