Visiting Sequoia National Park from LA in One Day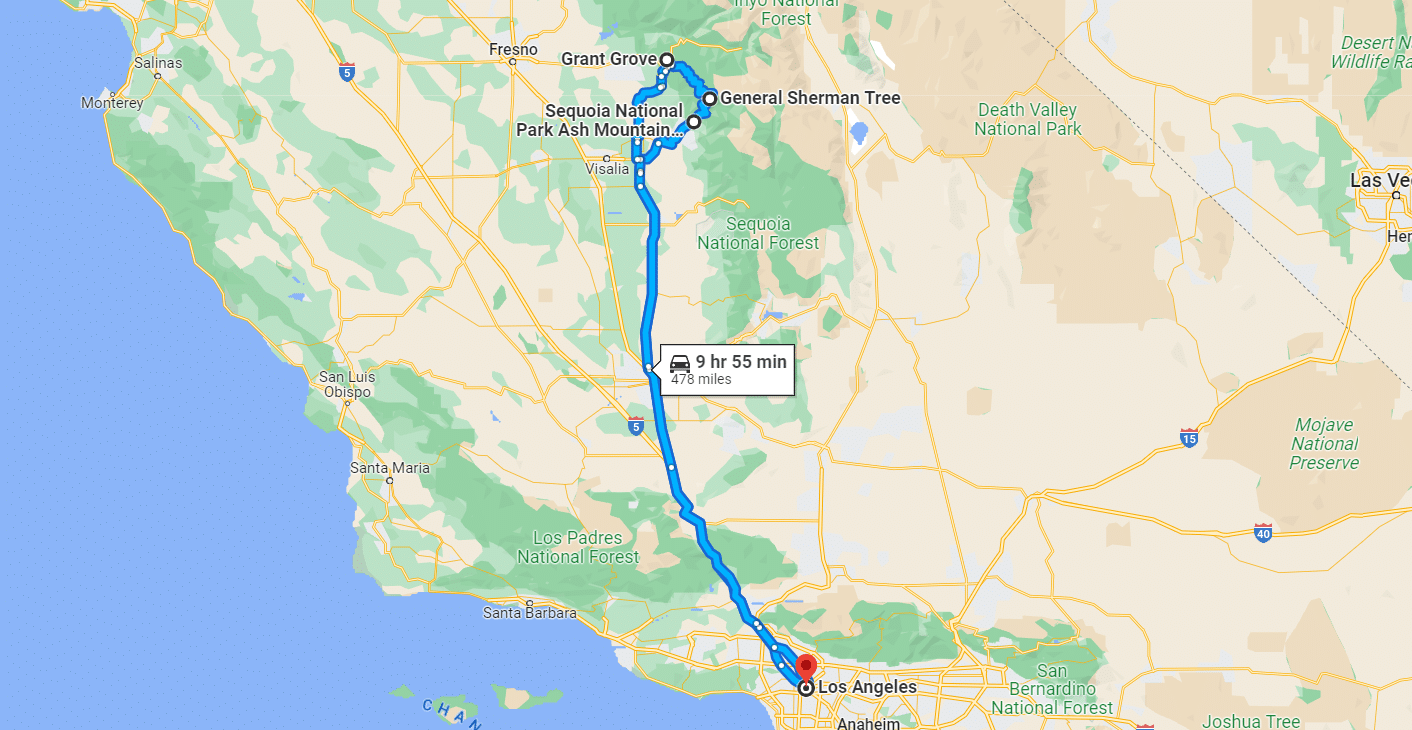 | | | | |
| --- | --- | --- | --- |
| Parks: 1 | Miles: 410 | Days: 1 | Hours: 7 |
If you find yourself in California, you may find yourself wondering if you could visit Sequoia National Park in just one day. The answer is "Yes!", but how realistic it is really depends on where you're at within the state.
The easiest large city to make a quick day trip to Sequoia would be LA. LA is only about 3.5 hours away from the entrance to Sequoia National Park, but that number can increase the later you leave on the morning of your trip.
Bakersfield and Fresno are very close to the park's entrance, but since these are smaller cities in California, there are likely not many people looking to take the trip from there. If you do happen to find yourself in Fresno or Bakersfield, then you 100% should take a trip to see the giants in Sequoia.
San Jose and Sacramento are decent larger city options too, but they will take closer to 4 hours one way to get to Sequoia. Here are the nearby cities that you could theoretically take a day trip to Sequoia from:
| From | Hours Away |
| --- | --- |
| Fresno, CA | 1.5 hours |
| Bakersfield, CA | 2 hours |
| Los Angeles, CA | 3.5 hours |
| San Jose, CA | 3.75 hours |
| Sacramento, CA | 4 hours |
| San Francisco, CA | 4.5 hours |
| Las Vegas, NV | 6 hours |
Places to Stay When Visiting Sequoia
If you are truly taking a one-day trip to Sequoia, then you won't need a place to stay overnight. However, Sequoia is such a magical place that you should definitely consider it if you are at all possible.
There are plenty of places to stay within Sequoia's boundary. Between this park and Kings Canyon (which is literally right next door), there are at least 5 options, mostly available for booking on VisitSequoia.com. This includes the Wuksachi and John Muir Lodges that are usually open year-round. The Grant Grove Cabins that have a little less amenities, but is also open year-round. And the Cedar Grove Lodge that is only open during the busy season (spring to fall). All of these places will need to be booked well in advance of your trip in order to secure a room.
Three Rivers, CA is the largest and closest (8 miles) outside town to Sequoia's main Foothills entrance. Here are some other nearby towns that should have some lodging options available, but only if you book them in time!
Lemon Cove, CA (20 miles away)
Woodlake, CA (23 miles)
Exeter, CA (29 miles)
Seasons to Visit Sequoia National Park

Sequoia National Park's elevation stretches from 1,300 feet in the foothills to 14,494 feet in the high Sierras. This drastic elevation change creates different climates within the park. The higher the elevation, the better chance there is for snow to accumulate during the shoulder months.
Sequoia's peak visitation season begins in earnest in June, and lasts well into September. The shoulder months of April, May, and October also see decent crowds, but they only show up either after the snow has melted in the Spring, or before it starts in Fall.
During the summer months, the weather in Sequoia can best be described as wonderful. Beautiful or comfortable also come to mind. With daytime highs rarely reaching beyond the mid 70s, the temperature here is downright amazing in the Summer. The rain usually stays away as well, adding one more reason to enjoy the weather during these months.
Winter sees frigid temperatures and deep snowfall, but the park still sees some visitors that can still get to the Visitors Centers on the outskirts of the park. During the winter, there are many road closures within the park. The most popular drive through the park – General Highway – is closed from around January 1 to mid-to-late March due to it not being plowed or maintained in the winter. Highway 180 from Grant Grove to Cedar Grove is also closed starting mid-November, and remains that way until the end of March.
Itinerary for a 1-Day Trip to Sequoia National Park
6:00 AM – Leave Los Angeles
Leave any later than this, you'll get caught in traffic entering the park. Bring snacks with you, as we intend to skip lunch and just eat on the fly. The quickest way would be to drive north on Interstate 5/US-99, then connect onto Highway 65N in Bakersfield. From there, there should be plenty of signs that will get you close to Sequoia National Park's entrance in Three Rivers, CA.
9:30 AM – Arrive at Sequoia National Park
To begin the tour through Sequoia National Park, enter via the Ash Mountain Entrance Station in Three Rivers, CA. GPS systems don't seem to like to identify this entrance by name, so just type in the name of the park's main visitor center that is just beyond the entrance kiosk: Foothills Visitor Center.
Upon entering the park, head north on Generals Highway. We will be spending the full day along this road that cuts through the middle of the park, stopping at many of the important places along the way.
10:00 AM – Quick Stops at Multiple Viewpoints
As you are driving along Generals Highway, about 30 minutes in, stop at Amphitheater Point Viewpoint, then 15 minutes later at Vista Point. Both of these spots provide some of the most breathtaking views of the canyon and surrounding mountains.
After leaving those viewpoints, continue north on Generals Highway, passing the Eleven Range Viewpoint and the Four Guardsman trees.
11:30 PM – The Giant Forest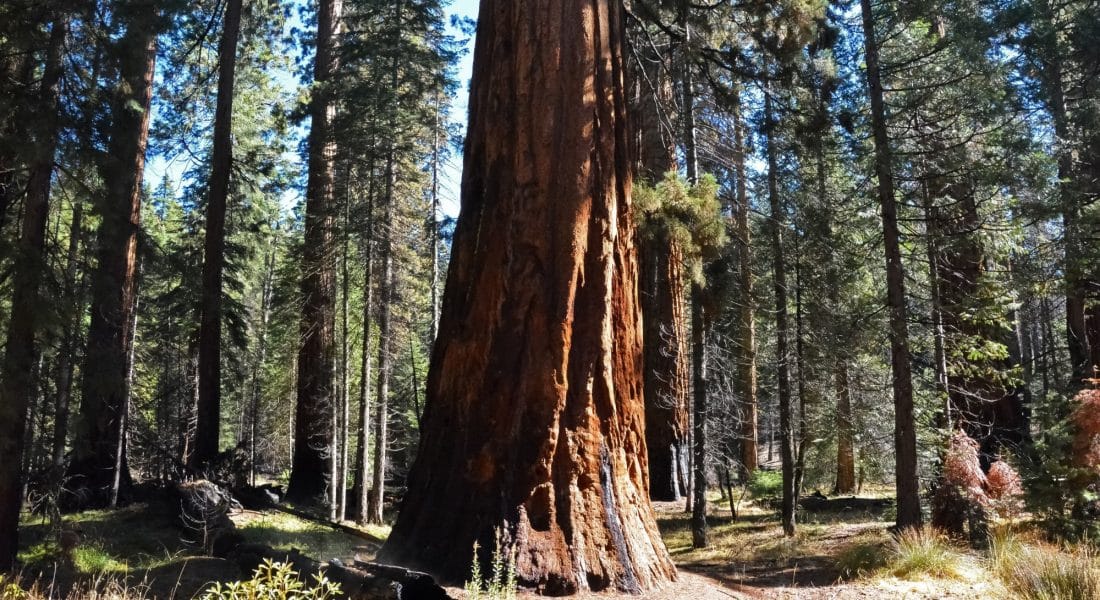 After about a total of 45 minutes driving, you'll come to the intersection of Generals Highway and Crescent Meadow Road. Stop and explore this area, which is known as The Giant Forest. Hike the Big Trees Loop (1.2 miles round trip, easy), which has its trailhead near the museum.
If you continue down Crescent Meadow Road, you'll reach Moro Rock. Unfortunately, in the interest of time, we have to skip this sight in an effort to see more of the famous Giant Sequoias this park is known for. However, if you do want to visit Moro Rock, the hard-but-short trail leading up to the granite dome is considered one of the best in the park.
1:00 PM – General Sherman Tree
Continue North on Generals Highway and stop at the famous General Sherman Tree. It is only about 10 minutes north of The Giant Forest Museum.
From here, you'll need to make a decision. If you turn around now, you can make it back to LA in about 4.5 to 5 hours. Or you can continue north along Generals Highway and complete the circle, which exits near Grant Grove Village. Continuing on will add about an extra hour of driving time onto your trip. However, if you do decide to continue north, you'll pass spots like the Lodgepole Visitors Center, Lost Grove, Kings Canyon Overlook, and The Big Stump Grove, and the General Grant Tree. Stopping at each of these spots will probably add another 3 hours onto your trip on top of the already extra hour of driving.
7:00 PM to 11:00 PM – Arrive back in LA
After a long and exhausting day, you've finally made it back to LA after