Acadia National Park Through the Seasons
Acadia National Park is open year round, but the winter season closes parts of the park.
What is the Best Month to Visit Acadia?
Based on our research and data, the best month to visit Acadia National Park is May. By mid-May, most of the park is reopened, and the busiest month of the year is still 4 months away.
As for the other seasons, here are our picks for best months within each of them:
May in Spring
June in Summer
September in Fall
November in Winter
Spring (mid April – May)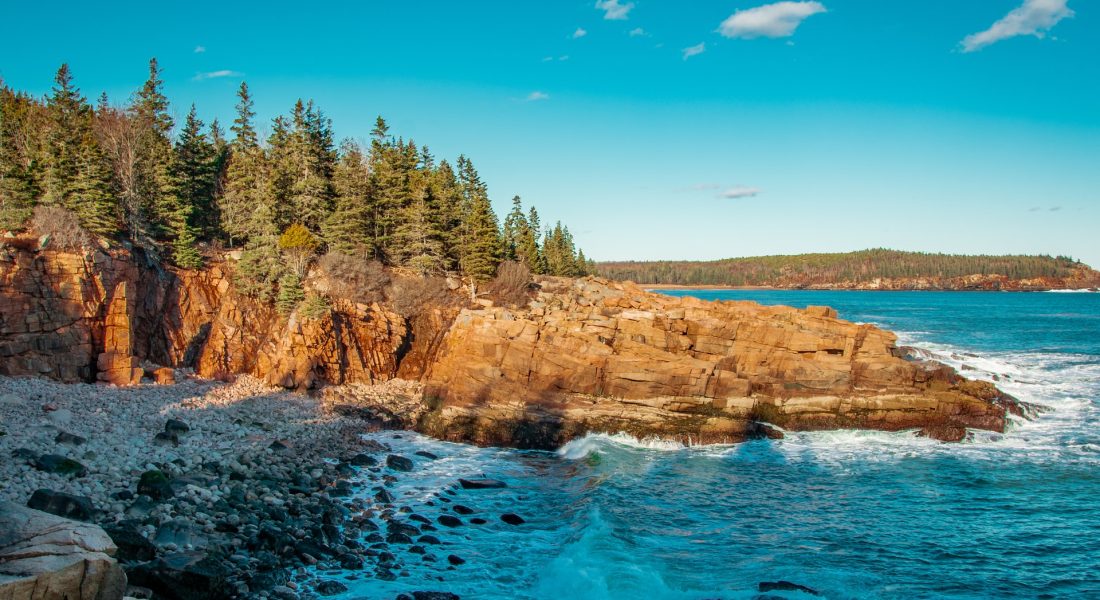 As April approaches, many of the park's amenities begin to reopen for the year. Echo Lake Beach reopens April 14th, and Lakewood Beach reopen date is June 1st. All of the picnic areas that closed in the fall or winter reopen by Memorial Day (end of May).
Acadia National Park in April is a transitional month in the park. It is a very wet month, averaging over 104 inches of precipitation. April highs reach into the low 50s, while the lows are usually around freezing.
As springtime continues in Acadia, daytime highs are typically near 60°F, while nights drop into the high 30s and 40s.
The Wild Gardens, located just south of Bar Harbor, includes over 400 plant species, all indigenous, in thirteen sections designed to represent natural plant communities found within Acadia National Park.
The park also becomes alive with tourists as spring arrives. The total number of visitors roughly double monthly starting from April through June.
Acadia's Spring Statistics:
Average Precipitation Amounts: 99 inches (251 cm)
Average High Temperature: 58 °F (14 °C)
Average Low Temperature: 40 °F (4 °C)
Average Park Visits per Month: 220,000
Summer (June – August)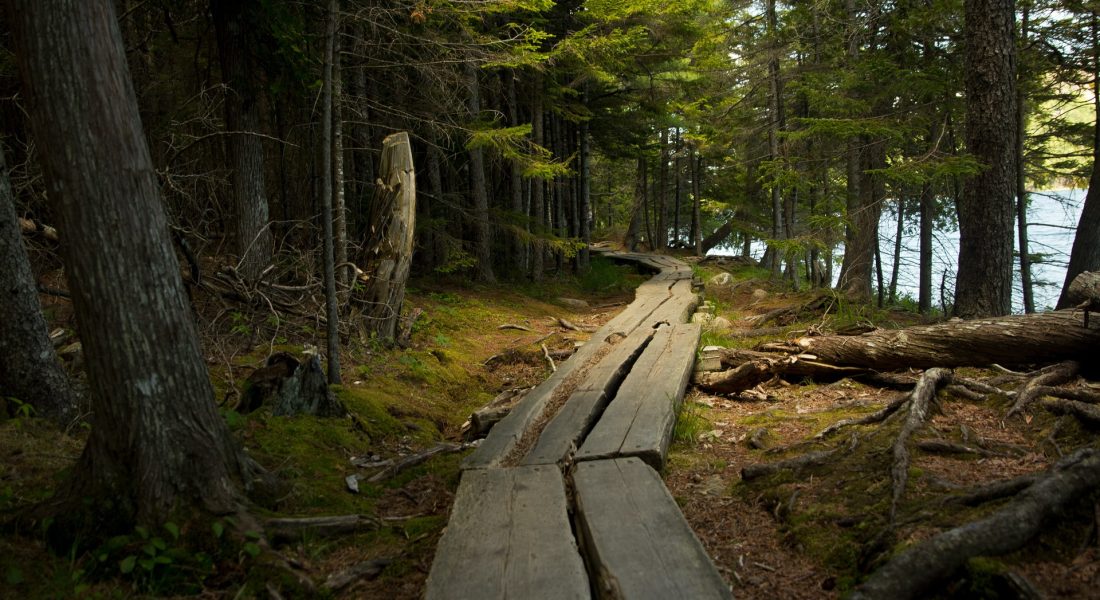 Summer is Acadia's "dry season", although it is never really dry. It's just that the park sees about 30 inches less of precipitation during July & August as compared to all other months.
Average summertime highs reach into the 70s and occasionally the 80s during the day, and the high-50s at night.
Seeing that Acadia is the 6th most visited National Park in the US, expect a good bit of crowds during these months, primarily during the weekends. Total visitation numbers peak around 800,000 in August.
Acadia's Summer Statistics:
Average Precipitation Amounts: 72 inches (182 cm)
Average High Temperature: 75 °F (24 °C)
Average Low Temperature: 56 °F (13 °C)
Average Park Visits per Month: 750,000
Fall (September – October)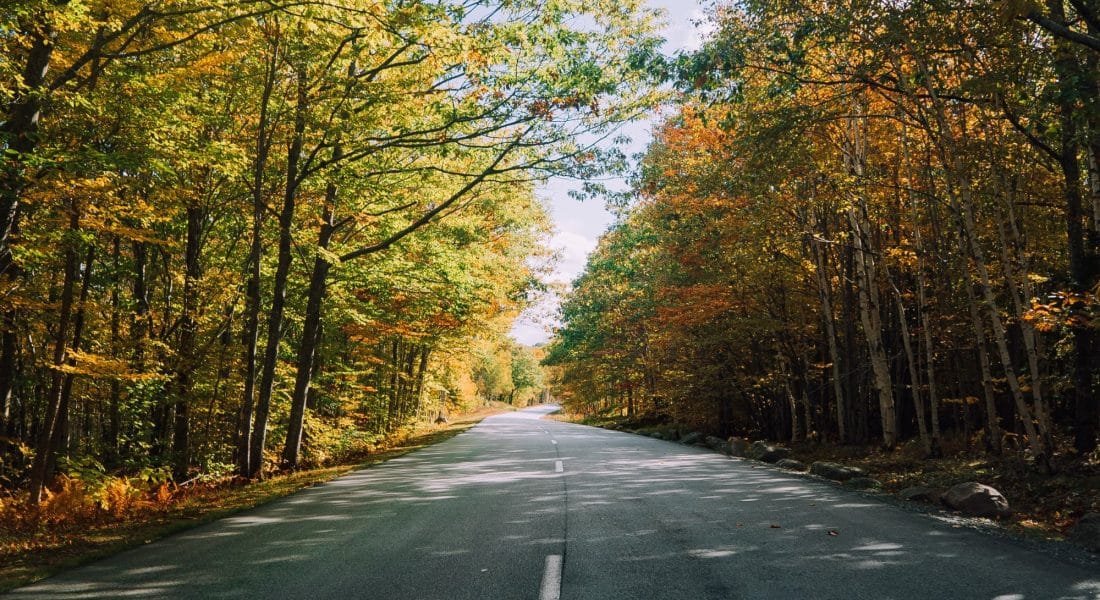 Fall is one of the best times to visit Acadia. The weather is cool, the crowds are much lighter than during the summer, and the autumn foliage is spectacular. Fall foliage at the park generally peaks between October 13–22, but the dates can vary from year to year.
September days start out with summer-like highs, but quickly drop into the 60s and 50s as fall progresses. Nighttime lows are still above freezing throughout fall in Acadia.
Acadia's Autumn/Fall Statistics:
Average Precipitation Amounts: 102 inches (259 cm)
Average High Temperature: 63 °F (17 °C)
Average Low Temperature: 46 °F (8 °C)
Average Park Visits per Month: 615,000
Winter (November – mid April)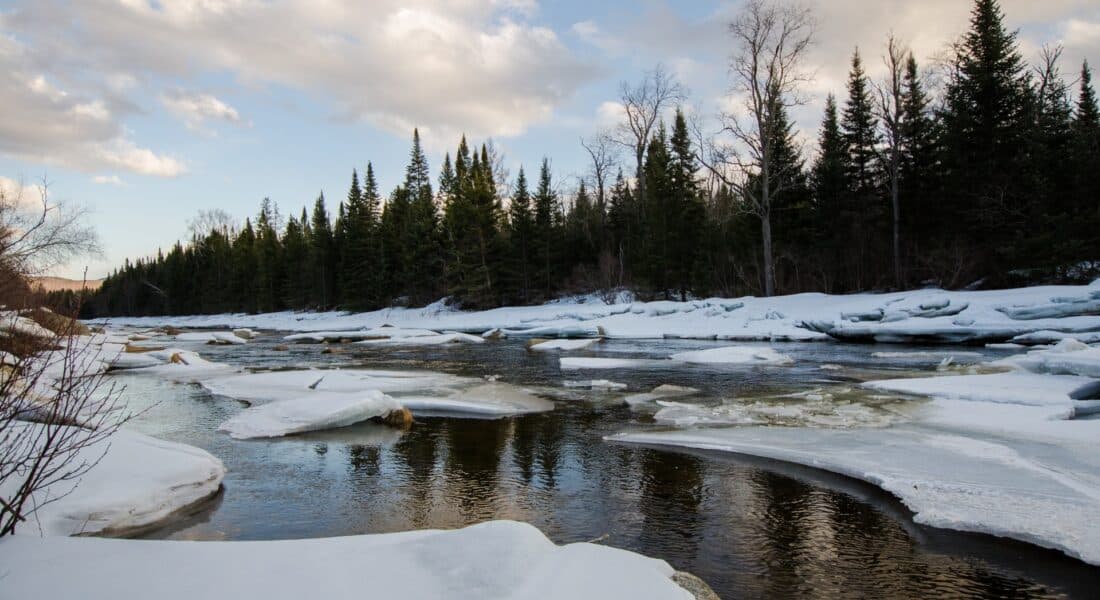 Acadia averages 61 inches of snow each winter season. 
November in Acadia National Park is the beginning of the off season. The snow begins, and most park services shut down for the year.
Usually starting around November 1st, Acadia's main visitor center, museums, picnic areas, and many roads and campgrounds close for the winter. Park information is then available from rangers at the Bar Harbor Chamber of Commerce instead. The road to the summit of Cadillac Mountain (the park's highest), as well as most of the Park Loop Road, closes from December 1 through April 14.
However, some sections do remain open as weather permits. Two short sections of the Park Loop Road remain open all year. One is a scenic one-mile section along the ocean that goes by Sand Beach and Thunder Hole, two miles south of downtown Bar Harbor. The other gives access to Jordan Pond in Seal Harbor.
Due to the amount of closures, Acadia sees on average around 30,000 visitors a month (or about ~1,000 a day) during the winter months.
Acadia's Winter Statistics:
Average Precipitation Amounts: 106 inches (269 cm)
Average High Temperature: 36 °F (2 °C)
Average Low Temperature: 21 °F (-6 °C)
Average Park Visits per Month: 34,000