Rockies, Colorado Monument, Black Canyon & Mesa Verde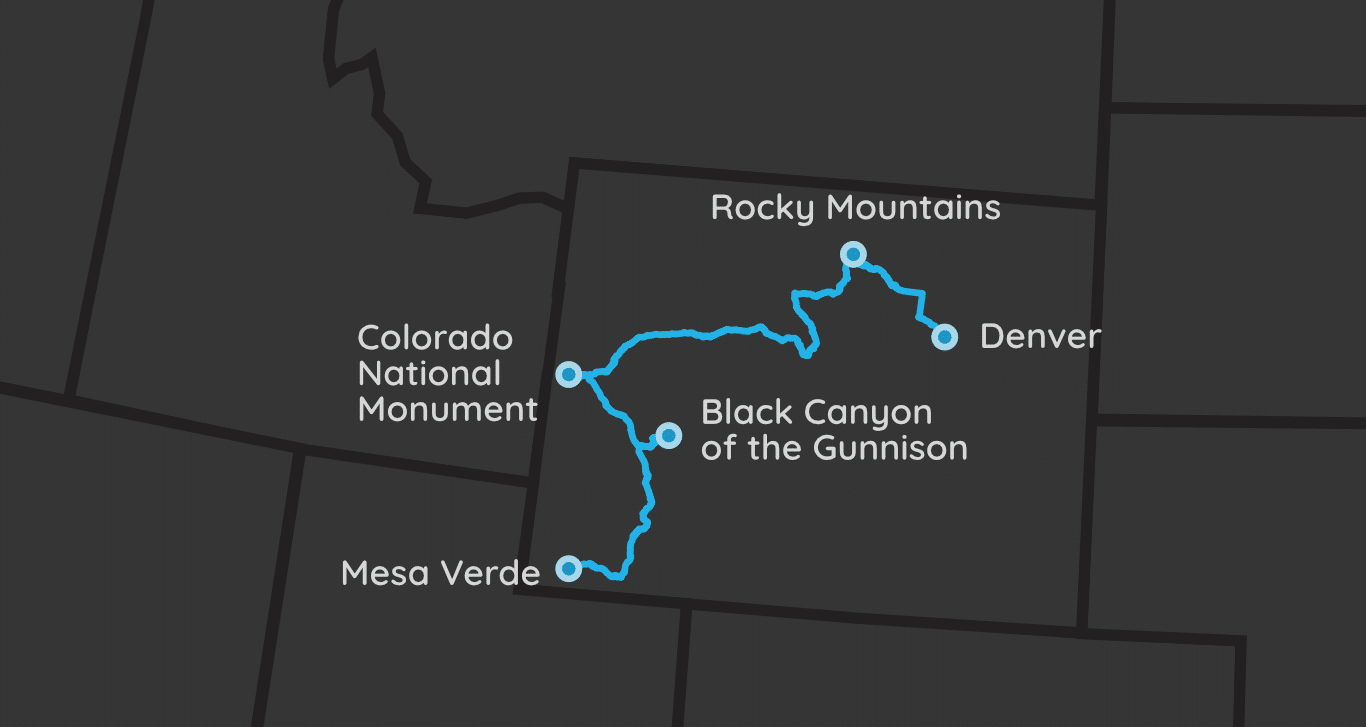 | | | | |
| --- | --- | --- | --- |
| Parks: 4 | Miles: 636 | Days: 8 | Hours: 14 |
I drew up this trip because there were plenty of places in Colorado I wanted to visit on my way down to Durango to see my family. I was able to schedule a visit to three national parks and one of the coolest national monuments along the way.
Follow along with this road trip itinerary as I drew it up, or use it to create your own. Either way, I hope it helps. For my money, though, driving along Trail Ridge Road in the Rockies and exploring the Colorado Monument were the highlights of our trip!
Itinerary Notes
Schedule a comfortable rental car well before you ever take your trip. I like to do it at the same time I book my flights. Remember, you and the family will be spending over 13 hours in this car or SUV. We highly suggest you get a vehicle that is a bit larger than you maybe would have any other time. This extra space will provide the necessary legroom and stretching out, so you and your fellow road warriors can take much needed naps.
This road trip can also easily be reversed, just like most of our itineraries. Actually, you probably should at least consider it. For reasons that baffle me, sometimes flight tickets can be cheaper if you just reverse your route. For example, possibly flying home out of Denver is cheaper than flying into Denver. Same with Durango. It's worth a look at the very least.
Arrival
Day 1
Denver, CO
To kick off this trip, we will be flying into Denver International Airport. From there, we will grab our rental car and head north to where we'll be staying. For us, that was Estes Park, CO.
Drive
Driving
The next location is 70 miles away (~1 hours).
Drive north through Boulder to Estes Park, CO. This is where we found lodging, but there are plenty of options to stay in this area.
Destination
Days 1-3
Rocky Mountain National Park
Estes Park, CO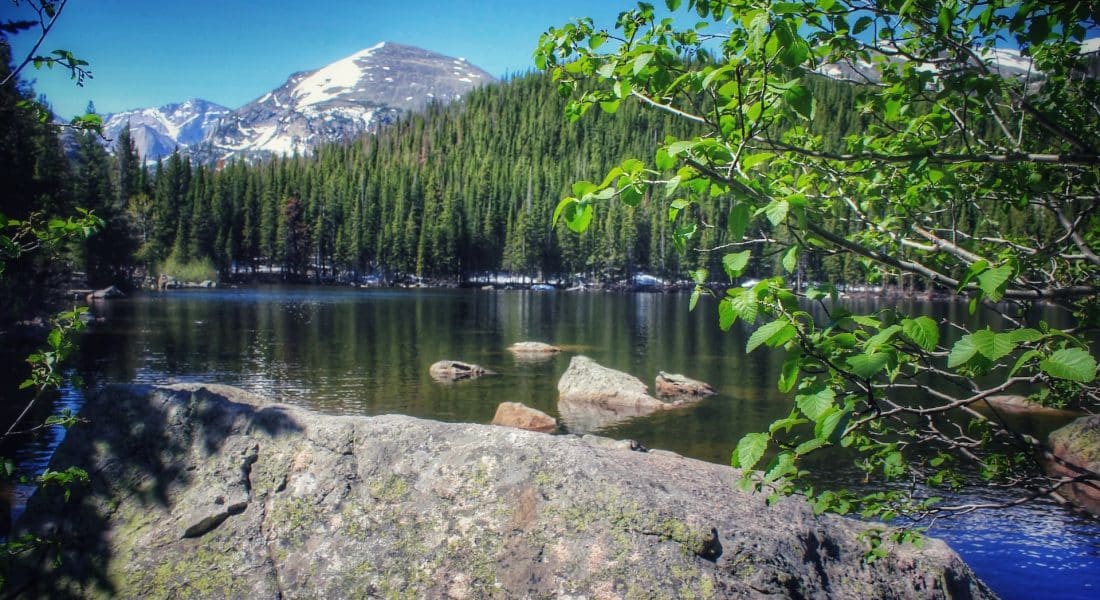 The Rocky Mountain National Park has everything from meadows to forests, lakes to soaring peaks. This park also has some of the highest paved roads in the United States.
Lodging
Airbnb is my preferred service to use when visiting a national park. There are simply so many options, and most offer a full house to rent – which is essential for my 5-person family. Estes Park, CO is where we decided to stay for this visit, and it also has the main driving access point to the park.
Attractions
The best driving attraction at the Rocky Mountain National Park is the Trail Ridge Road, but on this trip, we're going to save it for our last day in the Rockies.
There are a lot of well-known hikes within the Rockies.
The best easy-moderate hike is the Lumpy Ridge Trail. This 3.2 mile round trip hike climbs about 1,000 feet and offers fantastic views of Longs Peak (the highest peak in the park), Mount Meeker and Estes Park.
The most popular (and most difficult) hike is Keyhole Route up to Longs Peak. This path is about 15 miles round trip, takes anywhere from 10-15 hours and climbs 5,000 feet in elevation. If this hike seems a bit much for you, then consider a hike up to the Twin Sisters Peaks. While it is also a strenuous hike, it is much shorter at only 4 miles round trip.
Drive
Driving
The next location is 112 miles away (~3 hours).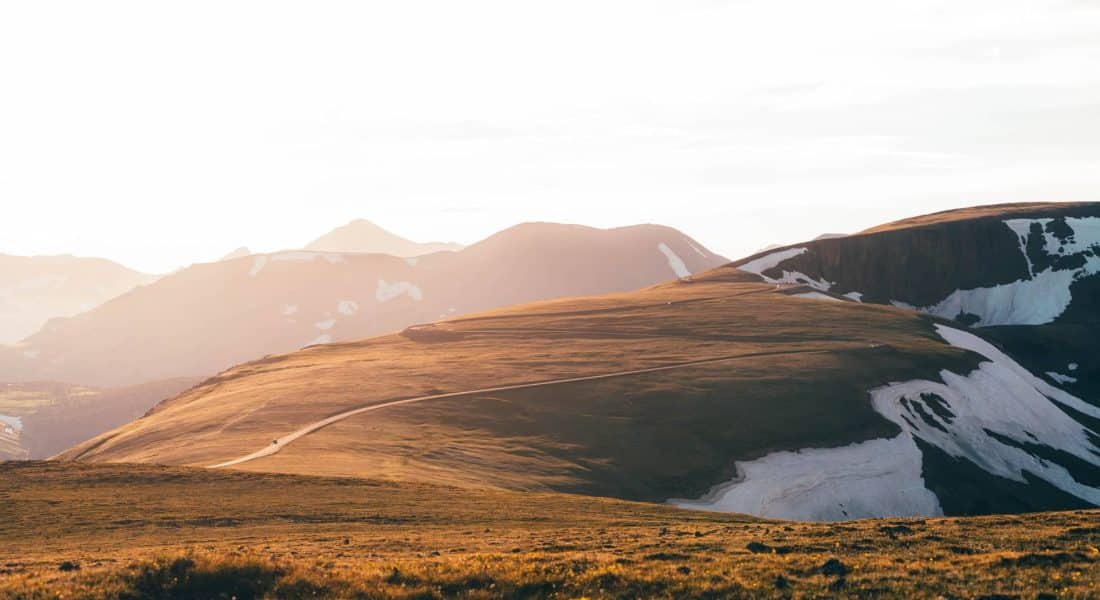 On your last day in the Rockies, you'll want to travel the famous Trail Ridge Road. You will need to purchase a timed entry pass in order to travel it, so make sure you get that ordered well in advance.
This paved 48-mile road connects Estes Park with Grand Lake, CO. This road is only open from Memorial Day until mid-October, and is the only road that crosses the park. Trail Ridge Road tops out at an impressive 12,183 feet, which allows it to offer some of the most breathtaking views of the mountains and the valleys below.
If you opt to travel around the park (instead of through it via Trail Ridge Road), the drive to Frisco should be about the same amount of time and distance.
Destination
Days 3-4
Frisco, CO
I wanted to spend the whole day exploring what Trail Ridge Road had to offer. Because of this, I opted to spend the night in a place that wasn't part of my planned destinations.
Frisco ended up being the absolute best place to stay. It was a short drive from Trail Ridge Road's exit in Grand Lake, and was large enough to have plenty of lodging and food options. My favorite – by far – was stopping by Outer Range Brewing…. they had some of the best IPAs I've ever tasted. I dream about those beers on occasion now.
Drive
Driving
The next location is 173 miles away (~2.5 hours).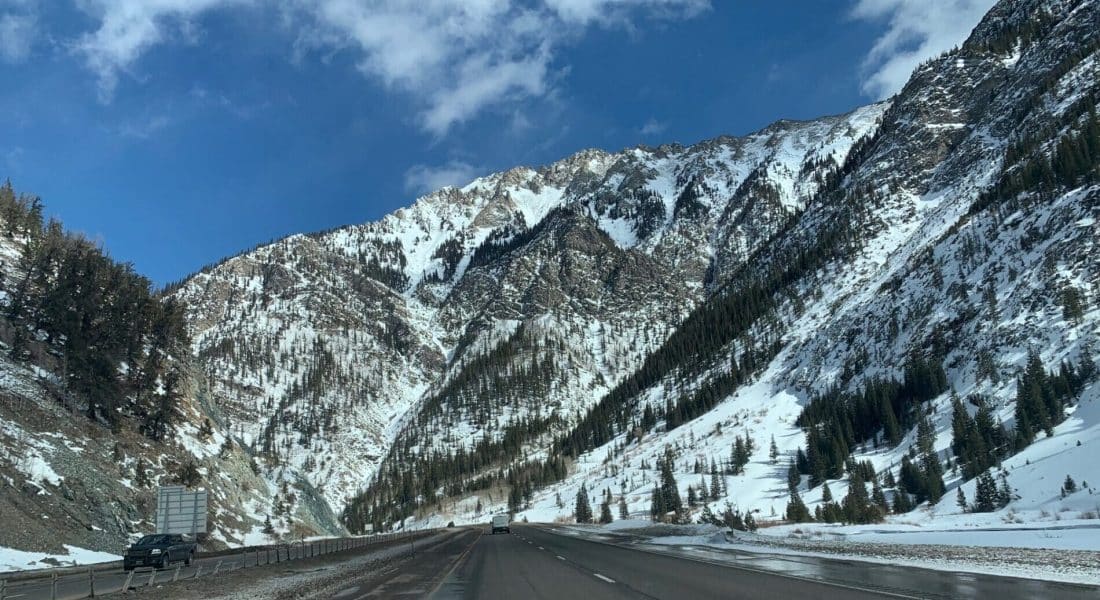 Enjoy this stretch of road.
Yes, it is an interstate, but it is one of the most magnificent engineering marvels that I've experienced so far. Starting from Frisco, you've already crossed the road's summit, but you'll pass iconic ski areas like Vail, Beaver Creek and Copper Mountain that have spectacular villages that are open year-round.
Destination
Days 4-5
Colorado National Monument
Grand Junction, CO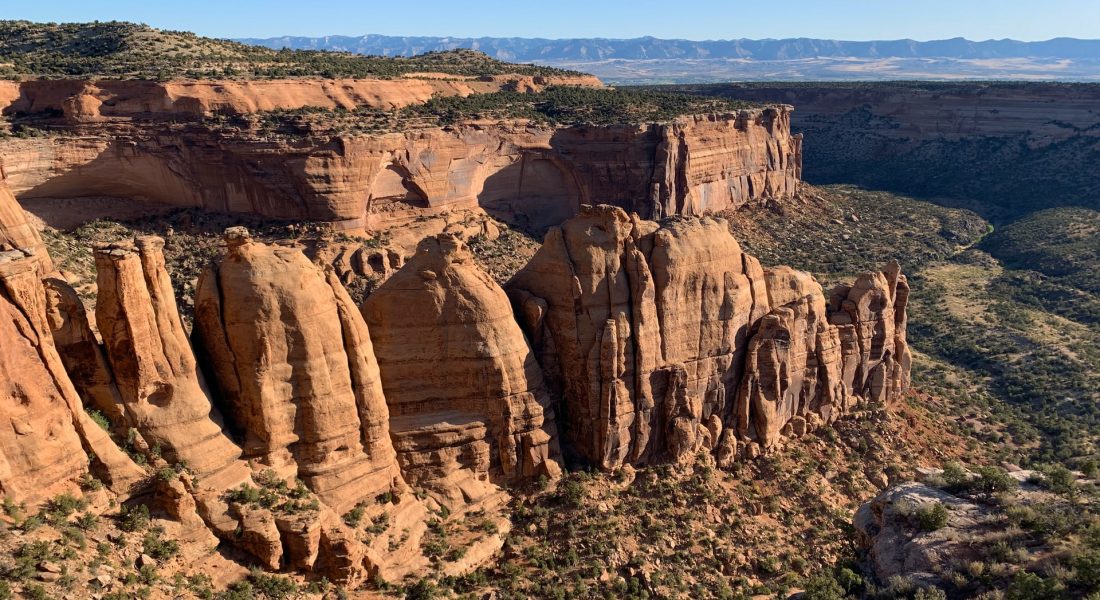 Colorado National Monument is a place you certainly should not skip. In fact, it made it as one of the places that should be a National Park some day.
This monument boasts canyons as deep as 500 feet and rock monoliths as tall as 450 feet. Rim Rock Drive is a perfect scenic byway that cuts directly through the park.
I could just copy what I wrote in my article on how to spend a full day exploring the Colorado Monument, but it'd be much easier for you to go read that and come back. For brevity, here are some of the highlights I recommend:
Enter the park in Fruita (west entrance).
Drive the scenic road (Rim Rock Drive) through the entire park, stopping at many of the fantastic overlooks along the way.
Hike a few trails along the way. I suggest the Canyon Rim Trail, with the Alcove Nature Trail if you have any extra time.
Drive
Driving
The next location is 190 miles away (~4 hours).
Leaving Grand Junction, head south on Highway 50 towards the town of Montrose, CO. It will be here we will take a 20-mile detour to catch a quick glimpse of the Black Canyon of the Gunnison National Park, before continuing into Durango.
Must See
Black Canyon of the Gunnison National Park
Montrose, CO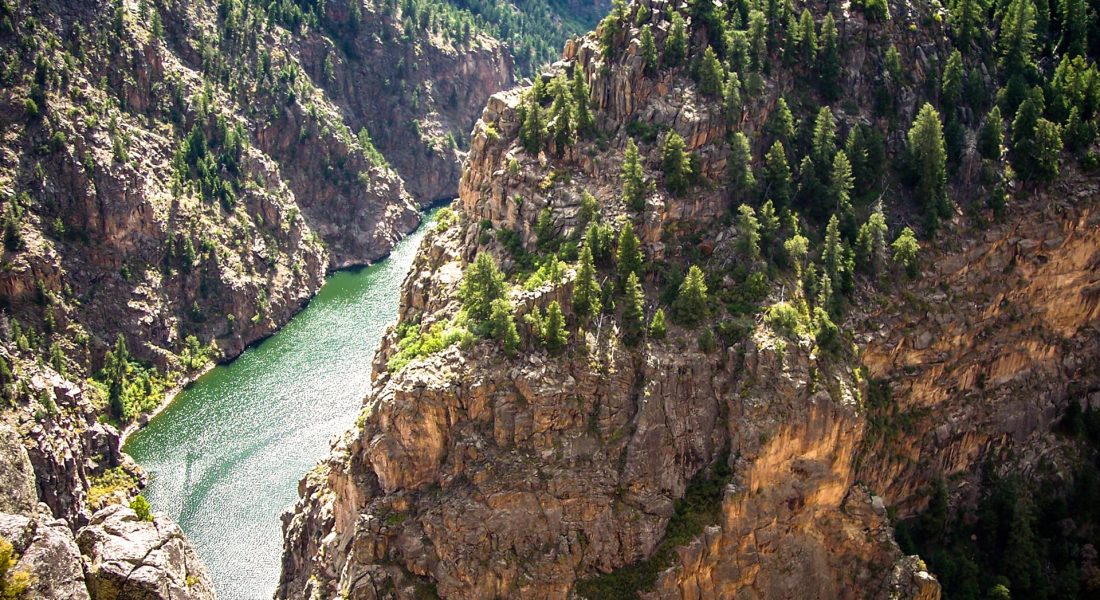 On the way from Grand Junction to Durango, we made the quick stop in Montrose to see the Black Canyon of the Gunnison National Park.
The Black Canyon of the Gunnison National Park is known for its narrow, sheer walls of volcanic rock, carved by the powerful Gunnison River. This park is also one of the least visited, meaning you'll have no trouble social distancing here!
Lodging
In the event you want to spend the night here in order to explore this park even more, you'll need to shack up in Montrose. There are no lodging options inside the park.
Attractions
The park has two sections: the north and south rims. The South Rim has the most to offer, leading it to being the most popular section of the park. This is good because for this trip, the southern section will be easiest to get to.
The scenic South Rim Road follows the canyon's edge for 14 miles (23 km) and has dozens of overlooks and hiking trails. The other frequently-driven road in the park is the East Portal Road, which descends to the river at the bottom of the canyon until it reaches the Crystal Dam National Recreation Area.
If you'd like to do some hiking, the Rim Rock Trail is an easy paved 1-mile loop with views of the canyon. The Oak Flat Loop is a slightly harder trail that descends into the canyon for about a 2-mile round trip hike.
Destination
Days 6-8
Mesa Verde National Park
Durango, CO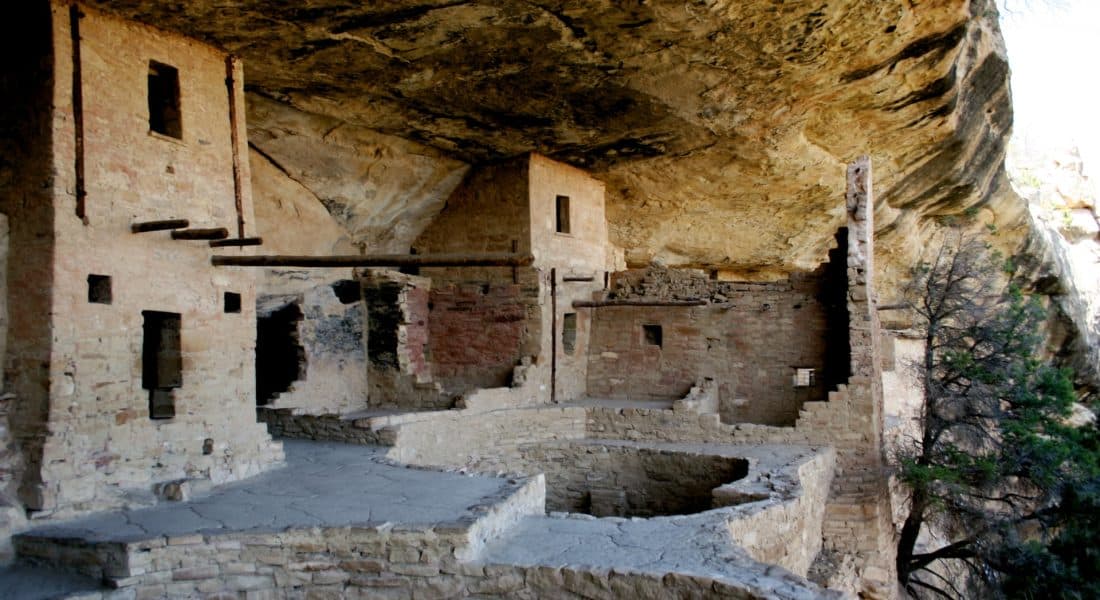 We ended up staying in Durango an extra day due to us having family in the immediate area. While there was plenty to take up the better part of 2 days, you could easily get away with staying here only one night and focusing mainly on Mesa Verde National Park.
The main draw of the Mesa Verde National Park is its over 600 multi-story cliff dwellings created by the Pueblo Indians some 600 years ago.
Lodging
If you'd prefer to stay closer to the park, pickup a vacation rental from VRBO or Airbnb in the nearby town of Cortez, CO. If you'd like to stay within the park, Far View Lodge is your only option.
Attractions
Three of the largest houses: Balcony House, Cliff Palace and Long House are structures that can only be viewed on a ranger-guided tour. The tour season runs from May to September, and can be purchased on Recreation.gov.
Hiking is most commonly done on either the Petroglyph Point Trail, or the Spruce Canyon Trail, both about 2.5 miles round trip, and located in the southern part of the park.
The curvy North Rim Road is an 11-mile one way scenic drive through the park, and passes numerous canyon overlooks. You'll drive most of this road, accessing the points we listed above as well.
Outside the park, Canyons of the Ancients National Monument is located about 10 miles (ca. 16 km) north of Cortez. This monument contains the highest known archaeological site density in the United States, with rich, well-preserved evidence of native architecture and culture.
Departure
Day 8
Durango, CO
Durango-La Plata County Airport is small, but it has great options to get to major cities quickly. American Airlines and United are the only two airlines that serve DRO. American has non-stop flights to Phoenix and Dallas, and United has flights to Denver and Houston. The options aren't extensive coming from this airport, but for us, it was easy enough to fly to Dallas, then back home.