Finding All National Parks Near San Diego
If you are searching for national parks close by in San Diego, CA, you'll likely be a little disappointed. Of the 63 National Parks, none are particularly close to downtown San Diego.
Joshua Tree is the closest, but not particularly close at all. Channel Islands National Park is three hours away, but not really… because you'll need an extra 2 hours by boat just to get there. Then there is Death Valley. Everyone likes to talk about how close Death Valley National Park is to San Diego, but I just don't get it. Being that it is over five hours away, it just is not a realistic place to visit while in San Diego.
But if you expand that to any place that is owned by the federal government, then the list gets much larger. We won't get into any state parks here, although you should definitely visit those as well. My absolute favorite was La Jolla Beach, but Friendship Park across the border from Tijuana, Mexico was surreal.
However, we are only talking about federal parks in this article, so we'll discuss all the wildlife preserves, national forests, national monuments, and other parks owned by the US government.
Joshua Tree National Park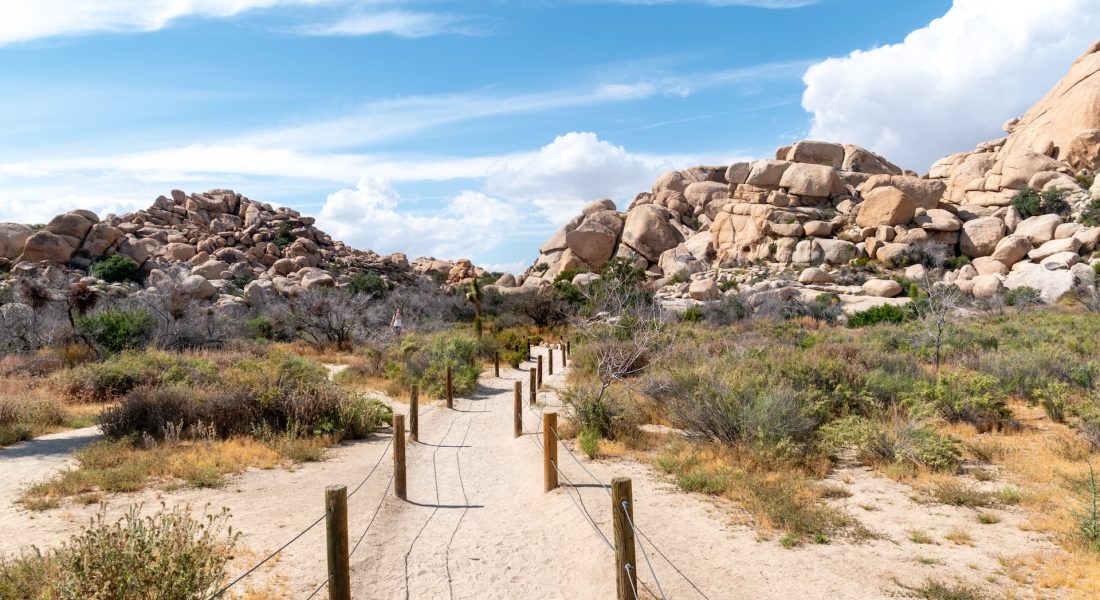 While not the closest park to San Diego on this list, Joshua Tree National Park is the closest actual National Park. It happens to be close enough for a great one-day trip to visit. Driving one way from San Diego to Joshua Tree will take 2.5 hours, or 160 miles (260 km). It is a little closer mileage wise to enter the southern Cottonwood Springs Road area of the park, but most of what you'd want to see is near the top in the town of Twenty-nine Palms.
Joshua Tree is an International Dark Sky Park, with some of the darkest nights in Southern California. At night, Joshua Tree is great for seeing stars, planets, the Milky Way and shooting stars, that would otherwise be hidden by the bright San Diego lights.
San Diego National Parks Map
Other National(ish) Parks Near San Diego
Besides Joshua Tree National Park, what else is close to San Diego? We found 9 additional places that are within a 2.5-hour drive from downtown.
1. Cabrillo National Monument (12 miles)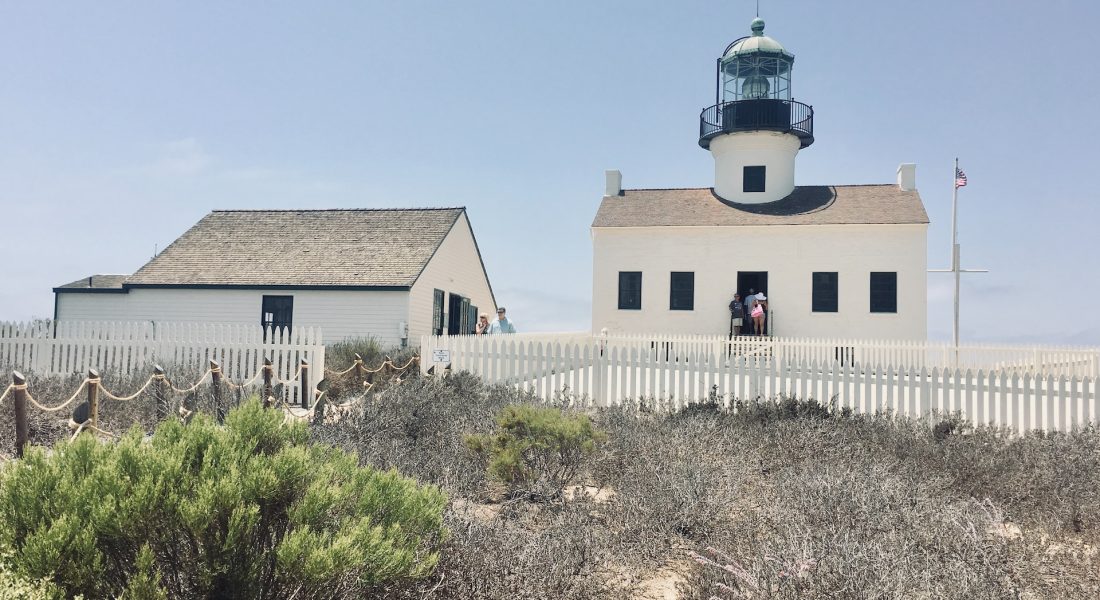 The closest park to San Diego within the National Park Service's control is the Cabrillo National Monument, which is only 20 minutes (12 miles) north of the city. This is where Juan Rodriguez Cabrillo became the first European to set foot on what is now the West Coast of the United States in 1542. Tide pools and the Old Point Loma Lighthouse are the main attractions at this National Monument that has views of San Diego from across the bay.
2. San Diego Bay National Wildlife Refuge (9 miles)
Managed by the US Fish and Wildlife Service, the Refuge encompasses approximately 2,620 acres of land and water in and around San Diego Bay. The Refuge consists of the Sweetwater Marsh and South San Diego Bay Units. What remains of San Diego Bay's historic coastal salt marsh and intertidal mudflat habitat is preserved within these two Refuge Units. There are about 2 miles of trails in this park that are primarily along the bay's edge.
3. Tijuana Slough National Wildlife Refuge (15 miles)
Also managed by the US Fish and Wildlife Service, the Tijuana Slough is a 1,072-acre wetland located where the Tijuana River meets the sea. The refuge was established in 1980 and is part of the 2,800-acre Tijuana River National Estuarine Research Reserve (TRNERR), one of only 30 such reserves in the United States.
4. Tijuana River National Estuarine Research Reserve (19 miles)
The Tijuana Estuary is the largest coastal wetland in Southern California, and it is located on the international border between the U.S. and Mexico. It is one of the few salt marshes remaining in Southern California, where over 90% of wetland habitat has been lost to development.
The Tijuana River National Estuarine Research Reserve is a partnership between the United States and the State of California that links the National Oceanic and Atmospheric Administration (NOAA), California State Parks, and the U. S. Fish & Wildlife Service.
5. San Diego National Wildlife Refuge (21 miles)
Established in 1996 and stretching over 12,300 acres from the city of Jamul to communities in Spring Valley and eastern Chula Vista, the refuge is managed by the U.S. Fish and Wildlife Service. The are is a landscape-wide habitat conservation plan to preserve habitat and species while allowing appropriate development. Hunting is allowed here, but there are also 13 miles of trails within the park as well.
6. Cleveland National Forest (48 miles)
The Cleveland National Forest covers 460,000 acres in southern California. There are numerous hiking trails within the park, but my favorites are the Three Sisters Falls Trail (4.1 miles, out-and-back, moderate), and the Garnet Peak Trail (4 miles, out-and-back, moderate)… both of which are about an hour outside San Diego's limits.
The best season for hiking is during the cooler fall, winter, and spring months. Many trails travel through the open chaparral and get very hot in the summer.
7. Pine Creek Wilderness (50 miles)
Managed by the US Forestry Service, Pine Creek Wilderness, and is located inside the Cleveland National Forest. Permits are required to hike here, but the Secret Canyon Trail (14.7 miles, point-to-point) is a difficult, yet rewarding hike.
8. Sonny Bono Salton Sea National Wildlife Refuge (137 miles)
Located in Southern California, Sonny Bono Salton Sea National Wildlife Refuge is on the border of the Sonoran Desert ecosystem and a massive commercial agriculture operation that is the Imperial Valley. At an elevation of 227 feet below sea level, the refuge sees some of the hottest temperatures in the nation. In the Spring of 2023, all the trails within the park got updated, making this a great place to visit, assuming you can make it here early.
9. Coachella Valley National Preserve (154 miles)
Managed by the BLM, the Coachella Valley National Preserve is a 20,000 acre sanctuary that is home to endangered species as well as impressive sand dunes. It is also home of the spectacular Thousand Palm Oasis which is fed by water seeping out of the San Andreas Fault. There are also several other Palm Oases, including the Willis, Hidden Horseshoe, and Indian Palms. Located in the center is the Paul Wilhelm Grove that is also the location of the Preserve's visitor's center. The preserve has several hiking trails including the McCallum, Hidden Palms, Moon Country, Pushawalla Palms, and Willis Palms trails.
10. Santa Monica Mountains National Recreation Area (155 miles)
The Santa Monica Mountains NRA is a great place to visit, but it is still over three hours away from downtown San Diego. The mountains above Malibu have been ravaged by wildfire over the last few years, but there are still great places to visit here, including numerous beaches and mountain hikes.