What and Where is Arkansas's Grand Canyon?
Arkansas's Grand Canyon is just a name given by a local to the deepest canyon in the Ozarks. There is an overlook situated on Arkansas Highway 7 between the small towns of Jasper and Deer.
Arkansas' Grand Canyon is actually the Buffalo River Canyon, of which the Buffalo National Scenic River flows through. It is the deepest canyon in the Ozarks, and one of the state's most notable attractions. The overlook is surrounded by the Boston Mountains' seven peaks: Jasper, Asia Point, Ricketts, Mount Judea, Hickory Hollow, Red Rock and Sloan.

While this location is nothing in scale to the actual one in Arizona, it still has a 1,414-foot elevation drop down to the river. It also has between a 40- and 50-mile visibility across the horizon, depending on which direction you're looking.
It is also not rocky like the real one. It is gently rolling hills and deep valleys covered by the lush trees and vegetation of the Ozark-St. Francis National Forest.
Getting to the Arkansas Grand Canyon Overlook
There are two main overlooks to see the largest canyon in the Ozarks. While there are a few other pull-outs and viewpoints, these are the two most visited.
Overlook #1
The first is located closer to the town of Jasper, and is accompanied by a small gift shop and an overlook tower you can climb to see the valley even better.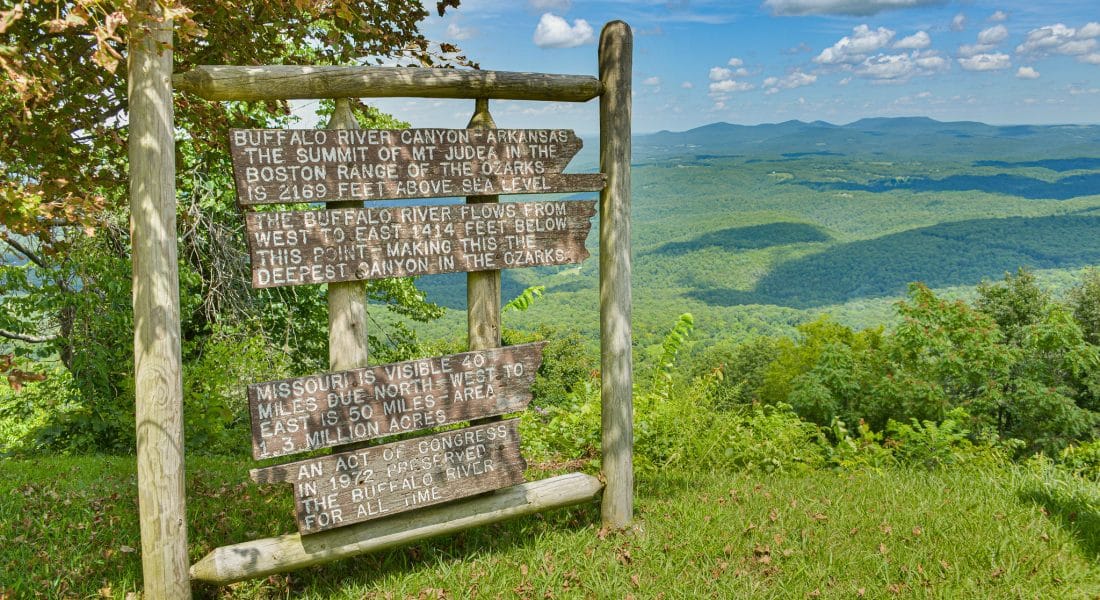 This particular overlook is located at AR-7, Jasper, AR 72641, with the GPS coordinates being 35.970878, -93.168693
From Jasper (the closest city to the overlook), drive south on State Highway 7 for about 3.6 miles. The overlook will be on your left. It has a large "Scenic Point" sign, and the parking lot is huge. It actually is probably a little larger than it needs to be. Anyone pulling an RV will not have an issue here.
There is a small gift shop on the one end of the parking lot, as it is located on private property.
Overlook #2
The second overlook is still along Highway 7, closer to the town of Deer. It is located at the Cliff House Inn, which is 2.5 miles south of the first overlook.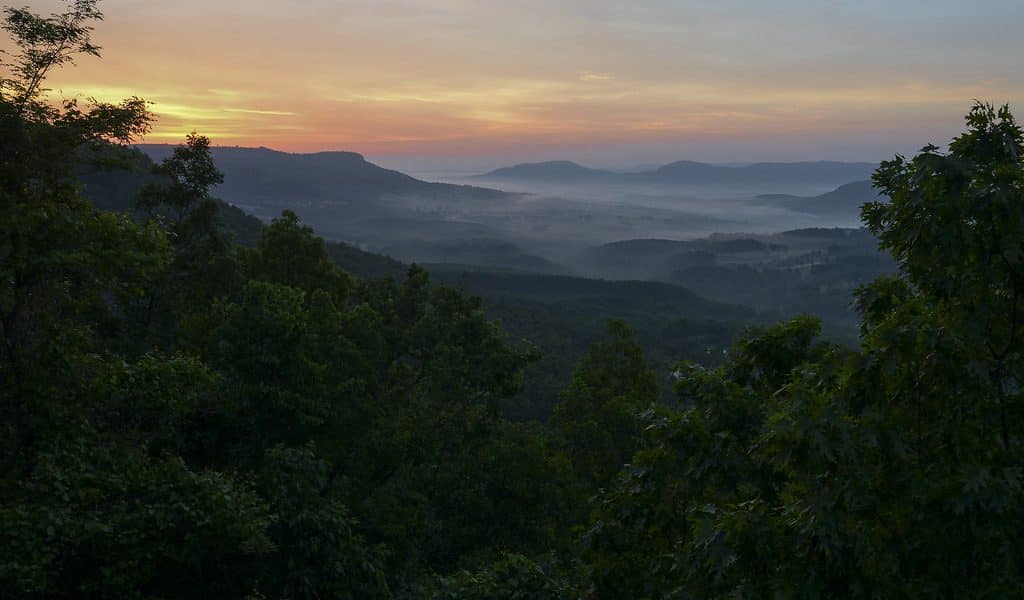 This particular overlook is located at 6 Miles South of Jasper on Hwy 7, Jasper, AR 72641, GPS coordinates are 35.94536, -93.16241.
The Cliff House Inn has a restaurant that features a home cooking feel, as well as three cabins that can be rented out. The cabins have a western view of the Smith and Wayton Mountains. From the cabin's front porches, you can see the sunset.
However, if you're just passing by, you can pull into the parking lot of the Cliff House and simply take in the view.